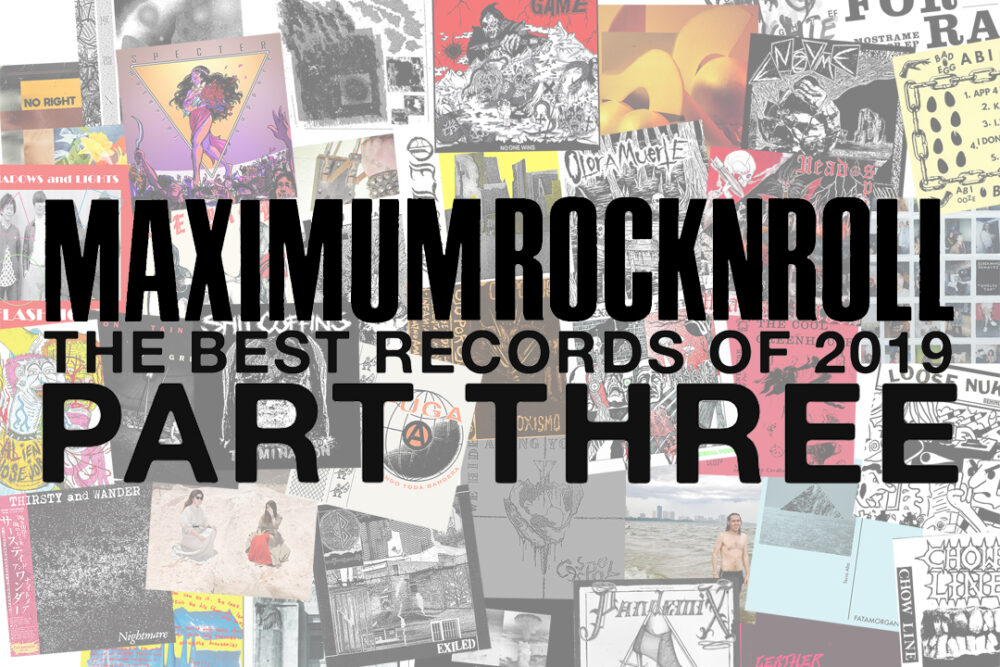 2019 Year-End Top Tens, Part Three
Here it is—the final installment of MRR's Top Ten (or so) Records (mainly) of 2019!
Still want more lists? Keep reading, all the way and the end, for a bonus.
AKLASAN RECORDS
Aklasan Records is a collective of Filipino punks who run a record label, play in bands, and organize an amazing festival celebrating Pinoy punks from around the US. These are some of their favorite records, shows, and happenings of the year, as selected by three collective members.
Romeo Pagdilao of MANIFESTO
1) MATERIAL SUPPORT — Specter EP (Aklasan)

2) SCREAMING FIST — Templanza EP (Iron Lung)

3) INSOLENT — Blood Soaked EP (self-released)

4) VEILS — Wellwisher's Tongue EP (Still Ill)

5) SHIT COFFINS — Termination LP (Iron Lung)

6) SCREAMING FIST / SALIVA TRIBE / FLEXURE / ANTI-REPRESSION MUSIC — Benefit show for Brandon Lee at Golden Bull
7) Aklasan Fest 6
8) NO RIGHT — Senescence EP (Bitter Melody)

9) Vegan Mob opening in Oakland
10) MADBALL — Live at Thee Parkside
Rupert Estanislao of ANINOKO / TOXIC CULTURE / Aklasan Records
1) MATERIAL SUPPORT — Specter EP (Aklasan)

2) WUDS — Alay CD-R (Redverb Studio)
3) MUTILATED TONGUE — Fuel the Flame LP (Iron Lung)

4) Aklasan Fest 6
5) ABI OOZE — Bad Egg CS (Aklasan / 4302)

6) SHIT COFFINS — Termination LP (Iron Lung)

7) URBAN SPRAWL — Live
8) KANTA KANTA — Eternal Gardens CS

9) BAD BREEDING — Exiled LP (Iron Lung)

10) VEILS — Wellwisher's Tongue EP (Still Ill)

AJ Santos of NAMATAY SA INGAY / MATERIAL SUPPORT
1) WUDS — Alay CD-R (Redverb Studio)
2) ISTUKAS OVER DISNEYLAND — Sons of Pampanga CS (Delusion of Terror / Get Up and Go / Love From Hate)
3) ANINOKO — Ugat LP (Aklasan / Ethnospine Noise / Mutilated Noise)
4) POBREZA MENTAL — Ya No Me Pertenezco EP (Toxic State)

5) KALEIDOSCOPE — After the Futures… LP (Toxic State / La Vida Es Un Mus)

6) ABI OOZE — Bad Egg CS (Aklasan / 4302)

7) PHYSIQUE / SCUMRAID — Live at the Glove, NYC
8) KUCHIYO — Demo CS
9) HEADSPLITTERS — Headsplitters LP (Desolate)

10) VAXINE — Demo CS (self-released)

CC SERVON
C.C. Servon writes a column and sometimes does interviews. She's 16 and lives in Philly, where she screams and pretends she can play guitar in SNOT HOSTEL, and co-runs Dad Habits records. Her only goal is to be an urban legend.
MARTHA — Love Keeps Kicking LP (Big Scary Monsters / Dirtnap)
Another year, another perfect record from Motown-inspired not-so-former emo kid darlings MARTHA. I was beyond stoked to read in their MRR interview a while back that they were listening to a lot of country in the making of this album, and was pleased to hear the way this new sound blended in perfectly with the sugar-loaded melodies and danceable licks that have been an essential part of the MARTHA canon since the beginning. The album kicks off with "Heart Is Healing," and a signature MARTHA lick with some extra twang, which is also present on the title track (extra points for the line about moshing to HUEY LEWIS AND THE NEWS). I want to listen to MARTHA forever and ever and ever.
DEATH ROSENSTOCK — Thanks, Sorry! 3xLP (Really)
I got to go to one of the four nights that Jeff and friends spent at the Bowery Ballroom taping this record, and I can honestly say it was one of the best shows I've ever seen. It comes as a triple LP, with an entire extra side of music and a beautiful photobook by Hiro Tanaka. Thanks, Sorry! includes the DEATH ROSENSTOCK hits we all know and love, as well as lesser-played cult favorites like "The Internet is Everywhere," "Nevergonnagetitbackagain!!!," "Darkness Records," and even a cover of "KKK Hiway" by MU330, with Jeff playing bass. There's also plenty of Jeff 'n' Friends-patented tomfoolery, like a crowd-requested jam based on 311 + FRANK SINATRA + the BEACH BOYS. Anyone who knows me knows that I love Jeff's stuff more than life itself, so having a show I was at immortalized on wax is pretty fucking rad.
DARK THOUGHTS — Must Be Nice LP (Drunken Sailor / Stupid Bag)
The world's best RAMONES fans just dropped another fantastic sugar rush of a record. I think I've said before that DARK THOUGHTS are heavily RAMONES-y, but not annoyingly Ramones-core. They play with the speed and tightness honed in the hardcore groups that the members also play in. My favorite song is the broken-hearted "Do You Dream," clocking in at just over a minute long. Great, tight stuff.
AMYL AND THE SNIFFERS — LP (ATO)
These balls-to-the-wall, mulleted riffs took us all by storm in 2019. "GFY" makes me want to punch through the mirror of a public bathroom. I love "Got You" and "Gacked on Anger." But my favorite AMYL AND THE SNIFFERS song is "Some Mutts (Can't Be Muzzled)." It's got all the SNIFFERS' trademark sneering vocals and bravado-filled guitars. The band sums it up best themselves: "The monsoon rock was happening and it was fuckin' lit!"
SCREAMING FEMALES — Singles Too LP (Don Giovanni)
Singles Too is a collection of odds and ends spanning SCREAMING FEMALES' almost fifteen-year career. Like most everything else in the band's catalogue, the material is solid and unique. They started out great and have just become tighter musicians and better songwriters over the years, so it's pretty cool to get to take a trip back and see what's changed and what hasn't. It includes some pretty awesome covers—most fans will know their ripping version of "Shake It Off." As someone who has been obsessed with NEIL YOUNG my entire life, I was beyond stoked to see "Cortez the Killer" on the tracklist, and wasn't disappointed by SCREAMING FEMALES' take on the song. There's a pretty awesome early acoustic demo of what might be my favorite SCREAMALES song, "Hopeless." Singles Too is an essential listen for any fans of the band.
JOHN (TIMESTWO) — Out Here on the Fringes LP (Pets Care)
ROCK GODS JOHN are a noisy, brutal two-piece outfit in the vein of IDLES and PISSED JEANS. Singing drummer John and guitarist (also) John bring us pure, primordial catharsis on this record. My favorite track is "Standard Hauntings," with its rhythm that evokes a much darker "Uncontrollable Urge" by DEVO. Opener "Future Thinker" and the slower-burning, ominous title track are awesome, too.
LIGHTNING BOLT — Sonic Citadel LP (Thrill Jockey)
Speaking of noisy, brutal two-piece groups, here's LIGHTNING BOLT. I think noise only works when there are kernels of pop buried in the ugliness. LIGHTNING BOLT have proven their mastery of this type of songwriting since their Ride the Skies days. For you ultra-masochists (or, you know, average fans of this sort of thing) out there, don't fret—you can still listen to what it feels like to be pumped full of lead by a machine gun on tracks like "Blow to the Head." Other standout tracks like "USA Is A Psycho" and "Air Conditioning" are typical LIGHTNING BOLT: searing, explosive, and battering. But there are a few points where the duo stray into something new, something that even approaches melody. "All Insane" is mid-tempo, the bass stays simpler than it does anywhere else on the record, the drums don't take up the space of a lead guitar, and Brian Chippendale actually sings underneath all that fuzz. And it works.
RICKY HELL AND THE VOIDBOYS — L'appel Du Vide LP (Greenway)
It's the second record in as many years from the nation's favorite (and quite possibly only?) klezmer punks. The songwriting has taken a step up from last year's self-titled debut, but they haven't strayed too much from the short, malaise-coated songs that evoke more of a depressed BLONDIE than RICHARD HELL. Slower, melancholy songs like "Strychnine" are pretty par for the course for these guys, but they also get a little more uptempo and, dare I say it, not completely hopeless on tracks like "She Always Knows Just What 2 Do" and "Burn the House Down," the latter being my favorite on the record.
FONTAINES DC — Dogrel LP (Partisan)
Dogrel is a dying form of Irish poetry with an irregular rhythm and rhyme, and a fitting name for these Irish poet-punks' debut. Singer/master lyricist Grian Chatten mourns the loss that comes with a changing country over reverb-y (but not obnoxiously so) riffs. The opening track, "Big," offers a sort of mantra for the record: "My childhood was small / But I'm gonna be big." I love the simple bop that is "Liberty Belle." "Too Real" is on the other end of the spectrum, with its slower build-up, jet-engine guitars and malcontented, rhythmic singing. "Boys in the Better Land" is an anthem. FONTAINES DC tackle a lot of different styles on this record, but retain their signature style and songwriting through it all. I'm excited to see where these guys go next.
COLIN ATROPHY'S FAVORITE ZINES OF 2019
Disgraced former columnist (Eat, Pray, Shlub 2015-2015) COLIN ATROPHY HAGENDORF currently lives in Pittsburgh with their girlfriend, two dogs, and a cat. They publish the monthly newsletter LIFE HARVESTER and the monthly interview podcast LIFE HARVESTER RADIO. You may have read their old fanzine SLICE HARVESTER, which hopefully would've made someone else's top ten of the decade but obviously can't be included in theirs.
Tattoo Punk 2
A photo and interview zine by BEN TROGDON of NUTS! fanzine centering around DIY and non-professional tattooers and the tattooed. Ben's conversational style is intimate, like a chat between friends, without getting bogged down in inside jokes or superfluous content. Both the photography and layout are easy to decipher and casually chaotic. There is a visible human touch to every page of this zine, which mirrors the appeal and aesthetic of non-professional tattooing and tattoo culture. This zine's one huge flaw is that none of my tattoos are featured in it, but c'est la vie.
Demystification 2
A perfect zine by AMBROSE NZAMS and PAULA MARTINEZ that covers a lot of ground. Interviews ranging from Texas lo-fi weirdos CHRONOPHAGE to obscure '90s house DJ and downtown photographer ED MARSHALL to NYC artist and punk rocker DIAMOND STINGILY. The breadth of interview subjects subtly highlights the intersection of various sub- and countercultures. A photo diary of WARTHOG's European tour, an oral history of the Air Force 1's presence in hardcore, and a pullout poster by BECK LEVY round out this visually stunning full-color zine.
Totally Different Head 4
This well laid out zine is almost entirely about art practice. Highlights include a discussion with GRACE AMBROSE about her drawing practice, and a conversation with OSA ATOE of SHOTGUN SEAMSTRESS about pottery. Interspersed throughout these and other interviews are local record reviews and a conversation with STEVIE POHLMAN from Portland's MOPE GROOVES. This zine is firmly grounded in the Pacific Northwest but relevant to punks everywhere.
Questions You May Ask Yourself
I love this tiny zine by KATE JORANSON, the head librarian of the Frick Fine Arts Library in Pittsburgh. A simple collection of questions from her 8-year-old daughter, JANINE. My personal favorite questions—Can bunnies die from stress? and Are there women who are sexist? Do the men hypnotize them?—both point to the ways that children's innocent perceptions of the world can reveal larger cracks in the system. The simple layout of handwritten questions in Kate's adult penmanship framed by magic marker drawings by Janine looks great, and miraculously none of this childish wonder comes across as cloying or twee, but instead feels funny, thought-provoking, and timely.
False Alarm
RACHEL MOORE, the most viral woman in hardcore, brings us the TEEN BEAT-style zine we've all been joking about making since the mid-'90s, and she pulls it off. Boy-band-style interview with Austin's ARMY (including a pullout centerfold), a quiz to see who your punk boyfriend is, an advice column. Everything is printed in color and has a goofy late-'90s Microsoft publisher feel. This zine was cute and fun and I can't wait to see what Rachel has in store for us next.
The Ex-Girlfriend of My Ex-Girlfriend Is My Ex-Wife
If you're gay and on the internet, you probably recognize MADDY COURT as the name behind lesbian meme account @xenaworrierprincess. Thematically this zine is not super different from Maddy's memes in that it's funny, vulnerable, belies an awareness of human behavior and sensitivity to the struggling. If you like the Dolly Parton movie Straight Talk as much as I do, this zine is for you.
The Weakly: A Monthly
This monthly should maybe be in the newsletter section but it's such a standout for me that I have to include it with the zines. Not sure how to get it outside the Bay Area without knowing one of the people that make it, but it's worth keeping an eye out for. Short prose and poetry from smart, mean women. Drawings by weirdos. Strange fixation on earwax. THE WEAKLY rules.
Newsletter Roundup:
Newsletters were a trend in 2019! My three favorites besides my own are:
Dusty Digest
Former coordinator SHIVAUN WATCHORN sends out dispatches on life in Minneapolis. Ruminations on life and hardcore. Shivaun is a great writer and I look forward to DD every month.
The Alley
MATTY D'ANGELO dishes all the gossip from Brooklyn's Punk Alley in this weekly rag. Sloppy yet charismatic layout is reminiscent of Matty's music in his underrated bands SAINT DAD and FLYKILLS.
Bridge and Tunnel Crowd
I've known WIN VITKOWSKY (née WIN THE SKIN) since we were 16 and he's always been a brilliant smartass. Subscribe if you like blue-collar political insight, biting East Coast wit, hockey.
Best Zine of the Decade!!!!!!!!!!!!!!!!!!!!!
Mothers News
JACOB BERENDES published MOTHERS NEWS every month from 2010—2015. MN built a whole world around itself. Its avant-garde layout took the visual framework of COFFEE NEWS (content in the middle and index card-sized advertising down either side) and turned it on its head. Jacob's narrative voice was gently authoritative, wise without being pedantic, poetic without being pretentious, dishing on subjects from fashion ("Novelty is escalating at an exponential rate and the time between a thing and the nostalgia for the thing is getting shorter and shorter.") to weather phenomena ("Earth becomes heaven under wind.") to space ("Some crisp night you'll be out walking with someone and there'll be a lull, and you'll say, even though no one is talking, hey, shut up' and then stand perfectly still while snow absorbs all sound. Maybe this will happen and then you'll laugh and they'll say why did you laugh? You can tell them I was thinking about Uranus.'"). There was a comics section featuring all-stars like MIKE TAYLOR as well as introducing the world to a teen ARTHUR KATRINA (who's ROT FANZINE keeps the freak flag aloft). There was a monthly "Find the Batman" contest in which Jacob would hide a hand-drawn batman head in one of the ads and if you sent him a postcard before the month was out he'd send you a tiny Batman patch or 1″ button. There was a very rude word jumble (e.g. "OLANE, adj. In bad company"). MOTHERS NEWS was an actual perfect thing, and like all perfect things, it was finite. But I am endlessly grateful that it existed in my lifetime.
DANIEL BYLLEPEST
Hi, I'm Daniel. I run Byllepest Distro. I love to complain about punk in witty ways and long romantic walks on the beach. When I look back at 2019, I'm mainly reminded of a line some old man dropped: "Punk records are like fine whiskey, it's not a human right." I cried myself to sleep for the following three months and now I'm back on paint thinner as my only self-defense mechanism against this cruel world of old and aging punks. Here are some titles I loved. The albums are in no specific order as charting DIY music is really whack.
UZI — Cadena De Odio LP (Adult Crash)
The record is not out yet, but I was lucky enough to hear the tracks earlier and the three tunes they dropped online should be enough to warn anyone. BogotÁ¡ punk is currently the best music in the world and after MURO, FINAL, and PRIMER REGIMEN carved out the way the city's soundscape is blowing up like a minefield. The guitar player told me he wanted UZI to sound like ELECTRIC DEADS but it still sounds more like a extremely charged hardcore response to early VICE SQUAD and UK82. Congratulations to UZI, Adult Crash and everyone involved! Recommended with a side of Riot City records that mostly seem bleak in comparison.
ENZYME — Howling Mind 12″ (La Vida Es Un Mus)
Total GAI/CHAOS UK worship from Australia's craziest Japanese hardcore interpreters. Total, pummeling madness. If there is one show I wish I had seen this year, it would have been their Los Angeles show with DEATH SIDE, HATE PREACHERS and EXIT ORDER. The LP is almost equal to my favorite EP of all time, Extermination, and few noisecore records manage to feel complete as an album like this one. The manic, never-resting wardrums are what makes this album stick out. Recommended with an Asahi dry, shotgunned of course.
IGNORANTES — Con La Camiseta Puesta CS (Byllepest)
I promised the world that I wouldn't add any releases from my label on this list, but can someone please write IGNORANTES into the books? Chile's sewer orchestra are back with honest, comical, and always pissed off disgusting punk recorded on a toaster. IGNORANTES have been around for about a decade and deserve more praise than anyone. One of the most important punk bands at the moment and sporting mohawks. Recommended with a side of antibacterial alcoholic iced tea. 
CESSPOOL — We Hide Among You 12″ (Adult Crash)
Cesspool is definitely the new A-Team of Adult Crash and K-Town Hardcore in general. With members of TERRORSTAT, BORN/DEAD, PLANET Y and countless others. As weird as it is punishing (in a good way!), this will be a no-brainer home-run for rocker dads and mutant punks of all generations, shapes and sizes. Recommended with a side of angry knuckles all over your dumb mug.
SKIZOPHRENIA — Undead Melodies EP (Kick Rock) and USA Tour EP (self-released)
SKIZOPHRENIA are back with not just one but two EP s in 2019. Undead Melodies brings nothing new to the table but it really doesn't need to. SKIZOPHRENIA is like that rabid, insanely tight and snotty four-track band that never ages, whereas few to no bands manage to keep this level of pubescent intensity for more than two years. I hope they never change. Recommended with a side of ATTACK ATTACK ATTACK! 
JETSET — Modern Times Are Coming Back CS (Aftermath)
I love everything I can get my hands on of early Holland punk, and this is no exception. Imagine the raw power and charge of HEADCLEANERS, sometimes accompanied by weird guitar twangs pulled straight out of the APOSTLES, but sung in English and Dutch. It also strangely reminds me of POWERAGE. This tape was originally a promotional demo or something for this short-lived band from Groningen and I really wish this was an LP. Recommended with a side of old people ranting in your ear about 1982.
FUGA — Sin Frontera Sin NaciÁ³n EP (self-released)
FUGA is the best band from L.A. at the moment. The artwork alone is the sickest thing in 2019. So raging and restless it makes me want to crack my head open against a brick wall and pour gasoline into it while tattooing the guy with the flag on the cover on the remains of my forehead. Immune to trends or waves, this cassette is self-released and immortal. They released the songs again with a different recording not that long ago. Recommended with a side of Modelo slushies poured into the gaping wound in my forehead.
AXE RASH — LP (Adult Crash)Anyone who didn't catch AXE RASH on their East Coast tour this year is downright foolish, no offense. If you've ever caught them live you know what I'm talking about. Raw punk energy mixing stompers, rippers, rockers and ragers with an intensity that is really hard to match. No delayed, muddy vocals or cheap rip-offs. Hilda is also the nicest and most disgustingly evil-sounding singer in the history of punk. AXE RASH remain the sheer manifestation of pure energy. The record isn't even half as powerful as their live set! Recommended with a side of I'm sick of writing these jokes.
TV CRIME — Metal Town LP (Alien Snatch)
One of my favorite contemporary power pop/pub rock acts. I've been hooked since I heard "Hooligans" the first time. This album collects most of the band's songs with new recordings and a couple of new tunes. Honest, bittersweet, and powerful melodies with a touch of self-irony and lots of heart. TV CRIME never shies away from cheesy guitar solos and boogie gimmicks, and somehow it just adds to the authenticity. It feels really wholesome with its crystal clear recordings, compared to their fuzzier-sounding EP's. They've been deserving an LP for years! Hooligan music for softies and rockers. Recommended with a side of dry English cider and a solid heartbreak and/or when your home team loses the game.
DOLLHOUSE — demo CS (Toxic State)
Hurray! Toxic State is finally releasing weird punk stuff again! DOLLHOUSE perfects the MOMMY formula and deliver a contemporary perspective on NO TREND or RUDIMENTARY PENI, with just a touch of melancholy. Just kidding, this tape is really gloomy. Weird and sad music that goes perfectly well with hedonistic substance abuse. They also have interesting personal, mentally disturbed, and at times biblical lyrics which is a huge plus for me in 2019 when most bands sing about their dog or paying taxes. Urgh. Recommended with prescription medicines and a lack of art degrees.
DANIEL LUPTON
Hi, I'm Daniel and I run a distro, label, and record store called Sorry State Records here in Raleigh, North Carolina. I do my best to hear as many new punk and hardcore releases as I can every year, and these were my personal favorites:
RAKTA — Falha Comum LP (Iron Lung)
RAKTA's latest LP was, without a doubt, my favorite record of 2019. While it's as much a noise record as a punk record, its genre-bending intensity is the punkest thing I heard all year. If you're into artsy, adventurous records like PiL's Metal Box, I can't recommend this one highly enough.
THE COOL GREENHOUSE — Crap Cardboard Pet 10″ (Lumpy)
"Pets" is my favorite song of 2019. I don't know how many dozens of times I've listened to it, but it still makes me laugh every single time. The other two tracks on this 10″ are also great, as is everything the COOL GREENHOUSE has done. Recommended for fans of the FALL who like some wry humor in their punk.
EXTENDED HELL — Mortal Wound LP (Media Disease)
Mortal Wound is my favorite hardcore record of 2019. With a combination of sprightly, TOTALITÄR-inspired riffing, FRAMTID heaviness, and creativity that can only come from somewhere magical, EXTENDED HELL puts together an absolute crusher.
THE WORLD — Reddish 12″ (Lumpy / Microminiature)
I may have listened to Reddish more than any other record this year. Its production sounds like something from the Rough Trade label circa 1979, but the WORLD doesn't strike me as retro. Every song is different from the last and they all rule.
LOOSE NUKES — Behind the Screen EP (Beach Impediment)
This all-star hardcore band from Pittsburgh hit the scene hard in 2019 and no one did the stripped-down, '80s USHC thing better.
IDIOTA CIVILIZZATO — CiviltÁ  Idiota EP (Static Shock)
Heavily indebted to NEGAZIONE and other greats of '80s Italian hardcore, IDIOTA CIVILIZZATO is the best thing going if you like your hardcore fast, wild, and weird.
FRIED EGG — Square One 12″ (Feel It)
This Richmond band added a new level of swagger on their full-length debut. Square One reminds me of how later BLACK FLAG incorporated the loose and slinky grooves of Fun House-era STOOGES, but the huge sound on this record easily bests FLAG's tinny-sounding later records.
FORRA — Mostrame Lo Peor EP (La Vida Es Un Mus)
This 7″ from London's FORRA reminds me of the debut single from Spain's OTAN 15 years ago. It's stripped-down hardcore punk, but it's rawer and realer than anything else out there. If you don't like this, I think we might have different definitions of punk.
DROIDS BLOOD — Be Free LP (Drunken Sailor)
Half of BROKEN PRAYER starts a new project and continues to make some of the most innovative and exciting punk music in the underground. DROIDS BLOOD combines bits of hardcore, noise, and post-punk into something that sounds like no other band ever. They also have some of the best lyrics in punk.
KALEIDOSCOPE — After the Futures… LP (Toxic State / La Vida Es Un Mus)
I've liked every previous release from New York's KALEIDOSCOPE, but After the Futures is where it all comes together. Equal parts art school creative ambition and hardcore punk rage, this is another one for this of us who believe that hardcore punk is still artistically and politically vital music.
Honorable Mentions:
NEON — 12″ (Square One Again)
RIGOROUS INSTITUTION: The Coming of the Terror EP (Whisper in Darkness)
BAD BREEDING — Exiled LP (Iron Lung / One Little Indian)
PINOCCHIO — My Time Vol. 1 EP (Toxic State)
URANIUM CLUB — The Cosmo Cleaners: The Higher Calling of Business Provocateurs LP (Fashionable Idiots / Static Shock)
VITTNA — Mundane Genocide EP (Bunker Punks)
MOCK EXECUTION — Reality Attack EP (Lengua Armada)
PUBLIC ACID — 152 Seconds of Public Acid flexi (Artifact Audio)
JUDY & THE JERKS — Music for Donuts EP (Thrilling Living)
DIÄT — Positive Disintegration LP (Blackest Ever Black / Iron Lung)
PUBLIC SERVICE — I'm Gonna Kill that Man EP (Anxious Music)
YLEISET SYYT — Sininen Hekuma EP (Open Up and Bleed)
CHAIN WHIP — 14 Lashes LP (self-released)
FOSTER CARE — El Abuso LP (Total Punk)
ITCHY BUGGER — Double Bugger LP (Low Company)
BLOOD INCANTATION — Hidden History of the Human Race LP (Dark Descent)
TOMB MOLD — Planetary Clairvoyance LP (20 Buck Spin)
USA/MEXICO — Matamoros LP (12XU)
ZORN — Hardcore Zorn CS (self-released)
NOSFERATU — Solution A LP (Media Disease / Todo Destruido / La Vida Es Un Mus)
L.O.T.I.O.N. — World Wide Web LP (Toxic State)
Notable Reissues:
ICONOCLAST — Domination or Destruction LP (Sealed)
DISCLOSE — Nightmare or Reality LP (La Vida Es Un Mus)
SUBCULTURE — I Heard a Scream LP (Puke N Vomit)
ZOUNDS — Singles Collection LP (Sealed)
RAW POWER — 1983 Demo LP (Ugly Pop)
CORTEX — Spinal Injuries LP (Sacred Bones)
WARHEAD — Cry of Truth EP (Farewell)
VICTIMS — LP (In the Red)
THE COMES — No Side LP (La Vida Es Un Mus)
GENETIC CONTROL — First Impressions LP (Return to Analog)
BLITZ — Second Empire Justice LP (Puke N Vomit)
ABWARTS — Amok Koma LP (Neat Neat Neat)
KAYLA GREET
Hello! I'm rather new to the MRR reviewer pool, but am happy to have joined the ranks. For the past six years I've been writing for Razorcake, doing reviews, interviews, articles, and podcasts. I've also been a part of New Noise magazine for several years, interviewing bands like PROPAGHANDI, WORRIERS, DAN VAPID, MEAN JEANS, CRUSADES, +HIRS+, and more. Besides DIY punk music, my other true love is pinball. I created a league called Babes in Pinland, write for a zine called Skill Shot, and started a pinball podcast (Skill Shot Pincast) where I've interviewed ANDREW W.K.. I live in Seattle and work as a special needs educator in a kindergarten class. 
LONE WOLF — Together Alone LP (Stardumb)
Two Fests ago I caught this Dutch band by happenstance of a mental coin flip, and they've enriched my life since that moment. I love the hooks, the saccharine melodies, the duality of vocals, and the simplicity of the words. Their first record blew my socks off. This one put them back on and made me cozy into a night by the stereo. Happy to be living in a world where these four people from Rotterdam are making music together, not alone.
RAMONA — Deals, Deals, Deals! EP (Red Scare)
I've been transfixed by RAMONA since day one. Maybe by the fifth time I saw them on a bill and started remembering their lyrics, I had started intentionally going to their gigs. A lot of these songs are woven into the walls of my favorite Seattle venues, and connected to tactile memories of walking home with their choruses on loop in my head. I love the tongue in cheek naming conventions of their songs, the earnestness of their lyrics, and the speed and pop by which they deliver them.

WITCHING WAVES — Persistence LP (Specialist Subject)
This group came as a total surprise to me. I came across them just digging through the Bristol label's catalog. WITCHING WAVES are a dark, post-punk adventure through themes of mental health, financial stability, hardships, and the heart. They trade off male and female lead vocals well, and the way they build and layer sound as a three piece is really ace. Bands like this are why I keep both feet planted firmly in this world. It's such a great feeling when a current band reinvigorates the thrill of finding new music.

HIDDEN SPOTS — New Me/New You LP (Dead Broke)
OK, maybe I'm bending the rules a little bit, but this record was physically released in 2019. It's a "long lost record" of songs from 2012 that was never put out for whatever reason. If you're at all into BENT OUTTA SHAPE, FLESHIES, or FUTURE VIRGINS, this is definitely a band to check out. Snotty, guttural, and raspy punk from Chattanooga.

DEAD BARS — Regulars LP (A-F / No Reason)
I'm a regular when it comes to these guys. While I've never intentionally tried, it's been near impossible to have a bad time watching them play. The resulting record manages to capture the dancey excitement of their live gigs. Their simplicity is inspiring. Life doesn't have to be complicated all the time. It's actually pretty important to chill out and sing about not having tattoos (even if you do).

MARTHA — Love Keeps Kicking LP (Big Scary Monsters / Dirtnap)
The marvelous darlings from Pity Me, England are back with more poppy heartfelt punk ballads about love and living. Thank fuck. There's so many songs here that make me want to smile and cry at the same time. Their music has an element of sweetness to it, like a friend coming over to cheer you up after your heart got beat up by someone you thought you knew. What this group is really good at is taking a broken person and wrapping them up in a warm blanket with a pint of ice cream. Grinning through pain.

MAKEWAR — Get it Together LP (Fat Wreck)
To be perfectly honest, I've only listened to this record twice before adding it to my top ten list. But it's a no brainer because it's MAKEWAR doing what they do best: writing powerful, fast, and catchy as fuck punk songs with raspy harmonies. There's a little slickness in the production that wasn't quite there on their previous release, but hey, bring it on. MAKEWAR sound awesome and if I can hear that better on this album, I'm in.

WESTERN SETTINGS — Another Year LP (A-F / Gunner)
Ricky Schmidt has one of my favorite voices in punk. He could sing the ABCs and somehow I'd stumble through a mess of feelings over it. No real surprise (for me) here: Another Year is another collection of bangers. Though I will say that the tracks on this one are topping out as some of the best WESTERN SETTINGS songs yet. The tangible LP is stunning as well.

URANIUM CLUB — The Cosmo Cleaners: The Higher Calling of Business Provocateurs LP (Fashionable Idiots / Static Shock)
This is one of the most bizarre bands I've ever had the pleasure of being exposed to and each record ramps up the weirdness a little more. I'm way into the angular guitar solos, the dancey rhythm guitar, speedy and consistent drumming, bouncy bass, and the ever present sound effect pumped in. Usually I have no idea what is going on or what to expect next, even after I've spun it a few times, and I'm really into the noisy, experimental spontaneity that this band brings.
THE MURDERBURGERS — What a Mess (Asian Man)
Catchy, melodic, and dark. These are the qualities that attract me to a lot of the music that I love and THE MURDERBURGERS' possibly final release brings them out in spades. Songs about loss, debt, depression, anxiety – all the heavy stuff in life. But it's met with pop punk music that inspires sing-a-longs no matter how sad the words might be making you feel. Bummed these guys will be taking a break, but I watched them play this release in a literal kitchen in Seattle on their last tour and if my last memory of them is comfortably screaming along in some stranger's home, it's perfect.
MITCH CARDWELL
Mitch Cardwell is a reviewer for MRR. 
CHRONOPHAGE — Prolog for Tomorrow LP (Cleta-Patra)
Technically a 2018 release (only by a few days!), but Prolog for Tomorrow is a pumper in any year.  Loose and inspiring DIY sounds, all rooted in corn-fed American freakdom with some UK-informed sprinkles added for fun fuckery. Cool, somersaulting songs that I played endlessly throughout the year.  
THE COOL GREENHOUSE — Crap Cardboard Pet 10″ (Lumpy)
Incisive nose-thumbing from the UK, centered on prim-style drum/synth programming, repetitive in an unsettling but (eventually) hilarious fashion. A gang of very smart assholes here, such a rare breed in punk nowadays. More ASAP!
MIDNITE SNAXXX — Music Inside LP (Slovenly)
It's gratifying to hear a band make their strongest statement ten years after the initial spark. This one recasts the SNAXXX as a risk-taking lot, capable of bending myriad punk modes to their will.     
NEON — 12″ (Square One Again)
A "total package" affair—sounds wonderful, looks stellar, shit-hot songs and hyper-engaging in live form. NEON bursts via powerful multi-directional guitar, coy/cloy vocal rambunctiousness and ur-hardcore rhythms, boiling over into a magical orbit entirely free from restraint.
NOTS — 3 LP (Goner)
NOTS sound way leaner on 3, uncloaking a fierce angle to their sound that was previously discernable in live setting only. It's so cool to (finally!) hear Natalie's vocals unobscured on record. A world-class powerhouse.
PENANCE HALL — Covered in Shit / Take Me to the Bar Fight 45 (Neck Chop)
New Orleans: 2019's Punk Ground Zero. Rob (aka GIORGIO MURDERER/BUCK BILOXI) and Michael He-Man (of TRAMPOLINE TEAM) trade off negative thuggery and I'm left huffing/puffing. 2019's true buried treasure.  
PREENING — Gang Laughter LP (Digital Regress)
Sax bruise over rhythms so taut that you'll beg for them to snap (they don't, you're fucked). Ahem: not No Wave, more akin to an even older unruled weirdness, refried anew. A cool subterranean jaunt that really enriched my year.
QUINTRON — Erotomania LP (Mind Meld)
DIY Dixieland lounge that prompts this underwater/otherworldly immersion, somewhat akin to SUN RA gone the way of a floating-pink-elephant liquor blotto session. Hear this now and experience pure joy.
TRAMPOLINE TEAM — LP (Hozac)
This one serves as the perfect face-slash to all the bemoaning losers saying shit's too tame these days. One listen: DEAD. A total fuckin' onslaught and complete dominators live to boot. So fuckin' good!
WARP — Traffic Control LP (Thrilling Living)
Tough and coiled-tight sounds, powerful and surprising with the perfect amount of absurdity. Real punk from SF? Moo.
NERVOUS INTENT
Megan March and John Mink run Nervous Intent Records.
KHIIS — Bezoar LP (La Vida Es Un Mus)
No frills, primal, relentless hardcore; this record is pure satisfaction from start to finish; in a class of its own. Already a classic.
PANDEMIX — In Condemnation LP (Dirt Cult)
Sassmistress superstar Shannon Thompson fronts this blistering peace punk/hardcore combo you already know and love, and this early 2019 album really brings their power and intensity to new levels. For fans of POISON GIRLS, RUBELLA BALLET, XYLITOL, etc.
FITNESS WOMXN — New Age Record LP (Sorry State)
Excellent throwback late '90s/early '00s no wave freak dance muzik from Carrboro, NC; echoes of ERASE ERRATA, TRACY + THE PLASTICS, BUSH TETRAS, etc.


DOTS — Dots LP (Dirt Cult)
Is "Powerjangle Psych Hardcore" a genre? It is now. This record is great and weird, but live is where DOTS get really intense and thoroughly disorienting in the best way possible, like something that'd be on early SST and end up on tour with the BUTTHOLE SURFERS (circa 1983).
SILENT ERA — live
This band is one of the few on this side of the Atlantic to be able to effectively play that perfect Euro-style anarcho-punk plus tasteful melody like GORILLA ANGREB, POST REGIMENT, LA FACTION, and more…all with a gloriously unexpected NWOBHM foundation in the guitar shreddery courtesy of Matt. Oh, and we ain't gonna lie, Nervous Intent is putting out their new full-length LP in early 2020 and it is so damn good! 

PREENING — Gang Laughter LP (Digital Regress)
This Oakland combo really put the "Skronk" back in "P0nk" (wut?) and via their debut LP demonstrated to all of us that 2019 could be a good year for sax-driven, guitar-free freak muzik that veers from TEENAGE JESUS to the FUGS with reckless abandon.


DRAMA — live
Live and recorded, DRAMA draws on a raw power minimalism with a deep freak soul; they are like no one else. Feral and transformative. If we had to compare them to anyone, maybe there's some BIRTHDAY PARTY, HETEROFOBIA, LYDIA LUNCH and PYLON somewhere in there, but DRAMA is way more the kind of band you describe using transgressive literary adjectives. If the stars align, they will have a perfect and long-awaited full-length on the way on Nervous Intent sometime in 2020.  

KITTEN FOREVER — live
Going strong since 2006, Minneapolis's KITTEN FOREVER provides exactly the kind of dirty, minimalist, old-phone-receiver-vocals, infernal-pep-rally-type of entertainment you will not readily find elsewhere. This band is fun and they don't fuck around. For fans of BRATMOBILE, AMYL AND THE SNIFFERS, and L7.  

HETEROFOBIA — Queremos Ver el Mundo Arder LP (Drunken Sailor)
However raw and gay you can picture a harsh darkwave queercore punk band, HETEROFOBIA is rawer and gayer and better than that. This band is so fucking worth it.
FOC — demo CS (self-released)
Relentless, wild hardcore with gnarly, desperate vocals in that distinctly Barcelona style you all know and love. The demo is tight and sounds like it's fighting all the way as it gets dropped down a well. They also have a few tracks up now from their upcoming album La Fera Ferotge coming in 2020 on La Vida Es Un Mus.
PAOLO BON TEMPO
The only truly great thing happening is the Minneapolis zine swap. It's like that sick OUR SIDE/BLOODKROW BUTCHER/DISENGAGE/PEGASUS/FREE SPIRIT/STEP FORWARD gig in early 2012, where everyone (but not me) made a one-page zine, except those bands don't play, and it's in Minneapolis not Boston. Demystification by Paula Martinez and Ambrose Nzams, Gratitude by AJ McGuire, Stop & Think by Shining Life Press, and I Question Not Me by Becky Miller are amazing.
RASHOMON — Pathogen X 12″ (Iron Lung)
It's bold and extremely catchy. I've never quite heard a hardcore record like this. Hearing "An Inviting Hand" was an undeniable "holy shit" moment. Are they playing a synthesizer? How did they layer all this together so nicely? Some riffs sound like a twisted carnival version of DEATH SIDE, while some riffs are more audacious with their influence. I'm pissed I have a one-sided 12″ on my list though.

CHOWLINE — Demo 4 cassette & Demo 5 cassette (Edger)
Sam Zimmer keeps booting out maniacally fast, heavy demo tapes with metal influences creeping in. Music for lifting weights, skating, wrecking, fighting, fucking, fishing, etc. "You gotta do it yourself if you want to do it right."
LOOSE NUKES — Behind the Screen EP (Beach Impediment) & SNIPER CULTURE — Combat Rock EP (11 PM)
I'm hearing these right before the deadline, and since I haven't been overly enthused with new releases, I gotta hype them. LOOSE NUKES sounds like people playing what the sixteen-year old D.R.I. fanboy versions of themselves would've wanted to hear. SNIPER CULTURE is a new breed riding the line between hard moshing and studied punk influences, which is extremely up this idiot's alley. It's incredibly fun, and what may appear as tongue-in-cheek could be genuine affection, who knows?
KALEIDOSCOPE — After the Futures… LP (Toxic State / La Vida Es Un Mus) & ELECTRIC CHAIR — Performative Justice EP (Iron Lung)
I only listened to these a couple times each, but they're pretty tight. The KALEIDOSCOPE LP doesn't hit me as hard as I want it to, but I think it's beautifully packaged and it's got a couple great tracks ("Feeling Machine," "Crocodile Tears," and "Development Crisis"). It's like a fucked up version of a CRASS-inspired AGNOSTIC FRONT who studies global politics and listens to free jazz. The ELECTRIC CHAIR EP is like a new version of GOVERNMENT WARNING. That's a good thing.
BIG CHEESE — Don't Forget to Tell the World LP (Painkiller) & GAME — No One Wins LP (Beach Impediment)
Two British bands released in the US. Every city and dumbass podunk town should have a heavy hitter like BIG CHEESE, the same way every city should have an AGNOSTIC FRONT rip-off: 'cause we all need something to dance to. I'm a sucker for a good KILLING TIME and ICEMEN rip-off. The GAME LP is fucking burly. To my detriment, I didn't grow up with much BLACK SABBATH, but I can tell they are an influence here. Really cool effects and good song writing.
SLEEPER AND SNAKE — Junction and High LP (Aarght!)
"Flagged" is an amazing tune, and makes this whole thing worthwhile. I don't know how to describe this other than there's acoustic guitars, some li'l pocket horns and keys, and much more. It's a fun and relaxing listen from Aussie land.
THE PSYCHOS — One Voice LP (Radio Raheem)
The PSYCHOS were my favorite NYHC band that I had never heard. The TRIP 6 Grand Theft Audio CD has gotten me through for a couple years, but hearing these songs as they were originally written without Tommy Rat's awful vocal placement is a real treat. They're fucking hard as hell, and the insert booklet and layout is great. Now, the PSYCHOS are my favorite NYHC band that I have heard. Praise be.
CRUELSTER & SPIKE PIT — live
These two Cleveland bands were astonishing for separate reasons. CRUELSTER dragged their guitars into the venue without cases, then played the most deranged, tuneless, hilariously dumbass shit I could fathom. I walked out of the venue to Maxime of CONDOR doing vocal warm-ups, which was the lamest thing ever, and I knew CRUELSTER was one of the only punk bands left. SPIKE PIT played to a small crowd in Minneapolis with reckless power and commented that they just combine "a li'l metal and a li'l punk, you know, the good stuff." It's hardcore punk that needs nothing else. No posturing, just simplicity.
NOSFERATU & CHRONOPHAGE — live
NOSFERATU released a record this year and that's cool, but this band is better, miles beyond better, live rather than on record. Cody also plays drums in CHRONOPHAGE and I'll take this chance to hype them as a fantastic live band as well.
FRIED E.M. & PINEAPPLE R.N.R. — live
These two St. Louis bands surprised me. I hated the FRIED E.M. record. It was needless and boring, but they can thrash live. They also didn't have to act like psychos, they just showed energy and genuinely had fun. One of the better sets I've seen this year. I thought PINEAPPLE R.N.R. was gonna be some dumb scrunky Midwest stuff and to a certain degree it was, but it was actually really entertaining. Shivaun said they were a ska band and my memory of that night remembers them being a bit tougher and wants to challenge that. I thought they were just a good punk band with horns and a synth. That drummer could fucking rip as well.
VIOLETA HINOJOSA
Violeta is a Mexican punk who has played guitar/bass/vox in bands such as RATAS DEL VATICANO, CREMALLERAS, SOGA, LOS LLAMARADA and a few others. She's also an occasional illustrator for punk flyers and album art.
This year was full of uneventful, terrifying things worldwide but at least I'm happy about the new music I found out about and the punk bands I got to see on tour. I guess a lot of my favorite bands didn't really release anything new this year, but I'm glad I saw a lot of them live and I'm looking forward to hear the stuff they're preparing for 2020. I feel very inspired by all the albums I'm reviewing here and they might not all be in the same musical vein of punk — some of them are more sweet poppy, others are more raw hardcore others, are more post-punk — but here it is…
HETEROFOBIA — Queremos Ver el Mundo Arder LP (Drunken Sailor)
This album from my favorite band in my hometown, Monterrey, is one of the coolest things that happened this year for me. I love everything about it, from the album art to the lyrics, riffs and the gloomy punk atmosphere it has from beginning to end. Touring with them was also one of my 2019 highlights. Love them and everything they do and represent.
POBREZA MENTAL — Ya No Me Pertenezco EP (Toxic State)
I thought it would be impossible for POBREZA MENTAL to release anything more brilliant than their 2017 demo, but I was so wrong. This EP fucking rips. I don't think there's any current hardcore punk band that can come close to the riffs they pull off. Hard, raw, but also very cohesive and perfectly well executed. One of the best punk bands you can see in the US right now. This was a super exciting release.
LORETTA — Bleach My Brain CS (self-released)
Debut release from this really cool band from Boston I got to see this past summer. Their songs are careless, fierce, messed up and catchy. It has a sweet side to it but also the multiple girls singing at the same time in slightly different deranged vocal notes remind me of something like LOST CHERREES or HAGAR THE WOMB. Right up my alley and highly recommended if you're into stuff like that, too.
OJO POR OJO — Paroxismo CS (Huayno Amargo)
Incredible tape from Mexico City's OJO POR OJO, one of the finest hardcore bands in town. This only includes two songs but I do wish there were more because I think these might be my favorite tracks they've ever recorded. Steve Albini was the one responsible for recording and mixing OJO POR OJO for this release, so the sound quality is great. Very intense and powerful.
DAVE RATA — Dave Rata 2019 CS (self-released)
So DAVE RATA from POBREZA MENTAL and EXOTICA put out his second solo release which was something I was expecting since he released Hallucigencia Vol. I maybe seven years ago. I'm surprised no label has decided to put it out but Dave made a few physical copies and I think the whole thing is also on Soundcloud. Very beautiful songs with super fresh melodies, I love every track on here but especially "TodavÁ­a no." Impossible not to sing along to the whole thing. I listened to this tape so many times these past few months and I can't wait to hear more of David's solo stuff in the upcoming years. 
OLOR A MUERTE — Execution EP (self-released)
Raw, intense in-your-face punk from New York in both English and Spanish which definitely was an amazing find for me this year. "Tumba" is my favorite song here. Everything sounds super distorted and desperate and Analia's vocals are extraordinary. I can't wait to see them live and I wish with all my heart they come over to Mexico next year.
ELECTRIC CHAIR — Performative Justice EP (Iron Lung)
I suppose many people will add this to their best of the year lists, and rightly so. This album is insanely great, I kept coming back to it and I think since it came out I've probably been listening to it at least once a week. Iron Lung Records keeps putting out the best stuff unquestionably.
RIKI — Napoleon single
OK, so the official release of the album this single comes in is supposed to be out on February 2020, but this song was one of my most cherished findings this year. Such an excellent '80s rendition!
NEON — 12″ (Square One Again)
Definitely one of the best bands I got to experience in 2019. This record is the definition of cool.
CHRONOPHAGE — Prolog for Tomorrow LP (Cleta-Patra)
This albums fucking rips from beginning to end, I don't know how these people manage to create such genius songs and lyrics. Absolutely ADORE.
BILLY GARDNER
Runs Anti-Fade Records from Australia.
MCFARLANE'S REALITY GUEST — Ta Da LP (Hobbies Galore)


R.M.F.C. — The Hive Volumes 1 & 2 LP (Erste Theke Tonträger)


LEATHER LICKERS — Spit EP (Cool Death)


TRAFFIK ISLAND — Nature Strip LP (Flightless)


ALIEN NOSEJOB — HC45 EP (Iron Lung)


ALEX MACFARLANE — Cassette 2019 CS (Hobbies Galore)


UV RACE — Made in China LP (Aarght! / Future Folklore)


RAPID DYE — Tour Tape 2019 CS (Sexy Romance)


URANIUM CLUB — The Cosmo Cleaners: The Higher Calling of Business Provocateurs LP (Fashionable Idiots / Static Shock)


ELECTRIC CHAIR — Performative Justice EP (Iron Lung)


TOP ELEVEN OF 2019 TOP TENS
You read all that and you still want another top ten? OK, we crunched the numbers and came up with a list of the most-selected releases in this year's top tens. Click here: Top Eleven of 2019 Top Tens