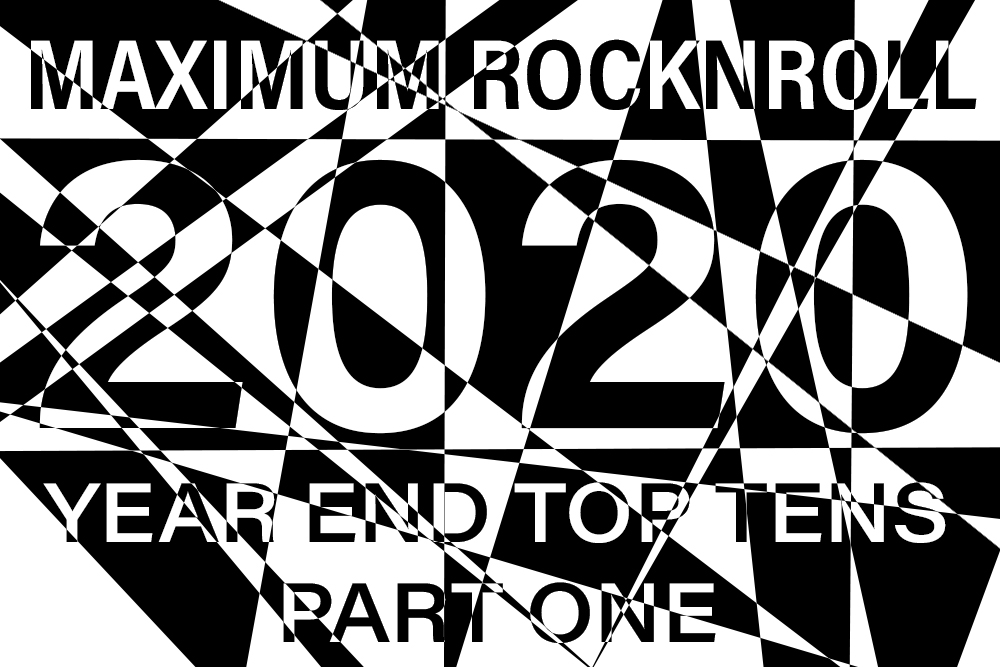 2020 Year End Top Tens, Part One
Once again, we asked MRR shitworkers, contributors, and extended friends and family about their favorite records of the year.
These lists have often began with declarations of how much the past year sucked. Enter 2020. Part one of three:
DANIEL ALVAREZ
My name is Daniel Alvarez, I'm from Monterrey, Mexico, one of the most conservative cities in the country, I play drums in CREMALLERAS, bass in MÁXIMO FRACASO, and I used to be lead singer in HETEROFOBIA.
1. RIBBON STAGE (New York, USA) — My Favorite Shrine EP (K)
I remember I had the chance to listen to these songs before they were released, and I fell in love from the first time I played them. They're super cute, and they remind me of some of my favorite bands. If you're a fan of twee pop, you're gonna love this.
2. RIKI (Los Angeles, USA) — Riki LP (Dais)
RIKI is probably my current favorite band—from the first demo, I knew I was going to be a huge fan. It sounds like everything I love: super dancey, super obscure, super sensual, super 80s. The eight songs on this record are pure gold.
3. DAME (Boston, USA) — Dame LP (Beach Impediment)
I was waiting for this record soooo bad, since their last release in 2017 with only three songs, I was like "I want more." Then, I had the chance to listen to all the new songs while we were touring together in 2019, and I was just so desperate for it to come out, so obviously this is my top #1 release of the year. They never lose their style. Super great post-punk and also Diana's voice sounds super beautiful in these new songs.
4. CES CADAVERES (New York, USA) — Cuerpos Monstruosos CS (Detriti)
If you are into techno, synth-punk, and you love to dance, this is for you: four killer songs. The music, the lyrics… it's super goth and super well done.
5. MANTIS (New York, USA) — Este Mundo (self-released)
I was really obsessed with this demo earlier this year, I listened to it while I was driving, working, walking, etc. Mel has the most amazing voice, and also she is a super talented musician; you can notice that in her solo project, also the way she writes is amazing. I feel like more people should listen to this demo, it's so beautiful.
6. CRY OUT (Montreal, Canada) — More Echoes Of A Question Never Answered…Why? 12″ (La Vida Es Un Mus)
This is a masterpiece from the first until the last second, maybe the best anarcho-punk-style project I have listened to in a long time. I know this record is super special for a lot of punks, RIP Rosie.
7. KODOMO GUN (Monterrey, Mexico) — Kodomo Gun CS (self-released)
This EP was released in December 2019, so I didn't have the chance to write about it last year, but it totally deserves to be here this year. This band is from my hometown—they play Japanese punk style with a voice that sometimes sounds cute and then it just changes to more maniac screaming. They have some songs in Japanese and they kinda remind me of KYAH! Love them.
8. SPECIAL INTEREST (New Orleans, USA) — The Passion Of LP (Night School / Thrilling Living)
What can I say about SPECIAL INTEREST? I don't think they need any introduction, they are the band, everything they do is always amazing, and this record is not an exception. One of my favorite releases this year, listening to them always makes me wanna dance, scream, and get crazy.
9. CB RADIO GORGEOUS (Chicago, USA) — Mid Fit EP (Thrilling Living)
I'm dying to see this band play a live show, this totally blows my head. The music and the vocals are super fun, fast, and catchy, what more do you want? I feel like it's one of those records that you can tell is going to be fucking cool since you see the cover art.
10. FARMACO (Buenos Aires, Argentina) — demo flexi (Discos Enfermos / E.C.P.V.)
Last but not least, FARMACO, an amazing band from Argentina with strong vocals. It's simple, it's hardcore and it's punk, the things I love the most in a band! This EP has three original songs and a cover song from one of my favorite Argentinian bands, SOBERANÁA PERSONAL, so they totally got my attention since the first time I listened to them. If you are into Latino hardcore punk, this is totally for you.
Bonus: SATÉLITE (Madrid, EspaÁ±a) — "Otra Era" (No Thanks!, Flexidiscos y 1 Minuto de Gloria!)
I wanted to add this track as a bonus because it's still not an EP or an LP, but I absolutely love it and they just released it, and I love, love, love that band so much.
CAROLYN KEDDY
Maximumrocknroller since 1991. DJ at KXSF 102.5FM, San Francisco Community Radio and KALX 90.7FM, Berkeley. President of the Punk Rock Film Critics Association™. Co-founder of The Coalition of Aging Rockers
Carolyn's favorites of 2020:

BRANDY — The Gift of Repetition LP (Total Punk)
"(Wish You Was) Madball Baby" is the song of 2020. Total Punk released the song at the beginning of the pandemic, six months before the record would be out. I just couldn't get enough. I played it almost a hundred thousand times. When I happen to not be purposely playing it and I suddenly catch the opening my ears perk up. Duh-duh-dunna-na-dunna-na-na. It is impossible to sit still and not sing along when it is on. Needless to say, I was so revved for this LP to come out. Every song on this is killer. Not quite "(Wish You Was) Madball Baby" level, but definitely in the price range. Above and beyond my favorite record of 2020.
KIM SALMON AND THE SURREALISTS — Rantings from the Book of Swamp LP (self-released)
One of the better things to come out of stay-at-home orders was the proliferation of online live music shows. I tuned in at 1AM Friday night on June 12, 2020 (it was a more reasonable time in Melbourne on the 13th) to catch the performance that ended up being this album. Naturally, I caught the second performance the next night as well. I have been obsessed with all things Kim Salmon, especially the SCIENTISTS, since my formative days. This record continues his amazing legacy.
CIVIC — Radiant Eye / Making Time (Flightless)
When I was record shopping in Melbourne, I did something I prefer to never do: I asked the record store worker what records I should buy. He recommended a 7″ by CIVIC. I immediately got hooked and scooped up everything I could. But what came before only slightly prepared me for this. "Radiant Eye" is one of the greatest songs of all time. It captures the intensity and wildness of RADIO BIRDMAN without being a ripoff or homage. I have never heard any band really get that essence and make it their own. Even the song title is BIRDMAN-esque. The B-side is a great cover, but we need more songs like "Radiant Eye".
QUINTRON AND MISS PUSSYCAT — Goblin Alert LP (Goner)
I don't know if it is because they used an actual drummer for the first time on this record, but this is the catchiest QUINTRON AND MISS PUSSYCAT record from start to finish. QUINTRON's organ is front and center, and he rocks it. The vocal interplay between him and MISS PUSSYCAT is so fun. All you really need to know is the first song is called "Teenagers Don't Know Shit".
DR. SURE'S UNUSUAL PRACTICE — While Aus Burns CS (self-released)
This is so heartbreaking while being so beautiful. Four songs inspired by the horrific Australian fires early in 2020. It epitomizes my attitude toward music during this crappy year. Take all your frustrations, annoyances, and incredulities and synthesize them into something worthwhile.
THE COOL GREENHOUSE — LP (Melodic)
It's the voice, lyrical content, and delivery that I love most about this record, but I also love the minimalist plinking electronic garage-y music. Witty and suave while being sarcastic, semi-political and super catchy. I crack up every time he mentions bringing your "Dirty Glasses" to COOL GREENHOUSE shows and the band will clean them. They also snuck out a great new 7″ in December too.
FLAT WORMS — Antarctica LP (God?)
Unsurprisingly the records I listened to most this year seemed to comment on all the ineptitude we have been having to put up with in recent years. FLAT WORMS hits on a bunch: climate, the economy, housing with a restrained aggression. The music is noisy and unnerving while the vocals are plainly stated with a distinctive sounding voice. A nice combination.
MR. WRONG — Create A Place LP (Water Wing)
The interplay of the vocals on this record are amazing. Angular and unsettling melodies bounce around with three vocals going every which way, but in perfect harmony. It is so fun to listen to. Features the song that sums up the last four years "Prime Time President".
NOXEEMA — Last Gasp EP (dotx3)
I was interviewed by the New York Times early in the pandemic about how stay at home orders and whatnot would affect the music I played on my radio show. One of the songs the interviewer mentioned was "Don't Touch Me" off this record. I never even considered changing my musical style and the mere suggestion that playing the song was inappropriate endeared this record to me all the more.
ALL MY FRIENDS AND ME — First Time CD (self-released)
Catchy post-punk minimalist fun. Features the great personal anthem "Nasty". I'm also sick of white male senior citizens declaring what women should do. "N-A-S-T-Y".
Because picking only ten records is impossible, here's some that should also be on the list: 
JACKSON REID BRIGGS AND THE HEATERS — Hammered LP (Beast) 
RUBBER BLANKET — Our Album LP (Spacecase)
GINO AND THE GOONS — Off the Rails 12″ (Big Neck)
KOOL AND THE GANG BANGERS — Year Of The Kool Pt. 3 CS (S/R)
CB RADIO GORGEOUS — Mid Fit EP (Thrilling Living)
BUCK BILOXI AND THE FUCKS — Put You in the Gulag EP (Goodbye Boozy)
GEE TEE — Atomic EP (Goodbye Boozy)
COLLECTIVE HARDCORE/DISCO JUNK — split EP (Goodbye Boozy)
NAMES — Et Tu & The Warning LP (Misanthropic Agenda)
RAY GUN — Lunkhead EP (It's Trash!)
Plus FAVORITE REISSUES AND ARCHIVAL RELEASES OF 2020:
THE PATHETX — 1981 LP (Third Man)
EL PIFCO — Meltdown / Bananas (Metallic Rainforest) 
REBEL TRUCE — The Lost Tapes EP (Green Recordings)
SNOT PUPPIES — TV Tantrum EP (No Matrix)
SKINNED TEEN — Nancy Drew EP (Vague Absolutes)
14TH WISH — I Gotta Get Rid Of You / 14th Wish (Hozac)
TED CASSIDY — The Lurch / Wesley (Jackpot)
RED LIGHTS — Red Lights LP (In The Red)
AN UNEASY PEACE — Speaking In Tongues EP (Dirt Cult)
THE ONLY ONES — Live In Chicago 1979 (Alona's Dream)
SEAN P HAUGHTON
Sean P Haughton presents MRR Radio bi-monthly, and co-hosts internet radio show Repetitive Strain. They make music in NEGATIVE SPACE, MERGING, and VANITY CRYSTAL.
P22 — Human Snake LP (Post Present Medium)
I have best attempted to describe this record in shorthand to people as "sounding like someone playing a practical joke on anarcho-punk." At every point, you think P22 will rest on a familiar trope, and then that expectation is upended twenty seconds later. A disorientating work of art, adding insult to injury when they also manage to pack the hardest mosh riff of 2020 into the last two minutes. A genuinely perfect record.
THE NATIVE CATS — Two Creation Myths 45 (Rough Skies)
Nothing on this list quite equals the force with which this 7″ hit me—a trans person previously prone to unhinged life decisions—on first listen. Every single lyric on "Run With The Roses" is the best lyric I have ever heard, immediately followed by one that effortlessly improves upon it. "I've felt my body happening to people on the street" is a line so casually and expertly delivered, I consider that music just isn't what I was cut out for. That this 7″ is a mere two songs leaves me internally screaming, but what's quantity when you can deliver this kind of quality?
MOOR MOTHER – Circuit City LP (Don Giovanni)
The most Boomkat-friendly choice of my ten? Truth is, I could do a second list of that, but I've been forced to reserve it for my zine Maximum Ambient Edits and Rollers—seeking contributors, hmu. MOOR MOTHER's nth release of 2020 takes the backdrop of jazz collective IRREVERSIBLE ENTANGLEMENTS and rockets it into a four-act rift of total freedom music. I could go over word limit doing absolutely no service to how this is a crucial and urgent piece of art, or you could just hit play and blast off. Constantly exploding and reforming sound from a 100% living genius.
MAUFRAIS — Luxury of Complaint CS (Sound Grotesca)
The year is 2020. England is ravaged by The Great Post-Punk Wars, a BBC Radio-funded arms race where for some reason all bands claiming to sound like the FALL sound like the KILLERS. Your intrepid reporter behind enemy lines receives this brief five-track communique from Austin, TX, and confirms that the rumours of a resistance were true. MAUFRAIS avoid every pitfall of a well-worn style with laconic cool and odd guitar hooks I've been returning to all year. Adding to it is a production style I can best describe as "removing all the frills, sealing them in concrete, and burying them in the ocean." This tape whips.
MENTIRA — Mentira! LP (Harbinger Sound)
This right here is my shit. Punk removed of its auxiliary adornments, while at the same time pushed to its total sonic limit. Listening to this LP gave me the same zaps in the brain as when I first watched Laura Del Vecchio's former band RAKTA cause a packed house show to hit full psychic ascension. Completely spectral punk-dub alien sound.
GESTURE — II CS (Static Age)
Berlin's Allee Der Kosmonauten punks have been effortlessly knocking it out the park for a good three years solid now, and the world (or at least YouTube) is catching up. Is it nepotism if I released this band's first tape? Maybe, but the system works, baby. The fact is, GESTURE could be any mix of German/Anglo-expat mutants running an autonomous studio collective and I would still think "Wants In Cells" is a mean riff for the ages.
COLD MEAT — Hot and Flustered LP (Helta Skelta / Static Shock)
Following three (in my eyes underrated) 7″s, COLD MEAT delivers exactly what I want: spiteful, lithe creepy-crawling with a piss-take attitude. There's something in this LP that feels very specific to some of London punk's many permutations over the past five years, especially the mix of dry early Crass Records spittle, slimy character study, and glammy stomp. Also, if we're really getting down to it, every song is a 10/10 hit (ZZ TOP fans need not apply). Feels like an airless London summer basement in 2016, and I mean this as the highest possible compliment.
ALGARA — Enamorados Del Control Total EP (La Vida Es Un Mus)
Few things this year have been in my head as much as the guitar hook on "Miedo A Perder." The "militancy realness" aesthetic is incredible, but critically ALGARA has the songs to back it up. These four revolutionary heaters have seen release both in skeletal coldwave and full-band snot rocket versions this year—and honestly it's something of a coin toss which one would have landed here—but this one just pips its sibling for me.
THE ANNIHILATED — Demo CS (Brainrotter)
Last year in the middle of playing a set at a Leeds punk fest, I found myself awed by the singular and unwavering pit enthusiasm of one young leather jacket wearer. While he would remain mysterious then, it would transpire two months later that this was punk's most electric frontperson-in-waiting. "Killing Me" is a once-in-a-blue-moon monster track. When I'm 45 and we're doing generator gigs in the ruins of a collapsed Pret A Manger, I look forward to watching Bobby headbutt a mic again.
SPECIAL INTEREST — The Passion Of LP (Night School / Thrilling Living)
On March 5th, I watched SPECIAL INTEREST play live—the last band I will ever see pushing the extremely beaten PA system of DIY Space For London to its absolute breaking point. On March 7th, I danced at 5AM to breakbeat in a cavernous queer club in North London, where the sweat of hundreds of people clings to every surface. On March 14th, I missed SPECIAL INTEREST play live out of an all-encompassing fear that society is finally going to collapse. This record encapsulates all three of those experiences. Freaky fucked-up joy b/w paranoid graceful filth. Find hope in that dead metropolis because nihilism isn't chic. Unbeatable shit.
ARTO HIETIKKO
I'm the lazy editor of Toinen Vaihtoehto zine, occasionally co-releasing records on Nunchakupunk. I'm also involved with the annual Puntala punk fest, which, of course, didn't happen this year. Thanks to COVID-19, we all missed loads of gigs. Having to cancel the fest was just one more disappointment in a row of disappointments starting from MURO having to cancel their Finnish tour, which for me personally was the biggest disappointment in 2020. Anyway, though 2020 otherwise sucked there was a flood of great punk releases. My "best of" list contains 100+ releases so I had to leave out 12″s like LÁI — Pontianak, CONCRETE LAWN — Aggregate, TUMBAS — Dolor, PERMISSION — Organized People Suffer, COLD MEAT — Hot and Flustered, HEKÁTE — ΜΝ­ρερ' ΝŸργΝ®ρ', CADENAXO — Lenguas Podridas, MURO/ORDEN MUNDIAL — Sonido De La Negacion, ZYFILIS — Alla Ska Ha, LAFFING GAS — It's a Beautiful Day in the Gulch, RAT CAGE — Screams From the Cage, GELD — Beyond The Floor, PURPLE-X — Purple-X, VENENO — HerejÁ­a, VIVERE MERDA — Noi Non Ci Saremo, SICK URGE — Structures of Domination, etc, and 7″s like KOHTI TUHOA — Elä Totuudesta, ABYECTA — Infrafuturo, SNIFFANY AND THE NITS — The Greatest Nits, FARMACO — Hasta Que Valga La Pena Vivir, STRAY BULLET — Din of Shit, KALEIDOSCOPE — Decolonization, IRREAL — 2020, NAMATAY SA INGAY — Ang Talim ng Galit, NOSEBLEED — Outside Looking In, FRAGMENT — Serial Mass Destruction, KRIGSHODER — Krig I Hodet, THE CHISEL — Deconstructive Surgery, HÄPEÄ — Valistuksen Aika On Ohi, etc. There were also loads of terrific demos/tapes out by ROTURA (great melodic punk!!!), SCHEME (top-class D-beat!!!), INFRA (top-notch BogotÁ¡ punk!!!), LUMPEN, CUTRE, DESADAPTADO SOCIAL, GARGULEC, SLOI, CAGE KICKER, etc.
SIAL — Tari Pemusnah Kuasa 12″ (La Vida Es Un Mus)
For me, SIAL is one of the best bands on Earth. Once again, they have unleashed a total banger, an absolute ripper of a record in their recognisable style. Distorted, blown-out guitar sound. Desperate reverbed vocals. Hypnotic chants in between the noise. Drumming shifting from tribal rhythms to stomping hardcore beat. It all flows together smoothly, and the end result is astonishingly powerful. This is a masterpiece of modern hardcore punk.
SCARECROW — Revenge EP (Bunker Punks / D-Takt & RÁ¥punk)
Delicious TOTALITÄR-influenced, fast-paced hardcore punk delivered with urgency. Unrelenting guitar riffs. Fast, tight, straightforward, short songs. A blistering EP with eight ripping tracks.
MURO — Pacificar LP (Adult Crash / Beach Impediment)
MURO is one of those bands who are able to take influences from different decades of punk and create their own sound by mixing all these influences together in a way that no single influence was above the others. Pacificar is primitive and raw, and at the same time it's also far from being unimaginative. The song structures and riffs keep you on your toes. MURO is definitely one of the most sincere and important hardcore punk bands right now. Punk from the heart.
SUBDUED — Over the Hills and Far Away LP (La Vida Es Un Mus / Roachleg)
ICONS OF FILTH/EXIT-STANCE-influenced anarcho-punk, exactly the kind of that I used to listen to a lot back in the day, so it's really easy to immediately feel like at home when I put this LP on. Nowadays I prefer anarcho-punk bands that don't sound like imitations of old anarcho-punk. This time, however, I make an exception, just because this is so damn good, and they manage to bring new energy into the genre.
DESEOS PRIMITIVOS — LP (Going Underground / No Front Teeth)
Catchy and powerful mid-paced old school punk with a sense of melody and top-notch songs that make you want to sing along. I just can't seem to get enough of listening to this. Infectious and insanely good.
DESTRUCT — Echoes of Life LP (Grave Mistake)
No-frills hardcore punk/crust. It sounds so familiar, yet so addictive. Powerful, catchy riffs and solid D-beat rhythms. DESTRUCT is paying respect to a classic sound while simultaneously pounding new life into the formula. The production is nailed near perfection. Hey, I neglected to mention BASTARD. Ooops.
MUTANT STRAIN — LP (Sorry State)
If this isn't top-class hardcore punk, then what is? Anger, passion, fast riffs, and poisonous, at times almost demonic vocals sounding like the vocalist was in the middle of being exorcised by a Catholic priest. The songs were recorded live in batches of three with no breaks in between, just like when they play live. Total and complete quality.
LITIGE — En Eaux Troubles LP (Destructure)
Definitely my favorite melodic punk LP this year. Once I started to listen to it, I had to listen to it repeatedly. They have strong Burning Kitchen vibes, but you can hear the French melodic punk tradition there too (HEYOKA, LA FRACTION, etc.).

ANTIGEN — Dust & Ashes LP (Angry Voice / Falkoping DIY / Maniac Attack / Missing The Point / No Surrender / Phobia / Stradoom)
ANTIGEN mixes crust influences with hardcore punk and anarcho-punk influences, and in addition they also rock, and have melodies. It's crust, but not the usual kind of. Occasionally, thanks to the vocals and the melodies, there's something similar to SIGNAL LOST or later DIRT (Scent of the Kill-era), especially in "Not Your War" (one of the best songs this year!).
BARCELONA — Residuos del Ultrasonido EP (La Vida Es Un Mus)
The cover art is so unbearably bad that I had to make a new cover for my copy. The music, however, is magnificent, a continuation to their previous 12″. Viktor Vargyai wrote such an excellent review of this 7″ that it really doesn't leave much for me to say. This 7″, as Viktor put it, is "a pure primitive force of destructive and radical hardcore" indeed. It's raw, intimidating, challenging. BARCELONA is very special, one of those bands I really respect.
ERIKA ELIZABETH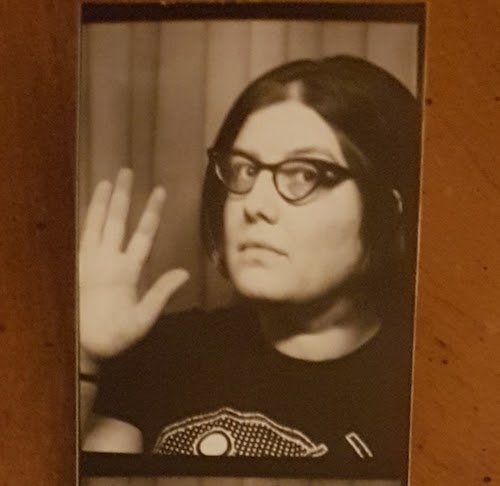 Erika Elizabeth plays bass in the band COLLATE, puts out records via Domestic Departure, hosts the radio show Futures & Pasts, and reviews things for MRR. She lives on unceded Cowlitz/Clackamas land in Portland, Oregon. 
Ten things from 2020, in alphabetical order:
CB RADIO GORGEOUS — Mid Fit EP (Not Normal / Thrilling Living)
Wild, whirlwind punk via Chicago that collapses time and space between the Dangerhouse-led sound of Los Angeles circa 1977-79 and the modern Midwestern weirdo underground of DEVO/SUBURBAN LAWNS devotees that had Northwest Indiana fixed at its epicenter. Bass and drums lock into hyperkinetic pogo-worthy rhythms topped with urgent, slashing guitar, while frontperson Anna pushes into the instrumental tussle with a series of shouts, yelps, and KLEENEX-esque non-verbal vocalizations that are a total joy.
CHRONOPHAGE — Th' Pig Kiss'd Album LP (Cleta Patra / Soft Office)
A band clearly operating on a contemporary DIY punk wavelength and all that goes along with that, but sounding more like a deep cut from the late '80s Homestead roster. Equal parts oddball New Zealand pop, scratchy UK post-punk, the weirder strains of vintage college rock, and 90s lo-fi indie; if you spent your formative years staying up all night to obsessively record tapes of college radio shows and/or 120 Minutes episodes, it all makes perfect sense.
GALORE — LP (Rocks in Your Head)
The first album from San Francisco's GALORE, conceptually descended from a musical lineage that can be traced back to the VELVET UNDERGROUND, as well as the PASTELS, BEAT HAPPENING, and any number of C86-era greats after them—jangling and melodic, but also charmingly imperfect and a little rough around the edges, striking the balance between sharp, staccato post-punk and spartan pop perfection that modern OZ DIY bands have generally dominated lately.
HANDLE — In Threes LP (Maternal Voice / Upset the Rhythm)
A union of the sort of scratchy dancefloor funk and taut, minimal post-punk first set into motion by late '70s angular Rough Trade firebrands and early '80s post-No Wave downtown dwellers like LIQUID LIQUID. Vocals bounce from punctuated yelps to monotone narrations to abstracted wordless noises, matched by snapping bass throb, mutant disco beats, and washes of warped and feverish synth that collectively add up to something vaguely approaching an all-night, bleary-eyed nightclub version of THIS HEAT.
HITS – Sediment Seen CS (Paisley Shirt)
Oakland-based arty post-punk in the early Rough Trade tradition, less angular and jagged than wobbly and fuzzed-out, like a second or third-generation dubbed tape of RAINCOATS and SWELL MAPS singles left out in the sun for a little too long. The minimal percussion is based around a drum pad with that authentically 80s UK DIY banging-on-found-objects sound, and the bass has the perfect amount of rubber band snap, but guitarist Jen Weisburg's unassuming vocals are the secret weapon here, treated with little more than some slight echo or delay to give an otherworldly edge to the band's off-kilter pop hooks.
NAPE NECK — CS (self-released)
NAPE NECK's knotted rhythms and the intersecting/overlapping vocal shouts from all three band members bring to mind the mid '90s neo-No Wave revival led by bands like MELTDOWN and SCISSOR GIRLS (or in the early '00s, ERASE ERRATA), who drew inspiration from the spiky tension of first wave UK post-punk but translated it through the more wild and free tendencies of DNA-descended downtown art-noise.
PRIMO! — Sogni LP (Anti Fade / Upset! The Rhythm)
Sogni continues further down the path set by their 2018 debut LP Amici, with dreamy, intertwining harmonies and spartan rhythms that can be traced back to a number of spiritual antecedents: the ramshackle spirit of the K Records-affiliated international pop underground in the late '80s and early '90s, the kaleidoscopic jangle of classic Flying Nun bands like LOOK BLUE GO PURPLE from neighboring New Zealand, and the stark minimalism of YOUNG MARBLE GIANTS-style post-punk.
SHARK TOYS — Out of Time EP (Chunklet Industries)
It's been a real treat to watch SHARK TOYS evolve over the last ten years or so, from their beginnings as a decent garage-accented wobbly pop band to their current higher state of lean, trebly art-punk attack. The DESPERATE BICYCLES (whose UK DIY anthem "Advice on Arrest" gets a completely frenetic cover here) definitely serve as one of the stylistic compass points for this new EP, along with the URINALS, the FALL (pre-Brix), and WIRE circa Pink Flag, if I had to name the other three—jumpy, economical rhythms, guitar that slashes and jangles in equal measure, and vocals that are dryly conversational even while shouted, all urgently ticking along.
SWEEPING PROMISES — Hunger for a Way Out LP (Feel It)
Part of what made the school of '78-'82 so inspiring was the idea of working within and embracing limitations (whether inherent or self-imposed) to create something interesting, and those lessons have definitely been applied in the overall minimalism-in-mono aesthetic of Hunger for a Way Out, but Lira's powerful, expressive vocals ultimately push things to a place that transcends any typical off-kilter and untrained DIY art-punk reference points—her voice is so effortlessly perfect that any of these songs could have been massive pop hits if they'd been presented in a slightly different form.
VIVIENNE STYG — Rose of Texas LP (Tall Texan)
Effortlessly cool and deadpan art-punk done Lone Star-style, like a box full of PRESSLER-MORGAN singles and Keats Rides A Harley comps turned up in some dusty Houston shop, and VIVIENNE STYG have made it their mission to bring a contemporary interpretation of those twin inspirations to the masses. Tinny/twangy guitar, ramshackle galloping drums, and dry, conversational vocals with a palpable sneering edge, all held together with some abstract junkshop electronic textures between songs in a tried and true DIY hometaper fashion; a total scratchy nuevo-Messthetics dream.
EHIMA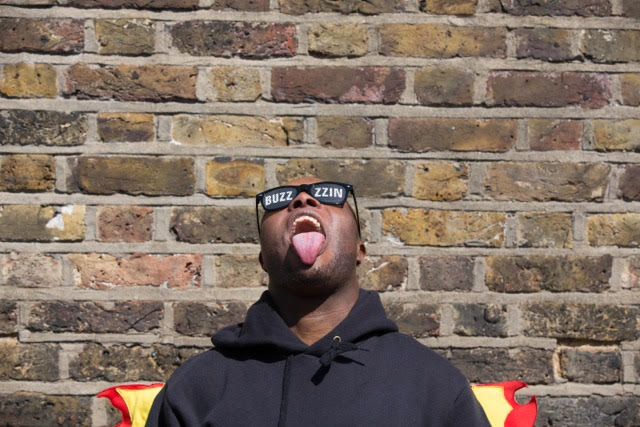 Good morning, bro. Ehima plays in the bands ELECTRIC FIRE and KISS CRAZY NIGHTS, and does a radio show with Kai from NEKRA for MRR. His list breaks a few MRR top ten rules, but represents both the music and the friends that have supported him through 2020.
ELECTRIC FIRE — Buzzin' (Heart N Soul)
They are an amazing band, it makes me happy. I'm in the band, I play drums, William does the laptop with TomÁ¡Å¡, Alicia sings the vocals, Sam plays the keyboards. Just come in and listen, it sounds great. I love Buzzin'—it's about feeling good and doing cool stuff.
NEKRA — Royal Disruptor EP (La Vida Es Un Mus)
I love NEKRA. They're a good band, I enjoy them. ELECTRIC FIRE had a lovely time with them at DIY Space for London. I met Kai, and we're now friends, and do a radio show together. We are going to perform together again and have fun.
SPECIAL INTEREST — The Passion Of LP (Night School / Thrilling Living)
It sounds like the best. Best band—I love them.
DMS — My Self (Heart N Soul)
It's fantastic! I've known Danielle a long time, from us both going to Do Your Own Thing, which we now do on Zoom. She's got good vocals, she's an amazing singer, they're just good songs.
ISAAC — "Planet Earth (start all over again)" (Heart N Soul)
He's a good rapper. It's a new song, he's a very talented young man. I know him from Do Your Own Thing too, he's a good friend. This song makes me want to perform in front of people.
H.M.S. RMA (ALTER) — "Chaos In the Pigsty" (self-released)
It's awesome—I love them, it's a beautiful song. I want to be in the band.
TOP DECK — CS (self-released)
It's sick. I love it because it's a good band. Craig singing is crazy, he sounds like punk rock, and he's a legend.
MARCEL WAVE — Discount Demos (self-released)
I like Murphy, he's a good guy. I love it, good songs, good band. It makes me happy.
TOO HOT FOR CANDY — "Tuesday" (Heart N Soul)
It makes me happy, makes everyone powerful, and it's joyful.
SOUL GLO — Songs to Yeet At the Sun 12″ (Secret Voice)
I love it, I love this band, beautiful. The music sounds like an electric guitar solo. It makes me want to put face paint on and get in a room with people and have a drink.
NATHA VICCARI
What an insolent year, and even with all my busy life with readaptation, I managed to do something I never imagined I would do: an online radio with some friends from Brazil that really made me occupy my days a bit, in addition to remaining interested in the new releases of the year. Maybe the effect of this year was to want to be closer than ever to friends, and so I paid more attention to what my friends produced than outside bands.

DADAR — To Take Out or Eat In CS (Budget Living / Lo-Fi Lo-Life)
One of my favorite bands is URANIUM CLUB, but DADAR took over this place all this year, This Italian band from Rovereto, with a synth-punk, lo-fi, catchy DEVO sound is extremely incredible, and this compilation album brings together everything they did so far.
KOBRA — Confusione LP (Iron Lung)
Iron Lung had some great releases this year, but one I want to emphasize is KOBRA—directly from Milan, with a surprising saxophone on some tracks, crisp sound, rhythmic drums. Not only because the band is fantastic, but because I was really looking forward to seeing this record come true.
FUTURO — Os Segredos Do Espaço e Tempo CS (Tetryon)
After waiting so long for this record, it finally came out this year—it was worth the wait as the record is carefully done, I loved the new darkest vocal. I was really surprised and proud of the direction FUTURO is coming.
MURO — Pacificar LP (Adult Crash / Beach Impediment)
I tried to avoid it, but it was inevitable: MURO once again. Always fuckin' incredible, the music repeated: "la ciudad es hostil"—in English, the city is hostile. I look forward to the South American tour someday.
FUNDACIÁ"N FRANCISCO FRANKENSTEIN — No No No digital (Lumpen Creativo)
Near the end of the year, FUNDACIÁ"N FRANCISCO FRANKENSTEIN from Mallorca released on digital platforms this gem of '80s punk pop style, cool guitar riffs, RAMONES-style drums, serious vocals spoken with nonsense, and ironic lyrics. I have been repeating this album for weeks, especially "Negacionista." LP soon, now only digital.

MILK — Bricks EP (A-Z / Hysteria)
MILK's new album on A-Z and Hysteria. This Japanese band with its clean guitar hardcore and super catchy earworms, was really the freshness for my year.
TROPICAL NIGHTMARE — Demos II & III (Punk Vortex)
I've been following the band since their first release in 2014, and I was immensely happy when I saw that TROPICAL NIGHTMARE's debut album had finally come out. A mix of Brazilian hardcore, tribal drums, and psychedelia, It was great to start the year listening to something outside of what was being released at that moment. On the cover, a conceptual artwork by Carlos Casotti that makes the album even more complete.
THE COMPLETERS — End / Parallel Lines 45 (Yeah You!)
Two tracks to anticipate the arrival of the debut album that was planned for this year, but had to pass to next year for obvious reasons. First, the song "End" continues the band's characteristic post-punk sound, while "Parallel Lines" is a more jangle pop and catchy song. Looking forward to the release of the full album.
CÁ"LERA — Pela Paz em Todo Mundo box set (Assustado / EAEO / Nada Nada)
I was shocked when I saw that Nada Nada Discos was releasing this box. CÁ"LERA is one of the bands I listened to the most during my teenage years, and a band that influences me to this day. Besides the reissue of their 1986 Pela Paz Em Todo Mundo LP, there is also a 7″ with live recordings from 89FM radio in 1988, a cassette tape with demoed songs from the LP, a metal pin, an embroidered patch, a T-shirt, three silk-screened posters, and a photo. But hey, forget it, it's already sold out.
EXÁ"TICA gig at Campana, Argentina
It was mid-week in January during the EXÁ"TICA tour in Argentina, a show in a small town 100km from the capital that was surprisingly crowded. It's a small space, with 100 people crammed into a small house that runs like a DIY space, but in South America, due to the difficulty of having such spaces, this one is special. Without a doubt, the best show of the tour, with the best energy and marked for what would be a year of much action happening there, who knows next year, long life to the PachaMama Espacio.
HAIRY PALM

Another year of weeping demagoguery has swept past in a whirlwind of outspoken fascism, rabid conspiracy theory and all the harm we could expect from a landscape cursed by technocracy and capitalism. Whining from some punk stuck in the depths of the South Pacific. For more rubbish and further exploits, check out hairypalm.bandcamp.com
BORDGER — War of Extinction EP (Always Never Fun / Limbless)
Coming in at the very tail end of this nightmarish year, BORDGER dropped this stomping 7″ of Aotearoa crust. Heavy as fuck, ultra pissed off, misery-guts hardcore. Highly recommended, put that foul sheen right back into your denim.

METRORRHAGIA — Metrorrhagia LP (Breathing Problem Productions)
I wrote a much longer review of this nasty fucker in Caveman Noise #3, but fuck me if it doesn't rip. Eighteen tracks of gurgling blast beats cutting into razor-sharp D-beat with disgustingly wet-sounding vocals, this is top-notch goregrind, the cream of the fetid crop. This thing is a testament to the genre, for sick fucks only.
INTERNAL ROT — Grieving BIrth LP (Iron Lung / 625 Thrashcore)
Easily the best grindcore record to come out in 2020, INTERNAL ROT's second LP is a whirlwind of crushing punishment. If this is the modern standard for Australian grindcore, then the bar is set high. Believe the hype.
UNRULY — Unruly LP (Sludgelord)
Crawling sludge from a bunch of familiar faces in Wellington, Aotearoa (members of DAHTM, METH DRINKER, and FREAK MAGNET to name a few). Think blood stains and foul bucketbongs, black mould and chronic bronchitis.
ELEPHANT MAN BEHIND THE SUN — Collected Tracks LP (Breathing Problem Productions)
The life of James F. Tarr ended too quickly, when he took his own life in 2013 after a lifelong struggle with depression and substance abuse. This compilation showcases the work of an extremely creative and troubled man exploring the outer fringes of extreme music. Some of the strangest efforts noisecore has to offer are on display here—highly recommended.
PUTRID FUTURE — Distopia 2020 CS (Razored Raw)
I fuckin love this tape, absolute ripper start to finish, raging D-beat with a healthy dose of noise and paranoia. Members of now-defunct Wellington, Aotearoa act INDISCRIMINATE pick up where they left off, but go for something slightly stranger. For fans of amphetamines, ruthless drums, and idle speculation over the end of it all.
OILY BOYS — Cro Memory Grin LP (Cool Death / Static Shock)
I will be surprised (and a little disappointed) if this doesn't make it onto a few other lists at MRR this year, cause this is easily one of the best records to come outta Sydney, Australia in fuckin' ages. Completely unhinged hardcore madness, filtered through some sort of STOOGES (Funhouse-era) lens. Absolutely essential.
BARCELONA — Residuos Del Ultrasonido EP (La Vida Es Un Mus)
The first two records these guys did flew completely under my radar, and to be honest it wasn't until I read the phrase "Extremo Nihilismo" used to describe their sound that I bit the bullet and bought this 7″, but fuck me, I'm glad I did. Falling somewhere horrible between No Wave and hardcore, BARCELONA warbles and screeches their way through eight tracks of utter fucking madness in the most negatively described record by La Vida that I've seen ("One time press, black vinyl, shitty sleeve. Move on.") 2021 looms ahead with the prospect of even more misery, hopefully that means another BARCELONA record.

SUPPRESSION — If You Don't Understand Now, You Never Will CS (Reanimated Miscarriage)
A repress of the classic 1993 demo that introduced the world to the furious noise-grind carnage from Richmond, VA that would go on to be known as SUPPRESSION. This is raw as all fuck, two-man bass and drums chaos that has to be heard to be believed. At times feeling like they'll collapse into static and destroy your stereo, a true classic of the genre. The highest of recommendations.
ARM & HAMMER — No Gods No Masters Baby 10″ (Dust Up!)
The second repress on the list this year, ARM & HAMMER were a band from Christchurch, NZ, a city decimated by an earthquake that left many of its citizens destitute and homeless. This is a 10″ lathe cut compiling the split cassette they did with Wellington grinders RIPFACER in 2016, and was stupidly limited to twenty copies which have no doubt sold out. I recommend tracking this fucker down if you want to hear the sounds of (in the words of Dust Up) "prescription drug abuse and negative mental attitude". Hardcore via the likes of CULT RITUAL, a punishing, miserable experience. Essential kiwi suffering.

KAI BOSWORTH
Kai Bosworth lives in Richmond, VA, and very occasionally posts at Stochastic Slide. 
THE COOL GREENHOUSE — LP (Melodic)
Recent years have seen a resurgence in bands drawing from the (admittedly deep) well of the FALL. And while many of these records are appealing to me, almost all of them deliberately avoid a crucial part of what made that band interesting: Mark E. Smith. The SHIFTERS (who appear as collaborators on one track of this record) get something right by plumbing history, going beyond Smith's obsession with World War II to explore political themes from the world-historical to the everyday. From a different angle, the COOL GREENHOUSE explores Smith's incredible capacity for irreverence, to the point of disturbance or even disgust. Do any of us really want to inhabit the world of incels ("4Chan"), generic bros ("Cardboard Man"), or exurban English market towns ("The Sticks")? I'm not an expert on British geography, but the latter feels like something of a sequel to the FALL's "Hard Life in Country," wherein the rural is downright haunted: "You can hear people's skin crack at regular intervals / When the sun comes out." Thus convey the COOL GREENHOUSE, who are later even kind enough to offer us "a glasses-cleaning service" to better see what they see. A solo operation producing several singles and EPs prior to this point, the full-length (along with the recently released Alexa! 7″) finds them with a full backing band—to even greater success. Unhinged stuff.
FRIED E/M — Modern World LP (La Vida Es Un Mus / Lumpy)
While the COOL GREENHOUSE gives us perhaps the first sonic reference to "post-Fordist bureaucracy," FRIED E/M has a more sardonic rejection of the modern world's "capitalist eyes." You probably know the drill: just no-bullshit punk stompers here. I haven't seen them since 2017, but this band rips in the flesh as well. It's difficult to remember live music these days but I bet these songs sound even better in that format.
SWEEPING PROMISES — Hunger for a Way Out LP (Feel It)
I'm expecting that this one will make a lot of YETTs, and the hype is very deserved. Hunger for a Way Out succeeds as a pop record conducted largely in minor tones. The vocal range of Lira Mondal is impressive, while the lyrical tone of the record feels perfect for exploring the barren concrete sidewalks of a quarantined city. SIOUXSIE AND THE BANSHEES comparisons can be difficult, but Hunger for a Way Out sorta recalls for me the style of "Jigsaw Feeling" in particular.
WARM RED — Decades of Breakfast LP (State Laughter)
Late entry into the field, but Atlanta's WARM RED has produced the only instant buy of the year for me. The thing I appreciate most about Decades of Breakfast when compared to the field of post-punk bands out there right now is how the chunky bass really drives the tunes forward (great tone, btw), freeing the guitar(s?) to meander around a bit. It's almost as if PISSED JEANS were more influenced by the earlier work of the EX?
P22 — Human Snake LP (Post Present Medium)
I was really proud of myself for comparing the compelling P22 record to a peace punk-influenced SACCHARINE TRUST before reading Shivaun's review in MRR. Ah well, nevertheless.
CB RADIO GORGEOUS "Ž— Mid Fit EP (Not Normal / Thrilling Living)
Something about CB RADIO GORGEOUS makes me want to dance (and I loathe dancing). Is it the off-kilter guitars, the frenetic pace of the rhythm section, the range and variety of the vocal delivery (reminiscent of JO SQUILLO)? All I know is that the Midwest remains the most fruitful source pushing punk forward into new territory. Now, if only we could stop the hundreds of URANIUM CLUB copycats emerging from Australia…
THE UMBRELLAS — Maritime EP (Syncro System)
Rose Melberg-core. Four oozingly perfect pop songs.
LITHICS — Tower of Age LP (Trouble in Mind)
I was sort of surprised that I kept coming back to the third LITHICS full-length as the year wore on. While the first two records were good, Tower of Age really has them hitting a new stride in developing their sparse—at times even funky—take on post-punk.
STRAW MAN ARMY — Age of Exile LP (D4MT)
Of course there's lots to say about the shortcomings of politics in punk (and the politics of punk), but the lack of attention to the ongoing planetary ecological devastation (and its ultimate sources in capitalism and settler colonialism) is among the more surprising disappointments. STRAW MAN ARMY's full-length compellingly fills this void. While the record could be described as a more post-punk KALEIDOSCOPE (especially given shared members), I find myself in agreement with Matt Korvette that there's a surprising secret ingredient of MOSS ICON influence here?
THE GLOBS — The Weird and Wonderful World of the Globs LP (Dead Broke / Recess / Sacramento)
The BANANAS' Don't Go Toward the Light was delayed to 2021, so I'm taking the opportunity to highlight the surprise appearance of this brainchild of Mike R. Mike. Though it bears Mike's characteristic twangy take on punk, the GLOBS also feature some interesting uses of keys and saxophone, contributed by the parent of a band member no less! I sorta imagine the GLOBS to be fellow travelers with the COWBOYS in reviving pop-influenced punk without falling into the juvenile trappings of "pop punk."
NEXT 10:
BARCELONA — Residuos del Ultrasonido EP (La Vida Es Un Mus)
MILK — Bricks EP (A-Z / Hysteria)
XYLITOL — I'm Pretty Sure I Would Know If Reality Were Fundamentally Different Than I Perceived It To Be EP (Thrilling Living)
KALEIDOSCOPE — Decolonization EP (D4MT)
GUMMING — Overripe LP (Vinyl Conflict)
SIAL — Tari Pemusnah Kuasa 12″ (La Vida Es Un Mus)
GEN POP — PPM66 LP (Post Present Medium)
RIBBON STAGE — My Favorite Shrine EP (K)
CHRONOPHAGE — Th'Pig Kiss'd LP (Cleta Patra / Soft Office)
NEUTRALS — Rent / Your House EP (Domestic Departure)
BIFF BIFARO — DEMOS ONLY!
Biff Bifaro runs Feral Kid Records / Tetryon Tapes and hosts the occasional MRR Radio show "First Glimpse from the Crowbar Hotel." Current music projects he plays in are EYES & FLYS, STROKE VOLUME, and his solo project NERVOUS TICK & THE ZIPPER LIPS.
Doing a Year End Top Ten is always a little bit difficult, as someone who runs a label. Clearly, I think the best things that came out this year were the ones I decided to flush my money down the drain to release. Namely, this year I started a new tape label called Tetryon Tapes, and released cassettes by UTAH JAZZ, FUTURO, RICHARD HAMILTON, and CIGGIE & THE DARTS. Those are my four favorite releases this year, and can all be found to download for free at tetryontapes.bandcamp.com,,with physical copies available at Feral Kid Records. I suppose some other good stuff came out this year too, but instead of writing about the cool records that came out this year, I am focusing on cassette releases only! After all, who really cares what a band does after their demo? Buckle in, baby, here we go!
(in alphabetical order, not order of preference)
CAGE KICKER — Demo CS (self-released)
When I received this demo to review I listened to it non-stop and I raved about it so hard in my review that I ended up deciding to reach out to the band and I am stoked to announce that I will be putting out their next release. CAGE KICKER rules! This first demo is absolute madness! I can't play this without noticing my fists clenching and my blood pressure rising. This is everything a punk demo should be. More music coming soon from them, which is the best news I can possibly imagine right now.
COCHONNE — Demo CS (Sorry State)
It seems that quite a few of my favorite demos from this year actually came out at the very tail end of last year. Given how good these tapes are and what a strange year it's been I am not going to fault anything coming out November 2019 and later, which would have mostly been overlooked for last year's lists. COCHONNE from Durham, NC fits in that category. Strange and catchy minimalist post-punk stuff that I have found myself revisiting the whole year long. Only complaint I have is that the note I received with the tape told me that sometime in 2020 they had a follow-up EP coming. But where is it? They've only got a few days left before the end of this crummy year!
EX-WHITE — Stalker CS (Flennen)
With a year like 2020, one would have to imagine that solo projects would become the primary source of musical output for many. EX-WHITE from Germany might be my favorite of that realm. He already has two full-length cassettes out, this being the most recent. Having reviewed his first cassette, I kept up on what this project was up to, and their second full length cassette, Stalker, is even better than the first. Equal parts driving, nasty, weird, and creepy, EX-WHITE has kept me flopping around my living room for months now.
INVALID — Do Not Resuscitate CS (Cruel Noise)
What is left to say about this? INVALID from Pittsburgh dropped the rip-roaringest demo imaginable this year. Relentlessly driving while still keeping the songs memorable. I truly cannot say enough good things about this. If this demo isn't one of your favorite things to come out this year then I would propose that maybe you just don't like hardcore.
M80 — Apathy CS (self-released)
When I initially reviewed this demo I referred to it as being as close to perfection as a demo can get, and that stance has not changed one bit. Regularly being played over here, M80 is one of the bands I would be most excited to get to see play live once gigs are possible again. The five songs on this demo are nowhere near enough and I am anxiously awaiting more music from this powerhouse.
PUTZFRAU — Demo 2019 CS (Edger)
Just because you name your demo Demo 2019, doesn't mean it's not going to make my year-end 2020 list when it was released with only a few weeks remaining in the year. Eight tracks of non-stop blistering hardcore punk. Having been a big fan of the guitarist's old bands for years (ORGANIZED SPORTS, MONGOLOID) and seeing that another member was in NASA SPACE UNIVERSE and U-NIX, you know this isn't going to come off as some amateur shit.
THEE IRMA & LOUISE — Kill List CS (PVC)
Ten-song cassette, eight of which are instrumental tunes and very much up my alley. Switzerland's THEE IRMA & LOUISE have been around forever and this coming out at the very end of 2019 has received enough plays over here to constitute one of my favorite demos of the year! Lots of recorded output available from this band if mostly instrumental, spooky surf music is your thing.
THE TOUCH HEADS — Try to Get Some Sleep CS (self-released)
While only being three songs long, I wouldn't forgive myself if the TOUCH HEADS did not make my year end list. Being one of the best bands I saw live in 2019, I couldn't get enough of the first tape of theirs. This cassette, allegedly their final release, is unreal! The guitar work is bonkers, and throwing that in with how driving the band is, what a combination. Don't break up, you fools! Your band rules!
PCP & THE KNIVES — The Void CS (self-released)
An absolutely perfect batch of hardcore punk songs from this Boston quartet. Having been a fan of the bands these punkers have done for years, when this band started I immediately got my hands on one of their first demos. I was absolutely blown away. This follow-up is even better, somehow. And having seen them play live, I know for a fact that they can back it up. Easily one of my favorite bands currently going, and I look forward to more from them in the coming year.
V/A — Achtung ADK CS (Billo)
I will always be a sucker for a sampler/compilation tape, and this is bar-none the best that I heard this year. Thirteen tracks of synth-heavy weirdo punk from Berlin. Initially knowing none of the bands at first listen, I have played this over and over and shared it with tons of friends already. Do yourself a favor and pop this comp on. You won't regret it.
JOHN TOOHILL
I'm SCIENCE MAN. Well…I work for him. @SwimmingFaith in Buffalo, NY. This list is not in any order, and will probably change.
THE SERFS — The Sounds Of Serfdom CS (Wasted)
Damn, this record came out this year!? I'm not even making a "2020 is a never ending year of hell" joke. Tho this did come out way back in January. What I mean is if I found myself blasted, doing that goth arm sway dance in a dark living room to this this snotty, synth-y, post-punk brilliance at 2am with a glassy-eyed friend screaming at me over the unnecessarily loud music about how this is a super obscure, lost 80s gem—I would believe every word of it. Even in the morning light. Instantly familiar but far too fresh to just be another throwback genre dedication band.
TERMINATION — CS (Wasted)
Oh shit, this cooks. Turn yer shitty stereo all the way up, and if by the end of the opening six plus minute  "Gates of Paradise" you aren't born anew with a belief that Rock and Roll can save souls, then you can go find yourself a new pair of pants to piss. Blown out, psyched out, freight train, fever dreaming, garage punk and roll.
ALIEN NOSEJOB — Once Again the Present Becomes the Past LP (Anti Fade / Iron Lung)
I almost hate how much I like this record. Goddamn, it's a lot of fun. Truly invigorating, adventurous, whacked out, and totally ripping hardcore with just the right amount of space-y bedroom synth breaks to cleanse yer palate before switching stances and once again slapping ya upside yer fat head. It's also just one guy playing everything. So I'm gonna disqualify his overachieving ass from having another one of his bands on my list. It's cool tho. I'm sure you already know about that SMARTS LP.
COLD MEAT — Hot and Flustered LP (Helta Skelta / Static Shock)
Best vocalist in the game right now. Pissed, smart, sassy, and screaming off the edge of hysterics while capitalizing on every opportunity to twist the lyrics into just devastating earworms. Perfectly at home slugging through a mid-tempo dirge or splashing on the gas to burn the barn. That little on/off double up on snare hits during the chorus of "Cinematic Fashion"? Ooo ya. It's clever little moves that make this album so good.
RESEARCH REACTOR CORPORATION — The Collected Findings of the Research Reactor Corporation LP (Erste Theke Tonträger / Televised Suicide)
Just a bunch of booger eaters going buck wild. Straight up party time music while yer sucking on a psilocybin milkshake. I'm amazed how catchy this can be when I can't understand a single fucking word that that gremlin who swallowed a delay pedal is saying. Love it.
THE MALL — Zone CS (self-released)
You could just let this get netted into a dark-wave/post-punk catch all but you'd be wrong and I'm the one talking here. This is somehow both more punk and more freaky dance club than that. Raw sounding yet with incredible musical complexity that teases at some forgotten dystopian future 80s sci-fi film score while never clogging up the dance floor as our electro overlord shouts from atop a throne of jumbled cables and vintage gear.
SUBDUED — Over the Hills and Far Away LP (La Vida Es Un Mus / Roachleg)
Something about that warble in the guitar tone of the opening ripper was the glue in the trap for me, and I just let this record kill me after that. Lots of "this kinda reminds me of (insert hardcore band)" is gonna pop in yer head, but this LP manages to always be an escape artist. Bleak, fist pounding, and full of tricks. Also A+ album title rip.
THE COOL GREENHOUSE — LP (Melodic)
Every song is basically one wild, hypnotic, groove maze after another that makes you feel like you are the punk equivalent of Peter Sellers stumbling through "The Party". Surreal, impossible to imitate, truly post-everything, and rather than being some stuffy art rock, it's an absolute joy.
Beyond Damaged TV series
Honestly this show has no business being this good, and couldn't have come at a better time. Live shows are essential to punk and can't exist right now so this really fills a void for me. Rust Belt Beavis and Butt-Head with live bands, interviews, and tons of hijinx.
NERVOUS TICK AND THE ZIPPER LIPS — Something's Gotta Bleed CS (Kafadan Kontak)
I fear the unspeakable horrors that would reign down upon me should Science Man know I've included his nemesis on my list but since he's already trying to have me killed… why not? So this album is dumb. Dumb but endlessly charming in a way that only this ham fisted, downstroking, garbage eating, cartoon goon can do. It's far too silly to actually be "tough" but it still makes you wanna lurch around yer living room like a giant ogre with a runny nose while it plays. And that's intentional. It's real. It's just who Nervous Tick is. So crank up "Wake Up Grumbling," and try not to smash all yer dinner plates, you idiots.
NIGHTCLUB — Private Party LP (Urge)
I just heard this record like today and I'm curious to see how it ages. So what the hell. Lets throw it on the list. Has a very "wearing sunglasses the entire set" vibe but that kinda cool guy attitude is actually fine with me. It's played by punks, but it's just blown out rock'n'roll with a squanky sax bleeding in. Obviously, I love that.