Jaime Hernandez y otros en San Jose
Our old friend and shitworker Marc Arsenault of Wow Cool zine (amongst other claims to fame) brings us this report…
Jaime Hernandez comics on view in San Jose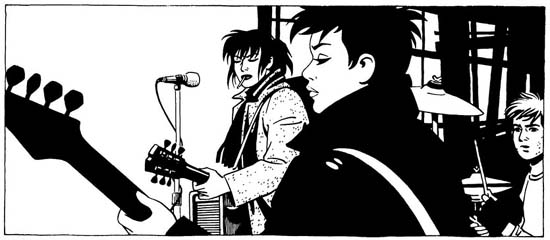 Love & Rockets comics artist and Nardcore pioneer Jaime Hernandez has a rare exhibit of the original art for several of his complete Love & Rockets comics stories at the MACLA Gallery (Movimiento de Arte y Cultura Latino Americana) in San Jose, California. Jaime is one of three artists included in the show "Novelas, Love and Other Adventures"at MACLA, which is on view through March 26, 2011. Also included in the show are the works of Oakland's Favianna Rodriguez and Rio YaÁ±ez's 3D prints (glasses required) of performance artist Mayra Ramirez's "Las Adventures of the Ramirez Sisters." The exhibition "presents graphic works and comic storytelling that explores the subculture of Latino barrio life, American punk, '80s rock and new wave music, along with complex female protagonists."
The complete art for the Love & Rockets strips "The Death of Speedy Ortiz" (all 39 pages), "Home School," "Day By Day with Hopey," and "Cream City" are on view. Jaime Hernandez's original art is astoundingly clean and precise. This is the man who has given us the iconic art for Dr. Know and Ill Repute (and other Oxnard bands) and the many classic punk rock moments from the Love & Rockets comics. "If you were really hard core you would have thrown a full bottle". This is one not to be missed.
Jaime Hernandez was the subject of an interview in MRR 332, the Punk Comics issue; and, he was also featured here in December.
MACLA, 510 S. First Street, San Jose, CA 95113,  (408) 998-ARTE
Free Admission
MACLA Gallery Hours:
Wednesday & Thursday, 12pm to 7pm
Friday & Saturday, 12pm to 5pm
and by special appointment
Full disclosure: Marc Arsenault was the designer and cover colorist on Love & Rockets way the hell back in 1996-97.