Poly Styrene (Marianne Elliot-Said) 1957—2011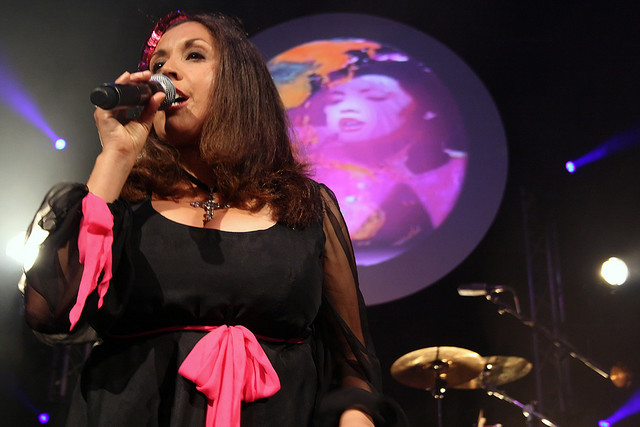 On Monday, April 25th, 2011, Marianne Elliot-Said, better known to the world as Poly Styrene — the singer for classic UK punk rock band X-Ray Spex — died after a bout with breast cancer. Her third solo album, Generation Indigo, was released to shocked fans the following day. X-Ray Spex has stood the test of time and taste to stand out from the English punk rock mid-late '70s era. Their initial handful of singles and debut album – Germ Free Adolescents – some 16 songs total – still stand as strong statements in a field of often now-faded thrashers. That album was released on major label EMI, the home of the Beatles, and it reached number 30 in the UK album charts. But it was punk as fuck, and such was the nature of things in those few brief months in the late '70s where punk bands were in the mainstream.
OK. So why was Poly Styrene awesome? She was a chubby, mixed-race (Somali/Scottish-Irish) teenage girl with braces in awkward, brightly colored clothes who could barely hold on to the tune. And, despite the mentions of this by the critics of the time and later, and the insistence that she was the antithesis of a rock band front person, she was, in fact, the perfect front person for X-Ray Spex. None of these things mattered. She was just awesome. What she did was brilliant, and it was popular. X-Ray Spex were a chart success in the late '70s: they were on Top of the Pops, The Old Grey Whistle Test and recorded sessions for John Peel. A few years after X-Ray Spex released Germ Free Adolescents on EMI, the rock band Heart were signed to that label and their lead singer Ann Wilson notoriously received much pressure from the label over her weight. Like I said. It just didn't matter with Poly Styrene. The subject never came up.
Poly would go on to release some very different solo material shortly after X-Ray Spex broke up the first time around, before vanishing into a Krishna-tinged haze for a bit. X-Ray Spex re-emerged in the mid-'90s to release the little known album Conscious Consumer. The Spex did not get far after that after Poly was run over by a fire engine(!). Poly came back strong during the last decade with two solo albums, an X-Ray Spex reunion (the Roundhouse reunion show was released on CD/DVD in late 2009) and the holiday singles "City of Christmas Ghosts" with Goldblade in 2008 and "Black Christmas" in 2010. She will be much missed.
Obituaries and memories:
A roundup of Twitter memories on Spinner.com
13 Reasons Poly Styrene Was Cool on And Your Bird Can Swing
"Remembering Poly Styrene" and interview on Pop Dose