Zines is Punks
You may have noticed that this decade has been continually sounding the death knell of print. From the dot-com boom, to the blogger revolution, and now the rise of slim digital readers. Well, Atomic Books has had enough, and has thrown down the gauntlet for 2011: The Revenge of Print!: "We are challenging everyone who's ever made/self-published a zine, a comic or mini-comic before to dust off the ol' photocopier and make at least one more new issue in 2011." But why don't we widen the scope? I'd like to add that if you've never made a zine before, you could throw in with the challenge and let 2011 be your year of print revenge too.
But is revenge the right word? In some ways the digital era has made print more accessible. Zines are thriving despite the migration of many would-be zinesters to blogs. You can find out about, order, or download PDFs of zines that would have otherwise would have been too far away in time or distance.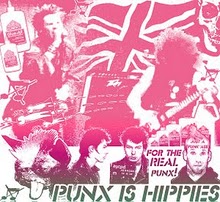 Punks is Hippies is a "user-generated fanzine archive." A digital archive of zines at first seems a little ironic, but here the web serves its best purpose. It makes what is good and valuable to us as a community available to everyone, it takes what could have been lost or destroyed and adds another layer of protection to prevent it from vanishing forever. Which is a little scary if you were a teenage zinester who hopes your first issues all ended up in the same abyss on fire.
So don't wrestle too hard mentally over what a zine archive like Punks is Hippies means. Just go look at the decades of punk zines from all over the world. Fill your eyes up, be inspired (because there is a lot to be inspired by). Then go make that zine, usher in yet another year where print, though constantly pronounced dead, refuses to die.