Get ready for Maximum Rocknroll #398, the July 2016 issue and the second edition of our Ex-Yugo retrospective special! This one features Croatian bands including the wild synth-punk of KAOS, Rijeka's PARAF as well as KUD IDIJOTI and BESPOSLIČARI from the small yet bustling scene of Pula, plus some classic Slovenian groups such as BULDOŽER, LUBLANSKI PSI, and Ljubljana's NIET. We also got a chance to get in some of the latest and greatest in North American hardcore, interviewing the globetrotting Bay Area straightedge outfit TØRSÖ and Toronto teenage maniacs MOLLOT. The UK's DOMESTICS talk about their unrelenting dedication to punk in East Anglia, and RED RED KROVVY also sit down for their first MRR interview ten years after their formation as a high school punk band on Australia's isolated north coast. Also featured: an article on Mabel Valdiviezo, whose upcoming documentary Prodigal Daughter tells her story as a punk woman in the DIY subterráneo scene in Lima in the '80s, coming to the US as an undocumented immigrant in the '90s, and her subsequent return home. This issue also includes an Iowa City scene report, a photo spread from Nothing Nice To Say fest, hundreds of reviews (records, demos, books, films; you name it), another fix of your favorite columnists; in short, another high stakes, buy-or-die edition of MRR.

You can also order this issue by mail by sending $4.99 in the US, $7 Canada, $9 Mexico, or $11 worldwide to: MRR • PO Box 460760 • San Francisco, CA 94146 • USA …or just SUBSCRIBE!
---
Still available: MRR #397 • June 2016 issue…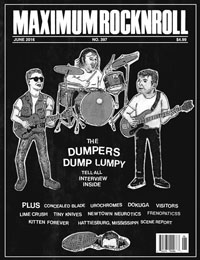 LUMPY AND THE DUMPERS from St. Louis, NEWTOWN NEUROTICS from the UK, Pittsburgh hardcore courtesy of CONCEALED BLADE, Minneapolis punks KITTEN FOREVER, Western Mass hardcore mutation from UROCHROMES, Vienna punk racket from LIME CRUSH, late '70s lost post-punk from the VISITORS, '80s Barcelona teenage hardcore from FRENOPATICSS, Portland's TINY KNIVES, DOKUGA from Portugal, Hattiesburg, MS scene report and photo spreads from SIN ORDEN's last show and Damaged City fest.

Comments :