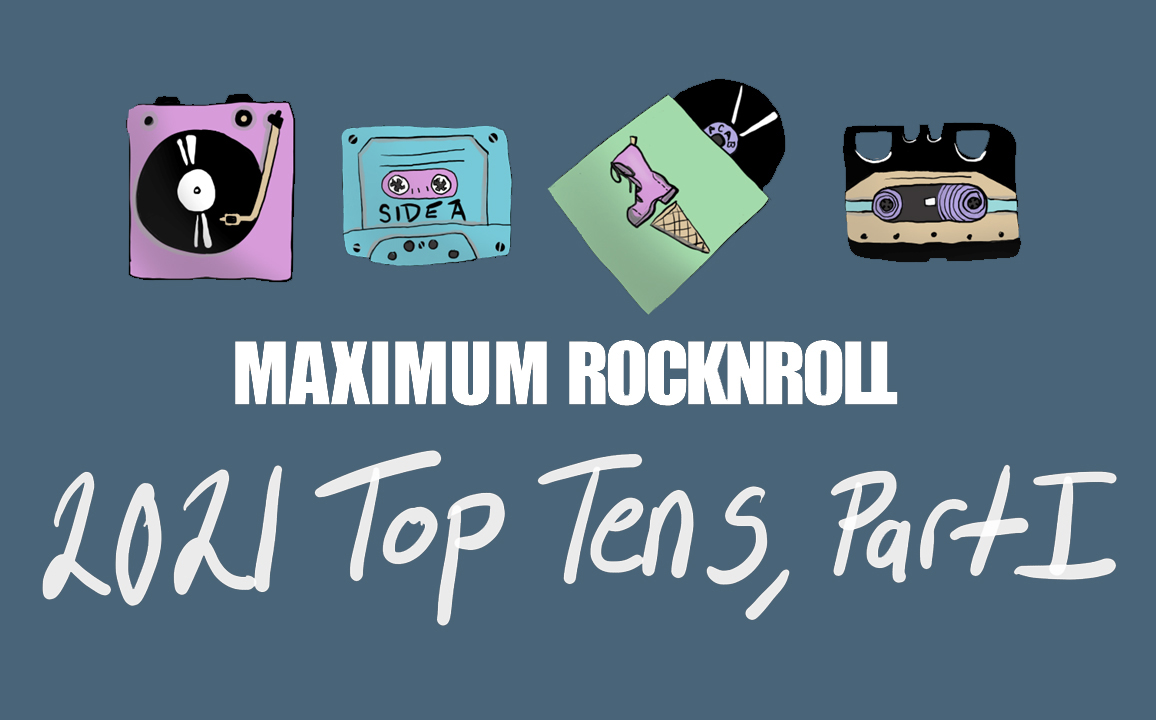 2021 Year End Top Tens, Part One
Welcome to another round of Maximum Rocknroll Year End Top Tens! Once again, we asked MRR contributors and friends old and new from across the globe about their favorite punk releases from the past year. Here are some of the things that provided inspiration, catharsis, distraction, lifelines, and everything in between during year two of the pandemic.
Part one of three, part two to follow next week.
BEN MARSHALL
Ben Marshall is a reviewer for MRR. Herbert with a heart of gold, short-haired rock 'n' roller.
THE CHISEL – Retaliation LP (La Vida Es Un Mus)
Equal parts joyous and elegiac, the CHISEL boys' debut is an instant classic and the record of this year—and any other year as far as I'm concerned.

V/A – Chaos En Basque Country LP (Tough Ain't Enough)
In the grand tradition of the Chaos En… series comes this dose of Euskal madness; plenty of stirring choruses and suitably pissed-off vocals to get your teeth into, belter.

STRONG BOYS – Homo EP (Static Shock)
The Dublin hardcore mob return for their first release in forever with an EP of unapologetically gay hardcore; frantic, urgent, and furious, it's like they never went away.

BOSS – Cash Em In / Red Signal 7 (Static Shock)
Glammy punk from a who's who of punk, pressed into a hot four-minute burst of pogo fun. Get your mate in a headlock, and have a laugh.

SPECIAL BRANCH – Lethal Force cassette (self-released)
Politically-charged hardcore from Dublin. Rightfully pissed-off lyrics and vocals, accompanied by appropriately seething hardcore arrangements. A ripper.

MESS – Fuego Fuego Fuego EP (Mendeku)
Mexi-boys making all the noise—a UK82-influenced Oi! Belter.

BRUX – Guerra Mental cassette (La Parca)
Both post-punk and Oi! with larynx-shredding vocals. Great stuff.

CASTILLO – Castillo 12″ (Mendeku)
Another hard-as-fuck release from the Mendeku Diskak mob, they simply don't miss!

TEENAGE HEARTS – Want More! LP (Primator Crew / Tough Ain't Enough!)
Good time short-haired rock'n'roll from the Nantes lads, with hand claps and hip-swinging riffs aplenty.

CONCRETE CULTURE – live at the Grove DIY, 22/08/21
I've been world-endingly hungover in plenty of pub car parks in my time, but few that felt as good as this, an outdoor show as restrictions eased, the kids are alright.
BIANCA & JHONNY
Jingeri! ("Hello!" in Yugambeh, the language of the traditional custodians of the land on which we live and create.) We're Bianca and Jhonny, co-creators of Australian zine Gimmie Gimmie Gimmie. Australia has a long history of exciting punk; 2021 is no exception. There were so many great releases, it was hard to choose only ten.
GUPPY – "Lipshitz" (self-released)
Meanjin/Brisbane band GUPPY don't sound like anyone else. It's post-punk, it's noise rock, it's no wave, it's art-pop, it's guitar-less, there's wild saxophone, but saying all that only tells part of the story—it's a dizzying array of cool. Those that have seen their hectic live show can attest to their magnetism. GUPPY features members of some of QLD's most exciting bands of the last decade: CLEVER, CURED PINK, PER PURPOSE, PSY ANTS, and COME DIE IN QUEENSLAND.

DR. SURE'S UNUSUAL PRACTICE – Remember the Future? Vol 2 & 1 LP (Erste Theke Tontraeger / Marthouse)
We love their blend of clever social commentary and politics with catchy compositions. New wave art-punks DR. SURE'S UNUSUAL PRACTICE often offset heavy themes—destruction of ecosystems, climate change, mining and capitalism—with a fun, playfulness musically. Some of the strongest songwriting around right now.

LAUGHING GEAR – Freak Lemons LP (Heavy Machinery)
Naarm/Melbourne minimal synth punks LAUGHING GEAR made one of our favourite albums of the year. Bryce Sweatman (CHROME DOME, BRANDO'S ISLAND) and Fergus Sinclair (ROMERO, EYESORES) give us tension, animalistic repetition, primal throb, and gut-level grit on their debut album, It tells a story of classist warfare, gentrification, and a dystopian world that's right outside our front door. Drum machine loops, modulating synths, and incendiary guitars are the perfect desolate soundscape for Sweatman's sharp-tongue, wry humour, and at times harrowing, delay-drenched vocals.

MOD CON – Modern Condition LP (Poison City)
Naarm/Melbourne trio MOD CON's sophomore album is powerful, frenetic, and full of punk urgency. A major part of their appeal being the interesting interplay between the members' instrumentation and use of syncopated rhythms. Vocalist/guitarist Erica Dunn asks questions and explores nuance, motivations, feelings, and perspectives throughout the album.

SPIRITUAL MAFIA – Alfresco LP (Anti Fade / ever/never)
Naarm/Melbourne band SPIRITUAL MAFIA features members of AUSMUTEANTS, CUNTZ, EXEK, and SPRAY PAINT. Primal, driving, repetitive, sprawling chaos with atmospheric, dubby moments is the order of the day on their debut. Lyrically, vocalist Ben Mackie makes the mundane realities of life seem almost surreal.

TEE VEE REPAIRMANN – Patterns EP (Urge / Warttmann)
TEE VEE REPAIRMANN is the solo project of Eora Country/Sydney-based Ishka Edmeades (RESEARCH REACTOR CORP, SET-TOP BOX, SATANIC TOGAS, GEE TEE, and more). Weirdo garage-punk power pop gems with scuzzy lo-fi production from this one-man hit factory.

ALIEN NOSEJOB – Paint It Clear LP (Anti Fade / Feel It)
One of our favourite creators, Jake Robertson (you might know him from AUSMUTEANTS, HIEROPHANTS, SCHOOL DAMAGE, SWAB, DRUG SWEAT, SMARTS, and more) is back with a new album for his solo alter-ego project ALIEN NOSEJOB. Paint It Clear, ALIEN NOSEJOB's fourth full-length, is comprised of eleven brilliant tracks mixing post-punk with '80s new wave and even a little disco. Recorded by Mikey Young, the record has ALIEN NOSEJOB sounding more dynamic and brighter than ever. We love Jake's quirky, humorous, and wry observational lyrics and skilful songcraft.

KRIMI – Demo cassette (Helta Skelta)
KRIMI shares a vocalist with fellow Boorloo/Perth punk band COLD MEAT (who released arguably the best punk LP of 2020), while other members also play in bands NERVE QUAKES, BODY TYPE, and PRODUCT. There's an undeniable lineage from the sounds of late seventies/early eighties punk acts like KLEENEX, AU PAIRS, !ACTION PACT! and PYLON. Angular guitars, punchy drums, and melodic bass are the perfect foundation for their songs about juvenile incarceration and systematic abuse, gym culture, and spending too much time on the internet.

POWER SUPPLY — In the Time of the Sabre-toothed Tiger LP (Anti Fade / Goner)
An inspired record for grim times. The Naarm/Melbourne group features Leon Stackpole (the SAILORS), Richard Stanley (DRUG SWEAT), Per Bystrom (VOICE IMITATOR), and Mikey Young (EDDY CURRENT SUPPRESSION RING). In the Time of the Sabre-toothed Tiger packs a one-two punch with its bright melodies and first-class songwriting. An invigorated yet chilled and charming style of garage rock that will have you smiling—the sincere and entertaining lyrics are a highlight.

DELIVERY – Yes We Do EP (Spoilsport)
Coming out swinging, DELIVERY dropped their debut 7″ EP—an effortlessly cool post-punk combo with programmed beats and nervy new wave guitars. The changing between the two vocalists from song to song really adds to their palette. They've already followed this solid four-song release with an equally great double single, cementing them as a band to keep an eye on.

CORBY PLUMB
Corby Plumb is the creator of Totally Different Head, a DIY music and art zine out of Portland, OR, which saw the release of issue 5 this summer; featuring interviews with SPECIAL INTEREST, Shiva Addanki of KALEIDOSCOPE, Brontez Purnell, and BODY DOUBLE. Email for a copy: totallydifferentheadzine@gmail.com. He has also played in the bands NERVE BEATS and VOG.

I'm going to be quite damn honest: I didn't feel too punk in 2021, and I didn't listen to much in the way of it this year, either. My favorite record of the year was the vocoder-enhanced electro-cumbia of the Soul Makossa / Fantasia 7″ by LOS DISCO DUROS, from the fantastic Discos Mas label out of Oakland, followed closely by Yeti Season by the instrumental funk group EL MICHELS AFFAIR, the Pyrex Picasso EP by coke rap empresario BENNY THE BUTCHER, as well as the new TYLER THE CREATOR album. Sorry y'all—how many punk points should I expect to be taxed this year?
But what kept me engaged with underground expression this year I found in zines and newsletters. I think having something to look forward to was immensely positive for my mental health at certain difficult times this year. It was refreshing to still feel connected to some sort of culture and real communication that wasn't just my phone.
Little Obsessions
First off is Little Obsessions, a quarter-size, full-color zine produced by Mara Appel Des Lauriers here in Portland. It's absolutely my favorite zine of the year, beautifully and maniacally designed, and each page of this tiny work is crammed with as much detail as a 4×4 piece of paper can fit. She focuses on the niche and obscure anti-heroes of music and art, both past and present. She's covered everything from the films of cult actress Susan Tyrell, sunshine pop relics the MILLENNIUM, current visual artists like Tomo Oriyama, and all other manner of outsider artists, erotica, girl-group garage rock, and so so much more. Starting as a pandemic project, Mara has been putting this out monthly for the last nineteen issues, a truly Herculean feat of intense focus and creativity, but also fully immersed in the joy and fun of fandom. I highly recommend subscribing, but you can also pick up individual issues from her website.
Demystification
Demystification is the crème de la crème of fanzines in 2021, absolutely essential in expanding the culture and breadth of the form in an atomic way. First of all, there's the physicality of it as a printed object—offset printed, glossy, stiff binding. The design is extraordinary, easy to read, and image-heavy. It's professional looking without being corny or sold-out feeling—they aren't trying to dazzle you with the presentation as much as just believing that the contents are so important that they demand this kind of effort and care. In the classic hardcore credo of being "more than music," but also being far more than just a hardcore zine, Demystification explores art, fashion, and even relationship advice in a way thats microscopic but not myopic. Issue 3 contained an engrossing article on the history of the imagery of the Hooded Mosher, an interview with the band RIBBON STAGE, and a really great article on getting into punk on the internet of the early 2000s.
Life Harvester
I've noticed newsletters—both printed and digital—have taken a niche slice of the zine world the last few years, with a focus on writing over formatting and graphics, as well as being far easier for distribution and postage than media mailing a thick zine. My subscription to Life Harvester has been worth its weight in gold, and I've been an admirer of Colin Hagendorf since she was conquering every slice of pizza NYC could offer in the pages of her God-tier zine Slice Harvester. I love Colin's narrative voice, and her humor and zeal for everything she writes about, from listening to her friend's new record to how her doctor visit went. I know you can feel loath to write sometimes Colin, but please, please keep doing it. She also produces the Life Harvester Radio podcast, which has some of the best intimate and hilarious conversations-as-interviews you can hear.
Drippy City
Locally, we have been blessed by the appearance of the Drippy City newsletter in Portland, made by my friends Shai and Sam in irregular bursts over the last year-and-a-half. Drippy City is focused on hyping and uniting the larger punk community here in the city, with issue three containing some photos from one of the first big outdoor shows held during the summer, a crossword puzzle, some river activity tips, as well as a short interview with Erin Yanke on her fantastically important podcast It Did Happen Here; covering the secret history of anti-racist activism in Portland following the murder of Mulugeta Seraw at the hands of skinheads in 1988, and its connections to the city's continuing racist struggles in the present day. If you're in the city, get in touch below or find it at your favorite record store!
drippycitypdx@gmail.com
The Spiral Times
Digitally, my favorite newsletter has been by MRR columnist, rocker of note (BB AND THE BLIPS, GOOD THROB, etc. etc.) and Overall Total Genius Bryony Beynon. Her new venture The Spiral Times continues the voracious verbosity I loved from her column and zine Modern Hate Vibe, but less specifically about punk and more about everything else important in music, art, and life. Her latest edition hit all my sweet spots, with writing on ARTHUR RUSSELL's esoteric music making methodology as well as the story of finding NICO's humble grave. Previous editions have covered Welsh-language punk, Egyptian pop music, and having a psychedelic moment near Derek Jarman's desert cabin. Substantial writing that overfloweth with ideas and feeling.
Distort / Life Stinks I Like the Kinks
DX should be no new name to anyone here, and this year he not only released the 58th(!!!) issue of his continuing chronicle of cult hardcore Distort, but also the lastest issue in his further dissertation into the world and music of British rockers the KINKS, Life Stinks I Like the Kinks, filtering his years experiences and observations through the music of the Davies bros. On top of this, he also co-founded the publishing imprint Mont, which has released some great zines on DMX and Jean Genet.
MISCELLANY:
Up The Blunx
A podcast about the experiences of being Black in punk, with episodes featuring interviews with members of ZULU, BUGGIN', and SMUT, amongst others. It's put together by my fellow expatriated Hawai'i punk friend Kevin, a stand-up comedian in the DC area, but also a member of the bands SAFFRON and CHILL PARENTS.

SWEEPING PROMISES / COLLATE live, October 3rd, 2021
Notable personally as my first real gig since March 2020. It felt good to dance to my friends COLLATE again, and SWEEPING PROMISES made good by their massive 2020 debut record, with a live set just as melodic and impassioned.
CHRONOPHAGE / BEHAVIOR & MAYAKO XO / THE GREBES live, November 18th, 2021
The second gig I went to this year. CHRONOPHAGE are post-punk songsmiths of the highest accord, but seeing my friend Bob's new nu-jangleist beat group the GREBES gave me hope for the future of local music, with a fresh start in the new year.
SPIKE IN VAIN and SCREAMERS reissues
Who would've thought we'd not only get to hear the unreleased second SPIKE IN VAIN album, but also an official SCREAMERS album that was even new to those of us that have heard every bootleg and live set that's been out there??
Okay, that's enough from me. Hopefully, I'll find some new bands in 2022 to talk about, finish a new issue of my zine, and maybe you'll send me yours?
ERIKA ELIZABETH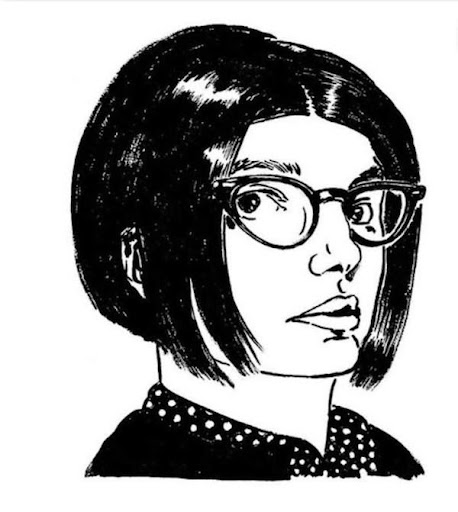 Erika Elizabeth plays bass in the band COLLATE, puts out records via Domestic Departure, and does reviews and radio for MRR. She lives on unceded Cowlitz/Clackamas land in Portland, Oregon.
Ten things from 2021, in alphabetical order:
HÉLÈNE BARBIER – Regulus LP (Celluloid Lunch)
Spartan, spectral art-punk wandering through labyrinths similar to the ones constructed by YOUNG MARBLE GIANTS and the RAINCOATS forty years prior. BARBIER draws out and repeats words and phrases in her chilly, sing-song dual English/French vocals until the distinctions between language and sound start to erode, all over a perfectly woozy backing of unhurried beats and angular single-note guitar twang—pop songs run through post-punk machinery.

BLAMMO – Onomatopoeia LP (State Laughter)
Atlanta's BLAMMO throws down the weird-wave gauntlet with their debut LP. The wildly tumbling rhythms and bassist Sarah's jittered shrieks and sarcastically-edged yelps in "Get Along" and "Nickel" actualize the possible outcomes of PINK SECTION having come up through the New York no wave scene (or Atlanta's punk underground in 2021; time is a circle), and "Im Nebel," with its vocals entirely auf Deutsch, stark and trebly guitar, and a martial all-snare beat pushing everything along like factory machinery, is BLAMMO's obvious love letter to the German-language post-punk tradition of bands like CARAMBOLAGE and LILIPUT.

CHILD'S POSE – Eyes to the Right EP (Thrilling Living)
Angular whiplash pop destruction that speaks deeply to me as someone who took a detour through ELASTICA on my way to first arriving at WIRE. See-sawing rhythms give way to frantic tumbling-down-the-stairs inertia, and Sop's vocals careen from fierce, spoken word detachment to wild ebullience, with "Eyes to the Right" posing the eternal punk question "Do you ever feel like you've been cheated?" with a more genuine sense of danger (and simultaneously, anarchic joy) than anything Sir Jonathan Rotten ever snarled.

COCHONNE – Emergency 12″ (Sorry State)
A parting gift from North Carolina's COCHONNE, channeling the Neue Deutsche Welle (except en français) with a suitably paranoid, MALARIA!-esque mix of cavernous bass, sinister synth, and needling no wave rhythms that sound more likely to have been crafted from behind the Berlin Wall rather than in the present-day Triangle—the dark, serious post-punk drama of "KGB" totally nails the feeling of having the walls of your mind slowly closing in on each other.

FAMOUS MAMMALS – Famous Mammals cassette (self-released)
Three-fifths of the WORLD regrouped as FAMOUS MAMMALS, shifting their post-punk allegiance to shambolic UK DIY as they kneel at the altar of SWELL MAPS, et al. A clattering Rhythm Master provides that patently early '80s chintzy analog drone, the murky psychedelia of "The Plum Overcoat" suggests that the TELEVISION PERSONALITIES really did know where SYD BARRETT lived and paid him a house call, and "The Observer and the Object" positions itself as a lost bedroom-spawned successor to "Dresden Style" or "Let's Build a Car," if there were any lingering questions as to where FAMOUS MAMMALS stand on the issue of the Godfrey brothers.

HITS – Cielo Nublado LP (Paisley Shirt)
A perfectly melted hybrid of scrappy art-punk and spectral bedroom pop, with warm fever dream melodies over a sparse, shambling instrumental backing as if the MARINE GIRLS and DOLLY MIXTURE had decamped to Olympia for an early '90s International Pop Underground convention. HITS have crafted a world where sprightly indie pop tributes to Alan Vega lead into playfully stark, OH-OK-styled post-punk explorations, and I can't really think of another world that I'd rather live in.

KRIMI – Demo cassette (Helta Skelta)
Shout-out to Bianca and Jhonny from Gimmie Gimmie Gimmie zine—I hadn't heard KRIMI until I was editing their MRR year-end list and saw that they had name-dropped KLEENEX, PYLON, and the AU PAIRS (three points of reference that are instant catnip to me) in their write-up of this demo, and as soon as I listened to it, KRIMI infiltrated my own top ten. Definite '78-'83 Rough Trade mindset at work, very jagged and slightly ragged. Sharing knowledge across the international punk community is magic!

MARAUDEUR – Puissance 4 LP (self-released)
Vocals in alternating German, English, and French, all generally delivered with the detachment of announcements repeated in a subway terminal, backed by BUSH TETRAS/ESG-descended rhythms via clockwork-ticking drums, elliptical bass grooves, and judicious stabs of single-note razor wire guitar, with those carefully plotted sonic angles then warped under a constant buzz and warble of primitive synth. The new wave of Swiss wave, or Neue Deutsche Welle twice removed (borders are just social constructs).

M.A.Z.E. – II LP (Lumpy)
A ramshackle bridge between Japan and the US Midwest, with M.A.Z.E. bashing out asymmetrical anxiety anthems citing the same 80s oddball DIY/punky new wave references that have been central to the Lumpy Records brand. That smudged-up disco beat colliding with Eriko's max-joy shouts in "Spread the Germicide" is off-kilter godhead— half MO-DETTES, half SUBURBAN LAWNS, all dressed up in paint-splattered clothes. Wired and wiry, completely liberatory and free.

SPREAD JOY – Spread Joy LP (Feel It)
Econo-jamming Chicago art-punk, triangulated somewhere between the loopy contempo new wave of various Lumpy-backed outfits and the recent Midwestern iteration of cutting, tightly-wound post-DEVO precision. Briana Hernandez's giddy, animated shrieks and matter-of-fact narrations have a definite Su Tissue edge, slipping into German on the brightly Neue Deutsche Welle-tinted "Kanst Du" and even subverting the "don't you want to wait around" vocal hook from KLEENEX's "Ain't You" on "Unoriginal" (with a knowing wink in that title?)—if you're going to steal, steal from the greats.

ERIN O'HARE
Erin O'Hare is a journalist and radio DJ based in Charlottesville, Virginia. She hosts Ye Olde Tuesday Afternoon Rocke Show and Black Circle Revolution on WTJU 91.1 FM, plays bass in a band, contributes to Celluloid Lunch, and is not interested in the opinions dudes give her on the records she spins.
What I like isn't necessarily what you like, and vice versa, and that's cool. But in the spirit of sharing, here, in alphabetical order, are some of the (punk and punk-adjacent) releases I kept returning to this year.
AJ CORTES AND THE BURGLARS – Demo cassette (Gravity Hill)
A true DIY endeavor, AJ CORTES wrote, recorded, drew the art for, and released these four songs—which clock in at six minutes and some change total—all on his own. The music is loose and fast and loud and catchy. CORTES' lyrics are clever ("I'm kicking myself out of this town," he yowls on "Filled Up"), and he delivers it all with an extraordinary urgency and unselfconsciousness that only an artist of his age could accomplish: he isn't even a teenager yet.

COLLATE – Medicine / Genesis Fatigue 7″ (Domestic Departure)
Inject this straight into my veins. Two more exciting songs from one of the best bands going right now. COLLATE's not a guitar band, nor is it bass-driven, nor is it percussion-forward. It's all three at different times, with each instrument and member stepping up to the forefront for a section before moving aside to let a bandmate into the sonic spotlight (the triangle is the strongest shape in nature, after all). It's all very communal, down to the call-and-response vocals that demand the listener pay attention in order to really hear what COLLATE has to say.

FAKE FRUIT – Fake Fruit LP (Rocks In Your Head)
Every song on this record is a great fucking song, and no matter which track I spin during a DJ set, someone either walks up to me or calls in and asks, "Who is this?" "FAKE FRUIT," I have the privilege of saying, hoping that they'll seek out this treasure and have the same refreshing listening experience that I do. "Wow, that was a great song," I always think after "No Mutuals," the album opener. But by then, I'm already hearing and thinking about how good the next song is, eleven times over, until it's time to flip the record and repeat.

MARAUDEUR – Puissance 4 LP (self-released)
A few months ago, I reviewed this record for Celluloid Lunch and said that I fucking loved it, couldn't get enough of it, but also couldn't put my finger on why. Is it the way it reminded me of a surprising combination of some of my favorite bands (KLEENEX, STEREOLAB, COLLATE)? The curious and exciting song structures? The fact that each song contains multiple guitar/bass/synth/drum/vocal parts that other bands would base an entire sound on? The fact that the five-piece band has two bass players? Mmhm, yes.

CHILD'S POSE – Eyes to the Right EP (Thrilling Living)
"Do you ever / Tell me do you ever / Come on, do you ever / Feel like, feel like… / Do you ever / Tell me do you ever / Come on, do you ever / Feel like you've been cheated?" vocalist Sop sings on the final (and title) track to this four-song 7″. Absolutely, Sop, yes, but certainly not by this record full to the brim with stops and starts and swoops and sweeps and stories. There's not a moment squandered here, and the only way I'll feel cheated is if there's no more in store.

JOY – Joy cassette (Girlsville)
This one goes in the tape deck when I need to rage about The System, when I've listened to all the POISON GIRLS and Eve Libertine-era CRASS in my collection and need to remember that people today still care about—and write songs about—important shit like toppling the patriarchy, calling out abusers, holding the powerful accountable. Thank goodness JOY's out here to insist we don't give up that fight.

MESH – Mesh cassette (Born Yesterday)
Five punchy, plucky songs that have me bopping along from the very beginning of the first track, "CIA Mind Control." The whole cassette is smart and snappy, chock-full of great riffs and tuneful melodies, a real respite from a bullshit world. The breakdown in "Ur Dead" is one to rewind and replay over and over and over and over and over and…

SUBURBAN LAWNS – Suburban Lawns LP reissue (Superior Viaduct)
I'd heard about SUBURBAN LAWNS ("they're up your post-punk/new wave/quirky weirdo music alley, you DEVO freak"), but never found the band's singular studio album (released in 1981 on I.R.S.) in a record store and never looked it up online out of fear of loving it and yet never owning a copy. Thank you, Superior Viaduct, reissue label supreme, because these are fun, totally bonkers songs to get to know, and "I'm a janitor / Oh my genitals" is an earworm for the ages.
TAQBIR – Victory Belongs to Those Who Fight for a Right Cause EP (La Vida Es Un Mus)
A middle finger to oppression, a thumb bitten to the patriarchy, a fig given to organized religion. Sung in Arabic, the 7″s printed insert gives English translations of the song titles and lyrics, and they're just as white-hot with rage as the music itself.

TOADS – Toads LP (Sanctuary Moon)
Every year I seek out a "fuck you" record, something to validate all the eye-rolling, deep frowning, brow-furrowing, and teeth-baring that comes with feeling fed up with everything and everyone. Last year, it was ALL HITS' Men and Their Work, and this year, with songs like "Chumhum," "Richard Street," and "Bad Cop," it's TOADS' self-titled record. The highlight for me is the final track, "Sharp Like Diamond," with vocalist Miranda Fisher taunting a shit-talker to just say it to her face. "Say what you say, I'll find out anyway," she jeers before reminding them (and, I like to think, herself) of her strength: "sharp like diamond, you can't touch…sharp like diamond, you'll get cut."

JOÁO SEIXAS
João Seixas is a D-beat and hardcore aficionado from the barren punk land of Portugal. Drummer in a thousand bands, and shouter for @nukke.lear.punk. Dystopic creator at @violence.paranoia. Part-time firestarter, rulebreaker, and iconoclast.
Punk is always about protest!
QUARANTINE – Agony LP (Damage United / La Vida Es Un Mus)
The weirdness of UNITED MUTATION and WHITE PIGS moshing with the anger of NEGATIVE APPROACH and NECROS. A relentless yet catchy record filled with some of the strangest electronic segments heard on a hardcore record that sometimes come close to something DEVO would do. Best record of the year by a long shot! This is pure American hardcore right here!

PSICO GALERA – Le Stanze Della Mente LP (Beach Impediment / Static Age)
New and exciting, but rooted in the '80s hardcore sound. There is obvious channeling of Italian hardcore like WRETCHED and NERORGASMO, but through the mind of BITOUSHA and G-ZET. This unsettling album further proves that the Italian hardcore tradition is alive and well.

PORVENIR OSCURO – Asquerosa Humanidad LP (La Vida Es Un Mus)
Asquerosa Humanidad proves to be a raw mixture of the very best of Latin punk with hints of UK82 via CHAOS UK. Everything from the beautiful cover to the thirteen pogo-drenched tracks reeks of disdain and restlessness. A punk gem released at the right time. As Colombia burns, the voices of disdain rise!

NERVOUS SS / RAT CAGE – Skopje vs. Sheffield split LP (La Vida Es Un Mus)
The perfect demonstration of mangel done right from two bands that are not from Sweden. An unrelenting assault of TOTALITÄR worship from Macedonia and the UK. These two bands complement each other very nicely, making this a special split instead of just a way to dump unreleased tracks.

ALTAR OF EDEN – The Grotto Screams LP (Drunken Sailor)
In a world filled with overproduced post-punk, the "punk" aspect of the genre seems to be getting more and more subtle, giving way to indie-inspired tendencies. Enter ALTAR OF EDEN, a lo-fi post-punk band that contradicts this trajectory with raw recording, deathrock undertones, gritty drum machine sounds, and overall crude atmosphere.

TAQBIR – Victory Belongs to Those Who Fight for a Right Cause EP (La Vida Es Un Mus)
Moroccan punk sung in Arabic with a female singer putting the middle finger up to all that is oppressive. A wrecking ball of a band that is in its essence a political statement, just the way that punk should be!

GOLPE – La Colpa É Solo Tua LP (Sorry State)
Punishing, modern mid-tempo hardcore in the vein of WARTHOG, mixed with the great Italian hardcore tradition of IMPACT or NEGAZIONE. Lyrics about animal liberation, which is a topic that is almost forgotten today, but one that every one of us punks should be more involved with. Caos, non musica.

DESENTERRADAS – Danzando en el Caos LP (Metadona / Symphony of Destruction)
Spiritual daughters of the late, great Eduardo Benavente of PARALISIS PERMANENTE. These gals do a brand of post-punk in a very Spanish tradition, as well-crafted and bleak as DECIMA VICTIMA.

LUMPEN – Desesperación EP (Discos Enfermos / Little Jan's Hammer)
LUMPEN is the spirit of the South American punk dissidence. With a UK82 backbone to their sound, they are a product of much time spent listening to CHAOS UK and CRIMINAL JUSTICE, and follows a similar approach as fellow countrymen PRIMER REGIMEN: a pure anthemic, unrestful Latin punk sound.

SCATTERBRAINIAC – Scatter the Brains!! CD (Half Beast / Miasma of Barbarity)
One-man band SCATTERBRAINIAC is a moped aficionado who set out to save punk rock! He snorts the GERMS, DEAD KENNEDYS, and everything snotty and witty in punk, and spews out a pure punk rock album filled with memorable anthems. This one may have passed under the radar a bit, but it will not disappoint all the eggs out there!

KATHRYN EDWARDS
MRR YEAR END BEST OF 2021 YEAH BABY COME ON
Hi, I am Kathryn Edwards from Nashville, TN. I'm in a couple bands (THIRDFACE, DONORS) and run the all-ages venue DRKMTTR. Here is a list, in no particular order and in no way exhaustive, of releases that got my mind jogging in the year 2021.
TAQBIR – Victory Belongs to Those Who Fight for a Right Cause EP (La Vida Es Un Mus)
Dancey lo-fi punk from Morocco. One of the first great finds of the year. This is some truly inspirational music here.

SOUL GLO – DisNigga Vol. 1 & 2 cassettes (Secret Voice)
A double release by a band who doesn't know how to stop showing the rest of us up. Some of the best to currently do it. These are a full set because you can't have salt without pepper. A little mirepoix of genre. Are you more a vol. 1 or a vol. 2?

STUCK – Content That Makes You Feel Good cassette (Exploding in Sound)
I really love always being surprised about a new release from Exploding in Sound. Glad they wanted to put out such a wide range of great stuff this year. This is one of those great releases! Get ready for a quick and sick post-punk groove.

SPY – Habitual Offender 12″ (To Live a Lie Records)
Come on with the Cali hardcore. This is chock full of bangers. Songs to burn shit to. Crush them under your boot to the riffffffs.

SLANT – 1집 LP (Iron Lung)
Woof! IL hitting us with another one. A full and healthy seventeen minutes of hardcore shredding. More K-Punk in 2022.

BAD EXAMPLE – Bad Music LP (self-released)
Hard, aggressive, and fast. I will rep the sister city of Birmingham at any given time. They have one of the most impressive, tight-knit, and constantly evolving underground music scenes I've witnessed. Long live BAD EXAMPLE. Calla Forever.

DRY CLEANING – New Long Leg LP (4AD)
What a debut album! Super cynical stream-of-consciousness over some of the catchiest post-punk I think we have all been lucky to come across recently. It's the kind of wit you can only hope to get out of your depression.

REGIONAL JUSTICE CENTER – Crime and Punishment LP (Closed Casket Activities)
REGIONAL JUSTICE CENTER exists solely to melt the skin off faces. I expected nothing less than to feel exhausted by the end of this album from how hard I'd been clutching every muscle.

COCHONNE – Emergency 12″ (Sorry State)
Dirty little short and sweet record. I listened to this every day for a whole week doing work. It's fun and thoughtful. Get into it.

MIŽERIJA – Demo cassette (Doomtown)
This is the last cassette I purchased on Bandcamp. Croatian punks to make you dance. Can't wait to slide this into the deck whenever it gets released from postal jail.

NICK ODORIZZI
Nick Odorizzi is a writer, teacher, and dad who occasionally plays feedback in STATIC HYMNS.
What a year. While incrementally better than 2020, plagues still rage, the US is as divided as ever, and most human interaction happens through the social media hive mind. I listened to a lot of great music this year, and I will probably catch up on all of this year's goodies by this time next year. Here's hoping 2022 chills out. Stay safe out there, and whenever possible, build bridges not walls.
DOLLHOUSE – First Day of Spring EP (Toxic State)
My top ten is not in ranked order, except for this—it's number one. Ripping hardcore with raw vocals and spidery guitar leads that rules on its own, but when you get to the lyrics? Devastatingly personal tales of trauma and abuse that give this 7″ a different level of heaviness. Incredible record.

TRIGGER CUT – Rogo LP (self-released)
Abrasive noise rock from Germany with sheet metal guitars and Ralph's (the friendliest man on the internet, by the way) spoken/shrieked vocals that sound like Steve Albini stepping on a nail. Like classic SHELLAC or JESUS LIZARD, but rawer. These guys just had a terrible fire at their practice space that destroyed most of their equipment. They have a Gofundme right now and a series of benefit albums in their honor, if you are so inclined.

Who Gives a Fuck About Charlotte? Fest, August 7th
This amazing mini-fest was my first show since the pandemic began, and it was worth the wait. Featuring a mix of punk, electronic, indie pop, and hip hop artists performing to raise funds and supplies for Charlotte's growing homeless population, it was a reminder of the good that our respective underground communities can do when we cooperate. Organized by the mighty MUTANT STRAIN (who I am still kicking myself for missing by being late), standouts were emoviolence crew YOU ONCE WERE, darkwave/post-punk artist ADAM COPE, snotty grunge punks ACNE, and the mean, hardcore stompers UNRULY BOYS. Great show that ended with literal fireworks in the pit, and a welcome return to live music.
LUZ DE GAS – Luz De Gas cassette (Iron Lung / Junko)
Excellent demo from this Chilean band. High-pitched, urgent vocals demanding equality for women right now. Cavernous production makes it sound like you're in the room, dripping with sweat, feeling their frustration.

NEOS – Three Teens Hellbent on Speed LP (Supreme Echo)
Crucial reissue of this Canadian band's output from 1981—83. Fifty-one cuts of blur-fast thrashing hardcore that helped set the templates for what would eventually become powerviolence, fastcore, even grind. The hyperfast drumming is amazing, as is the political awareness and odd humor. If you like SIEGE or DEEP WOUND, you owe it to yourself to listen to this.

SPLEEN – Spleen cassette (Interceptor Editions)
Noisy, freak-out hardcore from Leipzig, Germany in the vein of MUTANT STRAIN and LEBENDEN TOTEN. Exactly what I want from slimy outsider punk: relentless, reverbed vocals, unexpected time changes, and enough filthy noise riffs and feedback damage to punish nonbelievers.

ANNO OMEGA – Magia cassette (Sentiero Futuro Autoproduzioni)
Perfect blend of hardcore riffing and crystal-clear synths and theremin from these Italian space-punk wizards. I listened to a lot of synth punk/new wave-influenced bands this year, and this, while not in the usual DEVO-worshipping crew, was the best. Tiny epics of catchy, anthemic song-writing that sound tough and fun at the same time.

MELT DOWNER – III cassette (Phantom)
Dirty, pummeling mix of noise rock and post-hardcore with occasional washes of atonality, like PISSED JEANS in a car wreck with early SONIC YOUTH. "The Corporate Identity" has the best doom riff not on a doom record. Put this on and get bummed out in the best way.

SUBURBAN LAWNS – Suburban Lawns LP reissue (Superior Viaduct)
Long overdue vinyl reissue of their sole LP from 1981. Classic offbeat new wave that should have been as big as DEVO or the B-52's. Vocalist Su Tissue's unique deadpan vocal approach and the band's ironic surf-rock subversion of mainstream American culture make this immediately likable, and influenced bands as disparate as MINUTEMEN and the PIXIES. What else can you say about Cold War nuclear paranoia but, "Boom, Boom, Boom, Boom"?
Turned Out A Punk podcast
This may be high profile by this point, but Damian Abraham's (singer of FUCKED UP) long-running interview podcast features long (some two-plus hours) conversations with people who were influenced by punk in some way. Due to Damian's encyclopedic underground knowledge and his interview style of mainly listening to his guests wax poetic about all things punk, it is a treat that amazingly comes out several times a week. Especially good episodes that come to mind are Martin Sorrondeguy (CRUDOS, LIMP WRIST), Fred Armisen (TRENCHMOUTH, Portlandia), Larry Livermore (Lookout! Records), and Joey Keithley (DOA). I have learned a lot of interesting punk lore (the infamous DYSTOPIA riot comes up a lot) and my impossible-to-find 7″ want list has grown (the SOLGER EP, anyone?). Speaking of FUCKED UP, Tankcrimes put out their Year of the Horse this year, an interesting 90-minute exercise in hardcore maximalism.
ROTTEN RON READY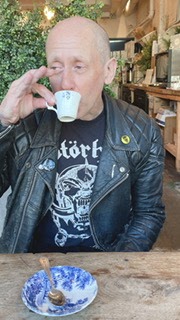 Rotten Ron was born a San Francisco punk. He began his sentence at the hardcore punk gulag known as MRR in 1997, where he has hosted radio shows, written articles and reviews, and took out the trash occasionally. He now writes for them on house arrest via the internet while living in Pittsburgh and working in harm reduction. He likes cats and motorcycles. He is cool.
Music to survive the Plague to, in no particular order…
V/A – Welcome To Pittsburgh…Don't Move Here LP (Cruel Noise)
Toxic tunes from a toxic town. John V's guide to Steel City shreds all the way though for yinz.
CHILDREN WITH DOG FEET — Curb Your Anarchy cassette (Toxic State)
East Coast California deathrock. Tenements instead of palm trees. Bodegas instead of Circus Liquors.

PRISION POSTUMO – Amor Salud y Dinero LP (self-released)
A cool sweet ride through Santa Ana. Hot cars and Regia quarts cranked up really high.

ANTI-MACHINE – Shut Up EP (Toxic State)
New York City old-timers keeping busy as the bodies piled in the parks. Armageddon rocks.

HÜSTLER – cassettes 1 and 2 (Sorry State)
Real NYC sleaze metal merchants. De Blasio wearing a dog collar eating rats in a dumpster.

TOWER 7 – …Peace on Earth LP (Roachleg)
Sounds like punk-era NEUROSIS and COC. What about that third tower…?

CRYPTID – Demo cassette (Blow Blood)
Familiar faces killing it Down Under.

ILLITERATES – Illiterates LP (Kill Enemy)
Iron City delightful freakcore.

LITTLE ANGELS – Demo cassette (Kill Enemy)
Pittsburgh punk royalty kicking out the slams.

MOONSCAPE / SMUT – split cassette (Silenzio Statico)
It's on Silenzio Statico. A no-brainer in every sense of the term. Enjoy punk drink beer.

R.I.P. Mikey Boegadine / R.I.P. Shamus McCarthy
TIM JANCHAR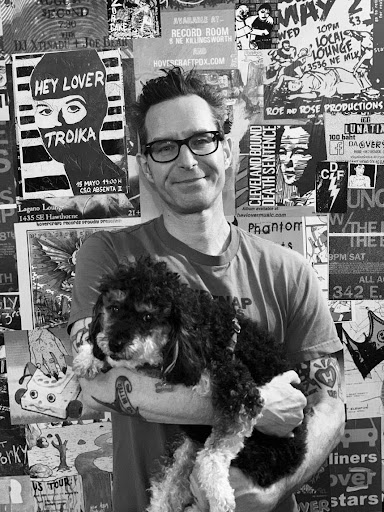 Tim Janchar reviews things for MRR and runs Hovercraft Records out of Astoria, Oregon. He currently plays bass in the DUMPIES and was previously in MYTHOLOGICAL HORSES, HEY LOVER, and CAFETERIA DANCE FEVER.
THE BOLLWEEVILS – "Liniment and Tonic" (Red Scare Industries)
The first single off their upcoming 2022 album. Blistering Chi-Town punk that only gets better over the years with Dr. Darryl Wilson's energy and vocals leading the campaign.

CHAIN WHIP – Two Step to Hell 12″ (Drunken Sailor / Neon Taste)
Grimy, dirty, dank punk from Vancouver. Like drinking cheap beer and running into walls.

CROY AND THE BOYS – Of Course They Do cassette (self-released)
Tex-Mex Americana reinterpreted covers of anarcho-punk-folk songs. NEGATIVE APPROACH's "Ready to Fight," BILLY BRAGG's "Between The Wars," CRASS's "Do They Owe Us a Living," and the ominously pertinent "Hate The Police" by THE DICKS.

NAKED RAYGUN – Over the Overlords 2xLP (Wax Trax!)
It's their first album in over 30 years, but it could have easily fit between Understand and Raygun…Naked Raygun. Jeff Pezzati's operatically distinct vocals haven't lost a thing.

NEIGHBORHOOD BRATS – Confines of Life LP (Dirt Cult / Taken By Surprise)
Amazing album from one of the best live punk bands right now.

PARTIAL TRACES – Wild Surf / Quiet Blues LP (Salinas)
A quietly dark, hauntingly personal, and subtly transcendent group of songs from the Minneapolis crew featuring ex-SOVIETTES, GATEWAY DISTRICT, RIVETHEAD, and the scrappily inimitable SALTEENS.

RUDIMENTARY PENI – Great War LP (Sealed)
Buzzsaw anger, anxiety, and anxiousness abound in their first release in over two decades. Amazing Nick Blinko cover art.

SCREAMERS – Demo Hollywood 1977 12″ (Superior Viaduct)
Recorded at the birth of Los Angeles punk, they were already transcending the scene from the get-go. It's not that they were in a different league, they were just playing a different sport.

SPITBOY – Body of Work 1990–1995: All the Songs 2xLP (Don Giovanni)
The collected works of the unapologetically transgressive feminist East Bay band. Adrienne Droogas delivers scorching anthems dismantling the patriarchy, capitalism, and sexism as relevant now as they were in the '90s.

VASAS – Chill Out LP (self-released)
A great album from the KINKS-inspired Sacramento band that could have fit on the catalogue of Flying Nun Records in the '80s.

TRACY KEATS WILSON
I am an independent music veteran of 30+ years based in Richmond, VA: musician (DAHLIA SEED, POSITIVE NO, OUTER WORLD), record collecting zealot/DJ (IG: @recordcollecther), record slinger via Courtesy Desk, and music writer via Turntable Report.
THE VOVOS – Jana cassette (Roolette)
The VOVOS are five animated Melbourne teen punks fresh from Grrrls Rock Camp, exploding with attitude balanced by carefree melodies. They are a barely-tethered, larger-than-life parade balloon in a tickle fight with the air, gleefully crushing garage-pop while giving a taste of KENICKIE taking on the CLASH.

Hellzapoppin'! The Art of Flying Nun book by Peter Vangioni, Kath Webster, Russel Brown, and Roger Shepherd, published by Christchurch Art Gallery Te Puna o Waiwhetë
I love a good DIY success story. This thoughtful collection of art, history, and personal stories in oversized book form reflects the birth of the legendary record label Flying Nun Records. Forty years ago, they helped to put New Zealand on the map for fans of daring and unforgettable noise-pop. We learn here that their rebellious aesthetics of bands like the CHILLS, the CLEAN, PIN GROUP, VERLAINES, and 3DS, reveal just as much about these young creators as the body of music it represented.
SWEEPING PROMISES – live at Gonerfest 18
In 2020, many of us fell in love with the unforgettable hooks of the debut SWEEPING PROMISES album on Feel It Records. Two years of stress, heartache, and fear melted away as an outdoor crowd in Memphis blissed out together over songs that had become the accidental anthem of our collective lockdown experience. I am still gleaming over ESG-worthy bass lines conversing with guitar exclamation points, and belted melodies that would make Cindy and Kate of the B-52'S shimmy shimmy shake.
THE MIND – Open Up the Window and Leave Your Body LP (Lumpy)
The MIND are like rubbing fur in the opposite direction that it grows. It is soft, pleasant, yet prickly and uncomfortable, too. It is clash of the musical titans in one band: a dissonant Cleveland art-punk band wrapped in JESUS AND MARY CHAIN's "Just Like Honey." It is BROADCAST paying tribute to FLIPPER. An evening primrose pushes through the chaotic distortion to elegantly bloom in darkness for all nine mind-melting tracks.

Rebirth of radio in all its glorious forms in the modern day
Real live humans with unique tastes, memories, experiences, one-of-a-kind record collections, and the rare ability to curate their tastes into playlists that no algorithm could ever replicate. WRIR is a window into my home of Richmond, VA, Jen Matson of Hollow Earth Radio, Erika Elizabeth for MRR Radio, Gerard Cosloy, all that is WFMU, Doug Mosurock at Chirp Radio, Jon Solomon and a whole host of folks at WPRB, Erin O at WTJU, and the Discover Tab.
MARAUDEUR – Puissance 4 LP (self-released)
Retrofuturism is a staple term used in film. It blurs the lines of looking into the future while using a lens inspired by decades past. This push-and-pull tension of the past littering the future creates an unsettling feeling. It makes us feel nostalgic for something that hasn't happened yet. MARAUDEUR is a similar, perplexing blend of decades: '70s NY no wave/Rough Trade art-punk that when applied to mechanical '80s coldwave, sounds beyond modern. MARAUDEUR, whose lyrics are in English, German, and French, further plays into this hard-to-pin-down time or place on the map. Yesterday becomes a bridge to tomorrow. Is it possible to feel uneasy, cozy, and also want to dance? The answer is yes.

DET JORDISKA – Grisarnas År LP (Lazy Octopus)
I was seventeen when I fell witness to the FALL's unsettling (confounding) video for "New Big Prinz." It terrified me. It was dense and ugly. The closest parallel I could draw from this unnerving primitive dissonance was if Phil Spector had scored a sequin-heavy ballet in hell. It seemed designed to repel yet there was an intriguing, glamorous sheen. Similarly, the Swedish group DET JORDISKA carries a wall-of-sound kinship with THEORETICAL GIRLS, plus the messy, mournful, and abstractly melodic punch of the Brix-years FALL. Their brand of volatile pop is a runaway train that never goes off the rails and was worth waiting for.

Sisters with Transistors documentary film
Some will argue that a film about outsider women/queer/trans electronic music composers (many with Classical backgrounds) doesn't belong among a MRR top ten. However, I would counter that the talents on display here (SUZANNE CIANNI, CLARA ROCKMORE, DELIA DERBYSHIRE, DAPHNE ORAM, PAULINE OLIVEROS, WENDY CARLOS) are an inarguable influence on inspiring non-conformists who embrace technology to create rule-bending music. Sisters with Transistors uses a collage of archival footage and audio with narration by LAURIE ANDERSON to tell the stories of these pioneering rebel girls. The parallel narrative is finding a freeing path that doesn't require the approval of an oppressing force and how to find footing in places you are not welcome. Some may call this a documentary; I consider it a call to action. Go forth and make noise any way you see fit.
SPREAD JOY – Spread Joy LP (Feel It)
A dream for short-attention-span punks; imagine an elastic gymnast doing a jittery floor routine to the SUBURBAN LAWNS. These wirey, zig-zag punks from Chicago make good on their band name and will bring happiness to old schoolers who love Y PANTS and new schoolers into the NWI scene Á la the most excellent CONEHEADS. SPREAD JOY's absurdly weird and wonderful angles make them the Picasso of the Midwest (minus the macho BS). Creation and destruction in under a minute? Yes please!

THE BUG CLUB – Pure Particle LP (Bingo)
The BUG CLUB are a bitterly fun rock'n'roll trio from Wales with tight harmonies (think singular mama to papa Phillips). This is where this band shines and what sets them apart from the VELVETS fan club pack. Add in some master wordplay with pocket radio production, and you have the makings of a brilliant yet never too serious powerhouse.

WILLIS SCHENK

Willis Schenk plays basement rock with his friends and writes reviews for MRR. He lives in the mountains of central Vermont.
THE CAVEMEN – Am I A Monster? / Schizophrenia 7″ (Pig Baby)
Aussie pub-rock nasties the CAVEMEN ask a question with an obvious answer. This is another leathered-up homage to so many horror-rock groups over the decades—nothing new here—but what can I say? I like horror-rock, it's fun and it gives me respite from our shambled reality, which is a tool I hold dear these days. These dudes have put out a lot of music since their inception some nine years ago, and this single lands pretty consistently with previous releases, if not a little tighter and even a little more polished. All said, definitely monsters.

CHAIN CULT – We're Not Alone / Always a Mess 7″ (La Vida Es Un Mus)
This Athens post-punk trio is everything I like about modern production—it's clean and tight without being too glamy or plastic. Dino's guitar riffs are the band's signature: they're as beautiful and melodic as they are dark and driving, carrying the bleak lyricism of this pandemic project. Fingers crossed for another LP!

CO-ED – Co-Ed cassette (Sludge People)
Here lie the remains of what could have been something special. Gabriela's unique, pitch-swinging voice was perfect over the band's buzzy, low-end guitar and downtrodden soundscape. I wanna drive all night to this. Unfortunately, this six-song morsel is all we have, as they have disbanded. I should say, they also put out a single this year, Guilty / Discourse, that was meant to come in front of their debut LP. I haven't heard if the LP will be released, but one can hope.

LAXISME – Premiere Sortie cassette (Phantom)
If I can't understand German or French, and I'm still singing along, I think these Berliners have done something right. Within you'll find blues-howling/shouted vocals, garage-clattering guitar, farty-bass, and cymbal-happy drums; it's poppy and raw and pure fun. This infectious EP is LAXISME's only release, although it's members seem fairly prolific (associated acts: BRONCO LIBRE, VISIONS OF WAR, the HARRY ANSLINGERS), so hopefully this project is here to stay.

NEON BELLY – The Boys Are Alright EP (Fort Lowell)
I heard the first track "The Boys Are Alright" on one of Dan's shows, and immediately fell in love. Riot grrrl sensibilities paired with scratchy, lo-fi instrumentals and fast, fuzzy vocals—an instant five-song banger. My favorite line comes from "Don't Hide Your Hate": "I hate punks / They get too drunk / Never show up to the protest." If we can't call each other out, then what's the point of this whole thing?

TVO – Fall in a Pit EP (State Champion)
Crawling out of the van comes Philly's TVO with their garage-rocking third release…and I will say their sound has cleaned up some since 2018's dmo, which is very wall-of-distortion-esque. The chorus breakdown in "Fall in a Pit" makes it the favorite track for me, and shows off a developing technicality that is present throughout this single-sided 7″.

ESSES – Bloodletting for the Lonely LP (Atakra / Bat-Cave Productions)
As the days grew shorter, and the hills went gray here in New England's late fall, this goth-rock album made the perfect companion. Their sound reminds me of CRANES, with warbling, heavy-reverb guitar riffs, and syrupy vocals. You may become a little unhinged being dragged through the cold hellscape of Bloodletting for the Lonely, but it's worth the ride. Their staccato Bandcamp bio says it all: "Music. Art. Poetry. Sadness. Rage. Gloom. Repeat."

NATURE BOYS – IV LP (Dead Broke)
This Kansas City trio has been at it for a little over a decade, and aren't slowing down. I think IV rocks the hardest out of its predecessors, and is the least relenting, with songs like "Pyramid." I love the pounding guitars and melody of "Philosophy Tent," perhaps the most moody and ruminating track with its chorus "Sometimes you know when you're rotting in your dream / Sometimes you go and don't come back." On the first few listens I couldn't see past the energy of this album's whole—good ol punk rock to me—but after hearing it again and again, there's really something rhythmically and lyrically at stake here.

HYSTERESE – Hysterese LP (This Charming Man)
Coming in with their fourth self-titled album, HYSTERESE delivers another undeniably tight set
of high-gloss post-punk. Their sound is well defined by the dueling vocals—Helen Runge with breathy melodies and Moritz Kehle's more guttural approach—or should I say, was defined this way. On this release, Helen takes the vocal lead and the band slows down a bit, perhaps exploring a new era. The first track "Burning" is a good example of this.

SAD LOVERS & GIANTS – Lost in a Sea Full of Sighs LP (Dark Entries)
Being a fan of UK post-punk and new wave, I must admit, this is a band I missed. Discovering them through this collection of their earliest work ('81-'82) was a great lead-in to a well of sappy love songs and dark reveries. For this and so many others, thanks MRR.