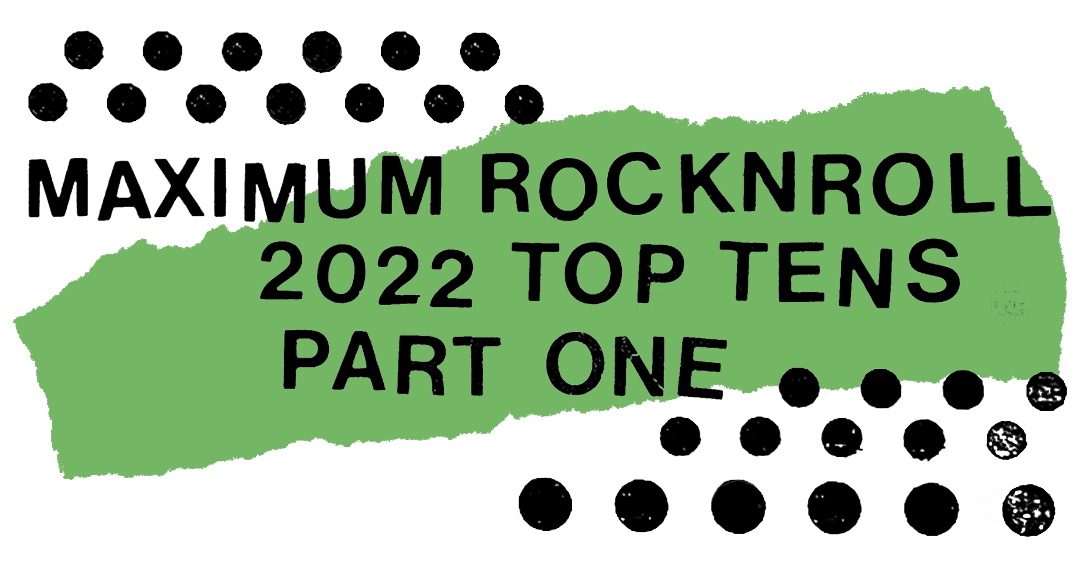 2022 Year End Top Tens, Part One
Welcome to the MRR 2022 Year End Top Tens. Once again, we asked MRR contributors and friends from around the world about their favorite punk records of the last year.
Part one of three, part two to follow next week:
ARTO HIETIKKO
I'm the lazy editor of the long-running Toinen Vaihtoehto zine (which is on a long, undefined hiatus at the moment), eagerly co-releasing records on Nunchakupunk, and actively involved with the annual Puntala-rock punk fest.
At the age of 57, I'm still very much a punk and a record addict. My motto: "Punk is here and now, not some fucking relic from the past, goddammit!" Far too many "punks" prefer living in the past and pretend nothing good has happened since the '80s, while in reality, there have been floods of great DIY punk releases in every decade, every single year. 2022 was not an exception: once again, there were loads of great DIY punk releases coming from all over, and I had to struggle to decide which releases to keep in my list and which ones to leave out.
TENSÖ – La Generación Cristal LP (Hermano Mono / Little Jan's Hammer)
With bands like TENSÖ and AKELARRE, no one can deny there's a blooming punk scene in the Canary Islands. TENSÖ's debut LP might very well be my most favorite record of 2022. Old-school punk in the vein of old Spanish bands like ESKORBUTO, CODIGO NEUROTICO, etc. They have heaps of punk attitude and they have songs. This band rules. If you still haven't heard TENSÖ, I have two things to say…first, where the hell have you been? Second, start paying attention to this band right now!

BOSQUE ROJO – Tiempo Vacío LP (Discos Enfermos)
BOSQUE ROJO hails from Montreal, Canada, but the members are originally from Colombia. This is definitely a record I have been spinning a lot on my turntable. Their sound is irresistable: it's basically mid-paced punk, but there's a heavy post-punk thing going on. Or you could also say it's post-punk heavily leaning to the punk side, it's up to you. I can't recommend this 12" enough.

RUIDOSA INMUNDICIA – Ira LP (Adult Crash)
I have loved RUIDOSA INMUNDICIA since I first saw them live in 2004 and their LOS CRUDOS-like intensity conquered my heart. Now after all these years, they finally released a full-length, and they still have that intensity, and also the ability to build up a great album. Some top-quality material here with lots of soul. Seriously.

LEXICON – Devoid of Light LP (Iron Lung)
Oh my. Raw, noisy, raging, out of control, in-your-face crusty hardcore. Explosive as hell! A total fucking powerhouse. Don't miss this.

STRAW MAN ARMY – SOS LP (D4MT Labs Inc. / La Vida Es Un Mus)
I can hear all kinds of things on the new STRAW MAN ARMY LP: anarcho-punk as a base, accompanied with pop and post-punk elements, very possibly some distant Orange County and Washington DC vibes as well. There are lots of influences mingled together, and the end result is simply impressive. There's no other band like STRAW MAN ARMY. This album has something magical.

BOMBARDEMENT – Le Futur Est Là LP (Destructure / Symphony of Destruction)
DISCHARGE-inspired D-beat—it's been done thousands of times before, but BOMBARDEMENT does it again, in a very convincing, determined, and impressive way, and even manages to bring something of their own to it. Masterful.

VIDRO – Glöd LP (Kink)
VIDRO's first LP Allt Brinner was in my top ten in 2018, and this year so is Glöd, their second LP. I'm hooked on the aggressive, precise vocals and the peculiar, almost psychedelic guitar sound. Powerful stuff.

SNIFFANY & THE NITS – The Unscratchable Itch LP (PRAH)
How to describe SNIFFANY & THE NITS? They're like Eve Libertine fronting a band playing pogo-able LUMPY & THE DUMPERS songs, with occasional post-punk guitar sound. Sister SNIFFANY's great vocals alone keep my interest level high, but they also have excellent lyrics. A criminally underrated band, imo.

BÖRN – Drottningar Dauðans LP (Iron Lung)
Deathrock-influenced post-punk from Iceland with scary, desperate, agony-filled vocals. Listening to this makes me think about the cold winds streaming in from the North Pole. It's a chilling, but at the same time very stimulating experience.

LA FRACTION – De l'Autre Côté LP (Crash / Gestalt / Konstroy / Maloka / Mass Productions / Mescufurus / Stonehenge / Tranzophobia / Trująca Fala / Twisted Chords)
Sixteen years after their previous LP, LA FRACTION is back with an album full of melodic punk anthems, with Magali's distinctive vocals. Sounds exactly like LA FRACTION.

Here's some releases not in my year-end top ten list, but most definitely worth paying attention to:
SAVAGEHEADS – Service To Your Country LP (Social Napalm)

MOCK EXECUTION – Killed By Mock Execution LP (La Vida Es Un Mus)

AMMO – Web Of Lies / Death Won't Even Satisfy LP (Static Shock / Wallride)

PRIMER REGIMEN – 1983 EP (Discos Enfermos)

SYSTEMA – Muerte EP (Symphony of Destruction)

BALTA – Rendszerszintű Agybaszás EP (La Vida Es Un Mus)

CRNA ŽUČ – Crna Žuč cassette (Doomtown) (definitely one of the best post-punk releases of 2022 in my books)

AKELARRE – Demo cassette (Uterzine) (another great punk band from the Canary Islands scene)

VALTATYHJIÖ – Lukko cassette (Sorry State)

The best gig I saw in 2022: IRREAL, 31st July at Vastavirta club, Tampere
ALEX HOWELL
Alex Howell is a record reviewer for MRR and hosts the bi-weekly punk podcast/radio show Garbage in My Heart. When he's not doing that (or working a boring 9-5), you can find him out and about in Indianapolis reading comics at millennial-ass coffee shops, running long distances, or being the second oldest dude at the skatepark.
2022 certainly seemed like another non-good year! But at least there was no shortage of records to distract you from it. And you can go to shows again! Anyway, here are some releases that did the trick for me, in alphabetical order.
ANTLER JOE AND THE ACCIDENTS – Go Commercial! EP reissue (Feral Kid / Last Laugh)
The first track on this thing is called "Words" and the opening lines are "Writing words really fucks me up / I don't like it very much." Exquisite shit! What's wild is that those aren't even the best lines of the song, and this might not even be the best song on the record. Three tracks of perfect KBD punk. It's like if a couple of fourteen-year-olds wrote some tracks for the GIZMOS. Seems like the type of thing that would have been comped a billion times at this point, but it's apparently just being rescued from obscurity now. So essential, it was somehow reissued by two different labels simultaneously!

CURLEYS – Curleys LP (Total Punk)
Music to grind your teeth to. And baby, I've hit pulp!

CML – The Dirty Tape cassette (Rotten Apple)
I don't think I've ever been in a position to say that one of my favorite releases of the year comes from the city I reside in. Until now! CML is one of the many Indy-based hardcore acts that have popped up seemingly out of nowhere in the last couple of years. And they're really something! The Bandcamp copy for this release mentions BAD BRAINS and URBAN WASTE, and I hear that, particularly in their adoption of that crisp, metallic guitar sound. But what I heard and was most excited about was JFA. They just capture that same feral vibe here, which you don't typically find in this brand of hardcore. It just feels more real, more punk. I love it!

THE DRIN – Down River in the Distance LP (Future Shock / Mangel)
The same handful of Cincinnati musicians in various configurations were responsible for making at least three records of electro-tinged post-punk that I considered putting on this list. But I've gotta give the nod to this record. I certainly listened to it the most. Bleak and dubby yet somehow still warm and inviting.

FLEX TMG – Whisper Swish 12" (Domestic Departure)
If you had asked me whether I needed more dance punk in my life, I'm pretty sure I would have told you I do not. But that's probably because I would have been imagining a redo of whatever we got in the early '00s. This isn't that, though. There are some similarities, of course, but this feels less wacky, less ironic, less 2003. It genuinely sounds like a mix of disco, ESG, and MAXIMUM JOY. Just an extremely cool and fun record!

GERM HOUSE – Lost Title EP (Chunklet Industries)
Justin Hubbard balances out his urge to make clangy post-punk with his urge to make scratchy UK DIY and puts out what's maybe his best record.

THA RETAIL SIMPS – Reverberant Scratch: 9 Shots in tha Dark LP (Total Punk)
From the moment Rich dropped this album's cover to announce its release, I just knew this was going to be a great record. Turns out it's one of the year's best! A perfect combination of sleazy frat rock, Stax-strut R&B, White Light/White Heat improvisation, and early Ohio punk—like a soundtrack to the dumbest and funnest party you've ever been to.

SAVAGEHEADS – Service to Your Country LP (Social Napalm)
THATCHER'S SNATCH – Wapping Dispute EP (Harcore Victim)
I don't know much about UK82. I've spent most of my life thinking it wasn't for me. Not because I'd heard it back in the day and disliked it. Nope, it's because I thought GBH looked silly when I read about them in Thrasher back in high school. I've come around on GBH, but only recently, and I haven't really gone any further than them. But for whatever reason, these two records just scratched some itch I didn't know I had. I listened to them way more than anything else this year. It's fast, mean, straightforward hardcore that's righteously indignant at a world gutted by neoliberalism. Just the best shit. I've loved them both so much that I really think I need to dig deeper into the genre.


SCHIZOS – Fuck Music City EP (Goodbye Boozy)
SCHIZOS put out their best and punkest record by going hardcore. This thing fuckin' smokes! So much so that they had to switch things up and put a cool boogie rock number on the B-side to keep this thing from totally combusting on your turntable.

VISION 3D – Hypnose LP (Belly Button / Rockerill / Six Tonnes De Chair)
Drippy garage cowpoke post-punk chanson, like STEREOLAB teaming up with THEE OH SEES to play mainly COUNTRY TEASERS covers. This release came out of nowhere with little to no hype and really blew me away. More people should be talking about this thing!

CORBY PLUMB
Corby Plumb is from Portland, OR and publishes the zine Totally Different Head (issue six coming in 2023). 
CHRONOPHAGE – Chronophage LP (Bruit Direct / Post Present Medium)
The band's third LP is full of peerless DIY pop songsmithing for the end times, full of jangle and minor key melodies but also moments of sunshine breaking through the storms, as in the utmost perfect "Summer to Fall." There's a classic desperation to "Black Clouds" that gives me WIPERS or GUN CLUB vibes. I could go on and on, or you can read my full, drippily reverent review here.

TERMINATor – Placate Boring Flesh digital album (True Love)
This Seattle-based trio's record is an experimental, floating world of sound. Dreamlike (but not dreamy) in the most darkly surrealist way—like translating a Leonora Carrington or Miro painting to music. The songs creep in slowly like a fog, the instruments and vocals revealing themselves from therein. The bass functions as a thumping ballast and the guitar more like seeping sand or melting wax, while the drums tick tight like gears in some slow, cruel machine. The vocals are apparitions, haunting the songs—the delivery of the lyrics like they're being plucked and polished like perfect pearls. Placate Boring Flesh is less an album that you put on and listen to, as much as step through like a portal and stay in for its duration. Possibly the only album on anyone's lists this year where layered loops of classical flute feature prominently throughout.

THE MALL – Time Vehicle Earth LP (Fixed Grin)
Time Vehicle Earth by the MALL sounds like the duo has been fused with their synths like cyborgs, circuits, and flesh melted into some sort of Tetsuo the Iron Man-like cyberpunk body horror. The MALL has created post-apocalyptic dance music that will soundtrack a future that only time will decide whether is The Road Warrior or The Terminator. Ethereal melodies layered with discordant white noise, shimmering like broken glass. Deep within the mechanistic rhythms and bassy metallic pulses, a human soul bellows within the machinery. The relentlessness of hardcore and the ecstasy of electronic dance music.

HIPPYFUCKERS – Pink Eye Demo cassette (Cemetery Faerie)
Squirming and worming Midwest mutant punk with the best new ugly sounds around. I'm eagerly awaiting their next release and hopefully a West Coast tour??

ECSTATIC INTERNATIONAL – Ecstatic International digital (Sister Polygon)
DC powers combine in this funk-punk supergroup consisting of members from PRIESTS, EX-HEX, DES DEMONAS, and more. ECSTATIC INTERNATIONAL emphasizes the funk and rhythmically, each song fits like puzzle pieces, with bass lines thick and bouncy. Full reverence to the One. The guitars are sharp, the synths shimmery, and the songs deal with dystopia while keeping it danceable.

ZINES
The truly classic, influential and visionary zine Shotgun Seamstress by Osa Atoe was collected in full (and in hardcover!) at the end of November. Having lost a lot of my original copies in unfortunate ways over time, I was stoked to finally have them all in one place again. If you never got the chance to read this zine by and for and about Black punks, this is the time! Osa's perspective as a Black punk, a documentarian of secret histories, and a smart interviewer, as well as creating a singular trademark design aesthetic from issue one—and it just gets stronger and deeper as you read the issues from over the years.
The next major read this year was obviously 122 Hours of Fear by MRR alum Layla Gibbon—a compilation of stories, ruminations, and illuminations about the Power and Glory of the gig. The guests are luminous and the stories span decades, styles, scenes, and veer from funny to thoughtful to just unbelievable.
The seventeenth issue of Susto by Martin Sorrendeguy dropped and completely scrambled the idea of a standard-issue zine for me. The theme of the issue focuses on early L.A. punk photographer Dawn Wirth and displays a few classic shots of DEVO, the BAGS, and the GERMS in vibrant, poster-sized, three-color silkscreens that explode and amplify the energy contained in the photos. It also contains a short interview with Dawn herself. The only problem with the zine is deciding if you want to frame these for your walls and then having to then decide which side of the posters you want up!
Also, in Portland we have the pocket-sized genius of Little Obsessions by Mara Des Laurier Appel, a psychedelic morsel of a fanzine, interviewing underground art geniuses and uncovering hidden worlds of film, painting, music, and more. Have gone from a monthly publication to every other month, by the time of this publication, there's only going to be six issues left before Mara calls it to move on to other projects, so it would behoove you to subscribe if you're intrigued. Or I guess just wait until it gets the hardcover collection treatment one day like all genius zines eventually should.
ERIKA ELIZABETH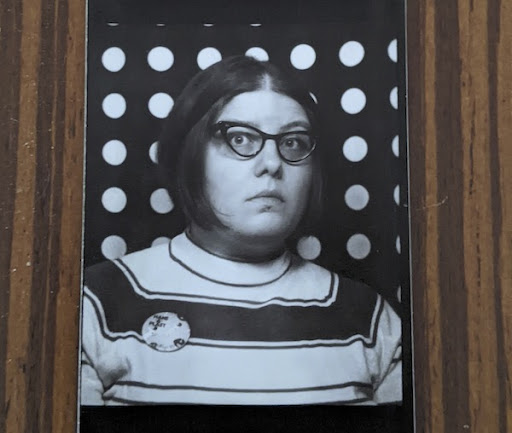 Erika Elizabeth plays bass in the band COLLATE, puts out records via Domestic Departure, and does reviews and radio for MRR. She lives on unceded Cowlitz/Clackamas land in so-called Portland, Oregon. 
Ten things from 2022, in alphabetical order:
ADDED DIMENSIONS – Added Dimensions cassette (self-released)
The new home recording project from Sarah Everton, most recently of Philadelphia's great (and unjustly slept-on) minimal punk trio BLOWDRYER. Trebly/jangly guitar riffs and sneaky bass lines are backed by a charge of unfussy, driving drums, all cloaked in the perfect amount of Tascam grit—WIRE rubbing elbows with the SHOP ASSISTANTS as a C86 band? A Kim Deal-fronted URINALS? Charms you can't resist!

THE CASUAL DOTS – Sanguine Truth LP (Ixor Stix)
Eighteen years after their debut LP (and until now, only record), the CASUAL DOTS are back, smoothing out some of the punky raucousness of their DC/Olympia riot grrrl roots for the more meditative approach of Sanguine Truth—ten smart, subtly spiky pop songs for uncertain futures.

GIRLSPERM – The Muse Ascends LP (Thrilling Living)
The return to GIRLSPERM! Sloganeering vocals (almost always presented in a unified front of ecstatic three-part shouts), treble-sharpened switchblade stabs of twin guitar, and a structural austerity within their concise art-punk outbursts that demands each member's instrumental contributions be placed on completely equal footing, engaging in a sonic call-and-response trust dialogue with one another as a means of defense against the squares and creeps of the world.

LIME CRUSH – Timewaster EP (Fettkakao)
Vienna, Austria's LIME CRUSH plot a perfect equilateral triangle of playfully shambolic art-punk, Slampt-descended boy/girl revolutionary agit-pop, and an unraveling Girls in the Garage '60s beat, bashing out some of the most ecstatic Alpine econo-punk racket this side of KLEENEX.

MIŽERIJA – Izolacija EP (Doomtown)
The defiant and danceable sound of '80s ex-YU post-punk, updated for the new dark ages by a group of punks affiliated with the Nigdjezemska autonomous space in Zadar, Croatia. There's a strong melodic pull, though much like that first HONEY BANE single, the hooks embedded in MIŽERIJA's anarcho-pop jabs are further wrapped in razor wire, with nagging, klaxon-call guitar (especially on the perfectly paranoid-sounding "Izolacija"), driving deep-set bass, frenetic drumming, and intently shouted femme vocals, warbled with blown-out echo as if captured via a clandestine tape recording from under the floorboards.

NAPE NECK – Look Alive cassette (self-released)
The UK's leading jabbers and scrabblers NAPE NECK return with the follow-up to their absolutely bruising self-titled 2020 cassette debut, and somehow they've managed to squeeze the vice even tighter on Look Alive. Vocals from all three band members push and pull against one another, fighting for space in a claustrophobic crush of caustic sheet metal six-string scrape and a frenetic, lockstep rhythmic rumble, like the DOG FACED HERMANS or the EX if they had come up through artist lofts rather than anarcho squats.

NEUTRALS – Bus Stop Nights EP (Static Shock)
Punked-up mod-pop for now people; hook-packed C86 jangle refracted through post-punk tension and shattered idealism. My band booked a weekend tour in November that had us traveling approximately 1,200 miles round trip from Portland to Oakland with the primary motivation of getting to play with NEUTRALS again—it was worth it.

NON PLUS TEMPS – Desire Choir LP (Post Present Medium)
New wobbly post-punk grooves from the preternaturally prolific, small-circle Oakland scene with overlapping personnel from groups like the WORLD, NAKED ROOMMATE, RAYS, FAMOUS MAMMALS, and PREENING (among others) fixed at its center. Rubbery mutant funk sprawls, fractured early ENO vibes, shuddering dub beats beamed into deep space.

THE RABBITS – The Rabbits LP (Mesh-Key)
A collection of brilliantly warped and jagged cassette-only recordings from these early/mid-'80s Japanese art-punk antagonists. Their collision of desperate wails, looping, cavernous bass, and sheet metal guitar clang brings to mind the likes of PUBLIC IMAGE LIMITED, CHROME, and global no wave freaks from FRICTION to MARS—a cast of characters that the RABBITS were in no way influenced by or even aware of, which only makes the resulting racket even more surreal.

SEEMS TWICE – Non-Plussed 12" reissue (Pass Without Trace)
Sydney, Australia's SEEMS TWICE crammed twelve blasts of completely devolved art-punk (the longest of which maxed out at 43 seconds) onto a one-and-done 1980 EP, blitzing through each track with an economical severity befitting Pink Flag-era WIRE, if Pink Flag had been generously splattered with the collapsing primitivism of the URINALS. The original Non-Plussed 7" fetches around half a grand on the current market (that's about $100 per minute of total runtime) and the prospects of a reissue seemed exceedingly remote as time marched on, until this 12" version appeared out of nowhere this past summer—an unanticipated answer to years of prayer-like thoughts.
ERIN O'HARE

Erin O'Hare is a journalist and radio DJ living in Charlottesville, Virginia. She hosts Ye Olde Tuesday Afternoon Rocke Show and Black Circle Revolution on WTJU 91.1 FM, plays bass in a couple bands, books shows at Visible Records, and contributes to the Celluloid Lunch zine.
ONYON – Onyon cassette (Flennen / Trouble in Mind / U-Bac)
I put off writing this list until the last minute because of ONYON, who made my favorite, most-listened-to release of the year. For weeks, I've failed to come up with the words for it. Hopefully someone else loves it enough to suitably describe this sharp, compellingly odd no wave/post-punk cassette. Perhaps my inability to do it will convince you, as I continue to marvel at it 100-something listens later.

CB RADIO GORGEOUS – Tour Tape '22 cassette (Trouble in Mind)
In 2020, I wished for more CB RADIO GORGEOUS after gorging myself on the band's self-titled five-track 7" on Thrilling Living. This year, the Trouble In Mind cassette fairy granted my wish, and the six new songs on the tour tape (one is a repeat) pick up right where the previous release left off—and that's a good thing. Speedy, precise, catchy, clever. CB RADIO GORGEOUS rips. There's nothing more to ask for (except more of this).

CLEAR CHANNEL – Wish List cassette (self-released)
Do you like joy? Me too, and CLEAR CHANNEL delivers sacks full of it on their Wish List cassette. Singer Awad Bilal, backed by Mary Regalado and Don Godwin, can—and does—sing anything, and he does it all with a wink and a wry grin. The band's 2020 effort Hell is bouncy, glittery, attitude-saturated, R&B-tinted punk, a bright spot in a bad year. The smile-inducing originals and fascinating covers on Wish List carry it on. CLEAR CHANNEL is a comet in a dark sky.

CULT OBJECTS – Secrets of Pain-Free Living cassette (World Gone Mad)
Intense, sincere, unguarded shoegaze-y post-punk that gets more impressive with each listen. All eight tracks are so open, there's nothing I can say about them that they don't already say for themselves. CULT OBJECTS, you rule. Please come play Charlottesville.

HELPFUL PEOPLE – Broken Blossom Threats digital (Burundi Cloud Music)
This noisy pop record is so soothing, like asking advice from a trusted friend and being reassured that whatever it is you're doing, you're on the right path and you'll be alright, despite any pain and chaos of the present. Carly Putnam sings affirmations like "Nothing happens without you being there," "Don't break down in heavy times," and "Make room if it's what you're feeling." The ones that really get me, though, are "Going through a magazine / Can't recall if you dream," and "Will you ever love like that again? / Is the past not done with you yet?" Putnam's words anchor the sunny guitar melodies and lushly fuzzy sounds moving around them like dust in a warm sunbeam.

JUDY AND THE JERKS – Music to Go Nuts LP (Thrilling Living)
Yet another follow-up that I couldn't wait to hear, from one of the best bands doing it. The 2019 Music for Donuts EP introduced those of us outside of Hattiesburg to JUDY AND THE JERKS' high-energy buoyant hardcore with a sugar-fueled sense of humor. It was a fun-size candy bar—I wanted another. Enter Music to Go Nuts, the full-size, with so much to delve into. But if you still need convincing, listen to the first ten seconds of "Scorpion." Bite off the bass riff and how it bounces off the drums, and there's no way you'll be able to resist devouring the rest.

MO DOTTI – Guided Imagery cassette (Smoking Room)
The comparisons come easy: MY BLOODY VALENTINE, LUSH, even BROADCAST (especially on "Hurting Slowly"). It's shoegaze with jaunts into post-punk, jangle pop, and surf's ghost. But MO DOTTI's superb arrangements—hooks, breakdowns, turnarounds—demonstrate a care, a dedication, to making good songs, that set Guided Imagery apart.

PHANTASIA – Ghost Stories (Beach Impediment)
When this showed up on my doorstep, I wondered why Mark from Beach Impediment sent me a metal record. When I dropped the needle on the opening track, I cackled as singular new wave goth-y poppy post-punk burst from the speakers. I'd very wrongly judged it by its cover. The spirit of melody pleasantly haunts every song, and any perceived sonic saccharinity is cut by lyrics like "I stayed by your side / Found you with flowers you denied / Hiding in your room buried deep / Checking your pulse while you sleep," followed by a chorus of "If you die I die" which sticks in my head while doing mundane things like brewing tea, folding laundry, and picking out peppers at the grocery store.

ROSE MERCIE – ¿Kieres Agua? LP (Celluloid Lunch / Jelodanti)
Each song on this record is a new and exciting bend in an art-punk road running parallel to ones forged by the RAINCOATS, VIVIEN GOLDMAN, and DOLLY MIXTURE (though the quartet's Bandcamp page says "the identity of ROSE MERCIE lies somewhere in the vast continuum between SUN CITY GIRLS and SPICE GIRLS"). ROSE MERCIE is very much a group: four people who, despite living in different cities and on different continents, are linked by friendship and the empowering act of music-making.

STRAW MAN ARMY – SOS LP (D4MT Labs Inc. / La Vida Es Un Mus)
STRAW MAN ARMY'S second full-length, like their first, lets you know that you're not the only one walking in step with dread's shadow. The band works with the same tools as countless other bands—guitar, bass, drums, political lyrics—but in a way that's so unique, so expertly executed and arranged, it's hard to describe. (Though the USAISAMONSTER comes to mind.) STRAW MAN ARMY could easily force upon us a wall of aggressive Hardcore With A Message, but instead holds back, emphasizing the despair that comes with being stuck in a broken system. It's music that stands up to the screwed-up shit while holding us up in the process.

ERIN YANKE
Erin Yanke produces podcasts like It Did Happen Here, publishes the review zine Chasing the Night, and plays drums in NOXEEMA.  She reviewed demos for MRR for many, many years.
This year was a rough one: a major family COVID death, other deaths, proximity to mental health crises, and general life under capitalism cruelty. Good thing I have friends. I'm still a motivated fighter, but everyone needs help, and these records helped. I didn't include reissues in this list, but if I did, the ADVERTS and the EX would be in there. Alphabetical order.
BAD BREEDING – Human Capital LP (Iron Lung)
Deep art that's an honest and brutal portrait of where we are—society in decline. They remind us that anarcho-punk is not a sound, but a way to look at the shit system world, and to put up a fight to change it. They paint with the gloomy brush, the fucking pissed-off brush, the we-can-do-better brush. They are not wrong.

Copy Wright cassette series (Escape)
The (at this point) six volumes of the Copy Wright tapes are just my full fucking heart! Pat Wright was a creative and excellent punk freak and lifer. He left tapes of his radio shows, his answering machine messages, and the whole damn world. This is an amazing series that makes collages out of the recordings, and I love everything about it. The content. The tribute. The life that made this much of an impact on others. I eat breakfast to these tapes every day now, and probably will for a long time to come.
DEAD MOON – Going South: Live in New Zealand 1992 2xLP (Electric Alchemy / Mississippi)
The very best band ever from Portland is long gone. Fred and Andrew, too. And yet, thanks to the dedication of John Baker, we now get to time travel to 1992 to a DEAD MOON show at the Glengarry Tavern in Invercargill, Southland, New Zealand. This is seriously the best live record. It's a double LP, the songs are faster than on the DEAD MOON albums, and it was a great pleasure of my life to listen to this with Toody and watch her sing along and air guitar and just enjoy this incredible recording.
LA FRACTION – De l'Autre Côté LP (Crash / Gestalt / Konstroy / Maloka Kanal Hysterik / Mass Productions / Mescufurus / Stonehenge / Tranzophobia / Trująca Fala / Twisted Chords)
I was so stoked to hear this record, and be reminded how incredible this band is, not just was! It's surprising how much hasn't changed: still melodic, still angry, still punk. Not all of us get a chance to get older, but I'm so glad they are still together and playing in this awesome band.

LONG KNIFE – Curb Stomp Earth LP (Beach Impediment / Black Water)
I like my music fast and loud, ugly, dumb, and mean. I'm a LONG KNIFE True Believer. They get better and better. I'm so lucky to live in this city that inspires such passion and contempt and fucking raging perfect hardcore. This album is extraordinary.

MALFLORA – Mama I'm Bad cassette (Thrilling Living)
Remember that feeling when you were trying to figure out what punk was, and the sneers were sinister, and maybe you'd get stabbed in the pit and you did it anyway? Then it turned out the punks were the best people and the sneer and veneer was mostly for the civilians? That's what this record reminds me of. Getting lost in a new culture with no grounding, and breaking out to a world of possibility on the microcosm as the bigger picture world goes to shit.

MIZERIJA – Izolacija EP (Doomtown)
Passionate energy from this female-fronted Croatian band. The music varies between varieties of punk, but it's all catchy and fierce. "Kraj" is the song that most fits the noise in my head when I'm fed up with the world. Definitely of our times.

NEUTRALS – Bus Stop Nights EP (Static Shock)
Catchy catchy catchy and also angular and smart and serrated. "Pressures of Life" was my summertime catchy "fuck you" song for walking around the neighborhood. This record makes me feel understood.

SWEET KNIVES – Spritzerita LP (FDH / Savage)
The hooks! It's undeniable how these songs will get stuck in your head like the great pop songs that they are, but their anxiousness keeps the catchy from getting too saccharine. They are garage synth-sations! The dancing in the kitchen record of the year.

TENSION SPAN – The Future Died Yesterday LP (Neurot Recordings)
What a surprise this was, and what a treasure it is. These punks have strong roots in the art and culture of where we came from, and are using that to be something fresh and fucking honest. It's hopeful and sweet and powerfully fucking pissed. An excellent soundtrack to the world as it is, and to know you're not alone in wanting to change it.

JOSE – TREMENDO GARAJE


(Editor's note: Jose runs the Tremendo Garaje YouTube channel, where you can see the videos mentioned here and more!)
I'm just a fool from the very, very south of Spain. 2022 has been an incredible year for punk. it's logical: the world is really fucked up, and people are really pissed-off and need an escape, so one thing leads to another. Mentioning only ten albums has been an impossible task for me. These are the first ones that came to my mind, but if you ask me tomorrow, they would be ten totally different ones!
In absolutely no order, neither the main list nor the honorable mentions:
ABI OOZE – Forestdale Sessions (Rotten Apple)
No words, just NWI's ABI OOZE doing absolutely mind-blowing, JOAN JETT-infused real punk. A must-have release on Martin Meyer's new label Rotten Apple, after winding up the infamous Lumpy Records.

SISTEMA DE ENTRETENIMIENTO – Sistema de Entretenimiento LP (B.F.E. / Flexidiscos)
Sometimes, but only on rare occasions, if you want something very badly, your dreams can come true, which is what happened to all of us who asked over and over again for a vinyl album from absolute Barcelona synth-arcade-punk masters SISTEMA DE ENTRETENIMIENTO. Twenty-six tracks no less, creating the most desired 12″ beast of the year!

SCIENCE MAN – Ninnes Mecca LP (Feral Kid / Swimming Faith)
The long-awaited third album from one of the most solid pillars of Buffalo's indispensable DIY punk scene. John Toohill is reincarnated again in the most robust, sick, and impressive of all his insane projects. SCIENCE MAN, now definitely turned into a full band, brings us his biggest and most rabid work to date. An obviously 100% punk album, taken to the sharpest and most raging limits of hardcore and imbued in its own guts by a fierce noisy proto-punk garage concept, which should definitely give this essential creator the recognition he has always deserved.

JUDY AND THE JERKS – Music to Go Nuts LP (Thrilling Living)
No surprises here. The absolute favorites of one of the most localized underground hotspots on the planet, Hattiesburg, MS, and also one of the most mind-blowing punk acts of the millennium, released this insane masterpiece in advance of their successfully packed European tour.

WHY BOTHER? – Lacerated Nights LP (Feel It)
This is so fucking wild! Early KBD, some dark, deranged post-punk structures, first-wave Midwest attitude, obscure drilling synth-wave, and extremely lo-fi and ultimately harsh production cutting rawer than ever in an absolute DIY way from this Mason City, Iowa four-piece who decided to use our YouTube channel as the only way to make themselves known to the world. A sick sophomore album that definitely confirms their insane skill.

ATAQUE SUBLIMINAL – Demo cassette (Toxic State)
Following another wise recommendation from Sims Hardin (the best IG reviewer as @u2_is_a_government_drone), we reached this impressive piece from the Toxic State Records catalog. An absolutely killer banger by a new four-piece from New York with members of G.L.O.S.S., CHURCH CLOTHES, and ABISM that made our day, week, and even the whole fucking year. An angular, convulsive, and enervating street punk gem, masterfully sung in Spanish, that in my opinion has been unfairly underrated, but if it is continued, for sure it will burst into an abrupt Krakatoa eruption!

STRESS POSITIONS – Walang Hiya cassette (Open Palm / Richter Scale)
After C.H.E.W. disbanded, 2022 brought us Chicago's STRESS POSITIONS, now colossally fronted by Stephanie Brooks. This new four-piece released an absolutely mind-blowing debut EP giving a sobering lesson in how to make untouchable hardcore punk, executed with totally flawless surgical precision, and capable of unleashing an energy that overpowers any attempt to measure it.

SMIRK – Material LP (Feel It)
Finally, a proper debut album on the rock-solid Feel It Records for the stunning solo project of Californian Nic Vicario. One of the most brilliant songwriters of the last years, who on Material refines his singular and uniquely caustic and eclectic way of making exquisite punk, with an unbeatable handful of cuts turned into instant classics.

ALIEN NOSEJOB – Stained Glass LP (Anti Fade / Total Punk)
The prolific and insanely versatile Jake Robertson resurfaces once again in his inexhaustible solo project ALIEN NOSEJOB, proving he is one of the masterminds of our time no matter what he tries. This time he drastically leaves behind any of his countless previous registers, to surprisingly transmute himself into a late '70s sleazy glammy Aussie hard-rocker who will make you no longer need to dust off your early AC/DC records.

THE GOBS – Lil Shitter gig

Punker than punk!
Ten Honorable Mentions:
SOCIETY – All Flies Go to Hell cassette (Spared Flesh)
VELVETS meet the SHIFTERS.

DUMB IDEA / SNORKEL – The Freakin' Split! cassette (Earth Girl)
Best hardcore split by the best hardcore label, from the best hardcore hotspot.

LOS SPUNKY'S – Amor del Chino cassette (Go Bo)
Chilean ultra-noisy lo-fi bedroom-pop + K Records + the SHAGGS.

GUT HEALTH – Electric Party Chrome Girl EP (Marthouse)
Aussies making fascinating '70s New York dance/new wave in 2022.

KAT HAUS – Free Download No Virus 100% cassette (Loopy Scoop)
A unique weird blend of eggy new wave, drone-like vocals, and synth-polka-trash-punk.

THE COOL GREENHOUSE – Sod's Toastie LP (Melodic)
An absolute must-have release for die-hard fans of the FALL like me.

TODD KILLINGS AND THE CONTRACTS – (I've) Got Your Contract EP (Slow Death)
'70s KBD at hardcore pace.

HOT CHICKS – Legalize It cassette (Flennen / Urticaria)
Fascinating post-punk from Leipzig's Paunsdorf Rock Academy.

THE FERTILIZED EGGS – Egg Life cassette (Noise Merchant)
The cherry on top of a fascinating year for punk—best NIRVANA cover ever!

NEUROTYPICALS – Demo '22 cassette (Psychic Hand)
Absolutely catchy no-brain idiot fuzz punk from Jackson, MS—best DIY Halloween video of the year.


Special mention with honors:
Our friend BILLIAM! The most prolific and unstoppable of our favorite punkers. Half a dozen releases on our channel this year, and with all of them he has blown our brains out!
LUKE HENLEY

Luke Henley is a writer and musician based in New Mexico. This year they got their first tattoo at the age of 35. They used to play in the bands SEX HEADACHES and MICRODOSER, and may even get back to that sort of thing in 2023.
CRAWL SPACE – Crawl Space demo cassette (STTW)
Cobwebbed hardcore from seasoned Washington crushers. One of the nastiest, meanest releases of the year.

SMIRK – Material LP (Feel It)
The prolific and talented Nic Vicario hones in on the sound that made last year's LP and EP so great and trims it down to a science. This album manages to hit hard while leaving plenty of room for the songs to breathe. Every listen reveals something special.

LÜX DECAY – Sacred Excess cassette (self-released)
The COLTRANES have essentially reformed as a new project, offering up weird and wiry deathrock that wriggles through you like a possession. This tape is theatrical in all the best ways and has a haunted shimmer to it that's irresistible.

SICK THOUGHTS – Heaven is No Fun LP (Total Punk)
Not only is this Drew Owen's best release of his career and not only is this one of the best releases of the year at large—this is one of the best full-on punk rock records start to finish, period. A massive achievement.

HOTLINE TNT – When You Find Out EP (Poison Rhythm)
Finally answers the question, what if MY BLOODY VALENTINE didn't suck? But in a less reductive way, this EP opens up the band's sound to reveal great depth. Crushing and gorgeous.
PINCH POINTS – Process LP (Erste Theke Tonträger / Exploding in Sound)
Blunt and brainy, this Australian band doubles down on their particular brand of geometric riffs and shout-along screeds against social ills. Deeply cathartic.

FEED – Stimuli cassette (Dial Club / Dirtbag Distro)
I was totally sideswiped by this mad mashup of Oi!, hardcore, synth punk, and Indiana clean tone punk angularity. This release is such a blast and blissfully pissed-off.

HOGAR – Todos Contra Todos LP (Flexidiscos)
One of my favorites this year for sheer songwriting alone, but it's also played with such joy and verve. The most fun listen I had in 2022.

VAGUESS – Nothing's Secret LP (Refry)
Not that I'm ranking these releases, but this had to be the record I put on more than any other. The songwriting is perfect and it sounds immaculate. It's moody and detached, but with so much heart and melodies that cut me in half. I love every second of it.

PHANTASIA – Ghost Stories LP (Beach Impediment)
A beautiful, mercurial album that changes shape moment to moment in thrilling ways. Grim, buoyant, fierce and multifaceted in ways that compel repeated listens (as in, obsessive).

MATT CASTEEL
AKA Mattistocracy, AKA Leo Delightful is a photographer, DJ, and writer out of Roanoke, VA. He's a contributor to Culture Desert and does reviews for MRR. His current bands are EX PARENTS and SULTRY.
Count 2022 as another rough year for the planet. the state of human decency is in steep decline, but what a fucking stellar twelve months it has been for punk!
SHAVED APE – Demo cassette (Sorry State)
I first met Vince, the mastermind behind SHAVED APE, in 2005 when he joined WITCH HUNT. My old band played shows with them fairly often in those days, and it was always a blast. Vince was a total sweetheart and a complete monster behind the drums. He's helped propel some of the most savage bands in hardcore punk: SICKOIDS, LOOSE NUKES, and WHITE STAINS, to name a few. When I heard that Vince had a solo project, I knew it would be solid. I didn't know that it would completely decimate everything in its path. Vince has ripped a page from classic USHC and stuffed it into a totally new chapter. These songs are vital, urgent, and combustible. In contrast to the performative anger that is all too common in today's hardcore, SHAVED APE is genuinely fucking pissed. While the rest of this list is in no particular order, this is my top pick of 2022 without question.

INDRE KRIG – Destroyer EP (Adult Crash)
Six tracks of blazing K-town hardcore. INDRE KRIG set themselves apart by gesturing towards melody without ever becoming melodic. This allows for some surprisingly memorable riffs and vocal hooks to take root. INDRE KRIG translates to "Internal War," which is befitting of the anguish that courses through this release. There is a level of nuance here that is rarely seen in hardcore punk. It's devastating in the best possible way.

PEACE DE RÉSISTANCE – Bits and Pieces LP (Peace De)
INSTITUTE is a band that has continually broadened the scope of their sound from one release to the next, so I had a hunch that their vocalist, Moses Brown, would push the boundaries even further as a solo artist. Using PEACE DE RÉSISTANCE as a vehicle, Brown has obliterated the boundaries. Mixing junkshop glam, Zamrock, post-punk, and Krautrock shouldn't work. As a description it sounds like a cacophonous nightmare. Against all odds, on record it sounds incredible. It's a gauzy, fuzzed-out trip stamped onto twelve inches of vinyl.

The Floor is Gone fest, July 16th
I've lived in Roanoke, VA for a few years, but a good chunk of that time was swallowed up by the pandemic. When restrictions began to ease, I noticed the emergence of new energy in the punk/hardcore scene. This culminated in a single-day fest, The Floor Is Gone, organized by the TVJ Group and hosted at Flying Panther Skate Shop. My band EX PARENTS played alongside a slew of other bands from some of the most vibrant scenes in the Southeast: JUDY AND THE JERKS, BAD ANXIETY, BATO, SELF-INFLICT, IMAGE OF MAN, INVERTEBRATES, PRIVATE HELL, FERAL, CONSEC, and MUCK. Watching kids shred the indoor halfpipe while JUDY AND THE JERKS ripped through their set was a moment I won't soon forget.
BLEMISH – Blemish 12" (Not For The Weak)
Montreal's BLEMISH pull off a sound that calls to mind some all-time favorites such as VICE SQUAD and the AVENGERS, but with an added undercurrent of deathrock. Originally released on cassette by A World Divided in 2021, these songs will burrow into your brain and play on repeat well after the record has ended.

YLEISET SYYT – Toisten Todellisuus LP (La Vida Es Un Mus / Sorry State)
Perfectly executed Finnish hardcore punk. Toisten Todellisuus contains tracks from two of YLEISET SYYT's previously released EPs: Umpikujamekanismi from 2021 and their self-titled 7" from 2019. Fans of APPENDIX, LAMA, and REGULATIONS will certainly want to get their hands on this. Killer art by Fetal Brain ties it all together!

PHANTASIA – Ghost Stories LP (Beach Impediment)
PHANTASIA achieves the rare feat of producing something that will appeal to punks without actually sounding very punk at all. There's a light, airy lilt to the songs that lends an atmosphere of spectrality to the whole affair. There are clear nods to their influences—the PASTELS, the FEELIES, and PYLON all spring to mind—but Ghost Stories is not so easily pinned down. PHANTASIA has crafted something unique and significant with this album.

RESEARCH REACTOR CORP. / GEE TEE / SATANIC TOGAS / CHERRY CHEEKS / REAL PEOPLE / PAINT FUMES / MUTANT STRAIN / PLAN B live, September 29th
In this bizarre post-lockdown, pre-return-to-normalcy era, I'm more affected by live music than ever before. Maybe it's aftershock from the shutdowns, but getting to see bands in person really hits these days. This Charlotte, NC show was totally stacked and every band slayed. The cops got called before RESEARCH REACTOR CORP. could finish, but watching SATANIC TOGAS, GEE TEE, and MUTANT STRAIN made it all worthwhile.
SAVAGEHEADS – Service to Your Country LP (Social Napalm)
Superbly dialed-in UK82 style punk that just screams modern classic. SAVAGEHEADS rip through thirteen tracks of pogo punk perfection. Listening to Service to Your Country transports me back to when I first discovered punk. It's a reminder that punk is galvanizing and timeless. Brimming with sing-along choruses and indelible guitar hooks, SAVAGEHEADS have trapped thunder in a jar with this one.

INVERTEBRATES – Demo cassette (self-released / Sorry State)
Powerful and unrelenting, INVERTEBRATES deliver on the cardinal requirement for any worthwhile hardcore punk outfit: they have riffs. Seriously, the riffs on this demo are mean as fuck and utterly devastating. With pummeling bass lines, raging vocals, and absolutely fierce drumming, INVERTEBRATES are concussive. Oh, and get this: they're even better live. Cannot wait to see what they'll do next.

OLLIE HUDD
Ollie currently lives in New York, where he runs the Instagram page @fortbraggmagazine. He is also the vocalist for UKHC band ANTAGONIZM.
CHURCHGOERS -– Demo cassette (11PM / Static Shock)
Read my review about how mint this demo was.

3ND7R – Solid in a Melting World EP (The Coming Strife / Ratel)
Before you even try and figure out how to pronounce it, the name is "trendsetter." Italy's 3ND7R have come out with a gnarly, punishing rager of a 7", echoing vibes of '94 and '95 demo-era VISION OF DISORDER, Forever War-era KICKBACK, and H8000 bands such as SPINELESS. I am appalled that more people aren't talking about this record, given the endless string of hype given to American bands attempting to achieve anything as heavy as this and failing miserably, but gaining more clout because of their geographical location or some bullshit. Make no mistake when I say that the intro to "Unfollow," the opening track, is one of the finest intros of the decade. I'm instantly overcome by a violent urge when hearing it. Please don't sleep on this band.

FRISK – Stalker LP (Iron Lung)
If I were asked to name a band that really encapsulates what I can only describe as pure fucking madness, I'd say FRISK. Projecting a sound inspired by the likes of HOAX and other subtle influences such as mid/late '80s Japanese hardcore, FRISK has to be one of the scariest live bands, and most unrelenting on record. There is no other feeling than watching four burly northern men play their instruments with menacing glares, fronted by a tattooed lunatic with barbed wires on his face coming up close to each audience member, staring at them intensely while screaming. Stalker, from start to finish, is unlike any record I have heard. There are few records I've heard that are so idiosyncratic, and don't want to be like anything else.

THE ANNIHILATED – Submission to Annihilation LP (La Vida Es En Mus)
In 2019, punks globally were taken aback by a demo released by a then-unknown band, the ANNIHILATED. I still remember hearing it for the first time, thinking it couldn't be possible that a band of this sheer talent existed in our day and age. While an EP was expected, they put out nothing, aside from a track on a comp for the Damaged Goods venue in Leeds, England, as well as a live tape, and a promo tape of limited copies that never saw the light of day online. That was all, until now. It goes without saying their fusion of early American hardcore and classic early D-beat is the stuff of legends. This LP is just waiting to burst out like a rabid hyena. The lyrics of the new songs are eloquently well-written, not just mere copies of whatever style of band the members liked, but vocalist Bobby Cole's lyrics have a consistent and personal feel to them. Sounds as if a nail is being scraped against a chalkboard, but in the best way possible. Do yourself a favour and listen to the best band of the age.

NOSFERATU – Society's Bastard cassette (B.L.A.P. / P.M.T. / Roachleg / Sound Grotesca / Unlawful Assembly)
Anyone in the USA should know about NOSFERATU at this point. I mean, come on. Well, in case you don't, these guys have been kicking ass since 2016. Mental to think they've been a band for nearly seven years. After churning out loads of cool stuff such as an EP, the Sounds of Hardcore EP (which, in my opinion, is one of the greatest 7"s of the 21st century), a few other cassettes including a split with ENEMY ONE (the band's side project made up of a few shared members), and finally, what I found to be a somewhat forgettable LP, Solution A, which I'm aware is a pretty hot take and unpopular opinion. However, after nearly four years, they're back with another banger. This tape is a rager, literally from start to finish. The intro sets such a distinct tone of a disgruntled young punk switching tapes around in his player until coming across this. I particularly liked it as they included their mates' bands and older stuff, almost knowing none of that comes close to what's on here. It's just madness. Austin HC rules, OK?

SAVE OUR CHILDREN / STUNTED YOUTH –  On Tour 22' cassette (self-released)
2022's been on that fast shit! No joke, you heard it here last! Seriously though, this is better than most anything released this year on vinyl.
THE FLEX at Damage Is Done Fest, New Cross Inn, London, England
A show where I feared for others' lives around me? Yeah, this was it. It comes as no surprise that the FLEX practically always puts on a mental show, but at DiD Fest, everyone in the room turned into an animal for this set. You quite literally had first-show kids, punks, Euro hardcore royalty, and old heads all going fucking wild. After the first song, even the band were bewildered with the response, with vocalist Sam Laycock exclaiming "That was fookin' sick!"
GAME at Damage Is Done Fest
For a band that intrigued me with a mad demo and their 2019 LP No One Wins, but really expressed their capability as a band with their 2021 Legerdemain 12", it was nonetheless sad to see the band say farewell. Regardless, it was certainly a show for the ages, with frontperson Ola blasting confetti of the band's logo with a homebuilt gun, and the audience grabbing an empty barrel off the stage and throwing it around, even some getting inside it at points, while others proceeded to beat the barrel with wooden planks. A sight to see, indeed.
HANK WOOD & THE HAMMERHEADS, SAVAGEHEADS, ANTI-MACHINE, SORDID, SALVAJE PUNK at The Meadows, Brooklyn, NY
I've seen SORDID a fair few times at this point, and they and SALVAJE PUNK were great. ANTI-MACHINE and SAVAGEHEADS were even cooler. However, HANK WOOD blew me the fuck away. Everyone knows how good this band is, enough said.
ELECTRIC CHAIR & PUBLIC ACID at K-Town Hardcore Fest, Copenhagen
Trae Brown is a fucking powerhouse of a frontperson. Just an insane set. Had my first stagedive to PUBLIC ACID, that was awesome as well. The whole fest generally was just such a wholesome, friendly environment—had some of the best times of my life there this year. Up the Danish!!!
YONI KROLL
Hi! My name is Yoni and I'm a college radio DJ (WKDU 91.7FM), freelance music reporter, and occasional show booker based in Philadelphia. I love this city and wanted to make this top ten—in no particular order!—all about local stuff. Many of these are debut releases or first LPs, and while I wasn't trying to make that part of the theme, I think it does say something about what's been going on here for the past year or so. Lots of freaks starting new bands, making new sounds, and putting out new records. Philly still fucking shreds and don't you forget it!
SOFT TORTURE – Soft Torture cassette (World Gone Mad)
Relentless, pissed-off hardcore punk that's one part YDI and one part INDIGESTI, which makes sense when you consider the fact that bassist Chuck Meehan was actually in the former back in 1983 and booked the latter a couple years after that. Still, this isn't some sort of nostalgia act. The band, which includes members of BLANK SPELL and DESTRUCTOS, is too busy re-imagining the present to give a shit about the past. This was in my top ten basically the second it came out and I can't wait for what's next.

DELCO MF's – Bullshit EP (MF)
Mosh or be moshed! This EP is five of the most perfect minutes in 2022. Nasty, angry, absolutely unhinged USHC. You can't ask for anything more.

THE IRE – What Dreams May Come LP (self-released)
Philly's greatest goth export since…possibly ever? What Dreams May Come touches on everything I want from this sort of thing: it's fun, it's catchy, it's punk, it's pretty, and you can dance to it however you want. Also, it's actually interesting, which rules. No offense to all of the CHRISTIAN DEATH and BAUHAUS clones out there—cause you know I'm a sucker for exactly that—but it's nice to have a band making multidimensional music in the dark punk/goth genre.

BACKSLIDER – Psychic Rot LP (To Live A Lie)
BACKSLIDER has been going strong for more than a dozen years and they keep on getting better. On this album, their third, the band's mix of ignorant hardcore, mathy grind, and noise rock reaches new peaks. Play it loud or don't play it at all!

PRIMAL RAT SCREW – Terror for You cassette (self-released)
I wasn't sure what to expect from no wave upstarts PRIMAL RAT SCREW's first release, if just because their live set is so weird and exciting and I was afraid they wouldn't be able to match that on the record. Thankfully they managed to capture that energy perfectly on Terror For You. On these songs, the band trades in sounds ranging from the in-your-face aggression of the CONTORTIONS to wild, screamy hardcore punk.

CHAINED BLISS – Chained Bliss LP (Drunken Sailor)
There's always been a Scandinavian influence here in Philadelphia and I'm not just talking about punk music. Almost 400 years ago there was even a "New Sweden" colony along the Delaware River. In another lifetime we'd all be eating smörgås or smørrebrød instead of cheesesteaks! You know, for better or worse. CHAINED BLISS are just carrying on that tradition, mixing the best of Copenhagen and Umeå post-punky rock'n'roll—think MASSHYSTERI, NO HOPE FOR THE KIDS, maybe a little YOUNG WASTENERS—with American bands like the MARKED MEN and NERVOSAS and much of the Dirtnap Records catalog. It's fantastic stuff, and I'm very excited I get to see them all the time.

CULT OBJECTS – Secrets of Pain​-​Free Living cassette (World Gone Mad)
More post-punk from Philadelphia. Sense a trend? CULT OBJECTS is music for dance parties and mid-winter bonfires. There's a lot going on with Secrets of Pain​-​Free Living, from angsty '90s alt-rock to shimmering goth guitars to more than a little bit of artsy DIY basement punk. They combine that with an urgent emotional energy you don't normally hear in this type of music to create a sound that is so absolutely catchy and great.

POISON RUÏN – Not Today, Not Tomorrow EP (Roachleg) + Live​/​Tour Tape '22 cassette (self-released)
Is POISON RUÏN Philadelphia's best-kept secret? Or is it one of those things like FLAG OF DEMOCRACY where we just take them for granted but people go absolutely nuts when they play other cities? One way or the other, I feel very lucky that I exist in the same time and place as this band. While they didn't put out a new album this year (booooooooo!), they did grace us with three brilliant songs of super riffy "BLITZ-meets-WIPERS in a dingy West Philly basement" sounds on the Roachleg 7" and a whole collection of live tracks, too. There are even some dungeon synth rippers tacked on to the end in case you forgot that this is trve chainmail peace punk.


QUARANTINE – Tour Tape 2022 cassette (Damage United)
After spending most of my life going to shows, I have a few rules when it comes to going hard, and the one all the way at the top these days is don't mosh people half your age. I'm 43, so do the math. I don't like taking up space, I don't want to be the old guy at punk shows knocking people over, and in general I try to read the crowd and act in a way that's as respectful as possible to everyone there. All that has gone out the window every time I've seen QUARANTINE in the past year. The second they play that first riff, I am moshing everyone, and if you get in my way that's your problem not mine. This tape isn't as good as seeing them live, but it's a close second. Plus they cover AXEGRINDER, JERRY'S KIDS, and AGNOSTIC FRONT on it! I mean, what more do you need from a hardcore band?

FUCKIN' LOVERS – Tour Tape 2022 cassette (Sickhead)
Another tour tape! Very happy bands are doing this regularly again. On this one, FUCKIN' LOVERS give us seven minutes of the loudest tinnitus-inducing noise punk this side of the Pacific, with more than a little pogo thrown in for good measure. It's truly perfect. Like with everyone else on this list, I feel downright blessed that I get to see this band as often as I do. Listen here.