MADRVA Spotlight
MRR is highlighting the work of mutual aid groups and political actions that are aligned with radical left politics. If you would like your project to be featured in this space get in touch at julia@maximumrocknroll.com!
MRR: What's the name of your group?
We are called Richmond Mutual Aid (aka MADR aka MADRVA—"Mutual Aid Distro Richmond Virginia"). MADR was formed in the winter of 2018 as a response to the polar vortex that resulted in the closing of several emergency shelters, and adapted for COVID response in March.
MRR: What's your goal, and how do you achieve it?
Our mutual aid collective has two primary functions: distributing supplies and providing mini-grants for our community. Through the mutual aid we can live our anti-capitalist ideals, putting people and community first. We redistribute wealth acquired through donations from the community in the form of supplies and cash. Our process starts with a hotline that assesses folks' needs, then we assemble their orders and deliver them. We collaborate and share resources with other organizations with similar goals, such as Food Not Bombs, Richmond Bail Fund, Jackson Ward Youth Peace Team, Richmond Reproductive Freedom Project, Side by Side, and more! We also have been building partnerships with local businesses and farms to use their spaces to coordinate donations for dropoff and receiving donations of surplus produce and bread.
MRR: What resources do you need?
We could always use more money! We would also always prefer to reallocate resources instead of purchasing new items, so we regularly call for rotating needs. Since it's been hot as balls, we are currently in great need of air conditioning units and fans. We also are in constant need of masks and other sanitation supplies, diapers, spray bottles, paper towels, toilet paper, canned goods and other pantry staples, fresh produce, dairy products, paper grocery bags, menstrual products…pretty much anything you would find in a grocery/pharmacy. Long-term, we see relationships as a resource and would love to build more partnerships with small businesses and organizations in our community to draw them into our "solidarity not charity" mindset.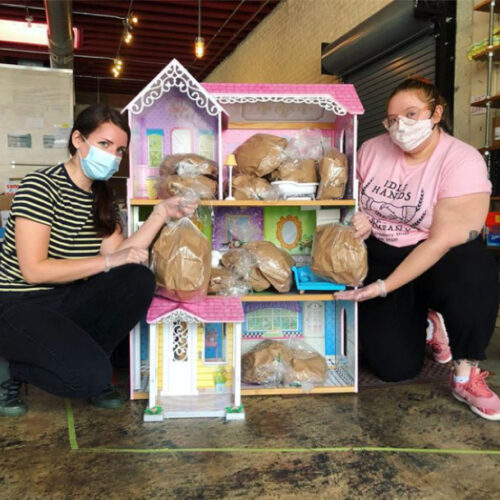 MRR: How can people assist/get involved with you (remotely or locally)?
I am once again asking for cold hard cash…we are currently looking for monetary donations to fulfill a very big dream we have been cooking up so we can work on our long-term sustainability! We have a Patreon to sustain our mini-grants program, and we would love more support there.
Remotely, we have seen fundraising and solidarity efforts pour in from across the world lately, including Canada, Australia, and Great Britain. We've had folks across the country selling their art, services, shirts, records, soap, classes, and more to raise funds for us. Locally, we have donation drop off spots around town and would love donations of supplies from the community. We are also seeking dedicated volunteers that share our politics.
And while we love it when folks want to get involved with us, we always always encourage you to DIY—start your own mutual aid and divorce your community from relying on outside influence to take care of itself!
MRR: Is your project replicable in other places? If so can you share insight in how to get started elsewhere? Hurdles, privileges, harsh  lessons?
Yes! Our project is very replicable in other places. We are lucky enough to have a volunteer who is an app developer who built a system for us to keep track of our deliveries. It is constantly evolving, and we are happy to share this resource! There are also thankfully many resources floating around for starting your own mutual aid group—even the AARP has one (https://aarpcommunityconnections.org/start-group/). There's also this link: https://mutualaiddisasterrelief.org/wp-content/uploads/2020/04/NO-LOGOS-Mutual-Aid-101_-Toolkit.pdf which features this adorable infographic which shows you just how easy it is with a little go-get-'em spirit.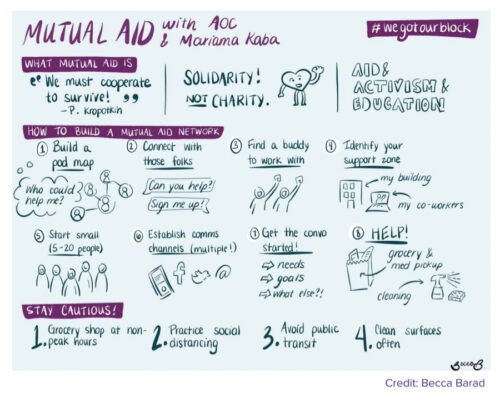 We are in the process of building a toolkit of resources for folks to start their own mutual aid collective, so stay tuned!
As far as hurdles/privileges go, it was difficult finding a climate-controlled space to work out of with proper storage, refrigeration, bathroom, and accessible location. That said, we were able to find a home first in Indie Lab, now at Lamplighter (though only for the duration of their closure due to COVID). Richmond has a lot of community-minded small businesses who are willing to lend their space/resources, which is a privilege. Because of COVID, a lot of our volunteers have the privilege of time as well, as many of us have been furloughed or laid off indefinitely.
We are also lucky enough to have a couple volunteers with professional experience setting up non-profits (though we'd like to point out that we are NOT a traditional non-profit) and handling finances so we can stay accountable for our expenses. Also, a lot of us have personal privileges that aren't especially common among some of the people we're typically engaging with, so even though we try to be as radical as possible and keep it non-hierarchical/horizontal in structure, we inevitably end up privileging certain voices/ways of thinking simply due to the "demographics" of our volunteers.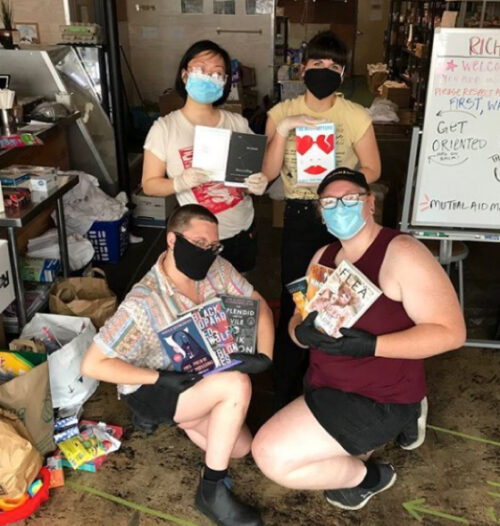 Other than the regular harsh lessons of the overall difficulties of ironing out lines of communication, one of the harshest lessons is that we are operating within systems that actively work to make it difficult for folks who don't want to participate. And honestly, there's a lot of cognitive dissonance about working towards anti-capitalism but requiring money to do so. The same goes for having overall goals of environmental sustainability, but only being able to practice it to an extent while trying to keep costs down so we can serve the most people.
Our ideals focus on the accessibility of free groceries and products to anyone, but it's a reality check to set boundaries on what we have the ability to accomplish. At the moment, we are only able to handle about 150 orders a week, and it sucks to not be able to take on more (though we are always working to streamline our system to increase our capacity!) It is a constant effort to unlearn the capitalism and racism we were all groomed to accept, but a beautiful reward to see mutual aid in action, actively working towards centering people, not profit.
MRR: Anything else you want to share?
FTP, ACAB, BLM. TYSM!
Our website: https://richmondmutualaid.wixsite.com/resources
Instagram: https://instagram.com/mad_rva / @mad_rva
Facebook: https://www.facebook.com/madrva/
Email: richmondmutualaid@protonmail.com
Call or text: 804-404-2346
Monthly Patreon donations sustain our mini-grants: https://www.patreon.com/rvaminigrants
PayPal: https://www.paypal.me/richmondmutualaid
Fundly: https://fundly.com/mad-rva
Venmo: https://venmo.com/RichmondMutualAid / @RichmondMutualAid
Our in person drop off locations are below, and we can also facilitate pickups:
Lamplighter — 1719 Summit Ave. Tuesday to Saturday 10 AM to 3 PM
Helen's — 2527 W. Main St. anytime in the backyard
Small Friend — 1 N. Lombardy St.  Monday to Friday 11 AM to 5 PM
Tiny Space — 2708. E Marshall St. Tuesday to Friday 4 PM to 6 PM or by appointment
*coming soon* Metzger Bar & Butchery — 801 N 23rd St. anytime in the backyard
—In solidarity, Leslie / MADRVA