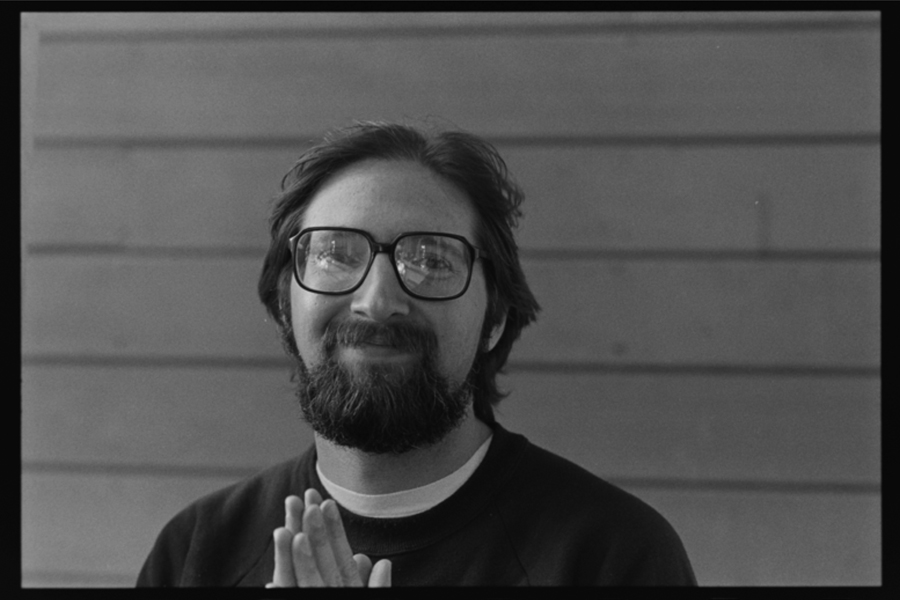 Murray Bowles: In Memoriam
The Bay Area punk community is devastated by the loss of Murray Bowles, beloved friend and iconic photographer, who passed unexpectedly on December 8, 2019.
A ubiquitous and benevolent presence in the Bay Area punk scene for 35 years, Murray touched the lives of countless people through his gentle spirit and unflagging devotion to documenting the people, places and bands of Bay area punk underground, year after year, from one generation to the next.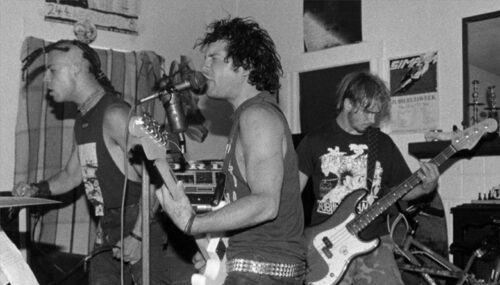 Instantly recognizable on countless album covers, liner notes, and scene reports, Murray's photos represent the definitive visual archive of Bay Area punk from 1982 to today. With his signature style—holding his camera over his head from the middle of the crowd as people flailed around him—Murray gives the viewer a visceral sense of what it is to be engulfed by the frenetic energy of the throng. And yet, Murray was not there to sensationalize the grittiness and aggression of punk, as many other photographers have done. Murray approached his subjects with a true sense of affection and inspiration, and it was this perspective that enabled him to convey so distinctively the acute tenderness and exuberant joy at the heart of the punk scene.
In a 2010 interview in this magazine, Murray said, "Capturing people having fun is always fun. There was this real public perception of punk violence, moshing, and danger. It's nice to show it can be both ways. It can be fun to be violent." He also championed obscure, unheard bands, and was a devoted presence at small shows in unlikely venues. Murray believed, "All bands are better before they have an audience, before they are bound by them. Once the band gets bigger, the crowd gets diluted and the music gets watered down. Also the venues get bigger, and really annoying."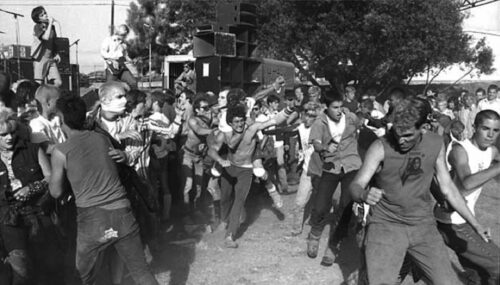 As a longtime contributor to MRR, Murray helped bring the Bay Area scene to the world. Readers of the magazine became enthralled with Murray's photos, and many cite the images as the reason they packed their van and headed to the East Bay to join in.
And oh! The photos! Local bands, touring bands, parties in kitchens and backyards and public parks, Social Unrest at Ruthie's Inn, Mike Watt and D. Boon dancing on stage in San Jose, MDC on Sproul Plaza, Crimpshrine at a park in Davis, Operation Ivy at a bingo parlor, The Dicks at The On Broadway, The Big Boys, Die Kreutzen, The Feederz, Grimple at Your Place Too, The Wipers, Poison Idea, Raw Power, Intensified Chaos, Green Day as pimpley-faced 15 year olds. And not just the bands but the people—Tim Yo presiding over early Gilman Meetings before the walls went up, hordes of funny looking teens packed into Eggplant's backyard to see Filth and Blatz play, hedge divers, skaters crowding around a hi-jacked beer truck at Eastern Front, crowd shots where everyone looks dazed and elated, sweet candid photos of people hanging out.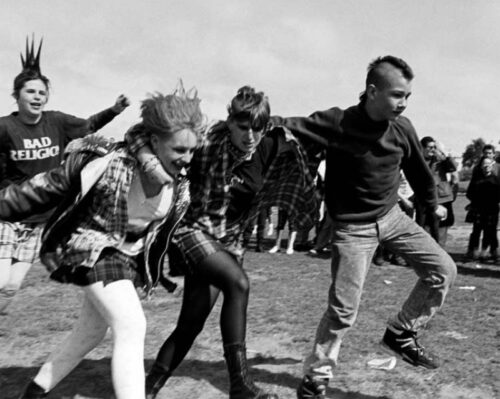 That was the thing about Murray. He never had any special reverence for a particular band or venue (except for maybe Grimple, who he described as the ideal band to photograph) no matter how famous or rad. He wasn't looking for stars. You never saw him at big concerts, or reunion shows. Instead, the brilliance of Murray's photographic eye is in how he sees, and reflects back, the bigger picture. If you were there, you showed up in a photo, sooner or later. As old friend Kate Knox said, "Murray reflected the anarchist value of punk rock that we are all equally important." True too of his photographic practices. He developed film in his kitchen at night, and sold prints outside shows for twenty-five cents—just enough to cover the cost of the paper. No matter how legendary he became, he never sought to profit off his work.
Murray's sudden death at 68 has shocked and saddened the punks who knew him as a friend for many years; we know for sure that artists like him do not come around often. How lucky we are to have had him among us, and to have seen ourselves grow up in his images. Murray said it best: "It's almost like my photos are more important to individual people than to the scene. People say to me all the time, You have documented my life.'"
A book of Murray's work will be released in Fall of 2020.