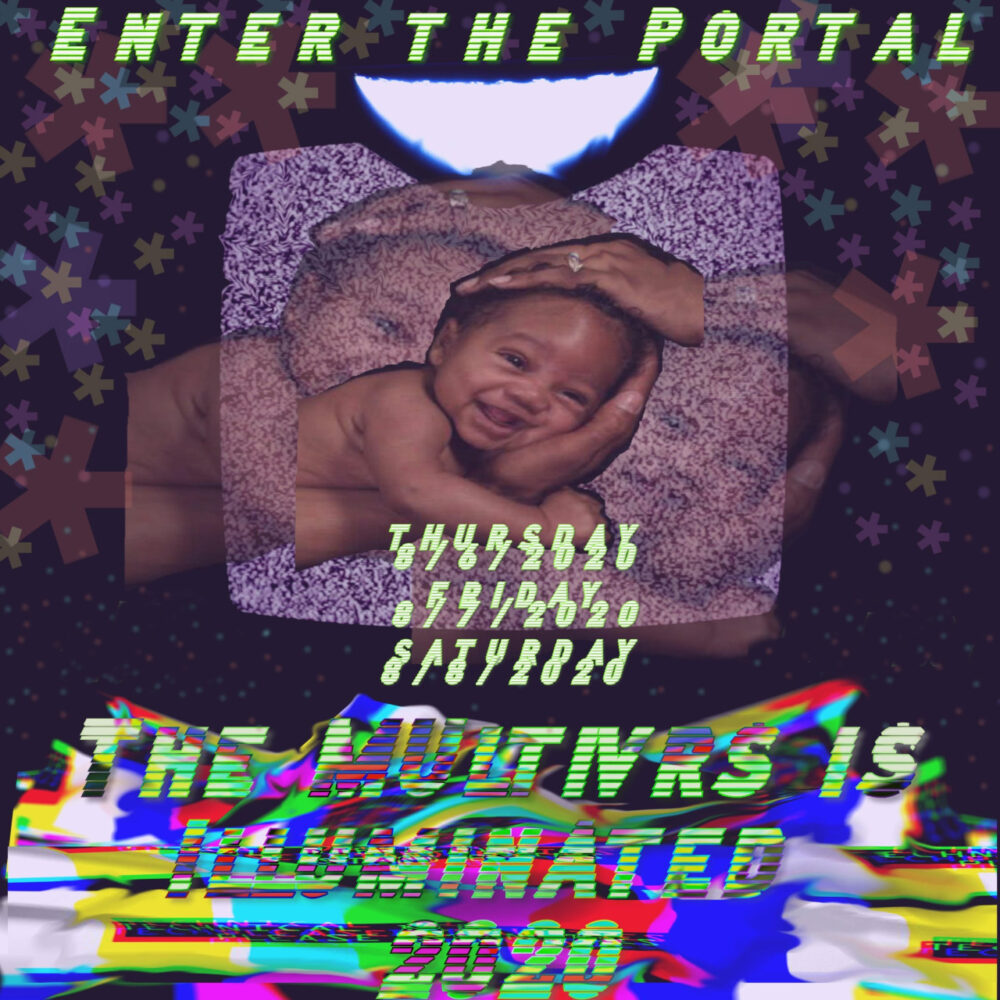 The Multivrs Is Illuminated 2020
Sharmi, Jade, Titania, and I had lofty ideas when we began planning the Universe Is Lit: A Bay Area Black and Brown Punk Fest in 2016. One of them was to open a portal creating a shift in this timeline to shatter the spell of white supremacy.
We were experiencing grief on personal, communal, and political levels — we dove into this project honestly believing that we had the power to heal ourselves and our friends through the power of music. 
We were inspired by punk fests that had taken place before ours, like Think and Die Thinking in San Jose, Not Enough Fest in Portland, and Black and Brown Punk Show Collective in Chicago which was the work of Monika Estrella Negra, Donte Oxun, and a whole host of collective members. We were inspired by whole cities (New Orleans) and whole eras (the Jazz Era of West Oakland). Our inspiration knew no bounds and our vision had no limits. Four days, six venues, free food at every event, an art show, a day of screening films, a rave, twenty-nine bands, sixteen DJs, people from all over the country. We weren't gonna charge for anything and we were gonna pay every performer.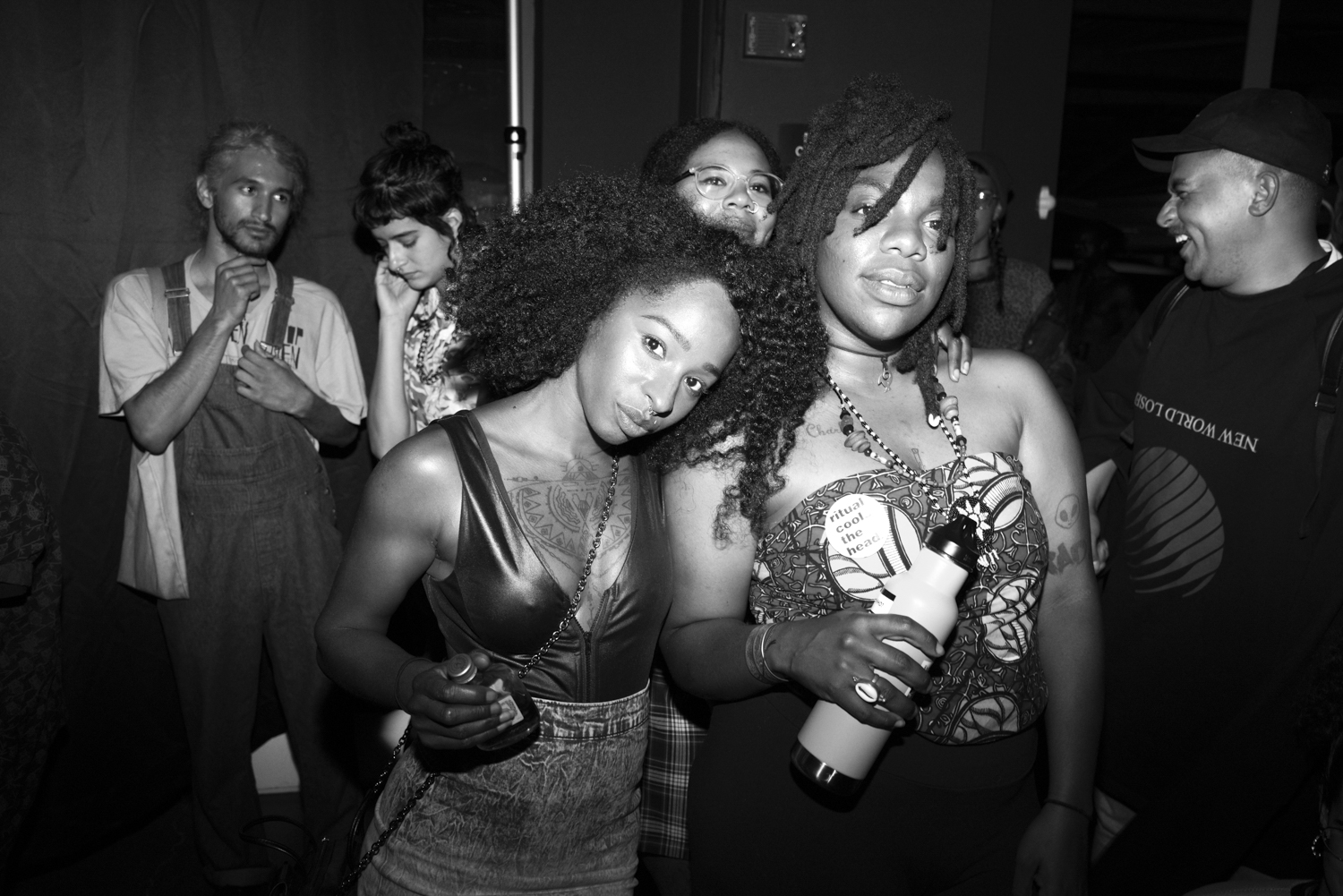 The festival shifted from an event to an entity, a rolling wave on the verge of a tsunami, consuming our lives, igniting our passions and unraveling our friendships with one another. After all, how can a group of four handle the intensity of opening a portal to let the rushing wave of the future enter this world unscathed?
It was a beautiful mess but we pulled it off. So many of our friends worked doors, bottom-lined events, ran sound, hauled gear. The four-day function took place at six different venues, many of which are now defunct. Some days were twelve hours long. Friday's show at The Lab started with an afternoon karaoke party and went well into the night. In that historic venue, GayCay made their debut, Las Sucias music felt like ritual, everyone's favorite heartthrobs from Chicago, The Breathing Light crushed all our hearts in the most beautiful way. We all sang along with deep feeling, sadness for our loved ones crossed over, and joy for the ones still here to Maya Songbird's "Staying Alive."
Magical things happened. Sun-Ra Arkestra was in town and members of the group ended up leading our improv noise workshop. The rave location was a sham and we found ourselves kicked out, milling 14th street after the club owner showed up, gun on hip, and finally kicked us out at 2:30 after locking us in for half an hour. Within minutes we found another location. After a night of dripping sweat in a sweaty basement dancing to DJ Haram, Fela Kutchi, Designer Imposter, DJ Jiggles, and EdgeSlayer – our night ended at 6:00 am being bathed in the ethereal sounds of Felidae. The Universe Is Lit started with the Perseids Meteor Shower and ended on the eve of a Lunar Eclipse Full Moon in Aquarius.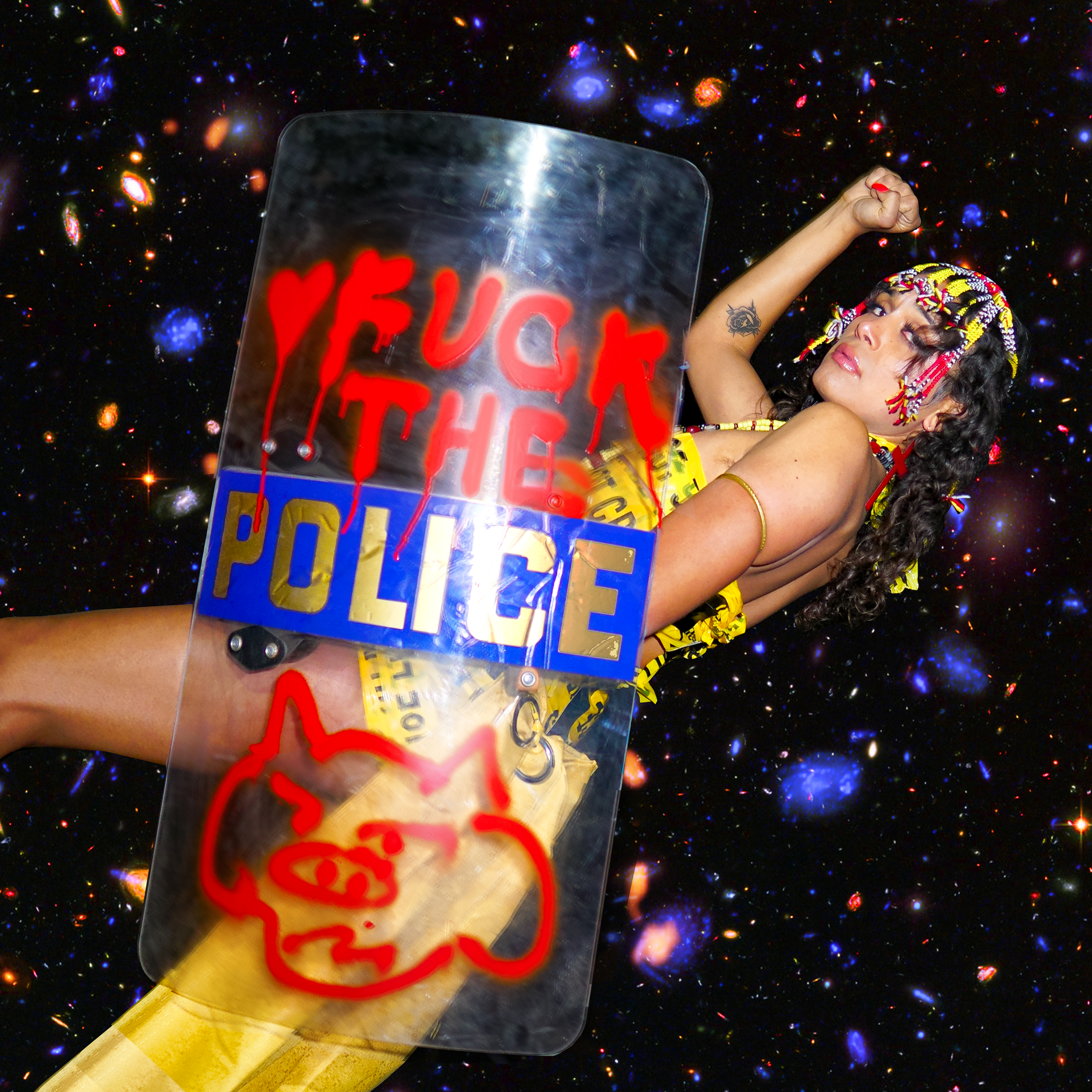 The next year our core organizing team was down to two and our name changed to The Multivrs Is Illuminated. The name change reflects the importance of each person in creating not only the fest but anything meaningful, fun, or important in the world. Each of us is a universe of stories, experiences, gifts, ways of beings, frequencies, etc. Something like the Multivrs could not happen without the participation & energetic input of hundreds of people. So the Multivrs continued, we got everything we needed to make it happen and we scaled nothing back. Well, I guess we did scale back our intentions to less grandiose ideas – this time the goal was just to have a good time with our friends in a space that celebrated our music and art.
Again, the festival was preceded by tragedy as a young Black girl's life was brutally taken on BART. Some white man claimed he found her very existence threatening. Her name, Nia Wilson, was screamed in the streets and was chanted at the Multivrs when Lawrence Lindell mixed snippets from marches into his DJ mix. We are witnessing now the recent activation of many in the fight against racist and state-sanctioned violence.  Black, Brown, and Trans peoples' very existence is read by others as a threat. Violence and abuse perpetrated against us is acceptable and publicly justified. This is nothing more than a generations-long attempt to terrify us into silence, to stop us from taking up space and to distract us with defending our own humanity. Spaces like the Multivrs Is Illuminated allow us to envision and participate in a reality where our power, beauty and voices are centered. 
As with 2017's The Universe Is Lit magical things continued to happen with The Multivrs Is Illuminated in 2018. After being harassed by cops getting shut down at Tire Beach we moved our show to a local playground and skate park.  All the families BBQing and celebrating birthdays jumped up and started dancing to the spaced out, cumbia set of Xolito Sound System.  Children watched, entranced as ONO awed us all with their set just as night fell. I was moved to tears when the vocalist from Weedrat wailed, "DON'T COME AROUND HERE LOOKING FOR HER, OUR BODIES BELONG TO US!" People met lovers and lifelong friends at the Multivrs and decided not to go home. 
The Multivrs is a space where Black and Brown art, voices, and experiences are centered. Black and Brown people are the only people whose voices are amplified on the stage during the whole experience. We don't spend much time talking about what we hate or fighting to fit into certain spaces or genres. The Multivrs is inspired by love and by a desire to share with others the world-changing powers of DIY spaces and mutual aid. In punk, in DIY, in Black cultures, working-class, and Queer cultures we can create whatever the fuck we want, when we want. As a matter of fact, most times we have to.  What's more punk than a cypher where a street corner or a living room becomes a venue? What's more DIY than selling mixtapes out the trunk, feeding the people like so many of our elders did, or throwing a party to pay rent? What's more punk than existing, thriving, and creating in a system that has been trying to destroy you for generations? Fuck that shit. Just by living, creating, and connecting we are sustaining and creating new ways of being that are more aligned with the cosmic natures of our beings. 
Although our initial goals were incredibly lofty and perhaps a little egotistical, they were effective. We created the space we wanted to see. We created a space where we were free from the gaze of those who seek to define us through oppression. The Multivrs is a space where we define ourselves and uplift one another. Spaces like that change the world. And to be honest it takes lofty goals, a healthy self-conceit, and unreasonably idealistic vision to create new worlds.
The Multivrs is back after a year hiatus. Again, there is an expansion on the original theme. This time it's the WORLD WIDE CULT OF LOVE (WWCL). WWCL acknowledges that capitalism, white supremacy, patriarchy, and gender binaries are arms of the colonial cult of death. Through distraction, dividing us into hierarchies and exploitation they attempt to deny the power of our divinity. Our love, unity, and dynamic visions for a new world create a power beyond measure. The Multivrs Is Illuminated is an offering to the World Wide Cult of Love because every act we take to love ourselves, love one another, to redistribute wealth and resources and especially for Black and Brown people, to bring our creative visions to life is a revolutionary act. 
This year the organizers are myself and New Orleans based filmmaker, musician, and performance artist Juicebox Burton. In a strange turn of events, we are now living through a pandemic and the fest will be taking place digitally August 6th – 8th, 2020. 
The digital fest will open with a film screening on August 6th featuring 15 DIY short films including works from Kim Garcia, Chi Chi Castilo, Semaj Peltier and BEYONDDEEP Productions. Saturday and Sunday will feature over 30 musical acts hailing from the Bay Area to London.  There'll be live and recorded performances from Sour Spirit, Tyler Holmes, Squid Ink and Delish Da Goddess among many others. Alongside sets from several DJs including On Mommas, La Femme Papi, Miss Twink USA, and Heavy Pleasure. 
Again, lofty goals, but we got this. For some of us, life will keep throwing curveballs and our circumstances will keep changing in ways that merge dystopia and magical realism.  Through will, healthy self-conceit, unreasonable imagination, determination and joy we will keep shifting to shed the skin of old worlds so that we can create futures that we want to live in. 
For updates about the festival follow us on Instagram, check out our website, or email theuniverseislit.com. This festival is a gift of love. You can send funds or buy merch to support the future of the Multivrs and put money directly into the hands of performers, festival organizers, and multiple DIY spaces across the country. There's also a comp with live songs from The Universe Is Lit.  
See ya August 6th – 8th, 2020 in the digital void.
 xoxo – Shawna Shawnté
Check out more artist and band profiles: Meet The Performers