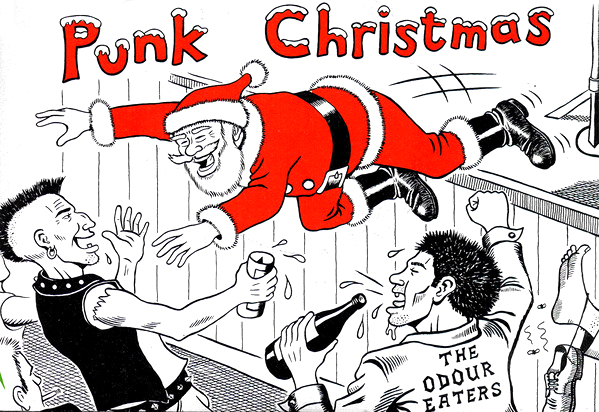 X-Mas Classics
It's the most wonderful time of the shittiest year ever, and you're going to need a fitting soundtrack, no matter what you celebrate. To help take the edge off, I present my Top 3 Punk X-mas Records: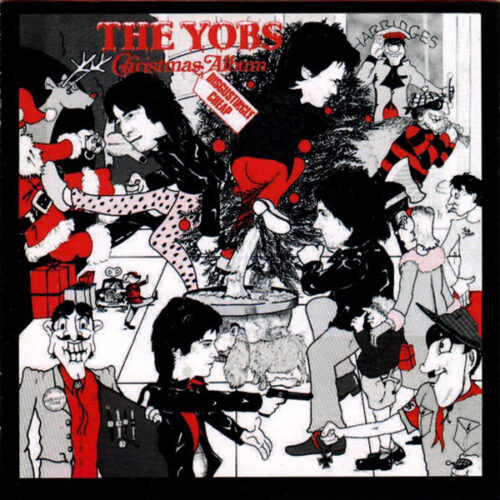 3. THE YOBS — The Yobs Christmas Album (Safari, 1980)
Once upon a time, original UK punkers the BOYS would invert their moniker during the holidays to become the YOBS and serenade the masses with songs of the season. Written, recorded, and mixed in just two days at Pete Townsend's Eel Pie Studios, The Yobs Christmas Album was released in 1980 to forever enrich the world's karaoke caroling selection. Featuring a blend of traditional Christmas staples, updated classics, and originals, this merry mix of hits is easily one of the finest punk Christmas records of all time.
Some of these songs could possibly pass for standard X-mas fare, especially when a few cups of cheer are being consumed (their charming rendition of "Silver Bells" is a personal favorite). But for each one of those, there's a supremely nasty number like the disgustingly unforgettable "C-H-R-I-S-T-M-A-S," or "Twelve Days of Christmas," which the London lads somehow manage to make even more obnoxious than the original. While snarling holiday-rock covers most of this festive platter, the boys also mix in shades of mock-new wave and reggae for a little variety. I look forward to firing this one up every year, as no holiday jam is truly complete without the YOBS.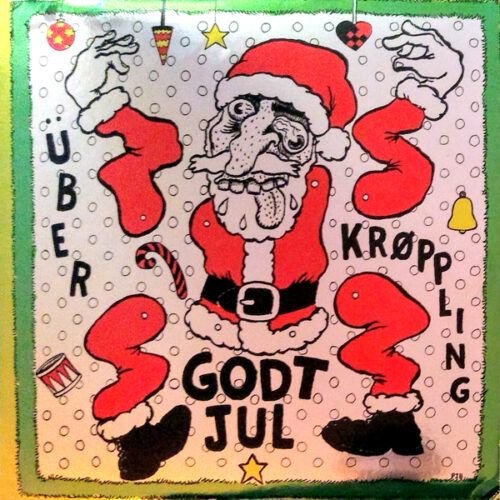 2. ÜBERKRÁ˜PPLING — Godt Jul LP (Mastermind, 2014)
Originally sold on its very own website alongside other popular holiday items such as the "Sexbanan"™ and "Das Überdiaper," the joyous yuletide classic that is Godt Jul was unleashed by Denmark punk goofballs ÜBERKRÁ˜PPLING just in time for Christmas 2014.
Okay, so maybe there aren't any actual X-mas songs on this record, but Godt Jul ("good yule") features a jolly, drooling UberSanta on its shiny and festive front cover and is definitely a psychedelic sleigh ride through the band's unique brand of hilarious, heavy-hitting, and surprisingly well done hardcore. This one sounds best at full volume, whilst obliterated on ye olde 'nog, on Christmas morning.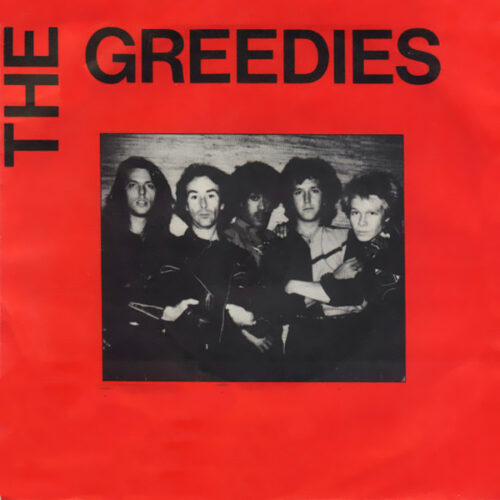 1. THE GREEDIES — A Merry Jingle 7″ (Vertigo, 1979)
A supergroup comprised of two parts SEX PISTOLS (Steve Jones and Paul Cook) and three parts THIN LIZZY (Phil Lynott, Scott Gorham, and Brian Downey), the GREEDIES (originally the GREEDY BASTARDS) existed just long enough to cash in on the X-mas spirit and bless us all with the indispensable holiday hit, "A Merry Jingle."
My delight in this record existing is eclipsed only by the A-side itself. "A Merry Jingle" is a simple, spirited medley of Christmas favorites, elevated to greatness by the group's undeniable swagger, sharp guitars, and Phil's distinct, buttery vocals. The B-side, "A Merry Jangle," is a "chopped and screwed"-style remix of the song, to which a careful listen may or may not find the band revealing their true motives (hint—they weren't in it for the tinsel).
I hope these killer tunes will trim your tree the way they do for me. Here's wishing you much merriment — Enjoy!