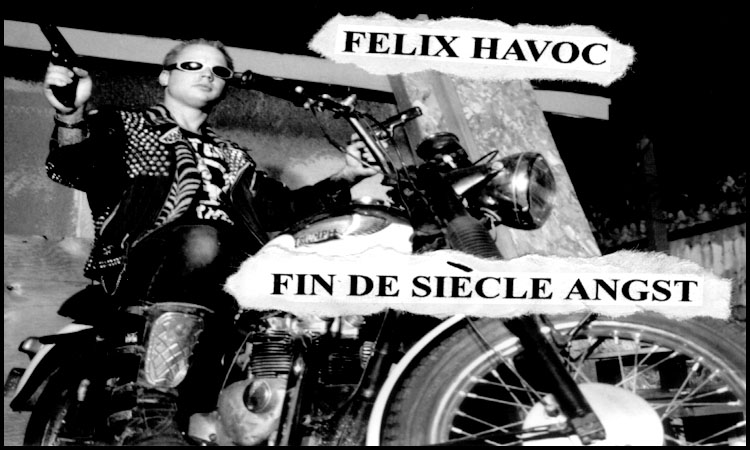 Fin de SiÁ¨cle Angst
I was dismayed and saddened to hear about the end of MRR as a zine. I will write more about this in my final column next month. Let it be known, I had zero input on this decision, I am just a contributor. My year end top ten didn't make it into the Top Ten issue, so here it is for all who care. I do think it offers a different angle to many of the other top tens. 
Again, I didn't pay as much attention to new records last year as I could have, but some great records reached my turntable. There was a while in the early '90s when stuff like Screeching Weasel and Green Day was big that me and my friends thought hardcore might never come back. We imagined being like the surf or rockabilly guys, reliving the past and fetishizing old records. I am very grateful that hardcore marches on and I am not living in that grim reality. 
***
BLOOD PRESSURE Surrounded LP (Beach Impediment). Aggressive and tough hardcore. A very contemporary sounding hardcore record, this still has a raw and snotty in your face attitude that obliterates the more technical or accomplished hardcore bands. And it's certainly tight and furious in a meat potatoes hardcore vibe as opposed to anything more progressive or experimental.
BEYOND PEACE What's There to Be Proud Of 7″ (Slugsalt Records). When the history of hardcore is written, the chapter on Iowa will not be the thickest. But Iowa generates a crucial band every few years. A few years ago it was Nerv, but now Beyond Peace are laying down some raw, ferocious hardcore that pushes them to the very top of that short list of Iowa Hardcore champions. Catchy, angry, fist pumping hardcore filled with energy. These guys deliver the goods live, probably the best hardcore band to play around here in a while. When world class hardcore like this comes out of a small town in the Midwest it makes me very happy and gives me hope for the future of the movement. 
EXTENDED HELL Call of the Void 7″ (Desolate). It's 2018 and we are still listening to D Beat Raw Punk. Why? Listen to this record and you will understand. When you strip down hardcore to it's most essential elements and still need some memorable riffs, you wind up in one of two camps, D-beat Raw Punk/Kang or 82 hardcore. Everything else is just kind of muddying the waters with artsy stuff or musicianship. This style of hardcore is like drinking hard liquor with no mixer, or coffee with no cream or sugar. The pure essentials on display uncut and unfiltered. I am overjoyed bands like Extended Hell and Urchin are still putting out records this good 30 years after Anti Cimex and Shitlickers. 
EXPLOATOR LP (D Takt och rapunk) Totalitär existed for some years before they became widely known beyond a handful of record collectors. For a while around 2000 it seemed like their brand of Kang was going to blow up. Then things quickly blew over, and this genre went back to being to domain of elitist record collectors. In the years since Totalitar broke up there has been a steady stream of awesome records from the ex members playing in different projects, Kvoteringen, Institution, Dissekerad, Katastrof none of which have caused much of a stir outside a narrow range of fandom. But now we have Jallo, Poffen and Lanchy (but not Ante) back together again cranking out a rock solid LP that could have been recorded by the Totalitär of 2002. This record was indeed, music to my ears, a tireless champion of this genre I was so pleased to see it sell out briskly and be so enthusiastically received. All the essential elements are here, it falls just short of the classic 1990's LPs, but is on par with Vi Är Eliten. You can't go wrong with this one.
RAT CAGE Blood on Your Boots 7″ (La Vida Es Un Mus) Ripping, raw and energetic hardcore. Not breaking any new ground, but it's totally sick in your face spite filled hardcore.
WARTHOG self-titled 7″ (Toxic State) No stranger to top ten lists, this NY hardcore band delivers another crusher. The cover art is kind of cheesy, but at least it's a break of mysterious abstractions in favor of camp horror. Far more contemporary sounding that most of the bands on this list (which are primarily rather retro in their style) this proves you can drop killer hardcore without straying far from the basics. That is to say, a lot of hardcore today sounds like it was made by and for 30-something record records, but you can totally see young kids who don't know anything about 77 or 82 getting low to jams like this and the Beyond Peace 7″ cited above. 
PROFOSS Profosss 7″ (Adult Crash) This features Jona from Infernoh and Fy Fan and it's simply rampaging ra Kang in the Totalitär mould. If not for Exploator this would be the top pick for the year for me from Sweden. Hard-hitting, raw hardcore punk that manages to capture that desperate urgency lacking in so much of today's music. 
TRAGEDY Fury 12″ EP (Tragedy) Did you know Tragedy put out a new record this year? How times have changed. I don't care what anyone says, or how styles have changed, this band and record are sick. It's too bad that Tragedy inspired so, so many weaker clones, because the original is still the great. 
DISSEKERAD Tomma Ogon 7″ (Phobia) Another one of the under the radar post Totalitär bands. With Poffen on vocals. Killer Swedish hardcore. 
DEADLOCK Deadlock 7″ Painkiller This band shares members with other UK bands like Obstruction and Arms Race, but this is more basic, stripped down 1982 hardcore. Has a bit of that UK punk bounce that made early Negative Approach so infectious. The whole package adds up to some simplistic but powerful back to basics hardcore in the NA/Xclaim! Tradition. 
***
Also cool, Cankro 7″, Physique 12″, Tarantula 7″, Strul 7″, Damaged Head 7″, No Future 7″, No Problem LP, Absolut / Svaveldioxid split LP.