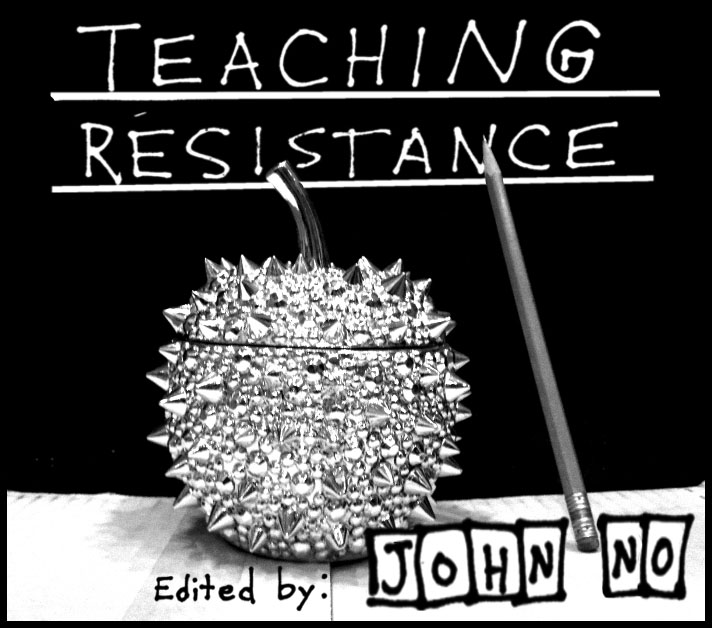 Teaching Resistance — Chicago Special Edition
"Teaching Resistance: Radicals, Revolutionaries, and Cultural Subversives in the Classroom" is available NOW from PM Press.

TEACHING RESISTANCE – CHICAGO SPECIAL EDITION
Late this October, in the longtime public schools vs. charter schools battleground of Chicago public schools, the teachers' union held a mass strike. As with so many similar movements igniting across the country, this fight was for a more-realistic living wage for teachers AND the many often-underpaid paraprofessionals and resource teachers, as well as better services for their students – especially special education students, those who are served by those underpaid paraprofessionals/resource teachers, and who are often the ones excluded from charter schools while being severely under-resourced at public schools. As tensions around the strike reached a peak, Mike Friedberg, Chicago teacher and singer for KOMPROMAT and AMORAL (and several-time TR contributor) sent in a message from the front lines on October 30: 
"Let's be real clear.
This is getting ugly.
Just yesterday, the multibillion development firm Sterling Bay called the police to arrest nine CTU members peacefully engaging in civil disobedience. (Pictured below.)
Earlier that day on North Ave, a silver BMW drove through our march. Thankfully no one was hurt.
Students are marching and protesting on their own volition. (Pictured below.) Yet we are portrayed as using kids as political props.
Teachers and SEIU members were spit on by Board Of Trade employees.
Papers accusing us of being "greedy" and "mob bosses" have been thrown at picket lines.
Not to mention the pure hatred being written on social media, especially from the "education reform" crowd, who claim to be for social justice, yet being financed by DeVos and other billionaires who want to privatize and profit off of public education.
Let's be real clear.
We have lost two weeks of pay. CPS is threatening to take away our insurance. Many of us have children, mortgages, car payments, and student loans.
We are exhausted. We picket for four hours starting at 6:30 AM, in addition to whatever protest we have scheduled in the afternoon. Many of our members have gotten sick.
Let's be real clear.
The City Of Chicago has mismanaged finances for decades, and black and brown kids have had to pay the price. Chicago is subsidizing a multibillion dollar playground for the rich (Lincoln Yards), while black and brown kids get the short end of the stick. On my very first class for my very first day of teaching I did not have enough desks. 32 desks while 37 kids walked in the room. Five kids sat on the windowsill, but they didn't protest. They were used to it.
Chicago Public Schools also needs to acknowledge their handling of finances. There has been approval for contracts that we have not supported: Aramark, Sodexo, SUPES, and Aspen, a confusing program that pays off big corporations (Pearson) when we could have used Google Classroom which would not have cost the district a cent, in addition to being much easier to use.
Let's be real clear.
We are fighting for resources for our students. Adjusted for cost of living, Chicago ranks 22nd in the country for teacher pay. Yes, I would love a raise, but I'd much rather have nurses, librarians, social workers, more preparation time to support students, equitable resources for special education students, basic resources for English Language Learners, and class sizes without 37 kids. Yet the "education reformers" and suburbanites portray us as "greedy", "irresponsible", and "not caring about the kids".
We are exhausted, frustrated, and miss our students. We have no illusions; the longer the strike goes on, the more the mayor can leverage public opinion against us. Just last night, CPS sent out robocalls, implying that the CTU could have ended the strike last night, when we had not even received counteroffers in many of our proposals. They claim we should continue working without a contract, when many of our proposals had not even received counteroffers until the strike began.
And let's be real clear.
We know the world is watching and will not back down until our students get the resources and schools they deserve."
I never cease to be surprised at the persistent existence of a punk subset who gravitate towards a fucked-up conservative political outlook, and one of the most consistent manifestations of that is condescension towards teachers' unions and the profession in general. Naturally, this often also comes paired with a dismissive attitude about the many millions of students who have been classified as "high needs" due to racial and economic disparities in the United States. 
"Anyone can teach", growls the reactionary, "…and you get benefits and summers off so quit whining about your [sub-living] wage. Also, why should my [theoretical] kid/brother/cousin/whatever have to get dragged down in a classroom with all the BAD kids and the ones who can't read?" A couple of simple answers:
Qualified teachers train for years and work their damn asses off for their students, and they deserve a living wage, benefits and wages – just as all workers do, and we will sure as hell fight in solidarity with other workers as well. It's not a race to the bottom.

High-needs and multi-lingual students are some of the people working the very hardest at school while facing some of the greatest challenges — more-privileged students could stand to learn from

their

example and perspectives. The most-impacted students need substantial time in the general education classroom, with all the individualized help they need; schools that do not implement radical inclusion measures will invariably help further marginalize and fail these students, compounding the substantial struggles they already face. 
Agnieszka, who currently works as a Pre-K Sped and Resource Teacher, is Chicagoland-area radical punk who can be described as a living embodiment of how not "just anyone" can do the hard work of teaching. She wrote a crucial breakdown on the intersectional importance and challenges of Special Education and English Learner programs for struggling multilingual students, and the powerful role both programs play in the ongoing debate and conversation on public schools:
As a bilingual educator in Special Education, I often have to battle both ableism and English language superiority in the schools and communities I work in. I have attended many professional conferences on English Language Learners and asked questions about students with IEPs and have gotten no answers or support [IEPs are Individualized Education Plans, generally created by school psychologists and counselors in close collaboration with the students being helped and their families — ed.]. Alternatively when I speak with "experts" in the field of Special Education, few have insights on ELs [English Learners — ed.] and their families. At one school in California, I had a Bilingual Educator come up to me and explicitly tell me "your special ed students are taking resources away from my students who are English learners!" This statement confused me because 100% of all my students with IEPs were also English Learners. This educator had it wrong, and many do not understand the complexities of being an English Learner with a disability in the world of Special Education. 
I have I have worked in 3 school districts in my career thus far in both California and Illinois and in all 3 districts my caseload of students with IEPs were majority if not all English Learners. In San Jose, my students all came from Vietnamese or Latinx families, some exposed to both English and their native language at home and to some, the only exposure to English was in the classroom. For all of these students I made sure to translate all necessary documents, have translators at IEP meetings (when the district supplied them!) and had culturally appropriate books and materials so students can see themselves in the curriculum.
I currently work in a district just outside of Chicago, where I live. In our district we serve a large Polish population. According to this report by Illinois board of education, 18.5 percent of ELs, or 38,481 students, were identified with a disability. The top 3 languages spoken by EL students in Illinois are Spanish at 76%, Arabic at 4% and Polish at 3%.  I was born in Poland an am fluent in the language, so I am lucky enough to be the translator at a majority of the IEP meetings I attend and write accommodations for. As an early childhood educator, I am often the first contact parents have with school districts or the confusing institution which is Special Education. Meetings, documents, forms and eligibilities can be confusing enough as it is for educators and parents who speak English. Imagine the difficulty and confusion for families who speak languages other than English, especially if there is no translated documents or translator at the meetings. 
I am grateful and thankful to have 2 classroom aides who are fluent in Spanish. Together, we ensure our students hear all of their native languages in the classroom, embedded in the curriculum, Circle Time, Stories and in conversations with have with them throughout their day. Families are happy to see children's books in their native languages in my classroom, I always  make sure to have bilingual books (Polish/English, Spanish/English and Vietnamese/English) accessible to all students. We also sing a "Hello" song during Circle Time in all 4 languages mentioned above. It is endearing when parents tell me that their 3-year-old Polish boy is saying "Hola" and "xin chÁ o" at home and in the community. 
My favorite part of Special Education is the teamwork between Sped Teachers, Occupational Therapists (OT), Speech Therapist (SLP) and other related service providers such as Deaf/Hard of Hearing Specialists, Vision Specialists, Physical Therapists and Social Workers. I have the privilege to communicate and collaborate daily with providers who are equally passionate and enthusiastic about the work as myself. In my Pre-K Self-Contained classroom, I have at least 2 professionals Pushing in daily. Support service providers participate in Circle Time, Centers, Outdoor Gross Motor, Sensory Time and all other portions of the half-day program I teach in. It is imparative for me to take time to speak to all providers about bilingual supports, sending letters or information to families in their home languages, and finding songs and activities which are culturally appropriate for all of my students. I once had an OT who learned to sing and play on guitar songs in Urdu, Spanish, Tagalog and Arabic for my diverse Pre-K class in California! 
My hope is for districts to hire more bilingual educators who serve the communities they teach in. If students see themseleves in their teachers, this builds self esteem and pride. Additionally, Special Education teachers should attend PD and read up on English Language Learners and how to best support them. Advocate for translators at IEP meetings and for all necessary documents to be translated as well. Some states require this or have these forms ready in languages spoken in their states, but most do not. Collaboration is also key, make sure to collaborate with any EL or Bilingual Educators in your school. Carve out time to meet with them or chat over google docs, embedd students' home languages into the lessons for all students not just those who are English Learners. I gaurantee that students will be eager to learn other languages and information about cultures other than their own. —Agnieszka, M.Ed…You can find her on IG @slavik_trasz or by email a.karoluk@gmail.com
POSTSCRIPT – on the first of November, the Chicago teachers' strike ended after 11 days. This follow up from Mike Friedberg says it all:
"I'm so excited to get back to teaching. We didn't win everything we wanted, but we got some amazing gains, especially for our special education students. And I'm happy with all our victories. Now the next steps are making sure we enforce our new contract. This will be a lot of work, and CTU will need to be a united front.
I'm grateful for our amazing students and parents for their support, our bargaining team, my coworkers, and every CTU and SEIU member who took it to the streets.
I love teaching; this is what I do. And I'm grateful for our strong union who will never stop fighting for students, parents, and teachers.
Get up, get down, Chicago is a union town."
We can fight, and we can win.
The Teaching Resistance column is designed to provide a platform for radical, punk-affiliated, subversive teachers/educators to share their ideas and draw attention to important issues around education; particularly compulsory- and community-based education. If you are a teacher (anywhere in the world) for students of primary or secondary school ages (K-12), Community Colleges, or alternative learning arrangements such as collectivist free schools, and you want to submit an idea for a column, please write an email to teachingresistance@gmail.com.  –John No, Teaching Resistance editor