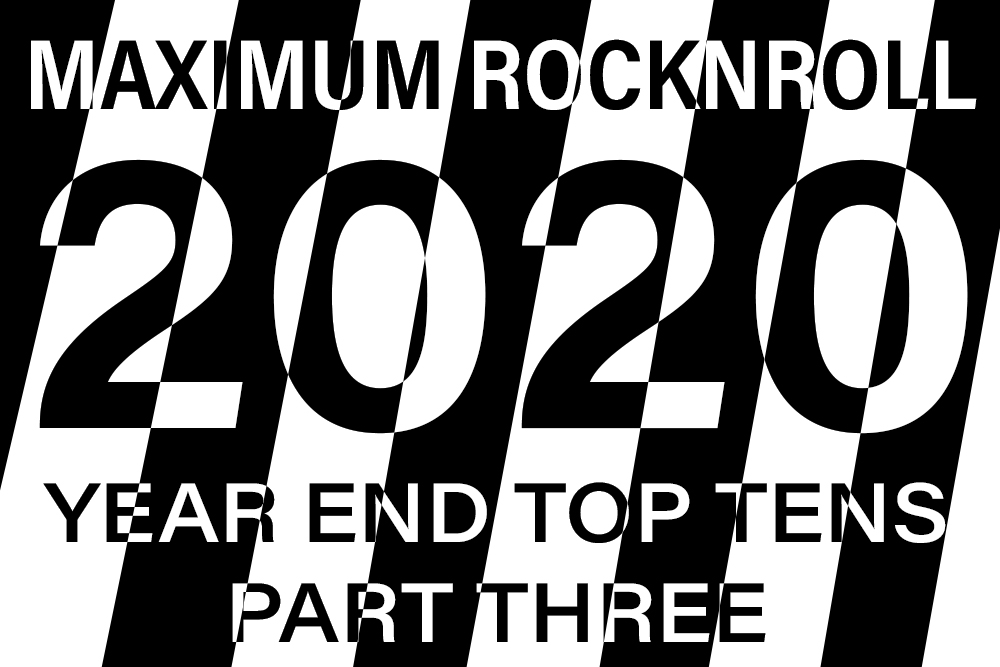 2020 Year End Top Tens, Part Three
Final round of our favorite records of 2020.
MITCH CARDWELL
Mitch Cardwell is a record reviewer for Maximum Rocknroll.
CELEBRITY HANDSHAKE — No Space/No Time LP (Eastern Prawn)
Their near-constant barrage of wonderful racket has been a reliable joy, but this one stands atop the flaming pyramid. Crawl inside the butthole of rock'n'roll and take a good look around.
CHRONOPHAGE — Th' Pig Kiss'd Album LP (Cleta Patra / Soft Office)
Homemade qualities retained even with this slightly beefier sound…the spirit continues to shine through. No sophomore slump for this elite, inspiring group.
LAMPS — People With Faces LP (In The Red)
Return of my perennial faves. Their juggernaut style is adjusted to allow more room for each member to flex, with the cool contributions from newest member Denée shining bright.
LAVENDER FLU — Barbarian Dust LP (In the Red) & Tomorrow Cleaners LP (Meds)
Barbarian Dust is all far-reaching rockers with the whole damn band firing hot throughout. Tomorrow Cleaners assembles ace tape shards and various other late-nite ideas into a massively compelling collection. Ya gotta grab both for the full-view FLU. Tops of the year.
NAKED ROOMMATE — Do The Duvet LP (Trouble In Mind / Upset! The Rhythm)
So cool to see/hear how this project fleshed out and came into real-life. A major hit in the household. Dance, you freaks, dance.
RIBBON STAGE — My Favorite Shrine EP (K)
DIY pop sweetness that boasts a RATAS DEL VATICANO connection. Surprising and completely rad on all levels.
RUBBER BLANKET — Our Album LP (Spacecase)
The core of WOUNDED LION alters scale for heart-tug synth puzzling. The vibe is warm rather than damaged, with oddball tunes unshakeable in their charm. Weird but real glee.
SPECIAL INTEREST — The Passion Of LP (Night School / Thrilling Living)
SPECIAL INTEREST's live fury and wonderment seemed impossible to adequately capture on record, but they fuckin' nailed it here. Awe-inspiring on all fronts.
VIOLENT CHANGE — Squandered EP (Sloth Mate)
Four perfectly busted gusts, each flecked with fuzz. Hard to pin down VIOLENT CHANGE's lasting hooks, but that's a large part of the excitement. My favorite 7″ of the year!
VIVIENNE STYG — Rose of Texas 12″ (Tall Texan)
Expert past-it DIY/punk with this dry drive that kills me every time. Everything about it—production, performance, look—screams must-have. At 100 copies only, few do.
SAM RICHARDSON


Label boss at Feel It Records in Richmond, VA.
It's been a tense and tough year in a sleepy Southern town that has finally removed many of its racist monuments. While General Lee still stands, he does so as a 24/7 reminder of the power of protest (NY Times called the defaced Lee statue "the most influential form of American protest art since WWII"), and the change that is on the horizon. Most nights, one could arrive and feel that the spirit and energy afoot at Marcus David Peters Circle is decidedly more important and relevant than any trivial punk show or record could come close to approaching. That being said, I think we all spent more time at home with records this year, so here are a few that caught my ear and retained the necessary replay value that any Top Ten™ record must.
STRAW MAN ARMY — Age of Exile LP (D4MT Labs Inc.)
A perfectly executed and stylistically diverse gathering of tunes from KALEIDOSCOPE's Owen Deutsch and collaborator Sean Fentrix. Deutsch proves himself as one of the best drummers in underground rock, incorporating jazz-like rudiments and off-time playing ability into a sound that's surely based in punk but hardly relies on distortion or choruses to get its point across. STRAW MAN ARMY is all about experimentation and its exercise—my closest point of reference being the one-off Nosferatu collaboration between Hugh Cornwell (STRANGLERS) and Robert Williams (MAGIC BAND). Age of Exile exists in that creative, futuristic realm, and even more impressive: D4MT Labs is donating 100% of the profits from this album to The Red Nation.
ROMERO — Honey EP (Cool Death)
Best punk single of the year. Honey kicks off like a lost UNDERTONES tune until Alanna Oliver's vocals assert themselves in the mix. From there, it's pure power pop magic, with a ruthless hook that's as timeless as the hand-stamped and xeroxed aesthetic of Melbourne's hottest new group. A stone classic.
PENZA PENZA — Beware of Penza Penza LP (Funk Night)
Raw and funky, funky psychedelic guitar damage from Estonia. Ten largely instrumental freakouts that sound like Eddie Hazel joining up with Sly Stone's crew and wah-ing their way into the cosmos with a Zamrock injection.
GEN POP — PPM66 LP (PPM)
Proper expansion of a forward-thinking punk/hardcore sound to long player after two standout EPs. The artwork leaves me a bit indifferent, but moving deeper we discover GEN POP to be master minimalists. Remarkably simple riffs catapulted by strong production and an endearing deadpan, babbling group vocal style. "Me Alive" closes with a surprise Numan-esque burst of electropop, sure to make rooms full of people dance when we can do that again one day.
THE SPITS — VI LP (Thriftstore)
Our favorite gang of punk scums is back, this time with Kalamazoo youngster ERIK NERVOUS on synths and handling co-production. Six albums in and the SPITS are still finding ways to make exceptional punk records. Not much else has remained consistent in the nine years since we last had a new SPITS album, but hot damn does VI hold its place in an already legendary discography.
BANANAGUN — The True Story of Bananagun LP (Anti Fade / Full Time Hobby)
After two singles, Melbourne's BANANAGUN has made a seamless leap to full length, creating a true feel-good album that tows the line between psych rock, garage, Afrobeat, and other worldly sounds. There's a serious amount of percussive and stringed stylings in the mix, pairing with top-notch production that takes these innovative group compositions to another level. It's hard to ignore how good of a debut album BANANAGUN has crafted.
FRIED E/M — Modern World LP (La Vida Es Un Mus / Lumpy)
Pound for pound, the most punk record that dropped this year. Just enough arrangement of the age old three-chord formula to sink into yer skull. These Midwestern spuds speed things up to a hardcore clip at times, but really earn their keep doing what the RAMONES did best. Simplicity never kicked me in the face this hard until the arrival of Modern World.
PUBLIC ACID — Condemnation EP (Beach Impediment)
Easily the best hardcore EP of 2020. A perfect collision of style, playing ability, production, and pure aggression. No surprise that the first pressing sold out in 48 hours. Really though, when we have shows again, I hope all of the excessive fashion and social norms that have slowly crept into hardcore over the past decade will swiftly fuck off and we'll have records like Condemnation as the soundtrack for destruction.
SWEEPING PROMISES — Hunger for a Way Out LP (Feel It)
Yes, I released this record, but it's hard not to write about the brilliance of SWEEPING PROMISES. They came out of nowhere, playing just one show before quarantine, but released perhaps the most relevant album of 2020. Hunger for a Way Out is the perfect essence of daily life in 2020: unpredictable, cold, yet glimmering with a bit of hope. This record is simple and minimalist, both in composition and production—pairing a classic post-punk approach with tactile pop sensibility and a vocal prowess both operatic and divine. An album that still gives me chills even after hundreds of listens.
UNITED MUTATION — Dark Self Image LP (Radio Raheem)
Long-awaited collection LP from DC's true outsider hardcore group. If NO TREND's Too Many Humans hadn't been reissued as part of a $75+ box set on a major-distributed label, then it'd be sharing a spot with UM, but I digress. Radio Raheem's commitment to quality shines yet again on Dark Self Image, unearthing six unreleased tracks and a plethora of museum-quality prints from the UM archives.
GREG BENEDETTO
Greg Benedetto plays guitar in S.H.I.T. and has been making shows & tours happen for years.
How do you sum up this year? It's easy to come up with ten incredible records if you were paying attention. But how is that a measure? 2020 feels like a lost year. Had I spent the year going to and playing shows, my sentiments would be different but it must be said. So much of the best parts of this thing aren't the records. I'm hopeful for what the future can bring, though. I left 2020 believing that connection can be more meaningful than ever. Many of us long for that feeling more than we have in years. All that said, I cannot wait to see the bands that made this music in the future.
SUBDUED — Over the Hills and Far Away LP (La Vida Es Un Mus / Roachleg)
If there's been a metal-crust revival in the past few years, this record might be its ultimate artifact. Crunchy and mean guitar tone. Apocalyptic lyrical styling. Appropriately mid-tempo riffage. Easily my favourite Le Rat band.

ALGARA — Enamorados del Control Total EP (La Vida Es Un Mus)
Before everybody was trapped at home playing with drum machines and synthesizers, there was ALGARA. Pure, primitive synth-punk with bite. They also released a promo tape this year with full-band recordings taking these tracks to a whole other level. Very excited for the impending LP in 2021.

SWEEPING PROMISES — Hunger for a Way Out LP (Feel It)
I think this record caught everyone off guard. If there was a demo or any earlier recordings, I hadn't heard anything about them. What a fucking move—dropping an LP and it being undisputed as one of the best of the year. I'd be willing to bet it's in a number of these lists. Just brilliant, angular style post-punk. Top-shelf songwriting.

KOBRA — Confusione LP (Iron Lung)
The Occult Punk Gang has been doing awesome shit in Milan for years now. We got to play with KOBRA a couple years ago at the Allucinazione Metropolitana that some of the members organize, and it was a raging gig. This LP is an embodiment of the chaos—a nasty recording full-tilt forward, blasting with everything in the red including the … saxophone? Chaotic anarchic style. Check out the Oltre Lo Sguardo Comp on Bandcamp if you want to dig more into their world.

MURO — Pacificar LP (Adult Crash / Beach Impediment)
SPECIAL INTEREST — The Passion Of LP (Night School / Thrilling Living)
2020 has put these records together for me. Both these bands played the final Not Dead Yet in 2018, when people were just getting to know them. And both were among the best sets at Static Shock Weekend in 2020. They both left that festival ready to take over the world and ended up in a race against lockdowns to get home just a few days later. Here's the thing—both of these records are these bands' best work yet. MURO got more furious—every single player in that band might be the best in the genre right now. Watching Rafa play from behind the drums at SSW was actually jaw-dropping. Equally as impactful was Alli's on-stage command a couple nights earlier. DIY Space for London (RIP) was throbbing during SPECIAL INTEREST's set. I sincerely hope that in the future these bands can collect on their real dues.


STRAW MAN ARMY — Age of Exile LP (D4MT Labs)
Another surprise in 2020. A record that dove into the political reckonings of the moment, members of KALEIDOSCOPE created something that captured the energy of the year. What if the WIPERS had ALTERNATIVE's approach to songwriting?

CLOCK OF TIME — Pestilent Planet LP (Static Shock)
Out of the ashes of DIÄT, Pestilent Planet pulled back on the synth elements of the members' previous works and turned up the overdrive. I heard DIÄT might be done(?), true or not, and this LP is a worthy successor.

DARK THOUGHTS — Must Be Nice LP (Drunken Sailor / Stupid Bag)
This one might be DARK THOUGHTS' masterwork thus far, and that's saying something, giving the first two LPs were flawless. "It's so easy to be lonely, it's so hard to be loved," hits ya right in the gut. I spent the week before the world ended sharing drinks with DARK THOUGHTS, and those days would've been among the best of 2020, even if nothing good has happened since.

POISON RUρN — demo CS (self-released)
I don't know if there were fewer demos this year (which makes sense), or if I just wasn't paying enough attention (also makes sense). This was without a doubt my favourite tape of the year, either way.

PUBLIC ACID — Condemnation EP (Beach Impediment)
I had decided on ten, then this damn thing came out. Hardcore record of the year. Ultimate slammer. A perfect synthesis of influence into something wholly new and raging. The first post-pandemic PUBLIC ACID pit will be a total warzone.

Ultimate honorable mentions to DESTRUCT, PERMISSION, BIG CHEESE, MISANTHROPIC MINDS, BARCELONA, The CHISEL, ZULU, SIAL, WHITE STAINS, LEBENDEN TOTEN, GELD, OILY BOYS, EXPLORATOR, REAL PEOPLE, KRIGSHODER, SOLDIER'S DISEASE, and that CONTAINER set at SSW.
NOEL GARDNER
I live in Cardiff, Wales, UK (note for the curious: pipe dream is of a future where the last of those is not applicable, aka Welsh independence), write about weird music of no fixed style, and promote DIY shows when such things can be done without "killing yer gran" as the saying goes.
1. SPECIAL INTEREST — The Passion Of LP (Night School / Thrilling Living)
The best punk band on the danged planet, and the one which Spoke To Me more than any other in 2020. I mean, I hate all that breathless "this is a snapshot of the moment" soundbite shit you read about this or that release, and "band of 2020″ feels like a truly backhanded compliment—it should probably apply to one who can't play shows because they've never met each other or something. However, SPECIAL INTEREST was the last band I saw this year—a show I co-booked in Cardiff in mid-March, at which point they were semi-freaking out about getting stuck on this horrible island—and they absolutely held it down. I've preserved that moment in amber, so to speak. Anyway, The Passion Of has gabber kickdrums and industrial squeal guitars and queer love/lust/sex and multi-religion blasphemy and wholesome hate for gentrification and some cool ideas for dangerous things to do on party drugs and I don't think I'd remove or change any of it.
2. DATBLYGU — Cwm Gwagle LP (Ankstmusik)
The best Welsh (language) band ever dropped an end-of-summer surprise, and it harboured some of the finest moments of their "career," which stretches back nearly 40 years if you overlook a big old gap within that span. Irascible poetry in the mother tongue by David R. Edwards, and a few rare vocal turns by Patricia Morgan overlay crumpled up minimal synth bizzarity, and the nuclear fallout of the FALL at their most fallen. DATBLYGU haven't learned a single thing about how to be a "proper band" in their whole life, and in this they shame most "proper bands" who have.
3. XYLITOL — I'm Pretty Sure I Would Know If Reality Were Fundamentally Different Than I Perceived It To Be EP (Thrilling Living)
The best lyrics encountered on a single release since the midnight clock of 2020 chimed its doom! (So many are saying this that it practically feels played out noting so, but…they're doing that for a reason.) I remember XYLITOL's …Is Toxic To Pigs? EP being a decent enough slice of nu-Olympia HC, but these six songs just go over the top by way of screeching pogo mania that lets its riffs gleam like swords amidst the din. It's catchy, too!
4. MARA'A BORKAN / مراة بركان — Demo CS (A World Divided)
The best feminist metal-punk band from Tunisia? If I was the betting type, I'd stick my last farthing on it. No one (except maybe Ghas from the fully sick A World Divided label) seems to know anything about MARA'A BORKAN—they have a Bandcamp page that says the two songs on this demo were recorded in 2015, but the tape version came out this year, and when I for one heard the vicious slo-mo hardcore riffing and air raid-siren vocals, infinite rewinds followed.
5. BLIND EYE — Demo CS (Viral Age)
What do you get when seasoned heads from (following list heavily truncated for reasons of brevity) ENDLESS GRINNING SKULLS, HERESY, and PITCHSHIFTER form a psychedelic thrash unit with a burger restaurant proprietor on vocals? Not Ray Kroc's Anarcho Goth Britcore Industrial Metal Experience, but the immense debut tape by BLIND EYE out of Nottingham. There've been more hyped UK hardcore bands in the last 12 months—no shade or anything, if this list was a top twenty, some would probably be in it—but this demo boiled my brain right to the end, the end being a freak-jammer of a song called "End," lasting nine minutes.
6. GARRAPATA — Demo CS (Roachleg)
The best ultra-shit-fi "every Bullshit Detector band playing at once" duo from Chile? I would happily comb its rangy terrain length and width-ways to back up my conviction. Frankly unreal drum sound on this five-song demo; GARRAPATA is, possibly what, I thought PUSSY GALORE sounded like as a young'un, based on reading reviews of them by losers but without being able to hear their music.
7. GELD — Beyond the Floor LP (Iron Lung / Static Shock)
Psychedelic thrash unit, second edition. While not actually as psych on their second LP as on 2018's Perfect Texture, they list meth and DMT among its influences, so maybe they see things differently. The Melbourne hardcore family tree that fruited this band has produced many prize specimens—KRÖMOSOM, LEATHER LICKERS—but this lot are the last word. Prepping myself to laud this album's recording, I just realised it was done by someone from BLOOD DUSTER, which is mildly amusing (like BLOOD DUSTER). Anyway, winter is here now, so I'm going to wear my beautiful and warm GELD sweater with the Sam Ryser graphic and feel unwarrantedly swish.
8. COLD MEAT — Hot and Flustered LP (Helta Skelta / Static Shock)
Bearing west, we reach Perth, and the debut album by COLD MEAT, following that ripper debut tape (five years ago, mind—time flies when nothing good happens in the world) and various 7″s. An undisputed unveiling of their own voice, albeit the POISON GIRLS vibe I get from this LP is a big part of why I dig it so much. Everything Kyle the guitarist lays down has a hook in it, even when it's more feedback than anything else, and Ashley the vocalist has a knack for somehow landing on the perfect phrasing to convey a scene or opinion. Sometimes that opinion is "I HATE MUSIC THAT'S DUMB AND BORING" (caps lock mandatory).
9. MURO — Pacificar LP (Adult Crash / Beach Impediment)
The act in this top ten least likely to require 'splaining to prospective readers about why they whip ass? That's what the numbers have crunched, so I won't prattle on, but MURO are just a stone killer hardcore band, equal parts anthemic and chaotic, and people lionise them for a reason. I could have put their split LP with ORDEN MUNDIAL in here instead—in fact, let's say that's what I am doing, in a Trojan horse kinda style.
10. BLÁ"M — Flower Violence 12″ (Box)
Bass-driven sludge from the northeast of England, formed from the remnants of TOUGH TITS and offering songs about objectification and Twin Peaks and Dostoyevsky, with a sound that's something like BRATMOBILE if they were an early '00s Load Records band. It could have been made just for me! But in a more truthful sense, BLÁ"M did it for themselves, and maybe that great and fiery force will leave you feeling like they're a band for you, too.
JASON RYAN
Jason Ryan is a regular MRR reviewer. This is his ten year anniversary of writing for MRR. He's a graphic designer/illustrator originally from NY.
What is a noteworthy sentiment about 2020? It was hard. It was extremely depressing at times. It was isolated. It demanded creativity. And it may continue into 2021! So let's make the best of it. By that I mean: I was "forced" to make art, remodel/redecorate/repair, revisit all the material crap I have that never gets attention due to social "obligations," and find new ways to stay in touch with loved ones. More FaceTime than I've ever experienced, care packages, reading or ogling art books, endless home DJing, movies (enjoyed on VHS by work setup), finishing long-incomplete games, exploring familiar nature beyond the urban constructs, taking a few health-conscious trips, and almost perfecting new recipes! I wish everyone the best. Let's embrace the finest aspects of the past, especially with our DIY talents (i.e. boycott big business). Speaking of the past, here are a few fantastic reissue mentions: CROW — Last Chaos LP (Prank), TOTALITÄR — Sin Egen MotstÁ¥ndare LP (Prank), DOOM — Pretentious Arseholes 7 inch Collection (Agipunk / Sonarize), DISFEAR — Soul Scars LP (Havoc), and KOHTI TUHOA — Elä Totuudesta EP (La Vida Es Un Mus). Peace & cheers.
LIFE — Ossification of Coral LP (Acclaim Collective / Desolate / Distro Rakkos / Not Enough / Punk Bastard)
Crust album of the year. Perfect, in my opinion. Tokyo.
ILLYA — Microcosmos LP (SPHC)
Artistic, passionate, irreverent, unhinged, beautiful. Absolutely love the sleeve design, art, and silver gloss printing too.
HUMANT BLOD — Flykten Fran Verkligheten EP (Desolate / Havoc)
For sheer speed. Low-key best drummer in hardcore right now. Not flashy. Hardcore.
RIGOROUS INSTITUTION — Survival / Despotism 45 (Roachleg)
Not many bands sound like this anymore. Kudos for keeping it weird and wild.
NIGHTFEEDER — Rotten Demo CS (self-released)
I love that '90s New England/Tri-state area sound. This is from Seattle this year.
INTERNAL ROT — Grieving Birth LP (Blastasfuk Grindcore / Headsplit / Iron Lung / 625 Thrashcore)
Haven't heard grind this smoldering in decades. Admittedly, I'm not always on the modern grind pulse, but, hot damn. Grieving this one onto the list, for the Year With No Time, without apology.
AFTER — Blind EP (Desolate)
Metal-punk death bombaster with some lengthier tracks. Reminds me of late '80s/early '90s Scandinavian bands. But NY! Vevarsle!
HAAPOJA — Mullan Keskeltä LP (Nerve Altar)
Still a very underrated, technical, blackened, death metal/punk band. Finland.
NIGHTMARE FUEL — A Vaccination for the Social Plague digital (Atrocious Disarray)
This project is prolific, chamber—cold albeit blazing, dare I say catchy hardcore crust with agonizing lyrics.
SUBDUED — Over the Hills and Far Away LP (La Vida Es Un Mus / Roachleg)
This one is erratic and took some getting used to. However, it eventually spun me back decades into a familiar anarcho-punk void with post-punk synth ambiance and a dash of crust. FLUX, ICONS, EXIT, ZYGO, SECT. Variety and surprise is the spice of life!
NIC WARNOCK
Nic Warnock (Sydney, Australia) ran the R.I.P. Society Records record label. The last few years, he splits his energy between operating the retail haven Repressed Records and nurturing a beautiful child. 
Here's ten favourites from 2020 that fit within some made-up parameters to narrow the field. I cannot explain these parameters but it has something to do with things that I think would be acceptable within a real-existing punk community, which is actually much more conservative than the open minded coverage of MRR. Releases by the GREEN CHILD, SLEEPER & SNAKE, HOME BLITZ, KOMARE, CURED PINK, CHRONOPHAGE, the LAVENDER FLU, TRIPLE NEGATIVE, TROTH and TSAP have been excluded for their esoteric ways. I have written about some of these records in greater depth on the devil's platform.
CONCRETE LAWN "Ž— Aggregate LP (Urge)
Always a great live band, but I didn't expect such a forceful record! It fills the big sonic void left by Canada's OMEGAS, meaning it both grooves and slams.
THE COWBOY — Wi-Fi on the Prairie LP (Feel It)
Eleven songs of effective, minimal punk rock'n'roll with an extremely dry, absurdist sense of humour. While they're not a "funny" band, there's a real commitment to an awkward long-form comedy bit, like if the PAGANS were reimagined by Gregg Turkington.
G2G — Animated Satisfaction EP (Self Released)
G2G are a musical micro-gang. They are ok with being a blight on the shiny surface of Sydney, sticking their tongue out at rock orthodoxy and DIY trends, whilst still rockin' out and feeling a part of the cheeky contrarian legacy of underground favourites like the VASELINES, FLIPPER and the AXEMEN.
GELD — Beyond the Floor LP (Static Shock / Iron Lung)
While a lot of contemporary hardcore's hoarders of hype rely on clever positioning and manufacturing larger-than-life personalities, Melbourne's GELD remain relatively anonymous. Their industrial hypercolour hardcore has an impressive power-to-noise ratio and incorporates a broad range of extreme guitar music styles in a cohesive and unique way.
HORRID RED — Radiant Life LP (Holidays / Soft Abuse)
I'd place the fourth LP by HORRID RED record alongside ORION and DIÄT in their ability to grab something out of the '80s melancholy post-punk template without resembling an empty, hip facsimile. While the grit of members' former project DER TPK is gone, there's still an unmanicured quality to the records that lets personality and atmosphere shine through. The off-the-cuff quality to both Bunker Wolf's German-language rants and the layered guitar/bass/keys melodies result in some uncanny bangerz.
INTERNAL ROT — Grieving Birth LP (Blastasfuk Grindcore / Headsplit / Iron Lung / 625 Thrashcore)
While FACELESS BURIAL's Speciation is certainly contender for album of the pandemic, it's ineligible for this list as there's a tact to their death metal comparable to KING CRIMSON. Thankfully, INTERNAL ROT counts, as their musical virtuosity has been exclusively channelled into a thousand-thrills-a-minute slab of no-frills grindcore gold!
LAUGHING GEAR — Freak Lemons CS (self-released)
Punks embracing synthesizers can be a world of potential, but it's often hindered by faddish execution. Thankfully, LAUGHING GEAR play nasty and inventive music that combines the musical sensibilities of the HUMAN LEAGUE with the nihilism of Ralph Records/Target Video-associated industrialists.
NIGHTCLUB — Private Party LP (Urge)
A record in the lineage of timeless rock'n'roll like the STOOGES, the SAINTS, 15-60-75, and ROYAL TRUX, while being firmly of-the-now, thanks to some ingenious production tricks. No 30-year-old-pivots-from-punk-to-rocker malarky detected.
OILY BOYS "Ž— Cro Memory Grin LP (Cool Death / Static Shock)
The act of being a long-haul band has resulted in an actual album that encompasses different facets of OILY-history. The album flows from their signature HELLHAMMER-meets-midwest hardcore stomper to a series of faster DISCHARGE/RUDIMENTARY PENI numbers, a brief detour into dubby esoteric paranoia, more stompers, more riffs, more craft, more excellence, and the final descent into madness on "Gtrance." It's a record that pushes back at the notion of contemporary hardcore being a purely stylistic exercise, but also avoids irony-poisoned contrarian moves as a substitute for writing actual tunes or saying anything important. It is very, very good.
PERSPEX — Torch EP (No Patience / Sexy Romance)
Without making some corny/tribalistic declaration of their being a New Sydney Style of Hardcore, there's a nugget of truth in there. There is some unifying and hard-to-quantify approach to 21st Century Punk that links this record to essential 2020 LPs from OILY BOYS and CONCRETE LAWN. PERSPEX have signed a non-alignment pact and are looking for a third way outside of Hardcore For Hardcore and Mysterious Guy Hardcore. You could draw a line back to Damaged-into-My War-era BLACK FLAG, LIFE'S BLOOD, early Touch & Go releases, and a touch of Xclaim thuggery, with the off-hinge instrumentation and "sonic" aspects balanced with a surprisingly staunch vocal performance.
THE BOOK OF 2020: The Jakarta Method: Washington's Anticommunist Crusade and the Mass Murder Program that Shaped Our World By Vincent Bevins. 
Although Indonesia is the fourth most populated country on Earth and a cheap holiday destination for loud Australians, their history remains buried. Via declassified CIA documents and thousands of interviews, Bevins reveals how over one million Indoneasian civilians were killed in 1965 as a direct result of fanatical anti-communism backed by the US It also illuminates how Indonesia became the template for more CIA orchestrated bloodshed around the world. While a devastating story, it's an invaluable account of a far too invisible chapter of modern history. It illuminates real power and why the world is like it is today. Check out Vincent's appearances on the Aufhebunga Bunga and TrueAnon podcasts for an entry point.
TOP PODCAST OF 2020: Barely Human
CHRIS LANDRY
Chris Landry is a librarian in Toronto who wrote the zine Kiss Off and played in the band CHILDS. His current project is PANIC BODIES.
LAVENDER FLU — Barbarian Dust LP (In The Red)
I got into this when the surreality of the COVID-19 pandemic was first setting in. I know it's a meaningless coincidence that they have "flu" in their name, that the cover is a dude in a mask, and that they sing about "waiting for the world to end" and how they'll "see you at the record store in the next life," but that didn't stop me from enthusiastically inflicting this record (virtually, at a distance) on anyone who would listen like it was the definitive document of the moment.
CRY OUT — More Echoes of A Question Never Answered"‹."‹."‹.Why? 12″ (La Vida Es Un Mus)
A no-brainer. Ironic that a record whose cover is a direct reference to CRASS' Penis Envy is still the most original-sounding release of the year.
BRANDY — The Gift of Repetition LP (Total Punk)
I can't remember the last time I heard an opening track more relentlessly earwormy than "(Wish You Was) Madball Baby." The record breaks out with a level of swagger and disrespect that catches you off guard, and you can either be pummeled by it or join in on the obnoxious party as the world burns.
ALGARA — Una Cosa MÁ¡s Sin Sentido Alguno Usada Para Hacer Rico Al Mismo De Siempre CS (La Vida Es Un Mus / MDA)
These Barcelona political post-punks come out with driving vocals and angular guitar that's straightforward enough at first, but on a repeated listen or two it gets under your skin. Soon, I found myself anticipating certain riffage, certain drum touches (both live and machine), and specific anthemic vocal refrains. I can't wait for the full-length. A bona fide heavy spinner.
ADULKT LIFE — The Book of Curses LP (What's Your Rupture?)
Fuck yeah, as a Gen Xer who was totally into HUGGY BEAR and did a zine, this angry slab was right on the money. The cut-and-paste liner notes declare "I want to hear more lyrics about the constant disappointments of being an adult." Chris sounds as good as he did in the 90s, if less anthemic; instead, he's coupled with echoing saxophone and eerie synthetic sounds. Adult, but without a second's hesitation to its visceral rage.
THE COOL GREENHOUSE — LP (Melodic)
I've been onboard since the release of the Landlords 7″ and am glad to see the LP measured up, full band and all. With vocal resemblance to the MODERN LOVERS or the more monotone offerings of PARQUET COURTS, the repetitive instrumental bits totally work with Tom Greenhouse's weary satire. He makes it sound easy, but like JONATHAN RICHMAN once sang, "if someone else can do it, how come nobody does?"
PRIMO! — Sogni LP (Anti Fade / Upset! The Rhythm)
Continuing the dominance that Australian bands have over my record collection is the new slab by PRIMO. Primal melodies, both catchy and memorable. I put this on every time I can't decide what to put on.
STRAW MAN ARMY — Age of Exile LP (D4MT Labs)
History-obsessed hardcore like the MINUTEMEN, but without the intricate D. Boon guitar licks. At first I wasn't sure what to make of the instrumental interludes, but the rest of this record is so full of content, you sort of need that room to breathe. It's hard to pull off a record this earnest and complex, but it works and it's worth it.
ALL HITS — Men and Their Work LP (Iron Lung)
Stripped-down punk rock from Portland, mixing great sing-along, shouted, and sung vocals that are properly passionate and pissed off. Not dressed up with a lot of effects, save for some cool tape weirdness in the intro. No seasoning, just raw nutrients here.
BLOWINS — Poudawaj ze zyjesz LP (Going Postal / Pasażer / Senseless Acts of Anger)
I remember digging Dublin-based BLOWINS' LP after reading their interview in MRR a few years back, but not getting super heavy into it. But this latest offering is so relentless, driving, and dark—appropriately dour for a band caught between Brexit and the ravages of the Law and Justice party in their native Poland. Take the downcast guitar tones in "Frank" or the torrential chorus of "Plastikowy Jezus." I love the sound, I love the cover, I love the vibe of it all. Unimpeachable.
CAMILLE LERNER
Camille Lerner presents a bi-monthly MRR radio show in London with their mates Sean and Ben. Before the pandemic, they played in SCRAP BRAIN and STRONG ARM, now they just play Xbox. All the music on this list has prevented them from totally mentally unravelling this year. 
LITURGY — Origin of the Alimonies LP (YLYLCYN)
Maybe you're yelling "hOw iS a BLack mETaL oPeRA PUnK?" and yeah fair point, but Hunter Hunt-Hendrix's ability to piss off sketchy trve kvlt nobheads is punk as fuck. Also, this record seems to have brought a hell of a lot of joy to a whole bunch of queer punks and, as one of those queers, I think that counts for a lot. It's one of the most beautiful, moving, and cathartic albums I've ever heard, and it came out at exactly the right time.
CISECTOMY — digital demo (self-released)
Cisectomy is the one-person hardcore lockdown project of Josie Turner (of Oxford bands WORRY and JUNK WHALE). This demo is packed with face-melting riffs and razor sharp lyrics, and I strongly recommend it to all my pissed off trans siblings who have a G.L.O.S.S. shaped hole in their hearts. Fantasising about watching a full-band CISECTOMY set in the basement of the Library in Oxford has been getting me through the pandemic.
ES — Less of Everything LP (Upset! The Rhythm)
The coldest music made by the warmest people, I love this album of brutal post-punk by London's ES. Sometimes when I've watched them live while over-tired, my brain has been totally incapable of processing what I'm hearing, which I think is very cool. Tamsin's drumming is so tight and feels sprawling and infinite, like a possessed drum machine. Katy's bass tone is perfect. Flora's synth lines and sound remind me of the ghosts from Super Mario, and Maria is a brilliant lyricist with this amazing, harrowing vocal delivery.
NEKRA — Royal Disruptor EP (La Vida Es Un Mus)
I like listening to this record and pretending for a blissful seven minutes that I'm at DIY Space for London or New River Studios watching NEKRA totally killing it. Their riffs are relentless, Spooky has incredible stage presence, and they're always spot-on live, so it's great to have more of their music for moshing around my living room.
PEST CONTROL — digital demo (self-released)
Punishing crossover thrash from Leeds. PEST CONTROL are the exterminators that we all need to rid ourselves of 2020. I can't wait to hear more from them and see them play live! I feel proud that the bass I got for my fourteenth birthday has been given a new lease on life as the bass used in this band.
BLÁ"M — Flower Violence LP (Box Records)
BLÁ"M are a queer punky noise rock band from Newcastle. They sound like a terrifying fever dream: the layers of effects on the complex basslines are disorienting (in a good way), but the drums keep pushing through, helping you stay somewhat anchored. Meanwhile, the vocals pierce through the miasma of sound like an ominous lighthouse, it all feels like it could explode or implode at any minute—there's a hell of a lot of tension on this album. This is my favourite thing they've released so far, and I'm very excited to hear what they do next!
EMMA RUTH RUNDLE & THOU — May Our Chambers Be Full LP (Sacred Bones)
This record is a spooky sludgy ethereal swamp monster, and I absolutely adore it. I was already a huge THOU fan, but I hadn't listened to much EMMA RUTH RUNDLE, so this was the perfect introduction. THOU's sound has really morphed into something new on May Our Chambers Be Full: it feels less like you're watching the world burn and more like you're attending a ritual sacrifice. I think a lot of that is due to Emma's incredible vocals.
SKELETON — LP (20 Buck Spin)
Fucked up punky black/thrash metal from Austin, Texas. I like that SKELETON don't mess about: their songs tend to be fairly concise and to the point, with incredible riffs and punishing drums. It's perfect for punks with short attention spans. I absolutely love the album artwork for this one.
RYAN HERTEL
Ryan Hertel was a shitworker and record/zine/book reviewer for MRR for three years in San Francisco. He's now living in Portland, OR, and collecting hobbies while working in a funeral home. See him do things on Instagram, and follow his weirdo movie obsession.
I like to find new music at shows, and except for a short couple of months, 2020 took those away from us all. Luckily, there have still been some rockin records thrown out into the world during this time. A few have really helped in this time of isolation.
THULSA DOOM / THE VIRUS — split 12″ (Sit and Spin)
I was lucky enough to see both of these bands in December 2019 at a giant, crowded hardcore festival in LA that now seems like an impossible memory. This split is thoroughly killer all the way through. THULSA DOOM and the VIRUS are two important exhibits in the public trial of "hardcore never dies." This has been an important record for me to flip relentlessly while laying in my room waiting for things to get better.
DAYS N DAZE — Show Me the Blueprints LP (Fat Wreck)
I never knew I wanted a combination of OLD MAN MARKLEY and DEFIANCE, OH in my life, but I am so glad to know now about the existence of DAYS N DAZE. The alternating vocals, the menagerie of instruments on top of each other, the dance breaks, the washboard! This is sweaty, smelly, good times party music for everyone who has ever wrapped their arms around strangers and sung together at a show. I needed this.
GAYTHEIST — How Long Have I Been On Fire? LP (Hex)
GAYTHEIST was the last band I got to see before the shutdown in March, so I have been holding onto those memories tightly. This album is at times soothing beauty and at others complete sonic chaos. Throughout, GAYTHEIST have shown themselves to be completely unique and happy to show it off. The album opener "The Dark Deep" is some special kind of magick for just how much it has made me happy whenever it comes on.
THE BOMBPOPS — Death in Venice Beach LP (Fat Wreck)
Like Warriors from 2017 was for BAD COP/BAD COP, this album will stand in their discography as the moment when the BOMBPOPS really figured out their sound and blew it out of the park. The band did not seem afraid to explore some real dark moments and present a truly sincere record. This has been and will likely stay in my heavy rotation for a good long time.
THE HOMELESS GOSPEL CHOIR— This Land Is Your Landfill LP (A-F)
Derek Zanetti has an unparalleled ability to sing protest songs about the world being on fire and make them sound super fun and ripe for a party! The poetry here is fun, relatable, and never stale. You are getting preached at, and while the HOMELESS GOSPEL CHOIR may be preaching to the…choir, it feels important to keep getting reminded about the collapse happening around us, left we forget. I will always be ready
PLANET JACKPOT — Learns to Play Music CS (Get Better)
This is somewhere between that guy you see at house shows circuit bending toys and screaming and an ATOM AND HIS PACKAGE revival. This is "fuck it, I'm going to make music" music. It's sincere absurdity, and it's punk. I love finding something new that can't be defined or predicted, and PLANET JACKPOT has that in droves. I hope this Get Better Records debut is a sign that we'll see a lot more of this when we're safe to crowd into basements and watch people make art again.
WAR ON WOMEN — Wonderful Hell LP (Bridge Nine)
We're approaching a decade of WAR ON WOMEN and they have not slowed down one bit. Shawna Potter is one of my favorite vocalists at the moment, so I was pumped for eleven more hardcore songs with her leading the charge. This came out after six months of pandemic and was a necessary shot in the arm for me. A high priority for me, when possible, will be to see these songs played live.
ENVY — The Fallen Crimson LP (Pelagic / Temporary Residence Limited)
These post-hardcore veterans from Japan almost stand alone in their ability to blend so many soundscapes and still come out the other end sounding melodic and almost meditative. This is an album that has taken me to another place every time I've listened to it. The whispers and the growls and the shouts and the screams all make this one of the most powerful records of the year.
CRY OUT — More Echoes Of A Question Never Answered…Why? 12″ (La Vida Es Un Mus)
As a big CRASS fan, this four songs collection reeks of their influence, and that's rad. Unfortunately, Rosie Davis died before this release was ever completed, so we'll never know what could have come next. However, this 12″ will stand as a wonderful document to what awesome noises she could create. I will definitely be playing it frequently.
SUZIE TRUE — Saddest Girl at the Party CS (Get Better)
By dropping this right after Thanksgiving, this trio just barely squeaked into 2020 and they're closing it out with some magic. Since we didn't have anything new from POTTY MOUTH or SKATING POLLY in 2020, SUZIE TRUE has filled that hole perfectly. This is a three-person pop wonder that has lifted my spirits as we approach the darkness and cold on the horizon.
MICHAEL DE TOFFOLI

Michael From the North Bay has been contributing to MRR since 2015 as a columnist, reviewer, and as the host of his remote radio show for MRR Radio. xLA=>SR=>SF=>PDXx
You can reach him at banddramamrr@gmail.com.
…WHATEVER THAT MEANS — Revolving Doors LP (World Domination, Inc.)
I discovered the South Korean punk scene this year, and did a deep dive into what World Domination, Inc. has been producing. Fantastic enjoyable street punk/pop punk that gets the energy going while still keeping the fun aspect. Made me miss partying. Made me appreciate people.
PI$$ER — Crushed Down to Paste LP (SPHC"‹)
This record was simply one of the most creative things I've ever gotten to hear. It's like a Cronenberg monster of GAUZE and the SAINTS, and it was so refreshing to experience that in this time of separation from the world. Very refreshing to hear such an original and fearless band.
ACRYLICS — Sinking In LP (Iron Lung)
It's hard to put this record into words. It can be such a slug to the jaw without a moment to digest all that's happening, but then they'll give you these atmospheric moments to finally take stock. In those moody breathers there's a lot to process, and this is such a good record to process again and again. Rep 707.
SOAKIE — 12″ (La Vida Es Un Mus)
There's something to be said about eye-catching album artwork, and I think we all saw this record cover and were immediately intrigued (I also feel like I've known this record forever, but it's only been 11 months??). I'm really honored to have this in my collection, and it's a definite early candidate for album of the decade.
ALIEN NOSEJOB — Once Again the Present Becomes the Past LP (Zenith)
The smiling thing on the cover is a great visual representation for how I felt the first time, and every time, listening to this gem. It turns me into a smiling thing.
NEKRA — Royal Disrupter EP (La Vida Es Un Mus)
Brutal, forceful, powerful hardcore. Another great La Vida Es Un Mus release, and the perfect way to round out the year.

WHIP — Don't Call Me EP (Electric Heat)
I got the opportunity to review one (maybe two?) of WHIP's tapes a few years ago, and it's always exciting for me to see them continuing to bring the pure basement punk aesthetic into the studio. They nail it once again, and make my headphones feel like a house party.
LIMALLA — ¿Ké futuro? Directo LP (self-released)
One of my all-time favorite Cuban hardcore bands. Shout out to the song "Alas del Deseo" for being such a fun and upbeat romp. Gracias Limalla. Mucho amor por siempre.
V/A — Typical Girls Volume 5 LP (Emotional Response)
I'm so proud of this comp series, and always look forward to each one that they put out. Volume 3 I think may still be my favorite so far, but damn Volume 5 might be the most welcome. I think this year made it really hard to feel like any of us are still part of a community, and a beautiful comp series such as Typical Girls made me feel connected again.
GAYTHEIST, VIA VALE, INTERNET BEEF — live at The World Famous Kenton Club, Portland, OR
It was the weekend following the world going to shit, and not everything was totally locked down yet. Such a weird nervous energy where we were kind of like spitting in the face of the pandemic, and also starting to accept that this shit might actually be real. Overall, a lot of love in the room because we were realizing this could be it for the foreseeable future. Also, INTERNET BEEF fucking rules, so fuck yeah.
LUKE HENLEY

Luke Henley has been writing about music professionally and otherwise for about seven years. They play and sing in several bands including MICRODOSER, FIBBER, and SEX HEADACHES. 
CHUBBY AND THE GANG — Speed Kills LP (Static Shock)
Easily the most fun hardcore record to come out not just this year but the last few. It's no easy feat to sound this pissed off and still be so charming. Two things you need to do before the new year: support your local unions and buy this record (you probably already have, you absolute champion).
THE EXBATS — Kicks, Hits, and Fits LP (Burger)
This Arizona band takes everything that made their first record great and doubles down for an extra concentrated brew of life-affirming and power-popping rockn'roll. This is one of the records that kept me going through the hard days of 2020 with its wry humor and potent harmonies. Throw on "Wet Cheeks" when you're feeling down and just try to keep that frown on your face.
RELEASE NOTE: This record was originally released on Burger before the label rightfully dissolved itself after a lengthy series of allegations of misconduct and abuse. The record is currently being distributed by the band itself, and its members could not be kinder or more lovely people.
MAN-EATERS — Gentle Ballads for the Simple Soul (Feel It / Pissed Off!)
From some of the irradiated maniacs behind TARANTÜLA, CÜLO, and BLEEDING GUMS, this new platoon of punks keeps their music filthy and ferocious with enough swagger to make the apocalypse sound like a hell of a good time. This record has riffs and attitude stuffed into every conceivable nook and cranny. Sustenance for all us studded-leather wasteoids
LAVENDER FLU — Barbarian Dust LP (In The Red)
This band's first proper studio album is also its most satisfying and ambitious. Showcasing sneering menace in one moment only to explore the heart of infinity the next, all corners of the human experience gather a little extra dust thanks to this wonderful group of songs. In a year filled with loss, "No One Remembers Your Name" hits the catharsis button hard even the thousandth time you play it.
MURO — Pacificar LP (Adult Crash / Beach Impediment)
A perfect statement of contemporary hardcore that feels decades old and vitally new. The less said the better, turn it up loud and brace for impact.
SUBDUED — Over the Hills and Far Away LP (La Vida Es Un Mus / Roachleg)
This full-length is a superb bummer, like suffocating low clouds that won't stop pissing into your boots. It's sonically ambitious and carries on the adventurous spirit of classic-era UK anarcho-punk without merely rehashing what's been done and done to death.
SETH BOGART — Men on the Verge of Nothing LP (Wacky Wacko)
Warm melancholy permeates BOGART's latest work, which is a standout in a discography full of standouts. Here in particular, he sounds like he's not afraid of anything, least of all earnestness. Each cut is its own beautiful and painfully human world. Transcendent pop.
RICHARD ROSE — Radiation Breeze LP (In the Red)
This is rockn'roll in the pain dimension. Mean and focused, every dial set to search and destroy in under thirty minutes—the way it should be. The players behind this album already have impressive resumes, but this might be the best work any of them have done. Crucial listening.
SPECIAL INTEREST — The Passion Of LP (Night School / Thrilling Living)
This NOLA group veers away slightly from its No Wave-leaning debut to go full techno with eleven punishing tracks of industrialized punk. Alli Logout is one of today's most commanding vocalists, and the rest of the band follows their lead with a sputtering groove that is hard-edged and uncompromising. One of the best soundtracks for a world awakening to its own madness.
LITURGY — Origin of the Alimonies LP (YLYLCYN)
Nothing in LITURGY'S fearlessly experimental history could have properly prepared me for this album. It can't be overstated that this is a major work regardless of genre (or genres, more accurately). This is ecstatic and bold music, unfettered by expectation or context. It exists in its own perfect world where extreme metal, opera, glitch, and club music intersect in novel ways seemingly with ease. While so much music felt appropriately dark this year, this work dares to be light and is no less intense or rewarding for it. It is complex even as it is essential.
ALEX HOWELL

Alex Howell is an Indianapolis-based punk, comics, and basketball nerd. He's a boring 9-5er by day and an even boring-er grad student by night. He recently started reviewing records for MRR and hosts the bi-weekly punk podcast/radio show Garbage in My Heart.
In alphabetical order, here are ten notable releases from 2020. There were plenty more that I wanted to mention and plenty I'm surely forgetting, but you can't go wrong with these. If you want to experience them as I did, queue up YouTube channel Rambalac, which has been a real lifesaver during lockdown. It's just some dude who films walking tours of various neighborhoods in and around Tokyo. But it's what I would put on while listening to the below and reading to make it feel kinda like I was leaving the house. I know it's inherently sad, but every so often I would look up from my book to catch, say, the BRANDY LP syncing up perfectly to soundtrack a ride on the suspended monorail to Enoshima and feel about as alive as one could in this dogshit year.
BRANDY — The Gift of Repetition LP (Total Punk)
I enjoyed BRANDY's previous releases quite a lot. But neither prepared me for how much I'd love this one. The tunes here are clearly great, but it's the mix that helps elevate this above those prior releases. Pushing the vocals to the front allows you to appreciate the rhythmic interplay between the singers and the cretin grooves the band lays down (like downer-punk JAMES BROWN!). "(Wish You Was) Madball Baby" is hands-down my song of the year!
CASSIE — Change My Image / Will You 45 (Reminder)
An entry representing all of Reminder Records, a great new label from Jeremy Thompson (formerly of Sing Sing Records). The label focuses on faithful, high-quality reissues of obscure power pop, punk, and glam. Dude's been busy, too—five 7″s and one LP released just in the back half of 2020(!), all of which are fantastic. But this CASSIE 7″ is by far my favorite. A mix of BLONDIE-equese New Wave pop and PLASTIC BERTRAND-y bubblegum punk. Try listening to "Change My Image" without getting that herky-jerky chorus lodged in your brain—it's been playing on a loop in my head for the past six months.
LAMPS — People With Faces LP (In The Red)
It's amazing to me that these folks can drop a record after eight years of relative silence, add a new member who handles primary vocal duties on half the tracks (Denee Segall from labelmates the CIA), throw in some keyboards(!), and still have it come out sounding like a paradigmatic LAMPS record. But that's just what we got here—a finesse-free, cantankerous onslaught of LAMPS-ian noise. It rips!
MILK — Bricks EP (A-Z / Hysteria)
Nagoya, Japan band playing lightning-fast 81-style hardcore with a bonkers production that makes every instrument sound like it's made out of rubber bands. Maybe the most essential release of the year!
MORWAN — Зола-Земля (Zola-Zemlya) LP (Feel It)
It's always difficult for me to narrow releases I've liked in a given year down to a handful, but including this one was a no-brainer. Such an interesting and impressive album! Alex Ashtaui expands the post-punk template by inserting Arabic instrumentation and Eastern European melodies to create something that's tonally familiar but wholly original. Just exceptional!
NAG — Dead Deer LP (Die Slaughterhaus)
Every year Bannon Green puts something out is a year where that release will appear on my top ten. 2018 had PREDATOR's No Face 7″, 2021 will have Total Punk's upcoming PREDATOR LP, and this year it's NAG's Dead Deer LP. I still have trouble differentiating those bands (I guess NAG is a little more deathrock-y), but either way you can count on a heaping helping of the straightforward, bad-vibes hardcore punk I love. And this LP is no exception. "Art on the Wall" was a solid contender for song of the year.
NEUTRALS — Rent / Your House EP (Domestic Departure)
Perfect melding of UK DIY production, GANG OF FOUR minimalism, and mod-punk singalongs that manages to sound way punker than that description implies. Probably my most listened to record this year. And all its proceeds went to a couple great causes—RAICES (The Refugee and Immigrant Center for Education and Legal Services) and Border Angels. Solid work all around!
SLEEPER AND SNAKE — Fresco Shed LP (Lulus Sonic Disc Club / Upset! The Rhythm)
Al Monfort and Amy Hill, members of roughly 90% of the bands in Melbourne (CONSTANT MONGREL, TOTAL CONTROL, UV RACE, etc.), bring us another album of sax-laden bedroom jangle folk. I doubt you could find a record more pleasant than this that would still qualify to appear on an MRR top ten (and were it not for the members' pedigree, I'd wager this one wouldn't). Both the melodies and the noisy experimentation are so gentle and inviting, while the lyrical content is righteously indignant enough not to totally distract you from the fact that 2020 is a living hell. It's like audio IcyHot to get you back into the fight!
SPECIAL INTEREST — The Passion Of LP (Night School / Thrilling Living)
This record garnered more hype than I'm typically comfortable with, but it's deserved. 2020 has felt like an endless remake of MINISTRY's "N.W.O." video, and The Passion Of is a fitting soundtrack. Relentless industrial pounding and No Wave squalls tempered with glammy melodies—weird harsh music for weird harsh times.
SPYROIDS — Paperboy EP (SPHC)
My initial thought hearing this release was "Well, that's a shame—if only these synth sounds were about 60% less irritating!" But the more time I spent with it, the more I came to realize the synths are essential and these tracks are perfect. Just an annoying, unhinged delight brought to you by the same weirdos behind the COLTRANES.