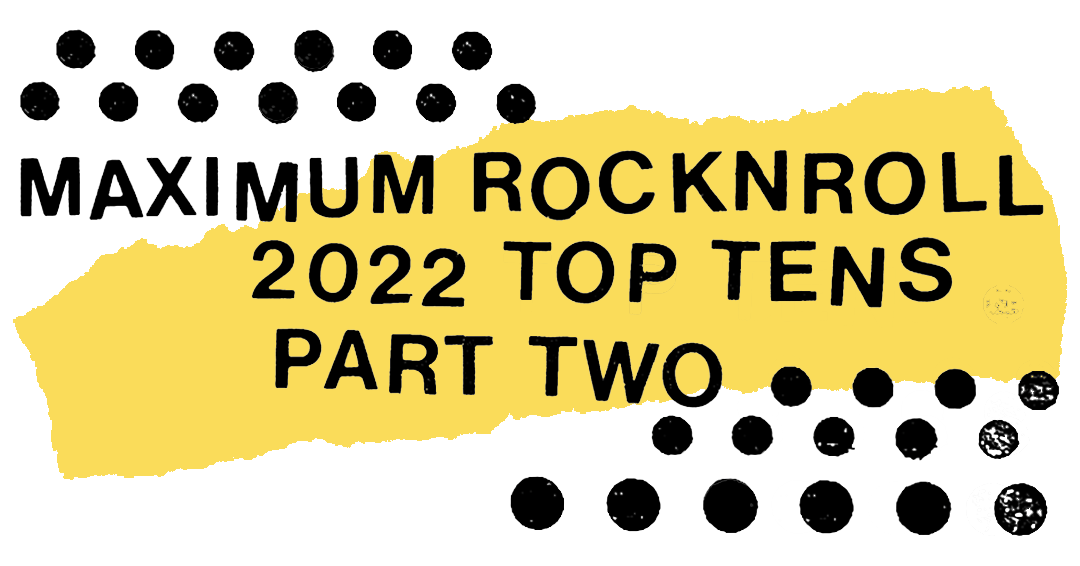 2022 Year End Top Tens, Part Two
And now, stay tuned for more 2022 Year End Top Tens!
Part one is here, part three to follow next week.
BEN MARSHALL

Ben Marshall is a reviewer for MRR. A herbert with a heart of gold, and a short-haired rock'n'roller.
So that was 2022. Shoutout to Static Shock Weekend returning to kill off a further several hundred of my brain cells, shoutout to Damage Is Done III for seeing off the rest, and the biggest shoutout of all to the Marquis of Granby in New Cross for still serving a pint of Guinness for under a fiver.
SAVAGEHEADS – Service to Your Country LP (Social Napalm)
Easily the best record of the year: a turbo-charged slab of UK82 in '22 roundly kicking and spitting and screaming at the governments of the world, military oppression, and any old bastard in a position of authority who deserves it (all of them). The SKEPTIX and PARTISANS comparisons are apt, with enough heft to distinguish it from pure tribute act nonsense. Lean and mean, it's the one record I've been coming back to more than any this year. Crucial.

THATCHER'S SNATCH – Wapping Dispute EP (Hardcore Victim)
If the SAVAGEHEADS release whetted your appetite for a bit of lightning-fast ABRASIVE WHEELS-style piss and vinegar, then you'd do a lot worse than to check out THATCHER'S SNATCH—four politically astute, furious Antipodean rippers for the skins and punx. You can imagine this nestled nicely in a Riot City comp, and is practically begging you to pogo. Be rude not to.

RIFLE – Holloway Demos cassette (No Solution Ltd / Richter Scale)
One of the surprises of the year for me, a debut pulsing with UK82 and anarcho-tinged rage from the North London boys making all the noise. Frontman Max has a swivel-eyed sneer that comes across like a young Jonathan Rotten in Lyle and Scott, his pie-and-mashed vocals supported deftly by thunderous drums, and tight and taut guitar and bass. A live phenomenon too, they are absolutely not to be missed if they roll through your neighbourhood.

SYNDROME 81 – Prisons Imaginaires LP (Black Water / Sabotage)
Unlike a lot of their fellow compatriots, SYNDROME 81's take on Oi! does not plough the same tired furrow of brawn over brain, instead choosing something slightly more nuanced. There's an obvious post-punk influence to some of the soaring riffs and elegiac guitar tone, but it's never entirely unshackled from the robust chassis of the classic Oi! Français sound. Both the iron gauntlet and the silk glove, it's certainly one of the more interesting releases this year.

THE CHISEL / MESS – split 7" (Beach Impediment / Mendeku Diskak)
It truly wouldn't be right to not include something from the most consistent record label going in any 2022 top ten, and I think I've managed to include a MESS release on every single one of these I've done in the past three years, so why break the habit of a lifetime, baby! The MESS boys team up with other doyennes of the Oi! scene (dOi!yennes?) the CHISEL for a split of modern classics.
PUFFER – Live and Die in the City demo cassette (Roachleg)
You know what? Sometimes thinking is hard. I simply don't always want to do it. Thank fuck for PUFFER then, who on this demo provide the perfect soundtrack to not thinking. Pure Neanderthal groove, to get your hips and fists swinging. Can't wait to see what they put out next.

IRREAL – Era Electr​ó​nica 12" (La Vida Es Un Mus)
Despite my enthusiasm for soap, water, and deodorant, I do actually enjoy the odd bit of D-beat, and IRREAL's latest is an absolute rager. Equal parts DISCHARGE and ANTI CIMEX with a Catalan anarchist lyrical bent, it's enough to have you push-pitting at the bus stop. Well worth your time.

BAD BREEDING – Human Capital LP (Iron Lung)
An unrelenting assault on the senses, BAD BREEDING's latest politically-charged thoroughly modern take on anarcho-punk is positively vibrating with a righteous anger that permeates every track. Unsettling and abrasive, this is what punk is meant to be. Punishing, but worth it.

CONSERVATIVE MILITARY IMAGE – Skinhead cassette (Battle Scarred)
Some straight-as-yer-side-parting skinhead rock'n'roll for you here. Tongue firmly in cheek (I burst out laughing at hearing a SCOOTER sample on a Oi! record), it clearly isn't taking itself too seriously, as it shouldn't. Oi! is far too po-faced these days, but that doesn't mean it isn't an extremely fun time. For anyone with an 86 MENTALITY-shaped hole in their life, this might just plug the void.

AMMO – Web Of Lies / Death Won't Even Satisfy LP (Dogmeat / Static Shock / Wallride)
Sneaking in toward the end of the year, this AMMO release really grabbed me in a headlock and wouldn't let go. It's often hard to capture just what makes hardcore so vital on record, and I think this is one of the few releases I've heard in recent years that really seems to embody the utter chaos of the live hardcore experience. Will have you stage diving off the kitchen counter.

BIFF BIFARO
Maximum Rocknroll cassette reviewer, Feral Kid Records, Tetryon Tapes, NERVOUS TICK & THE ZIPPER LIPS.
Stick a fork in that one! Well done my fellow lunatics, another year done and another outstanding year for punk! This isn't my first time doing the following, so I'll save you the long lead-in and sum it up quickly: tapes!
Leaving the records to everyone else's lists, I will be focusing on the cassette releases that have really wowed me this year. Many of them were sent to me by MRR to review, others I came upon in my personal travels, all of which have been (or soon will be) showcased on my sporadic MRR Radio show, First Glimpse From the Crowbar Hotel. 
ABI OOZE – Forestdale Sessions cassette (Rotten Apple)
The best of ABI's releases to date, which is really saying something. I have been a fan of this project since cassette number one, and it just keeps getting better. A style that's a little difficult to perfectly pinpoint, it truly is the perfect blend of so many aspects contained within the punk umbrella. Released on the still-in-its-infancy Rotten Apple, which people may recognize as being the next step in the evolution of Lumpy Records. I don't know, it seems Martin reached the top of the shit heap and just decided to hit the reset button and start over with a brand new label. So far, so good!

BIG SCREEN – demo cassette (Earth Girl)
Relentless hardcore punk, exactly what we have come to expect from the wonderful land of Hattiesburg, Mississippi and particularly the heavy-hitters in this group. Can they touch anything that I won't think is a masterpiece? Seeing this band absolutely destroy in a living room after a particularly difficult drive in a constantly breaking down van was life-reaffirming. Thanks Hattiesburg. Members of JUDY AND THE JERKS, for anyone who needs further reason to give it a listen.

CARTONES – Sala de Espera cassette (Discos Corrosivos)
A wise man once told me "every year that goes by, everything gets a little bit worse, and the late-era RAMONES records get a little bit better." Sometimes you just need new music reminiscent of that era. After all, how many times can one really listen to Mondo Bizarro? Wait, don't answer that, it's a lot. An Argentinian band that has a similar flair to LOS EXPULSADOS, Argentina's premiere RAMONES-worship band from yesteryear. Hell, one of the members from EXPULSADOS even plays guitar on one of these catchy numbers!

CLASS – demo cassette (Feel It)
I promise I won't gush too much about this. I think my short novel of a review of the cassette said it all and then some. Just go listen to it. There's an LP out now on Feel It as well, and it's awesome. Gimme more!

EGG IDIOT – HELP! cassette (self-released)
As someone who doesn't have the highest of self-esteem, I often refer to the music I make as being "too stupid." Well, as could possibly be guessed by such a name, EGG IDIOT puts me to absolute shame on this, and has made me reevaluate that type of commentary. Solo project from Leipzig, Germany, which is performed live while wearing an enormous homemade egg costume. If you haven't heard this project yet and you're ready to embrace The Dumbening, cue up the insane animated music video to "Feel Like a Dog." I promise you won't be disappointed.
GOD PLUTONIUM – Demo 2022 cassette (Kill Enemy)
The crew of idiots steering the ship over at Kill Enemy have yet to let me down. Seeing ILLITERATES and LITTLE ANGELS play this year was absolutely among my favorite shows of 2022. Any time a cassette comes in from them to review, I know it's going to get played a lot over here. Six songs of pummeling, nasty hardcore punk which is over as soon as it starts.

RESEARCH REACTOR CORP. – USA 2022 Tour Tape cassette (Electric Outlet / Warttmann Inc.)
An undeniable highlight of this past year for me was being on the road driving LEOPARDO from Switzerland on their U.S. tour. This tour brought us to Gonerfest, which I have somehow never attended despite the innumerable festivals I have been privy to all these years. What an absolute delight it was. The highlight of that highlight being the incestuous trio of unstoppable grimy Australian bands on tour together; RESEARCH REACTOR CORP., GEE TEE, and SATANIC TOGAS, the last of which I have been telling anyone who will listen how they were as close to perfection as a live band can possibly get. This cassette is start-to-finish bonkers, and if somehow you're reading this and don't know any of these bands, I highly suggest checking them out.
SHUX – Chonks Missing cassette (A.T. Field)
After seeing this band in their hometown of St. Louis in 2019 at one of the most stacked shows I have attended in recent memory, I immediately approached them expressing that if they wanted to do a record, I would gladly throw money at it to help make it happen. Unfortunately, due to the way the world went shortly after that and my own inability to keep things organized, that never happened. The amazing recording the band sent me did eventually end up on a cassette a few months ago, and although I have been listening to these songs regularly over the last few years, it has not grown old in the slightest. Do yourself a favor and give this bonkers recording a listen, and feel free to yell at me for dropping the ball. I deserve it, and this really did deserve to come out on vinyl.

SLIMEX – Easy Money cassette (Spared Flesh)
Bonkers six-song cassette also released as a lathe-cut 7". Jangly, catchy, synth-driven new wave foolishness from Portland. Love it.

SOSS – 2022 cassette (Urglehorse)
Kooky solo project from Mobile, Alabama. Really catchy drum-machine-driven project. The songwriting is super entertaining, the bass lines are perfect, it's a blast. Here's hoping the same mind brings us a 2023 tape in the coming year. I guess the band name would have to be changed to ϨOϨƎ, huh?

ERIC ANDERSON


Eric Anderson is a 34-year-old Chicagoan whose hobbies include collecting records, watching horror movies, and reading books on political theory. He also enjoys spending time with his wife Amor and their kids (Moose the dog and Luna the cat) and riding his Vespa when the Midwestern weather permits. He is also a huge pothead and thinks everyone could just use a smoke.
What a diverse year for punk music: from the scorched earth assault of FORESEEN to the sparkling euphoria of HIGH VIS, from the legendary FLEX to the fresh-faced FLASH—every base was covered by albums that are sure to be remembered as iconic. That said, all of these albums do have one thing in common other than being released this year: they all sound vital. I can only speculate that it's a reaction to, as LONG KNIFE appropriately puts it, "Modern Fatigue." We live in unhinged times, times where global superstars are spewing racist rhetoric on right-wing talk shows and multi-billionaires are plaguing us with apps and updates most of us have never even asked for. These albums speak on the horrors of modern living and in so many ways provide respite from that. I for one am thankful for these bands and this music for giving me a way to drown out that noise and provide some catharsis. With that, my top ten of 2022:
10. VIOLENT WAY – Bow to None LP (self-released)
Respect and loyalty are rare these days, but if you need some skins in your corner and are on the right side of the tracks, VIOLENT WAY have got your back. Checkout "We Don't Need You" and "Our Stand" (featuring Cal from the CHISEL) for proof of the real deal. Proper Oi! done right

9. HAZMATS – Empty Rooms / Today 7" (Static Shock)
The poppier side of BIG CHEESE frontman Tom "Razor" Hardwick, HAZMATS blessed us with this perfect little pop gem that will someday be highly sought after by crate diggers around the world. Recalling the charm of the CURE and STONE ROSES, this was a great way to soundtrack a warm summer night.

8. THE FLEX – Chewing Gum for the Ears LP (Lockin' Out / Static Shock)
The almighty FLEX returns with Chewing Gum for the Ears, and it sounds just as good as it looks. Before you even spin this thing, you know it's going to kick your head in based on the Tin Savage artwork alone. Ten rippers that perfectly meld hardcore from every era into one uniquely heavy sound. Let your ears chew on "Warboy" and "Soma Holiday" to hear for yourself.

7. SYNDROME 81 – Prisons Imaginaires LP (Black Water / Destructure / Sabotage)
Personally, I love the second BLITZ album Second Empire Justice and its influence on the genre, a sound SYNDROME 81 expertly incorporates into their music. Prisons Imaginaires is cold and catchy as hell, it also features possibly my favorite closing track of the year, the synth-laden "Lumière Magnétique."

6. HIGH VIS – Blending LP (Dais)
Britpop via hardcore, HIGH VIS definitely has one of the more unique sounds at the moment, taking cues from the '90s Madchester scene rather than your average punk benchmarks. No matter, the energy and attitude are the same. Music to drink with your mates to after your team scores a goal.

5. FLASH – Flash LP (La Vida Es Un Mus)
"High-energy primitive punk" as the write up on their Bandcamp says, is an appropriate description of gnarly Spanish punks FLASH, one of the most exciting bands to pop up this year. Angry bursts of blown-out fuzz with vocals to match, each of the tracks here are as full of fury as they are of style. Checkout the razor-sharp closer "Querido Punk." I would love to catch 'em live someday.

4. LONG KNIFE – Curb Stomp Earth LP (Beach Impediment / Black Water)
Not "horror-punk" like MISFITS, but "horror-punk" like you can see blood drip from the turntable as you spin this shit. Take some POISON IDEA-style hardcore, sprinkle in some DAMNED-style theatrics, and blend those together with an old VHS copy of Return of the Living Dead and you're about there. A new punk classic.

3. THE CHISEL / MESS – split EP (Beach Impediment / Mendeku)
And to think we almost ended 2022 without a blessing from the CHISEL; here they are with a split single with Mexican skins MESS. There's little to add to what you probably already know about this single: both bands go for it and come out in spades. The finest the new wave of Oi! has to offer, OK?

2. WARTHOG – Four Walls EP (Static Shock / Toxic State)
This one was so close to my number one. Any release from WARTHOG is worth getting excited for, and their (third) self-titled EP is no exception. It's hard to choose a favorite from these tracks but I'd go with "Digital Tumor." Big gnarly riffs, machine-gun drum blasts, and the best "blurghs!" and "arghs!" in the game. Hopefully 2023 brings us an LP.

1. FORESEEN – Untamed Force LP (Quality Control HQ)
From start to finish, this album left my jaw on the floor. FORESEEN is a force to be reckoned with, and has released an instant classic that is one of the finest crossover records in recent memory. From the all-out attack of "Soldier's Grave" to the grinding lurch of "Tolerance of Abuse" to the celestial heights of "Oppression Fetish," this album can't be touched. FORESEEN have come out on top with the unstoppable Untamed Force.

ERICK BRADSHAW

Erick Bradshaw is also Creamo Coyl, and as such hosts the weekly radio program Spin Age Blasters on WFMU. This gentleman also operates in the musical realms solo as CYANIDE TOOTH and duo in MAXIMUM ERNST. His writing can be glimpsed via various outlets, including the one you are currently perusing.
BRAND NEW RIOTS
DIE VERLIERER – Die Verlierer LP (Mangel)
Why isn't this virtually flawless punk rock LP being tossed off of each and every municipality's tallest man-made structure with an attached "You're Welcome" card? Faith in fellow man at all-time low, please advise. Can't go on, must go on. Listen to album again.

NAPE NECK – Look Alive cassette (self-released)
Architects of scrape and pound. Slaps and jabs with such sublime vigor that the ache of the bruise morphs into a sharp pain and all you can do is smile.

NO BRAINS – Certified Mullet EP (Plato Utrecht)
Smashing debut from this crew of Utreg no-counts. "Certified Mullet" is a certified banger that kicks you in the teeth like a stupefied HUBBLE BUBBLE. Gloriously dumb and incredibly fun.

NON PLUS TEMPS – Desire Choir LP (Post Present Medium)
Warehouse dub that Steps Into the New Age cross-faded with houseware disco that fogs up the mirror in the bathroom.

PSYCHIC GRAVEYARD / USA NAILS – split LP (Box / Skin Graft)
Old dogs serving up new tricks. Don't be shy about blasting this split headache at next year's Veteran's Day block party.

SELF IMPROVEMENT – Visible Damage cassette (Floating Mill)
Remarkably self-assured debut that subtly bests just about everyone else traversing the same cut surfaces. There are at least three songs on this album that could conceivably be called "great." I'll let you pick, and I won't even tell you if you've chosen poorly. I am getting better!

SKINNED PIG – Skinland Empire cassette (No Fuss)
In a different epoch entirely, when it came to record labels such as, say, Crypt and Lookout!, "never the twain shall meet" was the general prevailing attitude, inexorably. Then came SKINNED PIG. The level of frustration contained in these songs is tempered by the kind of songwriting that only punk can produce—the clarity of uncorked rage channeled into pure inspiration. "Pussy. Blow. Caffeine." and "Fuck You Too" are true anthems of tomorrow, and five minutes from now. "Just ducky," said the shaved squirrel.

SPECK – Speck cassette (Primordial Void)
A mess and jumble of fast, blurry art-punk that still manages to hit hard as hell. The elevator pitch: "SACCHARINE TRUST made a secret 12" for Gravity and I found it at the bottom of a well." Prestige puzzle-box series to follow.

STRAW MAN ARMY – SOS LP (D4MT Labs Inc. / La Vida Es Un Mus)
Undeniable and important shit. The lyrics are sharp and dignified and the music fucking rules. Dry when necessary and commanding when called upon, I dig the tandem vox and the layered thoughts. STRAW MAN ARMY is forthright like a sapling, bending when needed, growing stronger with each passing season. Love the echoes of UK peace punk, but also heart the HONOR ROLE and MOSS ICON elements.

THE SHEAVES – Excess Death Cult Time cassette (Moone)
They don't make 'em like this no more. Halftime gloats like a wingtip sloats. Tickling long-dormant funnybones, these SHEAVES. Slacker Rock Heaven, except real.

ARCHIVAL DELIGHTS
CARAMBOLAGE – Carambolage / Eilzustellung​-​Expr​è​s LP reissue / Bon Voyage LP (Tapete)
So cool to see this group of albums by this group of femmes strut back into view, daring you to follow. By turns spiky-sweet and cold-menacing, CARAMBOLAGE covers a gauntlet of emotions and states of being throughout these albums' runtime. And it's time well spent.



JIMMY SMACK – Death is Certain LP (Knekelhuis)
Forbidding outsider sounds courtesy of the enigmatic JIMMY SMACK, a shadow lurking on the margins of first wave Los Angeles deathrock. This is a necessary collection, FFO (for freaks of) SUICIDE, SCREAMERS, CHROME, and electronic bagpipes.

MARS – Rehearsal Tapes and Alt​​​-​​​Takes NYC 1976​​​-1978 3xLP (Improved Sequence)
Excavation yields further revelation. What a mesmerizing gaggle of intrepid weirdos—tunneling away upstairs in the loft or downstairs in the boiler room or out on the roof keening into the night sky. Just endless tunneling and escape plans constantly mapped. You can still use some of them to access new ways of fleeing.

THE RABBITS – The Rabbits LP (Mesh-Key)
Unearthed treasures from Japan. OG ghost punk from previously unknown masters. Aggressive acid nightmares camouflaged within fluid, complex songs. But ecstatic, joyous. One of the year's tip-toppers for this old head.

SEEMS TWICE – Non-Plussed 12" (Pass Without Trace)
Finally, you too, can own this hen-teeth rare eruption of Australian hardcore circa 1980, which features twelve cuts that originally came out on a 7". There isn't a song here that even comes close to breaking a minute in duration, but every second is crammed with a vivid, teetering late-adolescent mania. "Metropolitan Recluse" is like a Don DeLillo novel at hyperspeed.
SLUGGO – Sluggo LP (4Q-HQ)
Long overdue reckoning for some Southern OH 'core. The original Contradiction EP is chock full of sardonic slashers and quality MINOR THREAT rips. The unreleased Eighty Four side is tuneful, muscular punk that treads the same path as contemporaries GRAY MATTER. This is Cinci, not DC.

SPIKE IN VAIN – Jesus Was Born in a Mobile Home cassette reissue (Scat)
Really, I'm just here to tell you that not only did this as-good-as-the-albums tape get a re-release in 2022, but come early 2023, it will be out on a double LP with an entire album of unreleased material. Holy wow, good goddamn, prayers be getting answered and shit.

V/A – The Buntingford Long Playing Record LP reissue (Zaius)
Incredible scene-specific 1980 UK comp with a pair of songs by each band. All kindsa KINKS-sized shrapnel floating about here. You definitely need RIVERSIDE ROCKY and the CHOKE in your life, not to mention the DEBUTANTES, the RUNS, and the OTHERS, amongst all the others.
V/A – Thesaurus, Volume 6: Panorama Punk Rock France 1982–1984 2xLP (Cameleon)
Every single one of these Franco-centric compilations has been stellar, but Volume 6 could be the best one yet. Almost every song here was unknown to me and now resides in the fondest recesses of my memory. Song for song (33 of 'em!), possibly the best all-around punk release of the year.

WASTELAND – Want Not EP reissue (Breakout)
Truly unappreciated DIY mod genius at play on this extremely worthy extended-play single.

JASON RYAN


Jason Ryan has been a columnist for Maximum Rocknroll since 2010. He is a graphic designer and illustrator originally from New York, spent some years in New Haven, CT, and is now living in San Francisco. 
2022 was a lot like 2021, I suppose. Slowly but surely? I traveled more, collaborated creatively more, went to more shows (that LUDICRA reunion!). I recently uploaded a demo tape I was part of in 1997 that I realized I was still proud of during the pandemic, and was shy about back then. ("Everyone else is doing it, so why can't I?"—the CRANBERRIES.) The style and the lyrics still mean a lot to me 25 years later, albeit with a rough production. You can check that out here. Otherwise, I draw, hopefully for more bands in 2023, and you can check that out here. I only now realized that many of my tops that I got into this year were released in late 2021, but my heart will go on.
AUTO – Hardcore 2022 cassette (La Vida Es Un Mus)
I thought I would hear more about this one throughout the year, like TAQBIR last year for example. But here you get seven impactful songs that I tend to let flip for an hour. This is not hype hardcore—think SIEGE, '80s NYHC, DROPDEAD…this was made by two musicians! From Singapore.

ETERAZ – Villain LP (Iron Lung)
ETERAZ "D-beat" out a few other very strong contenders in the subgenre for a few reasons I will state plainly as possible: artwork, old-school grumbling crust/grind riffs used sparingly, deeper and more contrasted production, and lyrics in Farsi. It's also totally bombastic. This was a tough self-debate over three albums.

INYECCIÓN – Porqueria LP (Bar Crew / Discos Enfermos)
The perfect mix of echoing dark hardcore, obnoxious street punk à la UK82, and raw noise distortion à la '80s Japan. From Chile and Argentina, INYECCIÓN was one of the fiercest sets at Manic Relapse last summer, and that live spiraling insanity comes through here and sweeps you away in a studded and spiky tornado.

NIGHTFEEDER – Cut All of Your Face Off LP (self-released)
Absolutely killer hardcore punk from Seattle by way of the East Coast and scenes/bands abound. A friend recently described their time and sound to me as "American Crust." Well, I feel I'm supposed to say more for some reason, NIGHTFEEDER adds some elements of crust'n'roll, and touches on personal content besides just the apolitical. The sheer intensity of this LP slays beyond the demo or EP, which both rule. I'm reviewing this for December as well, so I'll leave it at that. Cut All of Your Face Off now before it's gone.
​​
RIGOROUS INSTITUTION – Cainsmarsh LP (Black Water / Symphony of Destruction)
There is a song on this album about how horses are abused, scared, and exploited, and by the end of the "track," the mighty steeds take their revenge with a disturbing effect. It's also called Cainsmarsh…which sounds like total swamp crust. The dissonant synths help keep it unsettling as well. I think that sums it up. This is dank, saturated in cold silt, and really like nothing else happening in 2022 (or since the late '80s).

VERDICT – Time to Resign LP (ByeBye Productions / Phobia)
Classic Swedish hardcore with a distinct US sound influence to me. Maniacal D-beat, like FINAL CONFLICT meets DISRUPT, TOTALITÄR, and KRIGSHOT. Rolling and punching throughout. Mangel as fuck!

YLEISET SYYT – Toisten Todellisuus LP (La Vida Es Un Mus / Sorry State)
Relentless Finnish hardcore that pulverizes the core from every corner and wall. The angles change fast, and you're moved with it. Scorching and wrought with anthems that can be compared to many generations and origins. Caught this one in the nick of time. Fantastic! From Helsinki.

AGONI – En Röst För Fred 1984–1986 LP (De:Nihil)
The perfect example of kångpunk/mangel/early Swedish D-beat that does not get as much attention as their contemporaries. Three furious demo tapes, with the third venturing into some metallic hardcore thrash styles, but never too far from their Scandi-roots in punk. Essential!
HIATUS – From Resignation… To Revolt LP reissue (Ruin Nation)
This is my favorite crust album of all time. If you are interested in the authentic origins of European crust, as well as when it really started to take off, this 1993 album from Belgium is for you. Every member gives 1000% on this from start to finish. And the remastering (while it hardly needed one) is a gift from Enormous Door.

POHJASAKKA – Kidutusta Ja Pelkoa 12" (Finnish Hardcore)
Recordings from 1985 and 1986 only previously available on (expensive or nonexistent) cassette, now brought to us on vinyl. If the urgent melody of Finnish raw hardcore is for you, check this out.
JENNIFER NEEDHAM

Jennifer lives in Brattleboro, Vermont and is a recent contributor to MRR Radio. She also co-hosts a weekly radio show on the local community radio station, WVEW, with her partner, Pat. She dedicates this year's top ten to her dog, Rodeo, who passed away in September and lived through many rides home from doggy day care begrudgingly listening to Mom's noise. This top ten, listed in alphabetical order, reflects the records that Jennifer plays over and over, and she is looking forward to what 2023 will bring!
BILLIAM – Turrets of Craigieburn EP (Goodbye Boozy)
I originally had two BILLIAM releases on this list and said to myself, "dammit BILLIAM, you need to share the spotlight!" It was a tough decision though, because BILLIAM is a magical music-making machine, who, like that bunny that sells AAAs, keeps going and going and going (considering there were four potential releases to choose from). The thing is, it doesn't get old. Turrets Over Craigieburn is a perfect collection of songs and will cause you to sing the line "enough of this toil, I'm gonna chug oil" as you go about your day.

CLAMM – Care LP (Chapter Music)
After this Melbourne based trio's 2021 release Beseech Me, which I played non-stop, I couldn't wait for this 2022 follow-up. The frustration and contempt for society, authority, and overall general monotony of life is palpable, agitating, and just lovely.

DESTINY BOND – 2022 Promo cassette (Proper Crooks)
I'm excited to hear more from this Denver-based band who released this four-song promo cassette over the summer. It's a pure gut-punch of hardcore goodness.

JUDY AND THE JERKS – Music to Go Nuts LP (Thrilling Living)
First off, whoever designs the JUDY AND THE JERKS album covers deserves some recognition, because you truly get a sense of their sound before even hearing them. Just like the covers illustrate, this album exudes energy and discord and confronts any sign of idleness, provoking the listener to get the fuck up off the couch.

LILLY AND THE LOVEBITES – Not Bad digital (Critter)
LILLY AND THE LOVEBITES released five tracks in October on Critter Records and I am so happy that they did—I just don't believe that this list would be the same without them. I'm crushing hard on this band and release.

NO KNUCKLE – No Knuckle LP (Tomothy)
Thank you MRR reviews and reviewer Alex Howell for introducing me to this album. I guess at this point, it might make the most sense to in fact read the review, because it really touches upon everything that I love about this album and band. They truly capture a feeling and sound that stimulates the senses.

SCRUNCHIES – Feral Coast LP (Dirtnap)
This album delivers everything that I love to hear. Tempo changes, vocal tradeoffs, and a perfect balance of shouting, melody, and heavy guitar—all built upon the foundational riot grrrl attitude and sound.

SMIRK – Material LP (Feel it)
Phew. This record came out just in time to make the 2022 list. I appreciate when people do their own thing and what sounds and feels good to them, but the foundational ethos is so obviously and undeniably punk rock. This is SMIRK and I love SMIRK.

SICK THOUGHTS – Heaven is No Fun LP (Total Punk)
It's been four years since SICK THOUGHTS released a full-length LP and it was worth the wait, because in pure SICK THOUGHTS form, Heaven is No Fun bleeds classic punk rock'n'roll. SICK THOUGHTS is Drew Owen, and Owen knows how to make music that is both reminiscent and authentic.

SPREAD JOY – II LP (Feel It)
SPREAD JOY certainly spreads joy to my inner music sanctum. On the verge of wearing out their 2021 self-titled release, this album comes out almost exactly a year later and it doesn't disappoint. SPREAD JOY are skilled at perfecting short and succinct songs that are nonetheless fulfilling.

NICK ODORIZZI


Nick Odorizzi is a writer, teacher, and dad from Charlotte who occasionally plays feedback in STATIC HYMNS.
It's Top Ten time already! Hope you're doing well and staying safe. Hug your homies, eat ice cream, and stay punk.
BIG CLOWN – Big Clown cassette (Dial Club)
Fun, high-energy punk that is as catchy as it is abrasive. Thirty bouncy hits on one tape! New personal mantra: "I wanna eat my burger salad."

CHALK – Neophobia LP (Post Present Medium)
Experimental wash of gamelan, sound collage, and home-recorded post-punk that is often beautiful and occasionally confounding. It's the rare combo of challenging and pleasant.

GAOLED – Bestial Hardcore demo cassette (Iron Lung)
You like raw punk? You like really raw punk? Absolutely filthy powerviolence-leaning hardcore that drips with danger and vibrates with fury. I don't know what living in Perth does to you, but these folks are feral.

INFRA COMBO – Exsanguinated by Punk cassette (Willowbank)
Textural psychedelic no wave? Ecstatic post-post-hardcore? Exploratory guitar adventures that hold up punk traditions and tear them down at the same time. Nothing is sacred, everything is permissible. Beautiful shards of a genre turned inside-out.

IRON LUNG – Mental Distancing flexi 7" (Iron Lung)
The top-notch guitar/drums blasting powerviolence was not a surprise, but the crawling, industrial-tinged RUDIMENTARY PENI cover was. Incredible. And can we talk about Iron Lung the label? I could have filled this list with just their releases and felt good about it.

LONG KNIFE – Curb Stomp Earth LP (Beach Impediment / Black Water)
Expert, anthemic USHC with side orders of piano, haunted house organ, and a full-ass church choir. Over-the-top and amazing.

MALFLORA – Mama I'm Bad cassette (Thrilling Living)
Angular, droning guitar stabs and impassioned vocals drive eight mini-dirges about this trash-can world.

SELF IMPROVEMENT – Visible Damage cassette (Floating Mill)
Until we finally find out what Su Tissue is up to, this will do nicely. Crisp, danceable new wave with deadpan vocals and strong songwriting. Also includes a PRODIGY cover that is better than the original.

SMEGMA – Dives Headfirst Into Punk Rock 1978/79 CD (Krim Kram)
Kneel at the altar of skronk with a band that is on the NURSE WITH WOUND list and included Jerry A. of POISON IDEA for a time. There is punk rock on here, but there is also the free-form scum noise that they would become known for.

WOODSTOCK '99 – Super Gremlin 12" (Sorry State)
Ripping fast hardcore with '90s alt-rock interludes. Scratches two separate itches at once. I missed them play a house show about a month ago, and I'm still salty.

BEST LIVE SHOWS: RESEARCH REACTOR CORPORATION, CHERRY CHEEKS, SATANIC TOGAS, MUTANT STRAIN (all at the same show!), NEGATIVE APPROACH, ZORN, CONSEC, TWOMPSAX
RIP: GAUZE, D.H. Peligro, Lumpy Records, Jean-Luc Godard
RACHEL COURTNEY

Rachel Courtney is in the DISSIDENTS and does the radio show Uneasy Listening on WPRB. She lives in Philly.
I don't believe in ranking!! These are roughly in the order I thought of them.
MIŽERIJA – Izolacija EP (Doomtown)
Doomtown Records out of Zagreb, Croatia has been cranking out the hits lately, and the MIŽERIJA demo was a real standout in 2021—this is that demo plus an extra track. In the sweet spot where anarcho meets dance-y post-punk, reminiscent of great early '80s bands but also totally now.

PINCH POINTS – Process LP (Erste Theke Tonträger / Exploding in Sound)
Catchy, preachy in the best way, upbeat but quietly aggressive commentary on the zeitgeist and despair of 2022. Funny and angry and sweet and dead fucking serious. And you can dance to it!

BÖRN – Drottningar Dauðans LP (Iron Lung)
Finally, another LP from these Icelandic weirdos. Dark, ominous, icy post-punk with amazing raw, emotion-filled vocals.

NEUTRALS – Bus Stop Nights EP (Static Shock)
"Gary Borthwick Says" is a timeless classic; this is the best record yet from an already great band.

BLEMISH – Blemish 12" (Not For The Weak)
The UK anarcho-punk influence on these Montréalers is obvious, but with dual guitars, great melodies, a little bit of artsiness, and a feeling of modernity, it's much more than just a rehash. This is a vinyl pressing of their 2021 demo.

FUERA DE SEKTOR – El Mundo Sigue cassette (La Vida Es Un Mus)
Really phenomenal demo from this Barcelona band. Ranges from moody to melodic and bouncy (but still punk as fuck) with excellent blasé vocals.

DELIVERY – Forever Giving Handshakes LP (Anti Fade / Feel It / Spoilsport)
There are quite a few of these poppy/garage-y/punky bands going in Australia right now (see also: PINCH POINTS) and frankly, most of them are quite good. DELIVERY stands out above the bunch with great songwriting, witty and cutting lyrics, and some auditory bite under the poppy/post-punk thing.

CRNA ŽUČ – Crna Žuč cassette (Doomtown)
Doomtown Records out of Croatia has been releasing a string of great releases for a while now. This is a solo project by Dragana of APSURD and has a very goth-y post-punk feel that reminds me of a lot of bands that came out of Eastern Europe in the '80s.

LA MILAGROSA – Pánico LP (Iron Lung)
Raging Spanish-language hardcore punk from Boricua punks based in NYC. Uncompromisingly angry, fast, and hard, but also super catchy.

NIGHTFEEDER – Cut All of Your Face Off LP (self-released)
A standout in the crowded field of D-beat/crust due to hooks galore.

Honorable Mentions
A few re-released/reissued/compiled things that came out this year:
CRISPY NEWSPAPER – Судургу Тыллар & Ой Дуораан LP reissues (World Gone Mad)
Boundary-pushing punk from Yakutsk, Siberia. These were cassette releases from the last few years, now reissued on vinyl by Philly's World Gone Mad Records.


YLEISET SYYT – Toisen Todellisuus LP (La Vida Es Un Mus / Sorry State)
Their 2019 and 2021 7"s on one handy LP.

TOTALITÄR – 1998–2002 LP (Skrammel)
They were (are?) a D-beat band from Sweden! It would cost a ton to get all the original records from this era! Check 'em out!!
LES CALAMITÉS – Encore! 1983–1987 LP (Born Bad)
OK, this probably crosses the punk/new wave line a bit, but this is a great retrospective!

SEDITION – Discography Circa 1989/1992 2xLP (MCR Company / Screaming Babies)
Legendary Scottish heavy anarcho/crust. This band helped usher in the '90s political crust/punk scene that was a big part of my formative years! Absolutely killer collection.
ROTTEN RON READY


Ron is a longtime shitworker and writer for the Fortune 500 punk megacorporation known as Maximum Rocknroll. He now resides in NYC as a harm reductionist and aspiring tattoo artist. Give him your skin. Be his friend. Buy him coffee.
2022 was the year punk came roaring back from beneath the dead bodies and decaying wreckage. New fests popped up daily and bands jumped in junk cars, smelly vans, and Greyhound buses to hit the road giving the surviving masses what they had been so badly craving. It was also the year I moved from the fantastic punk scene and city of Pittsburgh, PA to the rat-filled punk megalopolis of New York City. Here's what got me through the year in no particular order….
SAVAGEHEADS – Service to Your Country LP (Social Napalm)
They're back from like forever ago with this masterwork of shred. Boston may have died with COVID, but these boys are alive and really fucking pissed—see them live if you can!

CHAINSAW – When Will We Die? EP (Roachleg)
I spoke too soon about Boston being dead. This Boston Scandi-style rager just edged in before the deadline. The name says it all. Guitar cutting through your skull, poser! R.I.P. Nick Poot.

MIRAGE – Immagini Postume cassette (Roachleg)
Singing in both Italian and New Yorkese, this Brooklyn band plays post-punky dark hardcore that's gorgeous but still hard as yesterday's bagels.

LIVING WORLD – World EP (Iron Lung)
I missed seeing them one more time before leaving PGH, but luckily got this stellar release to fill the void. Like SIEGE and MOBS if SIEGE and MOBS were funny as fuck.

IGNORANTES – Parece Que Tuvimos Demasiados Hijitos LP (F.O.A.D. / Mierads Production / Under The Gun)
Re-recorded old songs might sound lame, but that's not the case here. Definitely see them live if possible. They play a long time with very few breaks and every song has almost the same beat. It's fucking wonderful!

ABUSO DE PODER – Vago Muerto EP (Roachleg)
Santa Ana always kills it. Tough, working class punk like NABAT or the great DRAPETOMANIA. Gruff and tough. Fucking you up, fool!

ACID CHILDREN – Perverts Lobotomy cassette (Roachleg)
They have a song called "I Don't Like Motorhead." Brilliant, fucked, and loving it.

S.O.H. – Life on Edge EP (Shitkicker)
Glass-shattering COMES meets Riot City sun-soaked SoCal blown-out glory. Gimme more please, and come play NYC!

INVALID – Invalid LP (Sorry State)
This collection platter delivers decaying warehouse steel factory Eye For An Eye and CAUSTIC CHRIST altruistic jams for all you undeserving punks. Kicking myself for missing them live but this helps.

XERO – Demo cassette (Roachleg)
I know. There's a lot of Roachleg stuff here, but that's because everything they put out is fucking the shit! Seriously, support them. This NYC burner features Dave Serrano from RATAS DEL VATICANO, POBREZA MENTAL, TERCER MUNDO, and pretty much every other great band. Fast and deranged in all the right ways.

Other definitive moments of 2022 were…
Seeing MÖWER at the Rock Room and PEACE TALKS in a basement before leaving Pittsburgh, the return of BLAZING EYE live as well as live shows by ABISM, ANTI- MACHINE, BLU ANXXIETY, FLOWER, HOT LOAD (on my birthday!), MELISSA, MISFITS with DANZIG, and TOWER 7.
Oh…and getting married to the love of my life on the altar of a Catholic church (!!) while SID VICIOUS, COCK SPARRER and ANTI-NOWHERE LEAGUE played! Top that, 2023.
SETH MCBURNEY


Seth McBurney was born on the first of October in the Orwellian year of 1984. Raised in a trailer park in rural western Pennsylvania, he sought out a steady diet of the weirdest punk and hardcore he could find until one day becoming a full-grown humanoid. Through trial and tribulation, he earned himself an art degree. He now primarily resides at the back of the classroom, putting tacks on the teacher's chair and passing notes.
YELLOWCAKE – "Can You See the Future?"
Sliding in at number ten is YELLOWCAKE's "Can You See the Future?" With a name like YELLOWCAKE, it's impossible to know what to expect, but these Phoenix punkers know how to craft a song that is powerful, obnoxious, and infectious. Raw to the core and full of explosive energy. "Can You See the Future?" opens this band's first LP with the same name.

CRIME LIGHT – "Waste Not"
Ohio!? What's up!? Some of my favorite memories of superb hardcore come out of Ohio: Play Fast or Die Fest, 9 SHOCKS TERROR, and now CRIME LIGHT! Hardcore, with no flimflam, just kickass breakdowns, and Rottweiler vocals! At number nine, "Waste Not" is a surefire way to lose a security deposit. Play it and break stuff now.

DIÄT – "W.I.G.T.D.W.M?"
Arriving at number eight is "W.I.G.T.D.W.M?" by DIÄT. This post-punk, synth-heavy track off their "Positive Disintegration" album is both dark and danceable.

HANK WOOD & THE HAMMERHEADS – "You Could Have It"
Something a little different from the crew of HANK WOOD & THE HAMMERHEADS—"You Could Have It" is exactly what I'd want to be listening to if I was taking the sidewalk express from Bushwick to ABC No Rio. Which is why it earns itself the seventh slot in this rotation.

RAZORBLADE – "Master Blaster"
Pittsburgh's RAZORBLADE throws a grenade out with "Master Blaster" at number six. This song gets right to the point, a speedy instrumental section, and then they're out; you'll have to appreciate RAZORBLADE's efficiency by listening here:

THE ASTRONAUTS – "Have It"
THE ASTRONAUTS "Have It" squeaks into my top five. I've had a soft spot for the uniqueness of THE ASTRONAUTS for over twenty years, and this year's release is no different.
​​
TRENCHRAID – "Dogmatic Trash"
TRENCHRAID's "Dogmatic Trash" easily earns its place at number four by offering catharsis from the pushy pamphleteers of piety. Sing along here:

ART – "Fundamental"
My third favorite song of 2022 is "Fundamental" by ART off their release entitled One.

HEAVY DISCIPLINE – "Loud and Proud"
HEAVY DISCIPLINE earns itself position number two with "Loud and Proud". The tension built in the first twelve seconds of this song makes the pummeling of the remainder well worth it.

L.O.T.I.O.N. MULTINATIONAL CORPORATION – "I Have No Mouth and I Must Scream"
L.O.T.I.O.N. MULTINATIONAL CORPORATION's "I Have No Mouth and I Must Scream" sums up a lot of the feelings I've had throughout 2022, and this is why it's my number one song for the year.

WILLIS SCHENK


Willis Schenk co-hosts a food & music show on his local community radio station, and writes reviews for MRR. He lives in the central mountains of Vermont.
This year has seen a lot of shifts—meeting someone the first week of January that I now share a life and space with, moving back into my house after renting it for year in transition, having pandemic restrictions lifted, taking on managing my family's restaurant, and watching the world and myself continue to make mistakes. Here's to hoping I've learned something this year: to be kinder to those around me, and for the first time, to myself. I'd like to give a special shout out to my friend Jesse, who turned me onto MRR in the first place, and in turn gave me something broader to focus on. This list is in no particular order, but offers some stuff I was looking forward to, some debuts, a reissue, some surprises, and finally, a show.
RIBBON STAGE – Hit With the Most LP (K / Perennial)
When I first started listening to MRR Radio in 2020, RIBBON STAGE's My Favorite Shrine seemed to be buzzing on the airwaves, and I was hooked. I think the dichotomy of soft, shambly, feel-good music such as this paired with some heavier-than-expected-for-my-taste hardcore has been my theme this year. Hit With the Most is a beautiful mosaic of nostalgia, downcast glances, and something close to happiness.

MAUDIT DRAGON – Maudit Dragon LP (Broca / La Distroy / Lada / No Gods No Masters / No Way Asso / Perce-Oreille / Psychopathia Criminalis / La Société Pue Prod / Tocsin / Too Circle / Up The Punx)
This Grenoble, France three-piece epitomizes some of my favorite punk stylings: mid-tempo buzzy guitars, plenty of rests for headbanging to the powerhouse drums and bass, with strained, elongated vocals finishing it out. Tenderness and power all wrapped up in one. And it's their fucking debut

PHANTASIA – Ghost Stories LP (Beach Impediment)
This album is beautiful and uplifting and dark and tragic and painful and fucking amazing. With bell-like keys and Tara Atefi's warbling lyrics, I am spooked and mesmerized (check out "Residue"), all atop big splashy drums, and mostly clean guitars. I hear a more driving, heavier CIGARETTES AFTER SEX thing here, and it really works. NYC's PHANTASIA desperately seeks some personal truths, and I commend them—and this is another debut! "Leftoveryou" may be up there for my favorite track of the year.

CRIME OF PASSING – Crime of Passing LP (Feel It)
Dreary Midwest (Cincinnati, OH) coldwave iced-over excellence. I reviewed this record in mid-September, right when the first leaf-blowing rain storms and darkness started setting in for the fall here in Vermont, and it was perfect. With snow falling outside my window now, I can assure you it makes a good companion through any of these cold weather months. A reverie-inducing set of songs.

1-800-MIKEY – Plushy cassette (Under The Gun)
Really fun lo-fi, feel-good stuff from Sydney, Australia. Bedroom rock? While lo-fi inherently lacks clarity, in a world where production can be so perfect, it comes off as inviting, relatable, and unpretentious. 1-800-MIKEY soothes the soul, with light-as-a-feather synths, crunchy little guitars, farty bass, and tight drums. This lets me feel nostalgic and immature and a little snotty, all at once.

CARAMBOLAGE – Carambolage LP reissue (Tapete)
I love the no wave zany-synth, off-axis rhythms, and playful guitar and bass that sometimes come separately in left and right channels as if they're completely detached, along with the range of Elfie-Esther's vocals, from near crooning to high-pitched, staccato, and screeched. Reissues like this help my incomplete picture of history grow, and it's always fun diving down the rabbit hole of a band—and their contemporaries—from forty years ago.

FORESEEN – Untamed Force LP (Quality Control HQ)
FORESEEN hits a sweet spot for me, with heavy, brazen instrumentation, cutting lyrics that are shouted yet discernable, and a true pleasure of mine: well-toned metal solos. Nine tracks of truly Untamed Force.

TOTAL SILENCE – Demo cassette (self-released)
Toronto-based doom-slayers have really impressed me with this demo. Another example of some heavier influence I've been letting in (or seeking?) in my listening this year. Three tracks of sludgy guitars, pummeling rests, and screamed vocals. Mid-tempo headbangers apply within.

ENACT – Enact LP (War)
This Portland, OR hardcore/youth crew band caught my ear on somebody's radio show from last year with their Promo 2021 release, particularly the song "Rose." This debut LP really showcases their crash-and-stomp hardcore mixed with resoundingly positive and affirming lyrics. Whether straightedge is your scene or not, the world needs more of this.

SUBHUMANS, ABUSO DE PODER, NO PLAN at the Teragram Ballroom, Los Angeles, CA (11/6/22)
On Halloween this year, I flew across the country with my partner to her home town of Los Angeles. I met the family for the first time, mingled with her old friends, ate a bunch of good food, sat in traffic, and upon my request, sought out a live show. NO PLAN opened with a great set of loud, femme-fronted hardcore: lots of energy from the band, and a good start with plenty in attendance. ABUSO DE PODER played through their Vago Muerto EP with authority and clarity. These Latino punks are led by a tall, Freddie Mercury-mustached savage vocalist—he's gruff, and completely unrelenting. All the while, Dick Lucas was nodding along in the back, skinny-framed and crusty. When he and the SUBHUMANS took the stage, he started pointing at all the cellphones and counting—he got past twenty and stopped, telling the crowd to get their pictures now: "We're going to look the same all night." He urged everyone to enjoy what was in front of them, which led into his ongoing social and political commentary that flowed from lyric to spoken word between songs. His plastic water bottle, a symbol of pollution. His body, a symbol of the meat he doesn't eat. The crowd, the last hope of community. It had been a long time since I'd seen a punk show, before the pandemic certainly. My ears were ravaged, my body shook, and I smelled like beer and sweat. All was well.