Steve Soto 1963-2018
Kid of the Black Hole No More
Steve Soto, who died in his sleep on June 27th, 2018, was the heart and godfather of Southern California hook-laden punk. His talents filled the likes of the Adolescents, Agent Orange, Manic Hispanic, 22 Jacks, Legal Weapon, and more. He brimmed with unbelievable talent and a ceaseless work ethic. He was also the glue that held together generations of outsider music. The Adolescents' gigs were pure mania. I was lucky to interview him for publications like Left of the Dial and the Houston Press, plus the first flyer I ever made as a restless teen was for an Adolescents gig in rust belt city Rockford, IL.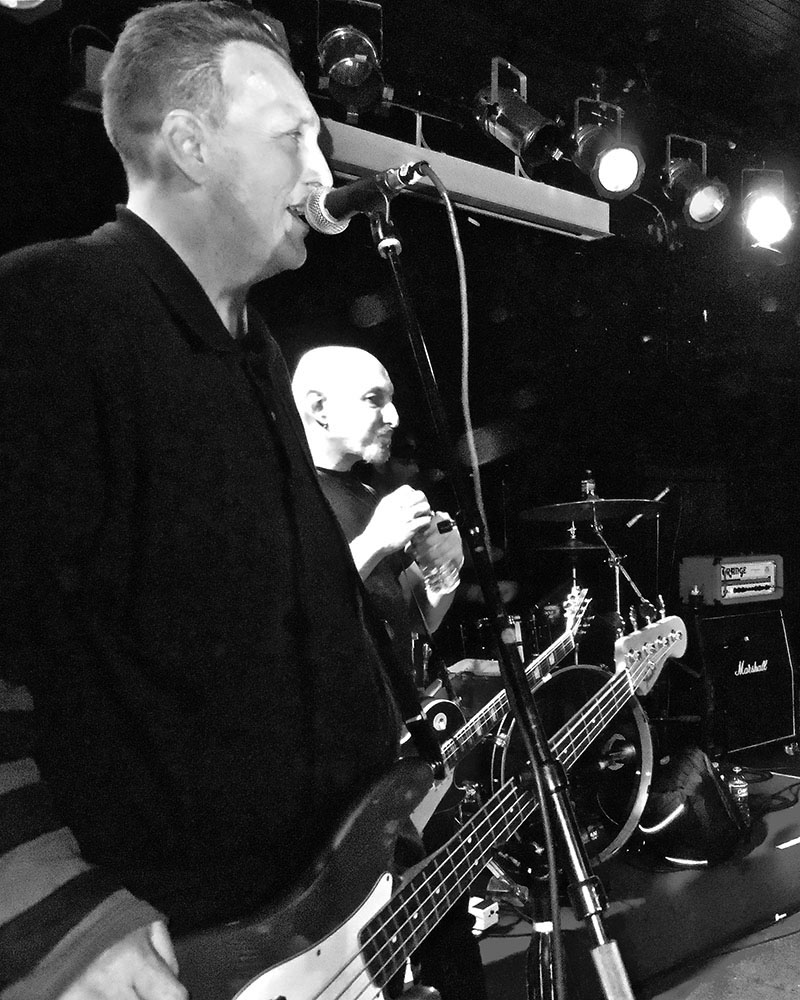 In the early 1980s, Soto had made his seminal mark with the Adolescents' debut LP. "Pretty sure I never met Steve before we started the blue album (the band's self-titled album) at Perspective Sound in Sun Valley, CA, in 1981," recalls Lisa Fancher, owner and operator of Frontier Records. "He forgot his bass, or maybe it broke before he left Orange County. Either way, a bass was borrowed at zero hour from a good friend of mine, and the rest is history."
Fancher received a phone call from guitarist Rikk Agnew (Adolescents, DI, etc.) relating the terrible news of Soto's passing. "The previous Monday, I was texting back and forth with Steve about getting Adolescents records to Germany for their upcoming tour. He apologized for requesting them at the last minute, and I said, Steve, doing things at the last minute proves you're a musician.'" She immediately understood the significance of the loss. "He wrote some of the greatest, most important punk songs of all time, indeed some of the best songs of all time. He never had a minute off, always writing, playing, performing, tour managing, or recording. He did all those things up until the day that he died. We lost a musical legend, one that everybody loved as well, and that is one helluva legacy."
Ever-smiling Soto was an agile player whose fingers finessed melodies culled from endless listens to Beatles and Buzzcocks records. "When it came to music he was tireless," remembers Jack Grisham of TSOL. Soto sang backup vocals on Music for Break-Ups by Grisham's other much-admired band, the Joykiller. "Steve had the heart of a child hidden in that bodily mass. He looked at each note and melody line like something he had found on an adventure and there was nothing that he wanted more than to share it with us."
The violence evoked in Adolescents' songs, such as the trenchant "Wrecking Crew," is two-fold. The first symbolizes youth trying to cope with the everyday boredom and suffocating social order of the suburbs. As such, the tunes are anthems to primitive smash-it-up fun and survival, not an ode to punk-on-punk violence. This is easily underscored during their performances, in which vintage skinheads, skater thrillseekers, Latinx punks galore, skinny MC5-inspired longhairs, agitated mohicans, and ageless rockers all converge in the slam zone like a rabid flock. If a literary allegory exists for such a scene, it's a hyped-up, feral Peter Pan, not Lord of the Flies.

"The first time I met Steve, I went jumping up on stage at Bogart's in Long Beach when the Adolescents were playing," tells Lisa Pifer, aka Lisafer (45 Grave, DI, Nina Hagen, Snap-Her), "to hassle some cheerleader and push her off stage, then when I bent down and stood up, I smacked my head super-hard on the headstock of his bass. Instead of him being irritated by me wanting to kick one of his other fan's asses…he was saying to me, Oh my goodness, are you okay?' And ever since then, no matter where I have seen him—personal, doing music, or otherwise—he was just a genuinely true good soul, and I miss him very much."
The other violence the Adolescents write about is the power of authority—corporations, government, and parents, the triple threat to kids trying to become free-minded adults. This includes the "stupid science world" of the anthemic "Amoeba," which they launched with tenacity in the first era of hardcore. They also penned an ode to homeless kids formulating their own morals in "Kids of the Black Hole" and outlined endless industrial ills in "Monsanto Hayride." That track, from the band's fourth album, OC Confidential, lyrically denounced pesticides, mercury poisoning, growth hormones, and the "amber waves of greed." Even their newer tunes pack social observations, politics, and ferocity, as well as humor — including "Escape from Planet Fuck," featured on Manifest Destiny, which catalogs modern despair due to greedy economic overlords  — and tracks on their potent new album Cropduster like "Flat Earth Stomp" and "Nuclear Football".
The punk world will be a lesser place due to the loss of Soto, whose formidable music and attitude will now hold sway in our memories; in addition, his small, everyday acts of kindness still ring resonate powerfully.
"I met Steve when Four Letter Word joined the Swingin' Utters and 22 Jacks on the Canadian leg of their 1998 tour," recalls Welly, singer for FLW and longtime editor of the zine Artcore. "A couple of days into the tour in Calgary, he walked up and introduced himself, and told us that he liked our music because it reminded him of the bands he was into from the early days of punk. He then followed this by saying it was him who'd suggested to BYO Records that they get us over on tour. This was one of the biggest compliments we ever received. I bumped into Mr. Soto a few more times over the years when the Adolescents would pass through on tour, and he'd always remember you and make time to talk. A great talent, great guy and a great loss."
—David Ensminger