Create to Destroy! Aback Distro
Aback Distro is run by Pet'a in the Czech Republic. Here is some solid Eastern European DIY spirit for all you punkers out there—read on! Interview by Amelia Anok for the Create to Destroy series.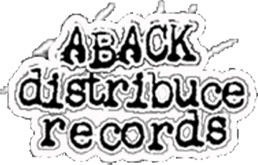 How did you start doing a label?
I started to distribute records and that led to form a label. At first I distributed the animal-rights press, animal-tested and animal-free cosmetics, and then I started to do a small distro with tapes, vinyl and CDs. About a year later I had an idea to release the CD-R of my own band's garage demo, where I filled the vocal duties. since then I run the label, with D.I.Y. attitude still now.
When did you first become interested?
It must have been about 1997 when I was thirteen and my older sister brought me a cassette of Czech punk band ÄŒertův Punk (Devil's Punk-:) I was stunned, because here there was something completely different from all the TV shit. About 1998 I met the first punk band from abroad, THE VARUKERS, also from my sister and also on cassette, as the tapes were easily available back then. Actually back then it was almost exclusively cassettes, all the punks listened to them and copied them each for other. Now it's just the fucking MP3 and only a handful of die-hard fans are still into the tracks such as CDs, tapes and vinyl. Actually THE VARUKERS are still now one of my most favorite bands, since I've heard the immortal refrain of "Soldier Boy." And in late 20th/early 21st century I was smothered with all this, gigs, fanzines, bands, etc.
Who else was doing that in the Czech Republic? Europe?
You mean listening to tape or releasing them? ha, ha. In Europe there is an infinite number of D.I.Y. distributions and labels. So it's plenty of people, and it' s no problem to form and build your own label just on trading releases with the other labels. In Czech Republic there are about 10 or 20 labels releasing D.I.Y. HC/punk regardless of different genres. The small country we are and the amount of records released, it's nearly impossible to sell them all, since only few people buy records, the rest just download the fucking MP3s, as mentioned above. A lot of young kids are not interested in anything…
What was your first punk show?
I believe it was in 1999, the venue called Žlutej Pes (Yellow Dog) in the city of Pardubice, near the town where I live – back then this venue was tailor-made for the punk and underground scene. However it has since became just another fancy cesspit, just to made as much money as possible, and I hate such places, full of fucking security guards and posh kids, so I don't attend this venue any more. In 1999 I was there to see Hungarian band LECSA PUNK, Germany's ABSZESS, another German act and two Czech bands; when the Hungarians started to play, for me it was like hell breaking loose, and it embedded in my mind since then.
How do you think punk is different in the USA than Europe?
Mostly as far as the music is considered, for there are plenty of great bands in US, but I cannot compare that much, since I have never been in US at all, let alone to see the gig. One day maybe, because from people who have been there Ive heard some wild stories… Punk doesn't know any borders all around the world.
What was your first release?
It was always the co-operation with other labels. My first co-release was the 7″ by Czech band DEMARCHE. Great record and I'm glad that I pitched in, also some money I gave to their second singles. It was probably the band's last act as they split up soon after.
Now the 12″ THE BREED is to be pressed and released. When this fanzine is out, the records would be probably out, too. This is going to be the first records that I release myself, not as a co-release. Cannot wait to put my hand on it, to put it on the turntable and play… The co-operation is great thing, but no good for the label that wants to go its own way…
How many releases have you done?
As mentioned above, everything I ever released is the co-release, but for six records, which are mostly the CD-R and cassettes, all DIY but well executed, I'm not going to do a sloppy job. Altogether it's 35 items in my catalog. Now I'm focused on doing more records of my own and less co-releases. The problem as usual is money, but if I manage to save some funds, I'm going to release the records of my favorite bands.
Do you do vinyl, CD, and cassette?
I did everything from CD to tapes and vinyl, but now I release only vinyl records.
What benefits are there to doing CD releases?
I haven't released any benefit record so far, but if I ever will, they would be for such causes as animal-rights, antifascist activities or human rights. these things we must always point our fingers at, and give them our support.
Who do you distribute to? Do you have a strong international network?
It's about more labels, both home and abroad, but yes, I have distribution net abroad and not only Europe. But then, it's still just a small D.I.Y. label, something that I enjoy, nothing more… European international net is large and nearly every day I'm in touch with someone from abroad, it's just a friendly net around the world, HC/punk scene is just like a family and I still love it.
Any upcoming releases?
The records currently being planned are:
MIDNATT DOD – 7″ (great Czech crust d-beat band)
LIFE POSSESSION – 7″ (crust punk d-beat Czech band that I sing for…)
These will be my own releases, but it takes some time and money yet, because as I wrote above, I'm not going to do slapdash records.
Any last words?
Yeah of course – first of all a big kiss to you for giving me a chance to say a couple of words in such a great fanzine as MRR, this is something I really appreciate. Here I like to greet all friends from all corners of this colorful planet.
I hope that our Czech Republic country would change the course that some people have set, I mean, in a wider frame of HC/punk scene… none of us is that great and we are all expandable, no good to try and prove something or put on that savior game…
How can we best stay up to date on your releases?
Certainly, we all should stay in touch forever, because HC/punk worldwide is never going to die… it's just people who die…
Peace and crust punk!