For Sarah Kirsch…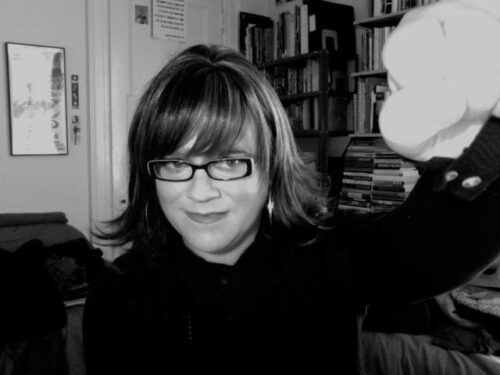 Sarah Kirsch was an inspirational, igniting force in the Bay Area/US hardcore punk scene from the late '80s to her death in 2012. This page will remain an archive of info and tributes from MRR. The Future is Unwritten.
2016 update: Four years since Sarah's passing, a posthumous LP of Sarah's final band, Mothercountry Motherfuckers, has been released via Clean Plate Records. Donations are also still being accepted in Sarah's name to the Pacific Center for Human Growth, the Fanconi Anemia Research Fund, and the SF Trans March.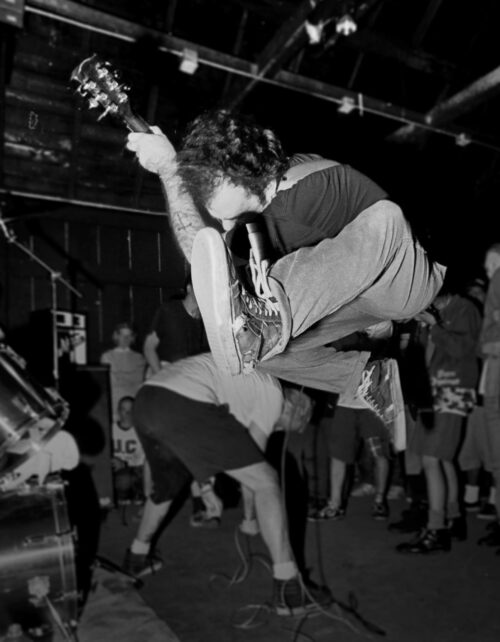 During Sarah's battle with Fanconi Anemia, we fund-raised an incredible amount of money for medical expenses, thanks in large part to Maximum Rocknroll for helping us get the word out. After her death, a four-day festival titled This Is Not a Step was held in her honor at 924 Gilman St. featuring Los Crudos and many more bands, with proceeds also going to the above organizations. We want to again thank the community for the outpouring of generosity, support and appreciation that was shown for Sarah, both in her time of need and after her passing. It really is a testament to the truly special person Sarah was and how her spirit continues to endure.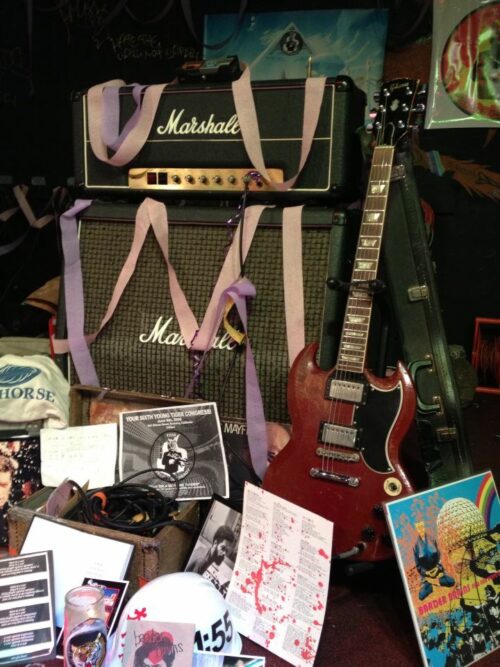 UPDATE 2013: There was a Memorial Celebration of Sarah Kirsch's life on Sunday, January 6th @ 924 Gilman St. Thanks to everyone who was able to attend and make it a truly special event in remembrance of Sarah.
On December 12, 2012, Robert Collins wrote in his Terminal Escape blog:
Sarah was more than a guitarist, was more than just a mere inspiration, and even though we didn't see each other often there was an instant void. I can see the absence on the faces of friends feeling the same thing. When Sarah did things, she did them right. No fanfare, no flag waving, no celebration – just quiet determination and pure conviction. That is her influence, and to me that is her legacy. The records are great (seriously, all of them), but the impact is so much more personal and so much more intense than a few good riffs…even when the riffs are as good as these. It's the genuine look in her eyes that tells you that everything matters, that you matter, and that what you do is important and to never stop fighting. And to never stop smiling, though I confess that one is pretty tough to pull of today. While her musical legacy is primarily associated with her life spent as Mike Kirsch, Sarah's personal legacy transcends both gender and sound. Few people in the world of DIY hardcore have been as influential, even as important as Sarah. It's an impact I honestly doubt she was fully aware of, and a level of genuine respect attained by only the most worthy…these are the things we should say to our friends while they are alive, but rarely do. Never stop fighting.
Sarah Kirsch passed away peacefully yesterday, December 5, 2012. She had been gaining much strength in recent weeks in her continuing battle against Fanconi Anemia. Close friends and family were together with her at her passing and we are now mourning this utterly devastating loss.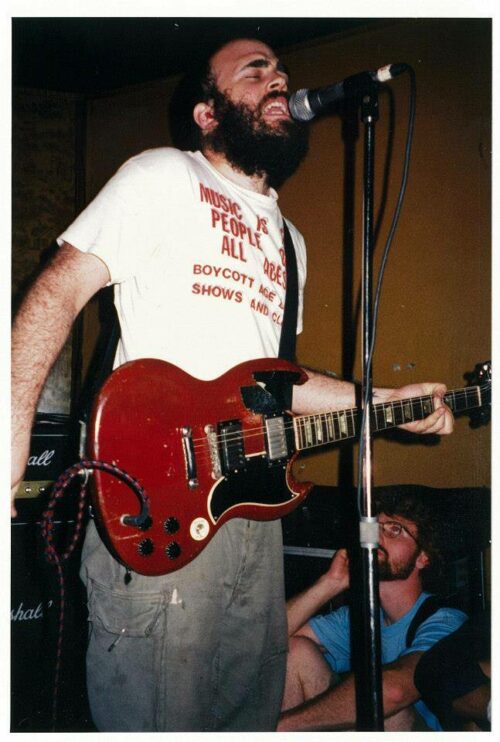 Nothing I can say in this setting can do any real justice to the impact Sarah Kirsch had on my life and the lives of so many others.  In the truest sense, Sarah was ahead of her time, almost as if from another galaxy: her talent, vision, creativity, empathy, values, compassion, dedication, humility and unrelenting passion for life—all were truly unsurpassable, and I can't imagine anyone holding all those qualities together with as much power and natural force as Sarah held them.
Sarah once wrote, "I believe in people. That deep within the most beaten down of us there is a will to survive, an instinct to rise above." Though she always put her concern and belief in others first, Sarah herself had that same will to the very end.  We will all greatly miss her presence, her positivity, her outlook and the spirit she always brought to every endeavor—from her music to the community she continually built around her.
— Spencer R., 2012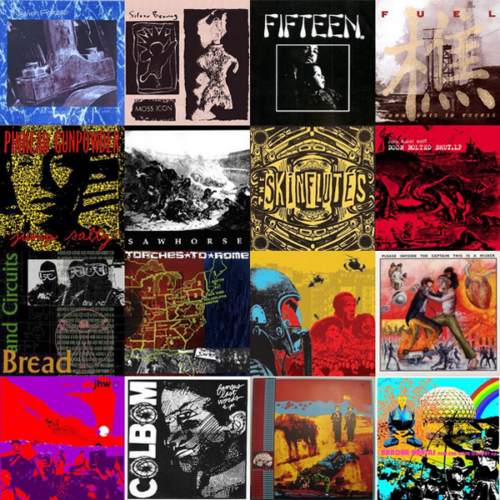 Sarah Kirsch bandography:
The Skinflutes (guitar and backing vocals, 1988—89)
Fuel (guitar and vocals, 1989—1991)
Fifteen (second guitar on s/t 7″, 1990)
Silver Bearing (vocals on split LP with Moss Icon, 1990)
Pinhead Gunpowder (guitar and vocals, 1990—1994)
Sawhorse (guitar and vocals, 1991—1992)
Navio Forge (guitar and backing vocals, 1993)
John Henry West (guitar, 1992—1993)
Sixteen Bullets (guitar and vocals, 1994)
Torches To Rome (guitar and vocals, 1995—1996)
Bread and Circuits (guitar and vocals, 1998—1999)
Please Inform the Captain This Is a Hijack (guitar/vocals/samples/beats, 2000—2003)
Colbom (guitar and backing vocals, 2001)
Baader Brains (guitar and backing vocals, 2005—2010)
Mothercountry Motherfuckers (guitar and vocals, 2010—2012)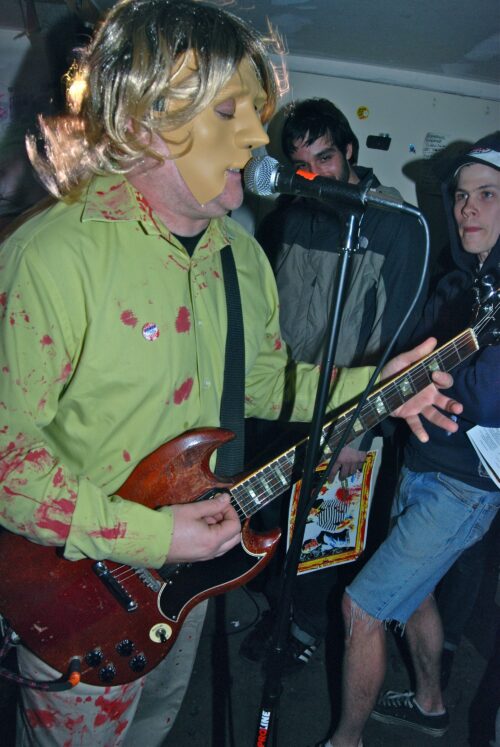 Here are links to a few more pieces on Sarah Kirsch:
http://terminalescape.blogspot.com/2012/12/torches-to-rome.html
http://prankrecords.blogspot.com/2012/12/sarah-mike-kirsch-rip.html
http://blogs.sfweekly.com/shookdown/2012/12/rip_sarah_kirsch.php
And this excellent one by Nate Powell:
http://seemybrotherdance.blogspot.com/2012/12/in-memory-of-sarah-kirsch.html