Vegan chef and all-around awesome punk Joshua Ploeg!
Interview by Amelia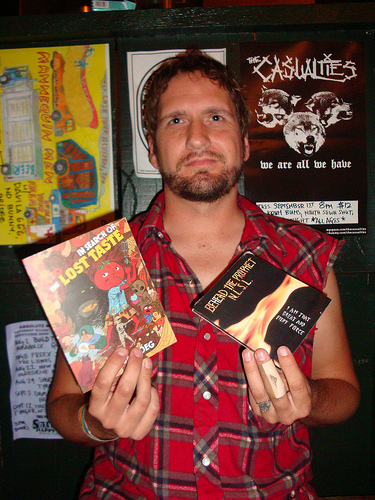 I reviewed your zine Fire & Ice for MRR a year or so ago. Can you speak a little about that zine? Have you done any since?
That little guy is mostly spicy recipes, with some alcoholic beverages and vegan ice creams and sorbets. Essentially I did it so that Microcosm would have something of mine on tap and then we could do a cookbook together. It was later reprinted in its current form. Cute little thing, with a few amusing typos.
Can you explain your lifestyle as a traveling vegan chef? How do you survive? Where is your home base?
Home base is at the moment a storage unit in Los Angeles. I travel around booking and cooking for dinner parties, catering, special events and take out from people's houses. Sometimes vend at shows. I have to book and promote myself so it can be a bit sporadic and I go everywhere on transit and rideshare. Crazy, sometimes long and unpredictable trips but I get by enough that I've been doing it for 10 years!
Any weird scenarios you've found yourself in as a traveling chef, sometimes going into strangers' homes who are more friends of friends of friends of friends…ever meet any real weirdos?
Weirdos? Sure! The guy who said "the hurricane happens at 3 o'clock" and then these industrial fans turned on and blew around paper chains and stacks of paper, orange peels and plastic buckets for three minutes all over the apartment comes to mind. The "you're cooking for 200 people and we have no gear, two burners don't work and there is one shop light and christmas lights for lighting" incident comes to mind. The people having a three-way on the Greyhound across the aisle in the middle of the night while the woman's children were sitting behind her playing with a light up singing teddy bear and there was occasional farting comes to mind. It's all weird! You never know what the situation will be when you get there or even on the way there. I've been stranded more than a few times.
Have you had any really magical experiences living this way?
Yes, always fun to make a fabulous meal that never happens again—live in the moment! I love the people I meet and many of them have become great friends or regulars. I feel comfortable in almost any city, I love that, and have developed a great deal of patience and immunity to boredom and waiting around, which is convenient. It's a beautiful world, I still love seeing something new even when I'm in a place for what seems like the hundredth time! I like to shop where people in the town shop—at the little mercados, the big discount markets and the curious little stores and interesting produce bonanzas—it is a bit unglamorous, but really, why bother if you are going to the same chain supermarkets that are everywhere or that affluent people shop at?
What do you think of serving others and contributing and enhancing others' experiences and relationship with food?
Well it wouldn't be at all fulfilling if that wasn't such a huge part of it.
Is your way of living in accordance with DIY punk ethics?
Sometimes, but I do expect to get money—but that can be a verrrrrry sliding scale! Also I like when I can be freed to do trades and benefits, that is nice to be able to contribute something or accommodate people with lower budgets. Clients and I are equals and plan events together and there is no "boss" so that's good. I guess I don't really make any claims of how DIY or ethical this is in general, it's more of a "happening" that sometimes coordinates with that mentality. Food is complex and I wouldn't recommend playing holier than thou with the ethics of it, there's always something lurking in the chain of events that is probably questionable.
How did you get into being food conscious?
I was at home alone a lot and wanted to eat something interesting and also offer that to guests and visitors as sort of an experiment in proper hospitality.
How old were you when you became vegan?
I was 20 but I go back and forth between vegan and vegetarian. It has been 21 years! I old!
I understand you've been in a band or two. Can you give us some background?
Yeah, several hardcore/queercore bands I sang for: Behead the Prophet, Mukilteo Fairies, Lords of Lightspeed, Warm Streams, played the drums in Kiss Me Kill Me, did some noise (Standard Operating Procedure) and also a bit of chanting and folk singing under my name or "Sanctuary of Sound/Sanctuary Studios" which was supposed to be weird and aggravating and it was! Currently I'm in Select Sex (hardcore band from LA) and Behead the Prophet is playing a few shows this month. And I have Woozards and Wootches which is noise and I guess tropical black metal.
When is your reunion?
This week! Should be fun; Eric from Noggin will be playing in Michael's place (on his violin!). It's really more of a cathartic occurrence and group awakening than a reunion if I may be so bold. Olympia, Bellingham, Portland and Seattle are the places we're playing, a big northwest hootenanny. The Need, Thrones, JonnyX and the Groadies, Hysterics, Body Betrayal, Disemballerina and Federation X are all in on it, a nice once in a blue moon treat.
What are your future plans?
More cookbooks with various publishers, more traveling and eventually a nice vegan salon/bed and breakfast, microbrewery/winery and small organic farm out in the country (but not too far) that people can come hang out at. Count on it!
What is the best way for our fellow vegan readers to get in touch with you and host you or to get their hands on your zine?
Get the zines and cookbooks by checking/ordering from your local bookstore. Or get them online from Microcosm or whoever happens to have them. Email is the way to reach me (thetravelingchef@gmail.com). I have a blog (joshuaploeg.blogspot.com) and a Facebook (it's personal and business so ya have to put up with all of my videos and pontificating and baseball as well), but whatevah!
Thanks for the chat!