Blast From the Past: Really Red Part Two! U-Ron Speaks
This originally ran in MRR #326/July '10, which you can grab here
Deep South Punk Legends from Ozone City:
U-Ron from Really Red!
By David Ensminger
While flying home from Portland last weekend, where I lectured about the need for a greater understanding of Mexican-American gravesite traditions (no, they are not landscapes of trinkets, they are spiritual culturescapes), I flipped through a mid-1990s MRR that included multiple angry letters to the editor about Mykel Board, the magazine's perennial "straw dog." Today, I read angry letters denouncing my March interview with John Paul of Really Red, which I prefaced by explaining that punk was a wide umbrella genre with an inclusive community. If we denounce him with a purge befitting Stalin, then we should throw out our records by the Dickies, Dag Nasty, Bad Brains, and the list goes on. I support the editors. In today's saturated media environment, easily entrenched political slogans and platitudes on CNN and punk blogs act as substitutes for authentic discussion and discourse. The real danger is smug self-satisfaction.
When they offered to re-print my 2005 interview with U-Ron, I approached him about openly releasing his email to me, too, in which he explains his reaction to the article, (the email can be found in the letters section of this issue). I do not seek to fissure the band's relationship with each other. I seek to explore the multiple perspectives (even multiple truths) that occur throughout the history of most punk bands. As a reader of MRR since the winter of 1984, I feel more dedicated than ever to its efforts because it is willing to engage, not pretend, and to incite, not recite. Flex your head.
MRR: From Lightnin' Hopkins to Roy Head to Townes Van Zandt to Steve Earle to ZZ Top (OK, Dallas should get some credit, too…), and even Kenny Rogers, Houston has been the home to a myriad of artists. When you started listening to music in Houston, were you at all aware of the city's rich musical history? What was local music like when you were growing up? For instance, Steve Earle sings of Telephone Road and the gritty honky tonks…
First off, it is very flattering to be asked to do this interview 25 years after the release of Really Red's first LP. It's even odder that Empty Records wanted to re-release it 25 years after the fact. I'm pretty stunned. Really Red never thought that we would be remembered three years after we broke up. All that said, I have no idea who in the hell would want to read this, but at the risk of being totally boring I'll try and give you the best answers I can. I have to point out that this will be my perspective and recollections. In no way should any of this be taken as reflecting the opinions of Bob, John Paul, or Kelly, the other three former members of Really Red. They might remember things in a whole other way. Maybe no one will care about or remember these people and places, but they were all involved in Houston's formative punk scene in one way or another, and they do deserve to be mentioned. This is about a scene that is long gone, but it took a lot of brave and unique people to make it happen. They deserve credit. I appreciate the chance to give it to them and to tell our story.
When I moved from Canada to Houston in the 9th grade, I knew very little at the time about any Texas music. By time I was in the 10th grade, I started going to see live music. One of the greatest bands that I ever saw was The 13th Floor Elevators. They were amazing. A bunch of working class acid heads from East Texas who shirked any trappings of being wannabe rock stars. They were drenched with acid mystique, and when they weren't too high to play, they were like a damn hurricane. They were playing their own brand of psychedelic punk. They were one of the greatest and strangest bands that I've ever seen. I still love them and still listen to their recordings.
I met Kelly Younger around that time. We formed a band with Andy Feehan, and some other guys, called The Lords. We played these community center teen dances. The Lords, only played covers. Hit singles and the like. At least we did album cuts of the Velvet Underground, Rolling Stones, Animals, Yardbirds and Love. We thought we were pretty radical because we refused to wear uniforms, and most other groups did. Most bands only played known radio hits and we played album tracks. You have to remember this was before FM radio started playing album cuts. With few exceptions, radio only would play the selected single. There were other interesting bands doing some originals, but not too many at that time. Everything was so restricted and stifled. I remember at one gig some older asshole stepped up and sucker punched Andy because he had yelled, "Fuck it!" in frustration about something. It was ridiculous.
Later, Andy Feehan and I started hanging out in the psychedelic clubs. You could go there underage because they were not serving alcohol, just lots of weed being smoked. We saw the 13th Floor Elevators playing at 2 and 3 AM. We saw bands like Bubble Puppy, the immensely underrated Children from San Antonio, The Chessmen of Dallas (the Vaughan brothers), and we got to see Sam "Lightnin" Hopkins a bunch of times. It was an excellent introduction to live noncommercial music.
The Lords broke up before I finally got kicked out of high school for "subversive political activity" and I left my parents' home. My "subversive political activity," by the way, was nothing more than being very vocally against the damn Vietnam War. I was on a Houston Independent School district blacklist. They were out to get kids like me, and they finally did. It happened to a lot of kids. High school was an Orwellian nightmare. It was really an eye opener. Once you see the lies exposed, it is impossible for anyone to stuff the genie back in the bottle. After high school I moved into a big house with Kelly and a crew of crazies, and it was a time of lots of live music, experimenting with acid, weed, and beer, nothing too different from the rest of the world. Kelly and I met up with John Paul around this time.
After a few years of working shit jobs and staying stoned Kelly, John Paul, and I ended up living in a series of old houses in the Montrose district. Kelly got hit by a car, and as a result of the insurance settlement he bought these huge Orange amps and some guitars and stuff, and we used to get fucked up and try and make original music. We sucked, but we had a lot of fun. We would go out to the Attics Dam area and pick shopping bags full of Texas psychedelic mushrooms. It was wild. You would wait until after a good rain and go out to the cow pastures there and pick all you wanted. People would have these mushroom parties. Crazy crazy times.
By this time the psych clubs were long gone and the local live music scene began to really suck. There were touring bands all of the time, but the local rock and roll music scene had dried up due to lack of club and radio support. Everyone who was on tour came through Houston in those days. I mean it. But a lot of the Houston clubs had a preference for cover bands only if you were local. It was fucked up. Austin had the Cosmic Cowboy thing and Houston had cover bands, kicker bars and pre-disco DJ clubs. It was a bleak time for local rock music.
MRR: Apart from music, tell me about Houston during the late 1970s, which you've called a turbulent time, yet also the time of a female mayor, Kathy Whitmire, who later formed the Civilian Review Committee to investigate police abuse, because many people may not know that it was basically a boomtown, an oil town, that had evolved very quickly, then almost collapsed. "When oil reached $40 a barrel in 1981, Houston was awash in money as scores of happy Texans got rich quick; four years later, the price of oil plummeted to single digits and Houstonians got poor even faster," says Lonely Planet. Is this partly what you meant by turbulent?
Houston in the early '70s, for me, was really a bore. As I said, the local music scene turned to shit and there was not a lot to do. Kelly, JP, and I would go to these boring disco "fake nightclubs" and do a kind of Clockwork Orange thing. Basically it was getting loaded, trying to pick up women, and just being rude and obnoxious. As a result of acting like jerks we were thrown out of a bunch of these places. We didn't fit in. We didn't want to fit in.
Sometimes we'd get a drummer for a while and try and create some music, but there was no place to play so it was a lot of directionless jamming at our house. The frustration and boredom were typical of the times, I guess, and it probably was happening all over. The police were always a total pain in the ass. I got arrested so many times for rinky-dink stupid stuff. Just police harassment types of things. You always had to be looking over your shoulder for the cops. It was worse for blacks, Latinos and gays. The HPD was being investigated by the federal government for all kinds of questionable uses of lethal force. They were known as the "killer cops" as a result. Houston also had the distinction of being the "murder capital of the nation" at this time.
The city was a big corporate shopping mall on the surface, but underneath it all, the frustration and boredom were brewing creativity. A repressive, fucked up, mean city. We stayed in the inner city areas like the Montrose and the Heights for the most part because if you ventured out to suburbia it was a real nightmare of strip malls, Cadillac cowboys wearing their spurs just for show, disco clubs, sports bars, mindless suburban rednecks, and the vulgarly rich. It was disgusting. The politics were smug. There was no kind of "street scene" that I can remember, except people driving around the strip shopping malls in their cars. The cops didn't want to see you "on the street." You were supposed to be off the street and spending your money in consumer frenzy. If you weren't doing that then you were suspect. "Hey, why aren't you inside there playing foosball? Where's your car?" The only thing you could hope for was a cool touring band coming through.
MRR: I assume punk roots were centered in the Montrose area, which some called a hippie ghetto in the '70s, where a lot of psychedelia was happening, and by 1980, had become a very openly gay district, with bars up and down the main drag, Westheimer. But, then again, from what I understand, the best place to see music was Liberty Hall, over in the Third Ward. Where do you see punk as beginning?
After the demise of the 13th Floor Elevators there was very little that I can recall that had even the remotest resemblance to what would become punk. I'm talking about local bands, Texas bands. The Cosmic Cowboy thing was in full swing in Austin and the disco scene was everywhere. Montrose was a fairly low rent district, and it was full of the remainder of the hippie scene, the artists, the gays, the characters and lower income people.
You're right about Liberty Hall. It was a place that tried to bring all kinds of music to town. It was the club that took chances, and it was also an unpretentious, real Texas music hall. Cold longneck beer, a wooden floor, a fairly big stage, and a friendly crew of employees made it great. They booked all kinds of stuff and there were no racist limitations. They booked the little-known Bruce Springsteen and the E Street Band there for a whole week. I saw the New York Dolls there two nights in a row, and later on that was where the Ramones played their first Houston shows, also for two nights.
Before that by a few years Kelly, JP, some other guys and I had finally formed a cover band, called China. To get any gigs you had to do covers. It was a horrible mishmash of stuff, and China fell apart. Who wanted to just play cover songs at Houlihan's Hamburgers, even if they were good cover songs? Then a year or so later Kelly, JP, and I linked up with a guy named Curtis Riker. We learned Curtis' songs with the intent of doing original music and some covers, but it wasn't any fun. Everyone but Curtis was secretly very dissatisfied. We played our first gig as Really Red at Ray's Icehouse in Pasadena, outside of Houston. Pasadena, at the time, was known for two things. One was the drive-in porn theater, and the other was the Ku Klux Klan. We played for "all the chili we could eat." I think we bombed at Ray's Icehouse in Pasadena. The four patrons thought we stunk. The chili was good, though.
The first thing that I was aware of on the local Houston scene that had anything to do with punk rock was the advent of the band Legionnaire's Disease. The Sex Pistols had come to Texas and gone, and one Jerry Anomie, fresh out of prison, had somehow ended up at their show in San Antonio. Well, he was inspired. He came back to Houston and put together, what I remember as, Houston's first punk band. They were The Legionnaire's Disease Band. They were chaos! Superb chaos. Just exactly what Houston needed. Musically they were nothing very original. Their original stuff was either a version of the Sex Pistols or a version The Stooges. But what they lacked in musical originality, they more than made up with sheer guts and spectacle. They would literally con their way into playing some sleepy hippie bar or unsuspecting club with the intent of causing a riot.
They would walk out in front of an unsuspecting crowd of beer guzzling hippies and completely freak everyone out. There was blond and stacked Gwen Duke playing bass in her underwear. There was Norman dressed in a mock Gestapo uniform and holding a completely unplugged guitar. Their real guitarist was way loud and could actually play. By the second song, Jerry would have dropped his pants and begun playing air guitar using his dick for a guitar. He would be totally naked by the third song. He was this skinny little guy with his back covered in a jailhouse tattoo. He would yell things like "It's deprogramming time," and "Wake up!" He would run into the audience and turn over tables and pour people's beer on them. They were part threat and part farce. It was dangerous, exciting, and hilarious. They were also amazing at self-promotion too. Jerry could talk bar owners into booking them after they had been banned from any place they had previously played. They were the first Houston punk band that played anywhere in public, as far as I'm concerned. Really Red learned a lot from their attitude and their approach to self-promotion.
Kelly, JP, Bob, and I started seeing Jerry and Legionnaire's Disease gigs. It wasn't until we saw Jerry and the Disease having a blast doing punk rock, and actually doing it in Houston, that we realized that we could also get away with playing what we really wanted to be playing. We were so ready to create some chaos of our own. We told Curtis that this was where we were going and he bailed. This was about 1978, I guess. We started making our own songs and practicing our asses off. We got some gigs in shithole bars and didn't do too bad. We gigged with the Disease several times and got along with them just fine. That is when we started to get serious. From then on it was every Tuesday, Thursday and Sunday nights for practice, booze, and sometimes arguments. We did that religiously the whole time we were together.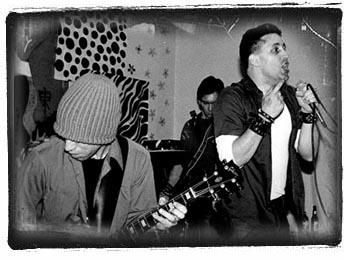 MRR: This is how you've phrased your experience of that time; "The bands, audiences, publishers, artists, and DJs were cutting their way through uncharted areas, breaking lots of rules as they invented a new counter-culture. Being a small part of the lives of the wild, inspiring, and often crazy people that we met along the way was well worth the time, money, and energy spent—not to mention the often frustrating experiences with rip-off promoters, cheap motels, lousy sound systems, unresponsive DJs, and abusive police." Were all these things just the nature of the beast in terms of touring the US in the early punk days, or were they extremely magnified in Texas?
Well, I don't think that I can improve on that quote, but I can sure expand on it. Back when there were no "punk" clubs or bars to play in at all, and I don't just mean in Houston or Texas, what you did was start from scratch creating your own scene. I mean, you had to con down and out bars that had no clientele into letting you put on "a rock show". Then you would spend the week plastering up posters and telling everyone you knew about it. The gig would usually be on a shitty night and when you played, the bar would have a shit fit and kick you out or at least say "Never again!" Then you would go to the next shithole and try it again. This is how it was all over the country. This is what DOA did in Vancouver, the Avengers and Dead Kennedys in Frisco, Black Flag, Circle Jerks, and X in LA, Big Boys and The Dicks in Austin, Meat Puppets and Hüsker Dü, and on all across the country. If you ran out of bars you would rent VFW halls, or any warehouse space that could be used for a one-off gig. You would play anywhere that would let you. We were thrown out of and banned from lots of places, as were other bands all across the country. It wasn't like it is now, where a punk band has a ready made and waiting club in every town. Oh no. You didn't have punk booking agencies to find places for you to play. You had to talk people into letting you play a show. You had to twist arms and bullshit people. You had to do it yourself.
It went on like this for a year or so until some place started warming up to the idea of letting these crappy bands have regular shows. These "crappy" bands were drawing a whole new crowd of people. Then, those places became the local punk clubs. A scene started growing around them. Then a band could try and play in some other town. Bands started contacting each other asking where there was to play. The fanzines exploded and every town had some little rag with interesting scene reports and reviews. Dozens upon dozens of little Xeroxed zines full of rants and reviews. When you toured you slept on people's floors, in fleabag motels, and in your van. You met all kinds of interesting characters as a result, and you ended up playing some strange "venues."
It took a long time, a lot of diligence, and a lot of work to create the punk scene. You had to not only work on your music, but you had to literally create places to play before anyone could even go to a gig to hear you. You had to design your gig flyers and go out and put up them up. You often had to rent a sound system as the little joints didn't have any. You had to do all the work hauling equipment and setting it up because maybe you would only have one friend/roadie to help. You wouldn't make any money because you would keep the cover charge down to nothing. We had plenty of shows where two or three bands split a $2 or $3 cover charge. We did gigs for $1 cover charges! It wasn't about making money. Really Red's idea about the money was that we weren't out to make big bucks, but if someone was going to make money off of us, then we would be getting our share. In the early days, and up through 1983, most bands were pretty cool about playing for low covers. Of course, this invited certain greedy club owners or asshole promoters to try and take advantage of these bands. They did, too. Rip-offs were common and brazen. Sometimes it got ugly just trying to get what you were promised. Real ugly.
There were few rules, and people were defining what their punk scene was. People dressed in any old thing that they thought was punk. Bands were raw and adventurous and didn't all sound exactly alike. There were all kinds of influences showing up. It was terrific. It was also a constant battle. Club owners, promoters and cops didn't know what the hell was going on. Audiences were just as confused at times. For a while some people thought that spitting on the bands was what they were expected to do. Later on, throwing bottles and stuff was in fashion. Breaking up shit, like chairs and stuff, would happen in this period. It was the explosion of turbulence that I referred to. It was the audience and bands versus the bar, their staff and cops. It was frustration and boredom with corporate America and the suburban nightmare exploding in desperation. It was dangerous and chaotic. There was that big Latino guy shooting off his gun into the ceiling at The Island before Phil Hix took over the management from him. There were sadistic bouncers beating the crap out of people because they were panicked and didn't know what was going on. It was exciting all right, but at times it was scary because it was new territory for everyone. Where it was going was anybody's guess.
It started to gel into a real scene once the majority of people realized that if we destroyed the clubs then we would have nowhere to go. If club owners allowed bouncers to beat up people, then no one would show up anymore. Clubs/bars, bands and audiences started working together to make OUR scene. The Island was the first openly punk club in Houston. You went out three or four nights a week to see fledgling bands, to "support the local scene," and to keep it all alive. I must have been at one show or another almost every single weekend for about seven years. It was intense, as we were all getting a bit of control and autonomy over our own lives, and that was exciting. People were being creative in a wild, satisfying way. We were collectively doing what we wanted, how we wanted to do it, and doing it in spite of the lack of attention paid by the media and the dominant corporate culture, and in spite of the attention paid by the police. We didn't need either. We were alive! I wouldn't have missed it for the world. It wasn't all violence and scary, either. Sometimes it was downright hilarious. It didn't matter if you screwed up or made an ass of yourself because nobody but the local scene would take notice anyway, and the bands and the audience were often hard to differentiate. In a way, the audience had taken over the stage. It was freedom.
MRR: Christian Arnheiter, who actually saw the Sex Pistols play in San Antonio, is often claimed to be one of Houston's original punk purveyors, since his band the Hates formed around 1978. He had a radio show on KTRU and used to buy tons of records from the import bin at Cactus. But what characters do you remember who might have formed the genesis of the music scene as bands like the Ramones, The Nerves, and the Sex Pistols played Texas in 1978?
Yeah, Christian was around in the early days. I never heard of him or his band until after Legionnaire's Disease happened. The way I remember it, the original Hates played some gigs in few places and then broke up. Before they broke up they recorded a bunch of songs. After they broke up, Christian pressed the songs and then released them over the next few years. It was a while until he got another Hates together and this kept the name out there. He would show up at a lot of gigs, not especially Really Red gigs. We weren't very close. The next versions of the Hates played rarely. Once every eight months or so, at least that is how I remember it. To my knowledge there were no Hates tours or anything, just the occasional Houston gig. But then he would write his own show reviews, "scene reports," for Maximum Rocknroll. I didn't know anyone that was into the Hates. Maybe I just missed the Hates scene. I don't know. He did have the first punk radio show in Houston. It was really short lived though. It was at KPFT, and I think they canned him after a few shows for swearing or some stupid reason. I don't know what happened there. That was early on, though. He was there at the start of the Houston punk scene. That much I know.
Other notable characters who contributed to the original Houston scene? Wow, let's see… I gotta say Phil Hix, the manager of the Island. Maybe it was spelled Hicks? Sorry Phil. Without Phil there would not have been anywhere to play. The Island was Houston's first real punk rock club. It was crazy. I'll never forget it. At first it was pretty violent because of a couple of psycho sadist bouncers, but after Phil got rid of them it was a lot of fun. Richard Tomcala started booking for Phil and the Island really took off. Richard kept his long hippie hair throughout that whole time, and that took some guts. Certain idiots would beat you up if your hair wasn't just right. He was constantly getting shit for it. But he was as much of the punk scene, when all is said and done, as anyone. So much for uniforms, eh?
I should be careful because I don't want to slight anyone. It was a long time back. Let's see, the Plastic Idols were early on, but short lived. They had an early Devo-type sound. Gary Yokie and the Ruse were in there, and they were great scene supporters. The strange MC5 meets Hawkwind outfit known as AK-47 would pop up. Starting at the beginning there was Henry Wilddog. He was this great character. He was an ex-Yippie who promoted some real early shows and had a fanzine. Later on he had a band called The Vast Majority. There was Houston's first predominantly female band, The Mydolls, who John Peel interviewed live on the BBC. There were the new wave popsters The Judys. JR Delgato came along later with Doomsday Massacre and later he had The Party Owls. The Killerwatz were early on, and around for quite a while, and the Recipients. There were the high school kids with bands like The Delinquents and The Parents. And I cannot forget Culturcide!!! Ho ho! They really freaked out a lot of people. You just couldn't put them into any category, thankfully.
There were scenesters like Matt Fatt, a guy who lived behind the bar at the Island and sometimes ran the door. He literally lived there in that heat and squalor. The Island sold liquor as well as beer and wine, but I don't think they ever carded anyone, as the place was always full of underage kids as well as the legal-aged adults. There must have been some kind of payola going on because the cops never busted the place for minors, but they would just come by and randomly arrest 10 or 12 people, or just get on stage and say "Go home, the show is over." They closed a Big Boys and Dicks show, I think, on a Friday night for no particular reason. We were playing the next night, so we found some old cop uniform shirts at the Goodwill and wore them that night when we played. We painted big bull's-eye targets on the back of them, though.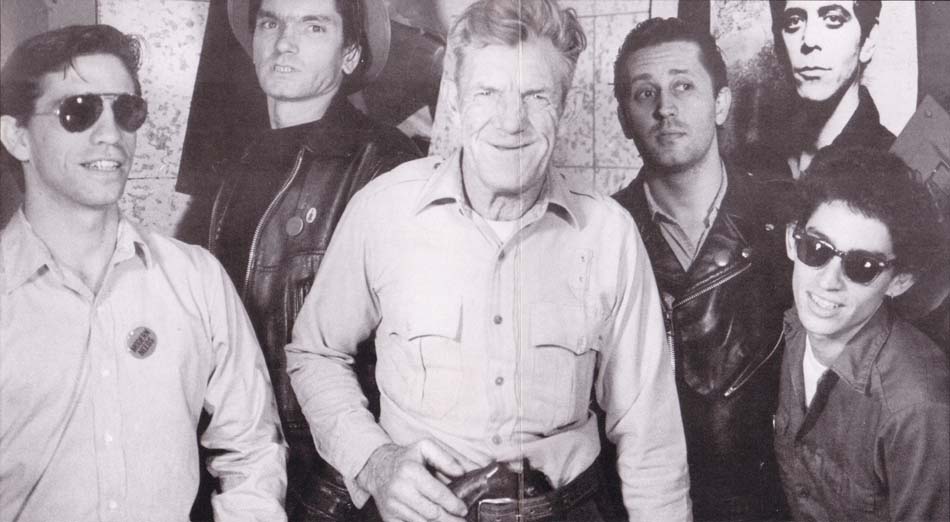 MRR: Supposedly, according to Scott Telles from the band Vast Majority, the early appearances of Really Red and Legionnaire's Disease were at Yippie events, sponsored by the likes of the Direct Action Committee, a University of Houston organization. Is that what helped shape the band's politics, or were these people just convenient in terms of getting gigs and publicity?
Ah yes, the Yippie events were put on by Henry Wilddog who, like I said, was an early supporter of the Houston punk scene. I can say that even though the Yippie scene was fading and the punk scene was emerging, there was a certain anarchist anti-capitalist area where they overlapped ideology-wise. He saw that and so did we. I can't speak for Jerry and the Disease, but I remember both bands being in full support of what the Yippies were on about at the time. While Legionnaire's Disease's politics were sheer chaos and shock, Really Red's politics were somewhat more focused and defined.
Really Red members were never in total agreement all the time on everything, but we had general areas where we were on the same page. However, as I wrote my own lyrics and made most of the flyers, I guess that allowed my politics to dominate the band. We never were out to become rock stars. We had day jobs. We were not making any money to speak of. With expenses of recording, equipment, a van, and traveling we called it "paying to play," as we always were in the hole and had to kick in money from our day jobs. We loved what we were doing, and what we were doing was trying to make high-energy rock that might be a small catalyst to inspire people to start thinking and to start standing up for social justice and political change. We tried to practice and not just preach. We did benefit gigs all the time, for everything from the John Brown Anti-Klan Organization, to KPFT radio, to raising money for an operation for someone's dog. It was part of the gig. Social conscience. Civic duty, if you will. My politics were way left. We sometimes would have major battles within the band about it. But there always was enough common ground to find an agreement. We made some really dumb "career moves" as a result of my becoming dogmatic about ideological things. Crass was a big influence on us at this time. I remember two really dumb things that we probably should have done differently. We had few rules but one of them was no photos of the band in our press releases. The thinking behind this was that photos were too "rock star" and promoted "personality cult" type stuff. As a result, the press, punk or otherwise, rarely had a picture of us to print. Obviously, this didn't help promote Really Red. Most of the photos that we have of the band were taken by someone who had nothing to do with the band and who gave us copies. Of course, all of our friends in other bands that we respected very much were turning out glossy 8 x 10s for the press. Duh. Another stupid move was at the height of our popularity. The Clash were coming to Texas on their Combat Rock tour. Butler Hancock was promoting the Texas part of their tour. He said that The Clash wanted us to open for them in Houston and Austin, and if all went well, maybe Dallas and wherever else they were playing in Texas. It was going to be those big arena type venues. We were for it except we had some reservations about playing those types of huge venues. Then Butler showed me the contract rider from The Clash. They were demanding all this rock star crap for backstage. It was amazing, and very disappointing to see. They were demanding china plates, silverware, tablecloths, cognac, and massive amounts of special catered food and drink, and who knows what. I thought, "What a bunch of petty bourgeois crap! What a load of rock star posers!" These aren't punks anymore, sez I. So, we told Butler to tell the mighty Clash to piss off. So? They contacted these New Orleans guys, The Red Rockers, and they flew in and did the whole tour of Texas with The Clash. However, Butler did let us into the show and backstage where we did eat and drink our fill of The Clash's fancy food and booze. There was a line of people getting Joe Strummer's autograph, and so I walked up to him like the drunken jackass that I was and said to him, as he was signing an Ellen Foley album that he and Mick had produced, "What's it all about Joe? Autographs?" He told me that, if he didn't do it then people would get pissed off. I said, "We don't want to be in a punk band and piss anyone off now, do we?" I was a bit of a jerk to old Joe, I suppose. I really liked him. May he rest in peace. So, no one saw Really Red opening for The Clash and we proved what? I don't know. Anonymity?
MRR: You owned Real Records, and supposedly another good store was Evolution Records on Bellaire. How did you end up owning and operating your own store? And, did you see that as part and parcel of, say, the IWW's (Industrial Worker's World) making a new world within the old, meaning changing the way people did business, or was it simply a job? The same idea could apply to your label, CIA, which, in addition to the Really Red records, put out vinyl by the Mydolls, Culturcide, Introverts, and Doomsday Massacre.
I started Real Records with a $2,500 loan from a friend, and a partner who kicked in the same. Of course, I couldn't have done it without the total support of my ex-wife. The object was to eke out a living, promote good alternative music, and sow the seeds of discontent. Not too original of an idea really. I had very high ideals about what could happen. My partner had other ideas and decided to become a heroin addict. He looted me blind. I got rid of him. I floundered for a few years trying to dig myself out of debt. I came up with the idiotic idea to deal cocaine to help get myself out of debt. How brilliant! I became strung out on coke. I later went bankrupt and was stuck with a drug habit. It took a few years to kick that. A disaster. I ended up working for my competition, The Sound Exchange. They were gracious enough to hire me back, as I had been the original store manager before I opened my place.
The CIA Records label was never mine. It wasn't really anybody's. Really Red was paying for everything ourselves. We were the label, as far as who paid for our recordings and pressings, etc. CIA Records was an address, a phone number, and Bob's closet full of records. So when our friends were going to put out a record, we would invite them to use the CIA name. They would pay for their own recordings, pressing, artwork, and freight, and we would add them to the "CIA roster," give them contacts and help them distribute their records. If their records sold, they got all the money. Same for Really Red, and we never broke even. The idea was that it would be more likely for distributors and radio stations to pick up something from some label that they already knew than from yet another unknown band and label. It worked fairly well. It was a kind of distribution co-op more than it was a real label.
MRR: I have pictures of you standing outside the Island with Klaus Flouride from the Dead Kennedys, but how did you end up on the Let Them Eat Jellybeans comp? It seems as if Jello might have chosen The Dicks, who were later on Alternative Tentacles, but Really Red alone represented the whole South, and thus exposed you to a worldwide interest in emerging hardcore music.
That came about because on our first tour to the West Coast we played some shows in San Francisco. Biafra saw us at the Mabuhay Gardens. He liked us. A month or so after the tour he called me up and asked if we would be on the compilation. We sent him the tapes of the Teaching You The Fear album that we were working on and he picked the song "Prostitution." I would have picked something else, but we wanted to be on the record so "Prostitution" it was. The picture of Klaus and me was taken in front of the Island. We were fortunate enough to share the bill with the Dead Kennedys on a couple of occasions. Really Red got to share bills with a lot of great bands besides the Dead Kennedys. We toured some west coast dates with the truly awesome DOA around 1981. I've seen them so many times, and they never have done a bum gig! We toured the west coast and Texas with DOA and also with Articles of Faith and we played shows with MDC, The Effigies, Negative Approach, The Stranglers, 999, The Dicks, John Cale, Circle Jerks, SPK, The Lewd, Mark Arm's first outfit Mr. Epp and the Calculations, Bad Brains, Big Boys, the Fastbacks, Die Kruezen, and many, many others. But my favorites were always DOA and The Dicks.
MRR: The song on the comp that really announced the band was "Prostitution," a personal fave of mine. Did this song directly relate to your feelings, later expressed in the promo for the new re-issue, that "Really Red never had any dream of becoming stars, nor was our intention ever to get signed' by a major label, a goal that seems all too common with so-called alternative bands of the '90s. Our aim was to be somewhat of a catalyst, however small, for thought, outrage, fun, action, and ultimately change and to have a great time provoking it." Are you suggesting that many indie bands prostitute their ideas, images, and music, still today, for the sake of contracts and an illusionary audience? Therefore, no lessons have been learned?
I'm flattered you like it. I don't dislike it. I just would have picked something else for the compilation at the time, but for some reason Biafra wanted that tune. I guess that we all are prostitutes to one degree or another. I guess it comes down to what one's motivation really is. I wrote those lyrics about those people who the corporate rock industry had made into untouchable gods, who at the same time were churning out meaningless dribble that was supposed to be some heavy thing, because it was they who were putting it out. All form and no content. All personality cult and no real substance. Phony hollow rebels, driving around in limousines, making money for huge corporations, but still wearing their blue jeans and "street clothes" for sales credibility. Later on, you'd see mohawks and leather jackets doing the same thing in the '90s.
Yeah, there's also a lot of it around today as Clear Channel buys up the airwaves and spews out slick manufactured, sexy, alternative rebelliousness that is censured from singing any anti-war lyrics. Don't kid yourself; the likes of bad boy rebels such as Eminem and Marilyn Manson are on a leash. They can go just so far. The very term "alternative" has been prostituted. I mean, how could Nirvana have been any kind of "alternative" anything? They were the number one record on a huge corporate label with videos shown on corporate TV as they played huge venues, and they were still referred to as "alternative" rock? They are still called "alternative rock." What were they an alternative to? I'll tell you what—lesser-known independent groups who were as good or better—that's what. Is alternative music a hairstyle, or maybe a leather jacket? Is it just playing fast, using swear words, dressing in drag or shaking your hair around? I don't think so. If you want to be a Nirvana, or Eminem, or whatever, that is all fine, but for cryin' out loud, at least have the guts to call it what it is—mainstream corporate rock selling a rebellious youth culture image for a big corporate profit. Some of it can be entertaining to listen to, of course, but the only thing it is an "alternative" to is independent non-corporate music. To me, the term "alternative music" was coined for music made by artists that were an alternative to corporate rock. The term is meaningless now, and it is no accident.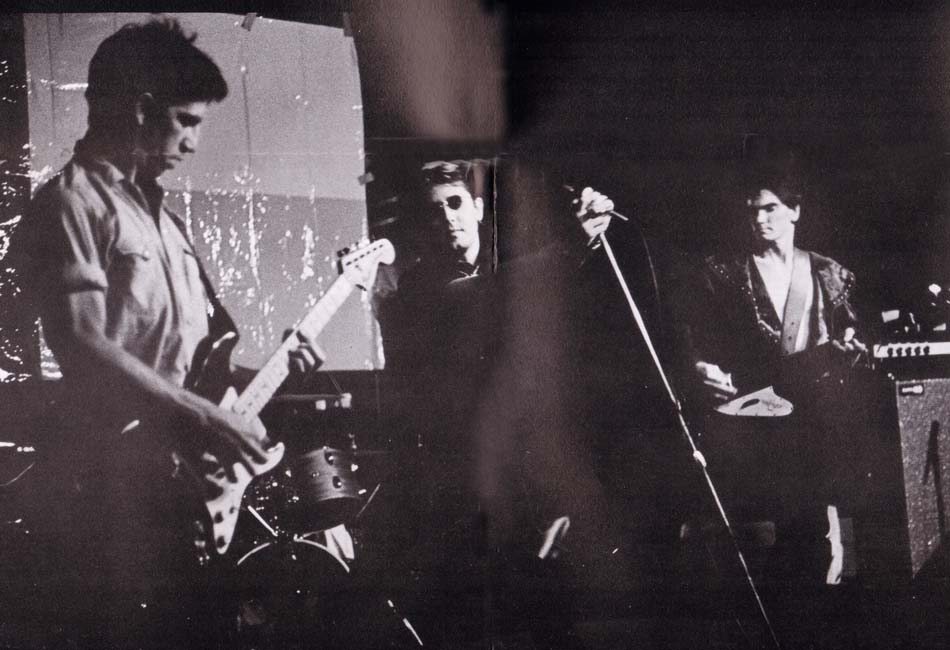 MRR: It seems that unlike Austin, and even Dallas, the Houston punk community is relatively unknown. Yes, bands like the Mydolls, whose member Linda you were once married to, were on the Cottage Cheese… compilation, and AK-47 had some notoriety, but bands like the Egos, Urban Guerillas, Plastic Idols, Recipients, Spys, and the Tix are mostly unknown. Has there always been an historical bias towards the other cities, or was Houston truly second-rate?
Maybe Houston's scene was just really underground? [Laughter] Maybe other cities get more support from people with money? Maybe Houston lacks the ability to promote itself? I am not too sure what the problem is. I know that there always have been talented smart people kicking around there. I know that the general mass media across the country seems to ignore the Houston music scene and focuses on Austin. That's why people move to Austin, to "be discovered". I was never impressed with anything that came out of Dallas except The Hugh Beaumont Experience. They were wonderful. The Mydolls accomplished everything that they accomplished on their own merit. Yes, my ex-wife was in that band, but aside from a few gigs that we did together, they were independent from Really Red and didn't "ride on our coat tails" in the least. They were out there doing their own thing.
MRR: John Paul writes on the punk rock archive site www.breakmyface.com, "Really Red was a band committed to freedom of expression, political statement, some misguided opinions, and a lot of volatility…. Ronnie didn't want to "sing" anybody else's lyrics, so we went along with that as long as we agreed on the content. After all, Ronnie sang, and we played… One thing is for sure: Really Red had integrity and a lot of faults and through that friction came fire." John Paul seems to be suggesting that the other members perhaps didn't share your insight or beliefs. Was there volatility and confrontation when it came to subject matter?
Like I was saying, sometimes there were disagreements. Sometimes there were shouting matches. A lot of times it was about the band's direction or political ideology. Sometimes it was about sorting out current events. Sometimes it was about stupid stuff, like who didn't help pack up the gear. Hell, being in a band is like being married to three other people all at the same time. Three times the ups and downs. Three times the haggling and compromising. There always was enough common ground between us to eventually get to an agreement.
MRR: John Paul went on to say, like the Minutemen, "Really Red as a group worked hard. We practiced every Tuesday, Wednesday, and Sunday afternoon without fail. If you were hungover, pissed off, not feeling good or whatever, there were no good excuses. You showed up, and you played. We were a band that jammed for hours on end. We played stuff we didn't even know what it was. We just jammed. Through the jam we came up with interesting riffs," yet you've written, "But I do feel that we turned out some good music, for our limited abilities and the somewhat restrictive musical genre we chose." It sounds like you were trying to push the envelope, and did, especially when compared to bands like DRI and even The Dicks, yet today you still feel that the efforts were a bit slight and stunted?
Naw. JP was totally right on. There's no disagreement there. We worked really hard and we partied really hard, and usually at the same time. I'm very proud of our stuff and I am extremely proud to have been in a group with these three guys. We had our differences and we don't even talk these days, but listen to those bastards. Killer bass all over the place, frantic freaked out guitar shit that steps way outside the clichés of punk, and full tilt drum assaults that pushed everything over the top! Like I said, we tried to make our punk rock our punk rock. Sometimes we failed and a lot of times we succeeded. We didn't want to be a cliché or a stereotype. What I meant by, "our limited abilities and the somewhat restrictive musical genre that we chose," is simply this: No one will mistake Really Red for say, The Mahavishnu Orchestra, and punk rock isn't a technically complicated genre when it comes to music in general, and I wasn't going to give the likes of Tom Jones or Pavarotti any competition on vocals but…who gives a fuck, eh? My only regret is that I wished we had gotten down better produced recordings. But then would that have been in keeping with the spirit of DIY punk rock? Raw is good.
MRR: Many people are aware of the Bad Brains incident in Austin when they stayed with the Big Boys, but let's not go there [for information about this incident, go to www.afropunk.com/profiles/blogs/big-boys-more-than-just-a-bad]. What were your impressions of the Bad Brains since you did have a chance to play with them? How would you compare their music and politics to bands like DOA, The Lewd, Articles of Faith, and many others you shared the stage with?
I thought the band was ferociously good. Technically amazing too. It was obvious to me that they could have been playing other types of more complicated music prior to being Bad Brains. I didn't like HR much at all on stage or off. He was into that weird Rastafarian religion and he seemed a little fanatical about it. He was very cold and aloof backstage. I don't think he liked "reds." Later, I heard about the incident in Austin at Tim's, and it didn't come as a big surprise. I don't know enough about the Bad Brains' politics to comment.
I think the politics of Joey and DOA were and are brilliant and a total inspiration. I have great admiration for that Shithead guy! He's never sold out. Check out his book "I, Shithead. A Life in Punk." I just saw him a month ago on the 25th anniversary tour or something. They were like a runaway freight train still. Amazing. Articles of Faith were terrific guys and a terrific band. Very progressive politically, too. Very intellectual people. Very well read. I just learned that Vic Bondi also lives in the Seattle area now, as I do. The Lewd's politics seemed to be closer to Legionnaire's Disease's pure hedonism. It would be impossible to give you my take on the politics of all the groups we played with, and even if I could, who gives a shit what I think about someone else's politics?
All I know is that people had better wake up and get rid of this cabal of corporate fascists who have taken over the country. They are destroying it more each day. This is not even Republican's business as usual. We've had a rigged election and a bloodless coup. We've had a terrorist attack that somehow the national defense allowed to happen. There were a lot of things that happened on 9/11 that are not being explained and that stink. We've had the invasion of Afghanistan, but Pakistan and the Saudis still have US support. We've had 100% total lies to justify the invasion of Iraq and a coup in Haiti. The combined death toll of innocent civilians is up over 25,000 or 30,000 now. They have antagonized the whole Arab and Muslim world, and they blindly support any genocidal thing that Israel does to the Palestinians. They are hacking away at our civil rights at home and trying to bankrupt the federal government so that they can privatize everything to be run for profit. The Cheney Regime is full of insane liars and they have to be sent packing. People better start getting the facts. For starters, I recommend Democracy Now with Amy Goodman on Pacifica radio or streaming internet. They are one of the very few TV and radio sources of uncensored real news. Also, foreign news sources like Canadian, and British. The real info is out there if you look.
MRR: One fan site gal wrote, "I like U-Ron's advice of not letting anyone grind me down. He's a wise man. I know this isn't the U-Ron life dedication site or like U-Ron fan club, but shit, he knows what's up dammit! However, he told me once that if you're really passionate about what you do, you're bound to step on someone's toes sooner or later." Lastly, whose toes do you think you've stepped on the way to, well, fulfilling your passions? And, looking back over these past two decades, what are your passions, and how have they changed?
Those are two huge questions. I don't know if I can even answer them. There are probably a lot of people's toes that I stepped on getting myself strung out on coke. That was a fucking nightmare that lasted about six years, more than half of which were post Really Red. I let a lot of people down with that shit, but I let myself down the most. That was a total perversion of passion. Also, I'm sure that in the struggle to make Really Red what we were, I probably acted like a jerk to a lot of people along the way. Regretfully the list is probably long.
My passion now is to try to understand what being alive is. That's a big old Zen one. The investigation of consciousness. The ancient "understanding myself" bit. The inner personal work. I am passionate about my lady, too. The other thing that I'm still very passionate about is doing what I can to promote freedom and justice. The outer impersonal work. Of course, both of these passions take a lot of learning and that is endless. I'm passionate about my kilt and about a little hell raising now and again.