Blog of the Week: Kill Your Pet Puppy
If you've ever had the fortune of stumbling upon the Kill Your Pet Puppy blog site, you know that it contains an almost overwhelming stockpile of rare and interesting ephemera from the early '80s UK anarcho-punk diaspora. One does not skim KYPP but gets utterly lost in its myriad of downloads, interviews, photos, anecdotes, flyers and reminiscences. No band is too obscure to be covered on Kill Your Pet Puppy, and it's coverage is certainly not limited to the UK anarcho scene. I asked one of the site's main forces, Tony Puppy, for background and insight about how and why the website exists. As expected, I got an extensive, in depth reply, but I've done my best to filter and regurgitate the highlights here…
Tony D, aka Tony Puppy, was the editor of one of the earliest punk fanzines, Ripped and Torn, from 1976 to 1979. After a brief self-imposed exile to Europe, he got out his typewriter again and started the Kill Your Pet Puppy fanzine, which went on public sale at an ADAM AND THE ANTS concert in Camden, North London, on New Year's Eve 1979. Kill Your Pet Puppy reflected punk life as it was under the newly elected Thatcher cosh: squatting, skinhead NF and British Movement attacks, speed being replaced by Tuinal, and scraping a rainbow life from the hell of reality. Kill Your Pet Puppy was at the forefront of a cultural landscape and an alternative world of squats, squatted venues and self-sufficiency that became known as anarcho punk'. They were liberating times.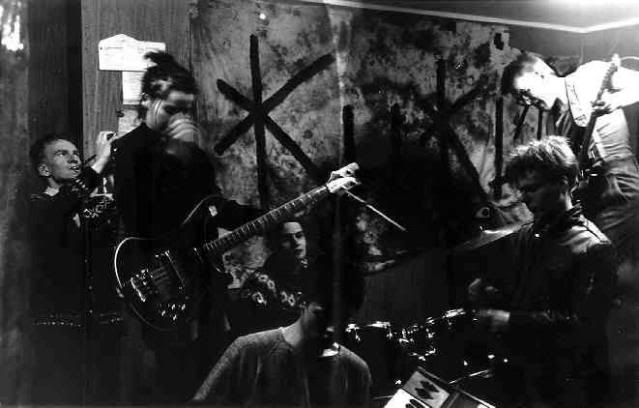 Kill Your Pet Puppy, the website, was started in October 2007. Feeling that books like The Day the Country Died focused too much on the music and not the ideas and culture of anarcho-punk, Tony, Al Puppy and Penguin (the site's main contributors) originally planned to write a book of their own, with contributions from various people such as Bob Short from BLOOD AND ROSES (whose pieces on the 3am site were inspirational). As life got in the way of this plan, the KYPP crew instead decided to start a MySpace page, and then a Photobucket site with notable contributions by photographer Mick Lugworm. Gerard of the band FLOWERS IN THE DUSTBIN came into the fray and helped set up the KYPP blog site as it exists today. The website has developed through many people's photos, scans of printed material, downloadable music and written contributions into a communication point for those who were there, those who wish to know more about the time and as something that is as culturally significant today as it was then.
All musical uploads on Penguin's posts are from original vinyl or cassettes recorded onto his hard drive through his stereo system. Penguin has informed me in the past that he has not listened to these rare tapes or dusted off some of those rare records he uploads onto the site for many many years! Penguin has continued to source and upload the most incredible stuff, such as a clutch of CRASS rehearsal tapes and many many live recordings from the most obscure venues of the most obscure but much loved bands of the time. He has also uploaded many alternative mix cassettes by bands like LACK OF KNOWLEDGE and POISON GIRLS. Nowhere in the world have these tapes ever been issued, premiered only on Kill Your Pet Puppy (although no doubt by now, some bloggers would have ripped Penguin's original links of his original material for their own sites — but that is cool).
Some of the biggest contributions, though, are entered by browsers in the comments sections attached to the posts, where topics take off and build to a life of their own. It has been great to see the site grow through our readers' input, which is the reason it was set up as a blog rather than a web-site: I wanted it to be a participatory experience and it has done that in spades. The site has over 700 comments on one post alone, and over 500 on another. The site to date has over 800 individual posts with over 15,000 comments attached to said posts. Many many old punks that were around in the scene in the late '70s and early '80s have now found each other again through this site a long way before Facebook style punks reunited' sites were existing.
One young punk who was convicted of murder' in the squats of Campbell Buildings, Waterloo, in the summer of 1980 when he was still a teenager has recently been sent letters of support and presents from Kill Your Pet Puppy browsers to his prison cell, and it is a pleasant feeling to know that the Free Gary Critchley' campaign was started from the comments section on a post from Kill Your Pet Puppy. A fact which I still find rather remarkable and touching, even more so if he were to be rightly released.
I asked for some tips on where to start, since the site is quite overwhelming on first viewing. Most of the suggestions are linked in the text of this post, but there are a few more below. Now, as Tony says, "Get on the site and fill your boots!"
The Mob's No Doves Fly Here post with Mark and Josef commenting in the text
Mike and Toxic Grafity CRASS edition fanzine
and finally, KILLING JOKE, written by Malicious Damage Operatives