Wow, what a show! Corrosion of Conformity in Raleigh, 12/11/10
Hello readers! Welcome to the first installment of a new regular feature here on maximumrocknroll.com. You may know Will Butler from his label/distro To Live A Lie out of Raleigh, NC, or you may have seen his awesome pics featured on our Monday Photo Blog a while back. Well, he (and hopefully others to come) will be treating us to show reviews and rad photos for your enjoyment and inspiration. If you take photos and like to write about punk shows (or if you and a friend wanna team up to do this) drop us a line at webzine@maximumrocknroll.com with a sample review and pics, and maybe you too can be a bona fide MRR web shitworker! Now take it away, Will…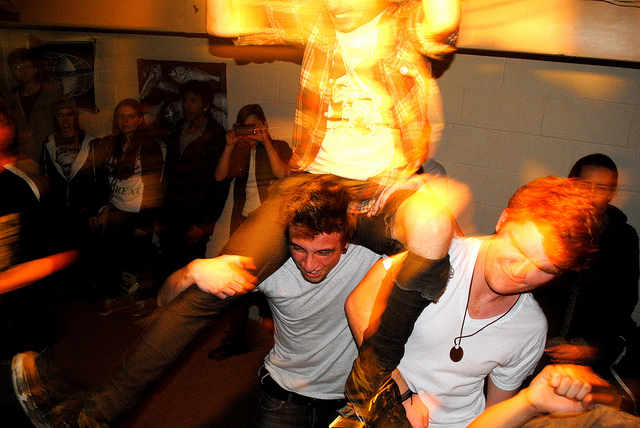 Double Negative, Devour, with surprise guests Corrosion of Conformity at Dregg's Grotto, Raleigh, NC, 12/11/2010
So I've been initiated into the MRR website gang at the very right time as of now. I'll tell you why… A secret show!
Well, not really a secret show, but a secret band playing an all-ages house show. The show was billed as Double Negative and friends. I would draw this out and make it nice and mysterious but I'm pretty sure the reason you're reading this is because their name is in the title of the post. Corrosion of Conformity was indeed slated to play a low-key house show with Double Negative and Devour. Holy shit. When I saw COC play two months ago at King's it was packed, cost me $12, and everyone stood around while the band played on stage. Tonight had none of these expensive, drab, and impersonal elements.
I showed up at a time I thought was going to be a little late, half on purpose and half because my record label work is neverending (like the story… nah nah nah, nah nah nah, nah nah nah). I arrived right on time for DOUBLE NEGATIVE to be loading gear into the dank basement of Dregg's Grotto, and in little time they were pounding out fast blasts left and right. There was one brand new song, I later found out is titled "Do the Writhe," which was a slower jam that I liked a lot. They belted out about four other new songs, newer than the Daydreamnation LP. Good quality set, people were singing along to the older stuff. I thought Kevin was pouring Four Loko on himself at one point but then realized it was just water form a SIGG bottle. Overall solid set. Double Negative doesn't have off nights.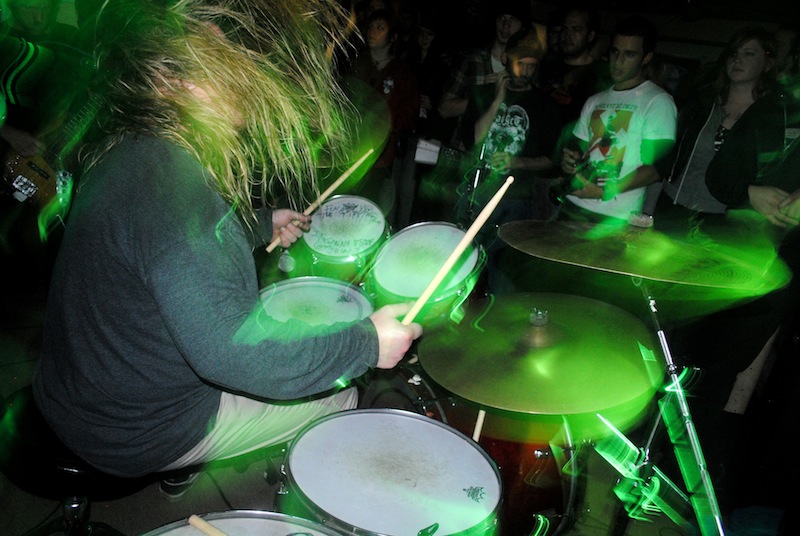 Next was CORROSION OF CONFORMITY, playing second just in case cops came to the house. The band is now back to their Animosity-era three-piece lineup, which consists of Woody, Mike, and Reed. Their set is a little hazy in my brain since  I was somehow simultaneously taking pictures, recording HD video with my fancy new cellphone, and recording audio. Unfortunately the audio didn't record for unknown reasons. Things I did pick out: perpetual raging out, killer hair whips by Reed while drumming (which in turn whipped me when I moved from the front row to the back of the room), and dudes from Double Negative with huge smiles on their faces. Yes, they played "Technocracy."
After their set, since I was right behind their drummer I chatted with him for a second. I assume people who have been in bands forever… aren't exactly jerks but are kind of weird when you compliment them. I patted him on the back and said they sounded great and that I had seen them previously. I was greeted with some fancy handshake work and kind words back. Later on I said a similar positive remark to their guitarist as his arms were full of equipment and he promptly stopped and was super excited as well. Another two notes here: (1) they played a free/donations suggested house show, and (2) they didn't set up merch. So all this compounded on me thinking these guys are just… well, there isn't a better word for this, but they are sweethearts. Sure, they didn't have to drive too far, as they live in the conjoining areas, but none of the hype or 28 years of being a band has left these guys greedy or full of themselves.
Upon telling my friend Hank that I was probably going to write this up, he told me that any good show review includes quotes from the night. So this quote of the night is per Hank Williams (yes, that's my friend's real name!) quoting someone else at the show who said, "This show is like a colostomy bag of mayhem."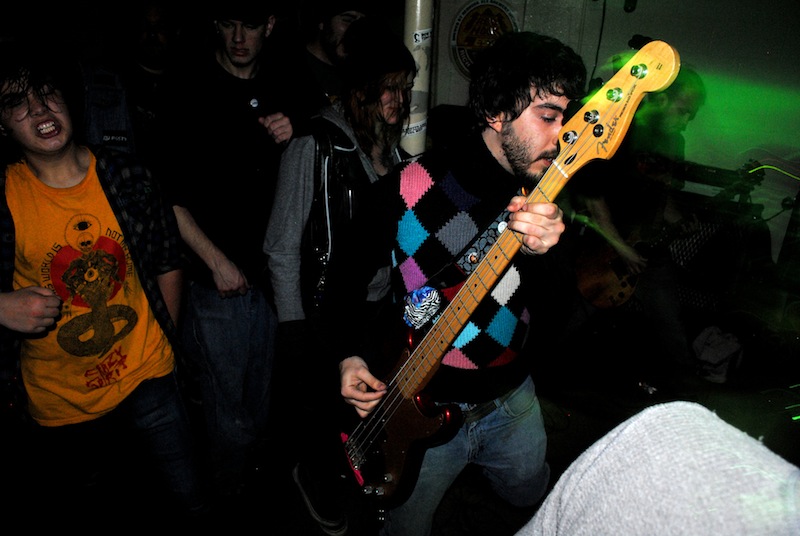 DEVOUR went on last. The place thinned out a bit, not in a bad way but in the perfect-amount-of-people type of way. I think they were having mic problems because at some point I realized I couldn't hear any of Cody's vocals. Mic issues seem to be a curse at Raleigh house shows. Another side note: the soundboard they were using said "Wiley PTA" on the side. Up till then it was sounding awesome… I hope we didn't kill some poor school's sound system. Devour held their own after following a crushing set from COC. Scathing, disjointed, dystopian psycho-blather. Notes of interest: Daniel did some cool delay-pedal guitar loops between songs, and Dave was wearing a really cute argyle half-turtle sweater.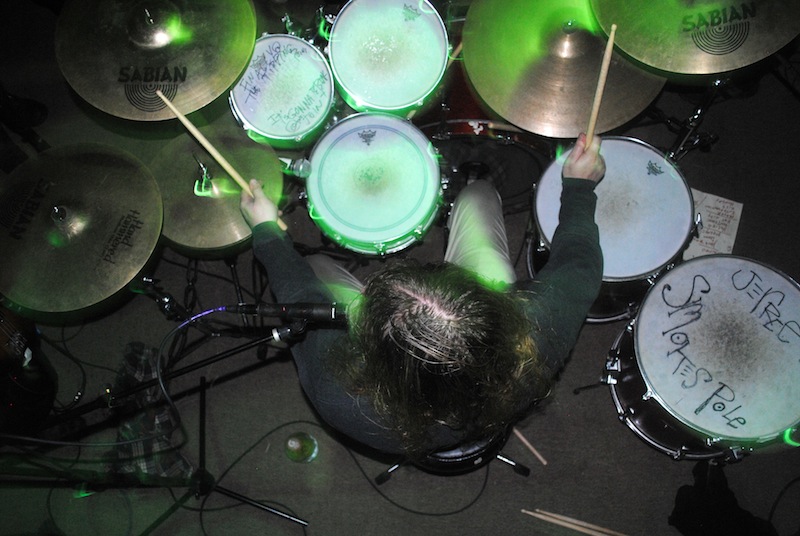 I'll leave you abruptly with this… This year has been a great year for music for me. As far as local house shows, this might take the cake for 2010. It is a good toss up between this and the Coke Bust show. It is 3 a.m. and I have 277 photos to edit through… goodnight!
Click here to see Will's video of the COC set.
[And here are some more of his pics from the show — click to enlarge]