Create to Destroy! 4th Annual Richmond Punx Picnic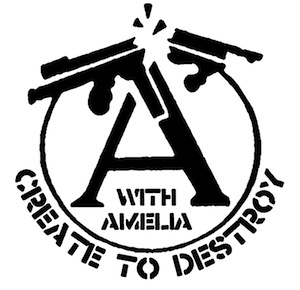 I dropped the ball and did not post this in time. That said, I hope y'all still made it out to the 4th Annual Richmond Punx Picnic in Richmond, Virginia. Even though this has already passed, I think it's important to read what goes into making a fest happen and get a mini update on RVA. Interview with Bobby Egger of Vinyl Conflict Record Store and Headcount Records and Nathan Ryan by Amelia
What's the scene like in Richmond, VA right now?
Bobby: Richmond's scene is ever evolving. At its base it's a college town so we have a turn over always of new students coming and going every year. It is also still a moderately cheap place to live, so we still find lots of very active bands who will tour a lot based out of here. I wouldn't say any specific scene is really popping off more than another at this particular moment, but there is really something for everyone. When bands come through and have a decent gig, we know how to put on a good time and our crowd is always quite diverse.
Any good bands we should know about?
Bobby: For Richmond the list goes on an on. I'll do my best and probably forget something important. BARGE, MAD EXISTENCE, FIRING SQUAD, NOSEBLEED, FRIED EGG, LEFT CROSS, SINISTER PURPOSE, NIGHT SHANK, MEMORY LOSS, ASYLUM, and KOMMUNION for hardcore punk for sure. The metal scene is just as sprawling, but I'm not even going to start on that.
How'd the Punx Picnic start?
Nathan: We started doing Richmond Punx Picnic because other cities like Baltimore and Philly were doing their own punx picnics and we started talking about it and decided that since nobody in Richmond was organizing one, that it was our duty as punx to at least do one and to see how it went. Richmond used to have Best Friends Day, which was occasionally peppered with punk and hardcore bands as well as Kollapse Fest, which was always stacked with the best punk and hardcore, but both events had permanently stopped happening. There have also been other punk fests in Richmond that did quite well such as No Way Fest, which additionally stopped after its 3rd year. The first year that we organized RPP it was kind of a gamble — a whole lot of shows over one weekend while we were used to only handling one show at a time. By the end of the weekend, we could tell that everyone had a blast and people were already starting to ask about the next year, so…
Has it evolved since then?
Nathan: It definitely has. Each year the cast of people who participate as RPP "staff" has rotated a bit. In the four years that we have been piecing it together we have all learned a lot. It seems that it's picking up speed and we seem to have an easier time booking bands that we really want as each year passes. People seem more aware of it now that it's been happening for a few years. We have also figured out what types of events, venues, and advertising works for us over time.
Fourth year — did you ever think you'd come this far?
Nathan: Honestly, not really. As we mentioned earlier, the first one was more like an experiment more than anything. We weren't really sure that we could even pull it off. The second year that we did it, we had people approaching us, saying things like "this could be the next big thing in Richmond" like it had the potential to turn into another Best Friends Day or Kollapse Fest. The thing is — we don't really want that. What is the most important to us is to showcase a roster of awesome bands as well as place emphasis on our own local talent. We have traditionally made it a point to avoid going heavy on metal or hardcore bands as well — all of those guys already have their own fests and big show weekends. It's called Richmond Punx Picnic for a reason. It's punk. It's for punx.
Who is involved in organizing it right now?
This year there are four main organizers: Bobby Egger (Vinyl Conflict Record Store), Nathan Ryan (ASYLUM), Ryan Zell (DISEVERED, ASYLUM), and Justin Hast (PRISONER). We have a lot of friends within the Richmond DIY community who always pitch in each year without fail, mainly Kasey Simcoe, who was one of the original weekend organizers but has recently moved back to her hometown of Baltimore, MD. Shout outs and big love to Matt Sachs, and all of the maniacs from VSC community.
Where is the show happening?
Nathan: This year we have two shows at Strange Matter (one on Friday and a matinee on Saturday). There is also a late show on Saturday at 25 Watt. Besides the show we are hosting a daytime cookout at a local park and then the actual picnic itself which always held at this sandy beach along a beautiful stretch of the James River.
Is it hard to find an all ages venue in Richmond?
Bobby: The issues aren't so much finding all-ages venues as it is finding all ages venues that will host what we are bringing to them. Richmond is a college town. There are so many bars that want shows and only a few of them that really support what we have going. As far as actual venues go, there are only about three or four willing to do punk. Richmond has a curfew of 11p.m., which is actually why most shows end up being 18+ it isn't some nasty jab at kids and it was put in place far too long ago and should be removed in this day and age. However these rules were not put in place for concert go-ers as much as they are weak attempts to bring down crime rates. So finding a place that will let us do what we want, but having it over at an acceptable hour tends to be the issue. We do have gigs that will be all ages, and at worst 18+. Nothing will be 21+, it's about city limitations not adhering to drinking booze.
Aspects of War and Final Assault are your headliners, who has headlined in previous years?
Bobby: Last year we had THE PIST as a headliner! The year before that we had ASPECTS OF WAR and WHO KILLED SPIKEY JACKET?, with CRIMSON SCARLET headlining an earlier Thursday gig.
Are there bands with women playing this year?
Bobby: Yes! Actually most of our locals this year will have ladies involved! NOSEBLEED, KOMMUNION, MEMORY LOSS, and ASYLUM all have females in them. THE BROOD from Philly also has a female member.
How can we stay up to date on the fest?
Nathan: Richmond Punx Picnic has an Instagram account (@rvapunxpicnic) as well as a Facebook page. It's actually listed as PUNX RVA PICNIC because we had an issue choosing the name we wanted. Facebook has become a huge pain in the ass over the past few years, but unfortunately it's a great tool for networking and advertising events and gigs.
Any last words, punks?
Nathan: Thanks to everyone for attending or participating over the past few years. It's always stressful to book a weekend-long event every year, especially while all of us have relationships, jobs, and school to focus on but in the end, seeing so many amazing bands and partying super hard with all of your buddies is what keeps punk alive and reminds you that it's all worth it. Up the punx! Richmond rules, OK?