Create to Destroy! catches up with Death/Traitors' Alex Heir
An interview with Alexander Heir of Death/Traitors in New York City appeared in MRR #360 last month. He did the cover art for that issue, and the positive response internationally was amazing. But the interview was from 2011, delayed due to many reasons, mostly being that I sat on transcribing the interview for over a year! So I thought I'd do a needed follow-up with Alex for MRR.com's Create to Destroy, as he has been up to a lot of interesting stuff since then…
You've been busy since the last time I interviewed you.
Yeah, it's been a great year. I've gotten a lot of opportunities to show my work and people have been responding really well to everything I've put out there.
Tell us about SURVIVAL. You released the Civil War demo tape in 2012. How many did you release? Any plans for future tours and releases?
We did about 150 hand-dubbed copies of Civil War, and are waiting on 100 more professionally dubbed ones that we're going to have for distros. We also just released a split tape with ANASAZI that we've been selling at shows, and will be available for mass release next month. We're planning a little summer tour with ANASAZI up to Ottawa, and will probably hit Rochester, Montreal, and Boston, as well. ANASAZI is like our brother band, we're all good friends and both playing punk on the darker side. Jess, who sings in SURVIVAL, plays bass in ANASAZI now as well.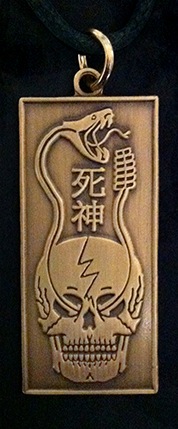 Who do you normally play with in NYC?
We've been playing pretty diverse shows, from noise punk like VIRGINIA TEK to darkwave like ROSA APÁTRIDA to straight ahead NYC punk gigs. It was cool opening for ASPECTS OF WAR (from Boston), I really like playing with really harsh bands, it's a nice balance. We're opening for CRAZY SPIRIT, RASPBERRY BULBS, and TOTAL CONTROL in Brooklyn on May 23rd; that's going to be a great show!
What do you think of the Metropolitan Museum of Art's "Punk: Chaos to Couture" exhibit?
I haven't gone, though I've seen plenty of photos and read a bunch of reviews. I'm torn about the idea of having a "punk" fashion show at the Met. As a punk/person invested in punk and alternative culture, I'm pretty turned off by any mainstream attention, especially fashion, which can be appropriated so superficially without any interest in the politics and ideas behind it. However, I also think the fashion and designers of that first wave of punk absolutely deserve their place in art/fashion history, and there could have been a really amazing exhibition of original punk clothing and ephemera. That show did not seem to have any interest in actually documenting that, though. It seemed like a big spectacle trying to capitalize off of punk's trendiness and the success of the Alexander McQueen show.
Have you collaborated with any other artists for Death/Traitors?
The last collaboration I did with someone else for Death/Traitors was with an Italian artist I really dig named Luca Yety Battaglia. I haven't really been interested in having other people do designs…I think one of Death/Traitors' strong points is the consistently of the images and message, since it's all designed by the same person.
Who else is screening cool stuff right now?
Toxic State Records is still holding it down with every release having screen-printed packaging. They just released an amazing compilation LP with a screened cover, poster, and Risographed booklet. If you are reading this interview, I cannot stress enough how killer the music and artwork for this record are.
What was the last thing you made for Death/Traitors?
I'm about to release a new line of shirt designs for the summer, and am working on new varsity jackets, knit sweaters, and scarves for the fall. I've got some cool little jewelry pieces coming out soon as well!
What's your next project?
I'm working on a book that will be a compilation of selected works from the past few years, as well as new pieces made just for the book. Sacred Bones will be publishing it and helping me organize an exhibition in conjunction with the release. I'm really honored and excited to be working with them.
I understand you went to Barcelona recently, can you give us a taste of what's going on there right now?
Barcelona was one of the best places I've ever been, I really didn't want to go home. There's a ton of great really great bands out there and everyone we met was so fucking nice and cool. I don't need to tell you how good BELGRADO, SECT, and GLAM are!!!
It reminded me of New York in a way because it's a meeting ground for people from all over. The scene, at least from what I experienced, wasn't just locals but also a lot of transplants from all over Spain and the rest of the world that are all coming together, doing their thing and exchanging ideas. I think it's why both Barcelona and NYC are so vibrant and interesting.
Barcelona also has a really long anarchist history, which you can still feel, in addition to the fact that their economy is fucked and there's a really high rate of unemployment, especially amongst the youth. The people in general seem pretty politically minded and there are protests on a weekly basis. There are a ton of squats in Barcelona, and the cops are pretty hands off. I had a real sense of freedom there I don't get in America, though I was on vacation so I wasn't forced to deal with whatever daily struggles the people living there have.
How's New York doing?
NYC is simultaneously the best and the worst. It was pretty rough coming home from Spain back to NYC. There's this kind of crushing feeling you get from being in NYC, just know that there are cameras and police everywhere. Just doing something as simple as drinking a beer in a park on a nice day was such a luxury in Spain. Here we're conditioned to live in constant fear of being busted for some dumb shit. And coming back from staying in a big, gorgeous squat to my small, expensive, studio/apartment was a bummer, as well.
Dealing with all this crap is one of the reasons why there are so many good bands, though. People get so insane and stressed they release it by working twice as hard on their music (or art). You get so used to having to hustle just to get by you bring that same mentality to your own work. Living in NYC makes you insane in a really particular way that I personally love, but it definitely not for everyone. It's hard to turn off and just chill sometimes.
I'm worried for the future of NYC. It's getting so expensive and gentrification is expanding so fast it's going to be even harder for regular working people to live here. As much as it's a creative hub, NYC can be really unfriendly to artists…studio space is really expensive and you have to compete with all the "artists" who have all the time and resources in the worlds to make their work because their living on their parent's dime. I used to think that was just a stereotype people say about Brooklyn, but it's true.
I don't know what's going to happen to New York when the only people that can afford to live here are investment bankers.
How are you?
I'm good. There's never enough time in the day to get everything I want done, but I suppose that's a good problem to have. The very fact that I can live off my art and shirts is amazing. I'm happy to be doing what I'm doing and ready to keep pushing things forward.
Any last words, punk?
Check out burnbooks.org in the coming weeks for the SURVIVAL demo and ANASAZI/SURVIVAL split tape; and new designs are up on deathtraitors.com!
If you are in LA I have some prints in a group show at THE GALLERY (1621 N. Cahuenga) up until May 31, and if you are in NYC I have prints in an short exhibition at CULTURE FIX (9 Clinton Street) open from May 16-19.
Just want to mention the new crop of NYC punk bands to check out like LA MISMA, BLACK BOOT, VIRGINIA TEK, MURDERER, WARTHOG, PUTRIDA, and DEFORMITY, plus all the bands that have been crushing it for a while like CRAZY SPIRIT, PERDITION, GOOSEBUMPS, HANK WOOD & THE HAMMERHEADS, NOMAD, SAD BOYS, and of course DAWN OF HUMANS (#1!!!!!!!!!) And for noise heads I strongly recommend FOREPLAY and PHARMAKON (brutal!!).
Anyone wishing to contact me about Death/Traitors, Survival, art, or whatever can reach me at alexanderheir@gmail.com.
PEACE