Create to Destroy! SPHC Records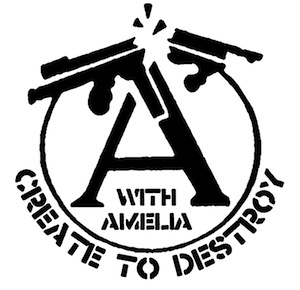 Dan and I crossed paths due to me booking shows in New York City for years. I know I booked his band LOTUS FUCKER at least once or twice and the WANKYS at ABC No Rio, a dream which he helped come true. Dan releases a slew of records under the guise of SPHC which stands for Severna Park Hardcore. He does a lot in punk and I thought I'd see if I could figure out how he does it all and still manages a semblance of sanity…
How was Asia? Where did you go?
Yeah, I just toured southeast Asia with Scottish fastcore band XSAXONX, for whom I play drums. It was an amazing experience, we did two weeks of gigs in Indonesia, Malaysia, and Singapore. The scene in this part of the world is so energetic, friendly, alive in a way that I don't think America's is. I highly encourage all good bands to tour this part of the world, you won't regret it, you will learn a lot about punk, about life, about the world. But please don't be a vacationer, make some real friendships and treat the scene with respect. And in that sense, shout outs to Talib, Syahir, Matt Norr, Dolly, Hafiz, Zhafran, Kimi, Zach, Ci Chaan, Sham, all the people that make southeast Asia such an amazing scene and helped us funky XSAXONX guys out along the way. I highly recommend people check out PAZAHORA, VAARALLINEN, ABRASION from Singapore, SCUMRAID from South Korea, APPARATUS, SHITNOISE BASTARDS, CRIME SCENE from Malaysia, KONTRASOCIAL from Indonesia.
What records did you buy in Japan? Did you go to any gigs?
Yeah, before the tour I popped over to Tokyo for a few days to visit friends. A previously-publicized mishap on the SEE YOU IN HELL/LOTUS FUCKER West Coast tour left me without any money so I didn't really buy any records, unfortunately, but I did spot an OG BAD BRAINS Pay to Cum EP for $3,000 and I think that's the most expensive record I've ever seen in person. SUN CHILDREN SUN hosted a nice little welcoming party for me, they played along with JACK THE UNITY and 人工楽園. SUN CHILDREN SUN registers as one of the best live bands I've seen in recent years, absolutely one of the best punk bands in the world right now. I'm excitedly anticipating their eventual American tour!
I know you released what…13 records last year? What's currently in the works now?
Yeah, too many, LOL! I often wonder if I'm part of the problem, if I'm contributing to the ever-increasing glut of crappy records the DIY scene produces. But I would go to bat for each of my releases, that they are all high-quality and meaningful works. This year is going to be equally hectic. A lot of what I'm working on is still in various stages of recording/mixing/mastering, but I've currently got new records by BRODY'S MILITIA and SETE STAR SEPT at the plant, and new records by CABBAGEHEADS, LOTUS FUCKER, and COLUMN OF HEAVEN not too far behind. I'm also helping some friends from South America press records here in the USA. In that context I've got new shit from TERCER MUNDO, MERDA, and MUKEKA DI RATO also at the plant.
What was the first record you ever released and why?
First record was KAMIKAZE NOISE 7″ in 2007, 300 copies, sold out in a month. It was basically the pre-LOTUS FUCKER band, we had been a band for a few years and were touring pretty regularly so I thought it was time to go from tape releases to vinyl. It's fucking horrible, but no regrets — it was a positive learning experience and everybody has to start somewhere. I can safely say I've grown a lot since then, as an artist and as a label boss.
Was it easier or harder than you thought it would be to release a record?
Easier, way easier. I thought it was some mystical process but it's not, it's just a lot of fucking chaos and manufacturing. I've become really fascinated and enamored with the process of producing records and I give a lot of time and thought to even nitty gritty stuff like paper stocks and record mastering. I've toured some pressing plants and print shops before, I love learning about the process, the business of it. I eat up this kind of information. It's also really distressing because I think the more you learn about it, the easier it is to see that vinyl is going to be a dead format soon enough, probably not in our lifetimes but relatively soon. I plan on enjoying it while I can.
How has it changed from your first release til now?
Unfortunately, my classically horrible sense of visual layout and style has not improved very much, but I think the basic changes have been that I am more aware of all the parts and factors of a record, from song sequencing to record label insignia, and I am more refined in my opinions of how all these things come together to holistically make a "good record." I think, as a label, the purpose is to help my friends achieve their vision and create the best records they can manage, but a lot of times my friends have different opinions than me, and as long as a band can prove to me that they put some thought and effort into their release, I will basically let the bands I work with do anything, even stuff I'm not totally sold on.
What records are you seeking to release?
Well, I am actually releasing almost all the records I am seeking to — there's not really anything I'd like to add. I'm only interested in working with my friends. I see SPHC as a relatively loose family of bands in a way, my hardcore family (hahaha), and I just want to keep helping my crew release good records, tour, and keep moving forward towards their visions. That being said, I regret that TEARGAS wasn't able to do the 7″ on SPHC that we shook hands on, and I am label jealous over that SETE STAR SEPT/NUT SCREAMER split 7″ that No Fucking Labels released, that is a dream record for me. The biggest dream-come-true releases for me have been the records for TERVEET KÄDET and BOOM BOOM KID, two of my all-time favorite bands that I've been listening to since I was basically a child, two bands that have such a huge impact on my life…I'm really glad to count these guys as my friends.
Do you have bands approach you?
I do from time to time, but unfortunately it's rare that I'm able to expand my scope and increase my workload. I'm already releasing like a dozen records a year from all the bands I work with; I can barely handle that!
You seem to release internationally. How do you have such a wide network?
Haha, well, punk is an international network of friends and I really believe you get out of it what you put into it. I spend a lot of time organizing gigs, organizing tours, helping people out. It's lead me to a lot of meaningful friendships and experiences that I wouldn't trade for anything. Especially with the power of the internet, it's easy to keep in touch over the years and stay friends. Anybody can do it — I dunno, it's nothing special, in my opinion. Just be a good friend! Show some respect, some interest, some care, be polite, it's just like making friends anywhere else only it's way cooler because punk is way cooler.
You live in DC, right? How's the current scene there?
Well, I lived in DC for about eight years but moved an hour north to Baltimore, MD, in 2012, as I just found it too difficult to keep being punk in DC, in the way that I envision "being punk." Even while I was living in DC, Baltimore felt like my home, and since I moved I've been a lot happier. The scene here is, in my opinion, one of the best in America. Barclay House has been holding it down as the #1 best venue on the East Coast for the last ten years. I think the scene here is warmer, friendlier, more sincere than just about anywhere else, and that's enough for me. The gigs are well-attended and high energy, tons of fun with a super welcoming and accepting atmosphere. That being said, drugs/alcohol are a major problem here, and most of our other problems tend to be rooted in that. That could be the story of any poor city though. The best local bands of recent memory were SCUM AGAIN, who play top-tier pop-punk in the vein of SNUGGLE, and MIND AS PRISON, fucking great grind core.
How can we best stay up to date on what your label is doing?
Just keep checking back at the little SPHC Big Cartel website thing. It'll be updated as new releases get dropped and tour dates get settled.
How can we best contact you?
WhyDoTheyLive@yahoo.com, I try to respond to everything but it might take me awhile so please be patient.
Any last words?
Destroy all music now, and reclaim music from musicians. If you have something to say, don't even hesitate, start a band and express yourself, doesn't matter if it's good or bad, everybody sucks when they start, just do it. Not every band should be releasing records and touring, but everybody that wants to participate should give it their all. Thanks for interviewing me.