Create to Destroy! Static Shock Weekend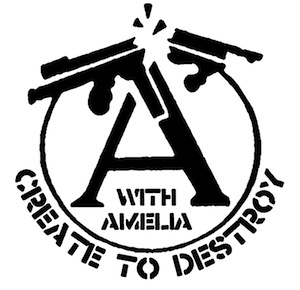 Tom Ellis does a lot for the punk community in London from booking gigs to having a distro and record label. Being a master gig booker, every year he tops himself with Static Shock Weekend. This will be the fourth year of the fest occurring for three days kicking off November 3rd and ending November 6th featuring headliners such as Kriegshög, Lowest Form, Warthog, Rixe, Wankys, and Iron Lung. Quite a stacked line up! Quick a stacked fest!
Are you excited for Static Shock this year?
I'm just abut hitting the point of feeling overwhelmed/terrified about everything that needs to be done and what could potentially go wrong to now just feeling pretty stoked that it's so close. As I'm writing this the first bands are getting into town in about 48 hours time!
How is it different from other years?
This year is a little different in the way that we've tried to expand some of the shows. The main venue now has two stages this year which has meant we can showcase a few more local bands than previously which I'm pretty happy about. Obviously you can never quite squeeze in as many as you want to, but it's a good selection of the diverse scope we have locally.
How long have you been pulling this thing off?
This will be the fourth time the weekend has happened since 2012.
Have you gotten a lot of help over the years?
Absolutely. I don't think it would be an exaggeration to say that the festival wouldn't have happened more than once if it wasn't for the encouragement and support from everyone who's willing to help (and also sometimes inconvenience themselves) by suggesting/getting in touch with bands, doing the door, working the shows, putting bands up, feeding bands, making flyers, listening to my moaning for the six months beforehand. They deserve all of the credit, and hopefully no punishment over the fest.
Why do you keep doing it? Sounds exhausting.
This is something I keep thinking about. The idea originally came from traveling to fests such as Not Dead Yet (and Fucked Up Weekend before that), K-Town and Trashfest and always being jealous that there wasn't something more like that closer to home. We always had the weekenders at the 1in12 Club and around the country, but it seemed a lot were always verging towards one particular sub-genre (be it crust, the more mosh friendly hardcore bands or whatever) and not really open to mixing it up. Fast forward a few years and there's a lot more fests happening with pretty open minded booking which is great, but it also makes me wonder if there's a need to keep doing SSW every year. Time will tell I guess!
London seems to have changed a lot pretty quickly over the past several years, making it especially hard for punks and artists to survive there. How has the landscape of London changing effected your fest? Are there less venues and places for after shows?
There's no escaping the fact that London is a hard city to live in, especially compared to some other cities around the country and around Europe. I'd like to think that this actually drives people harder to make things work out though. We also have supportive creative spaces such as New River Studios and DIY Space For London who let shows happen there so we don't have to be too reliant on bars or other places that get sick of punk shows happening after a couple of times or whatever. This year we're using four different venues of varying sizes (the smallest holding just over 100, the largest just over 500) so things are pretty good on that front. After shows have always been really tricky in London due to licensing laws, so we've usually ended up using wherever was willing to have us, however we have found an understanding venue this year in The Unicorn, so fingers crossed that goes well.
Are there more people from outside of London now who attend Static Shock than people actually living in London? It seems a lot of people have moved outside of London.
Yeah, it seems like half of London is relocating to Glasgow right now! An average show in London will pull in around 50—150 punks and there will be around 500+ around for the fest! A lot will travel around from all over the UK and also Europe to come hang out and see a bunch of bands they may never get a chance to otherwise. Some people have traveled before from as far as Australia, America and Canada as well which is pretty amazing.
Your headliners this year are IRON LUNG and KRIEGSHÖG, have you seen these bands live before?
As well as VAASKA, but unfortunately BELGRADO had to drop off due to visa issues. I'm lucky enough to have seen all four bands before. IRON LUNG and BELGRADO have been here before, but neither for a few years, so it's great to have them back in town. I saw KRIEGSHÖG play in Texas a few years back in a warehouse with DOUBLE NEGATIVE and count it as one of the best shows I've ever seen, so as soon as I got wind they were playing again we invited them over. Fortunately they were really up for it, and have even recorded a new 7″ too! VAASKA have played Europe but never the UK before, so I'm very stoked to have them here closing the weekend. 'Todos Contra Todos' is such a killer record.
You have many international bands coming over, how do you make sure they are taken care of during their time in London?
Thankfully, we have a bunch of friends willing to open up their homes to the international punks coming through town and will make sure that they are well taken care of. If they're coming all this way to play, it's the least we can do!
Are you excited for the WANKYS? I love the WANKYS. Local noise heroes…
Mate, how can you not love THE WANKYS? The best band and the best people! True lifers who's enthusiasm puts most people half their age to shame. This is actually going to be their ten year anniversary gig as well. I'll be pogoing hard for "Just One Beer" with the best of them.
So jealous — I wish I was going to be there to celebrate their existence. Have any of your shows sold out?
So far the Thursday show with BELGRADO has sold out, but the Saturday matinee with DISGUISE and the VAASKA show on Sunday is not too far off!
How many venues are you using this year? Are they all ages?
This year we are using four venues (DIY Space For London, New River Studios, The Dome and The Unicorn). DSFL and New River are all ages, The Dome is 14+ and only The Unicorn is 18+. All ages are strongly welcomed and encouraged!
What local businesses should people check out while they're hanging out for Static Shock Weekend?
For records, you should be aiming to check out Tome Records (located inside DIY Space For London, All Ages (Camden) as well as Reckless in Soho. Go for food at The Waiting Room or The Full Nelson in Deptford if you get a chance, the latter is a new punk run bar/restaurant.
DIY space for London is really cool and Tome Records has a La Vida Es Un Mus section- totally tits record store! Any exciting new bands in and around London right now that we should check out?
Yes! ARMS RACE are the best live band in the UK right now and are now fully London based. PINKGRIP have just started playing shows and are awesome. They kind of remind me a little bit of VILE (musically, not lyrically) with an extremely angry frontwoman, I wish I could have squeezed them on the fest. SARCASM are a great post punk band. MURDER formed from the ashes of DIE and play great straight-up hardcore punk. There's a ton of others right now (RUNT, FEX URBIS, PAYDAY, SCRAP BRAIN, THE SWELL, BODY BUTTER), the list goes on.
Any last words, Mr. Ellis?
Thanks for the interest and I hope some of you can make the weekend!