From the Vaults: Eucharist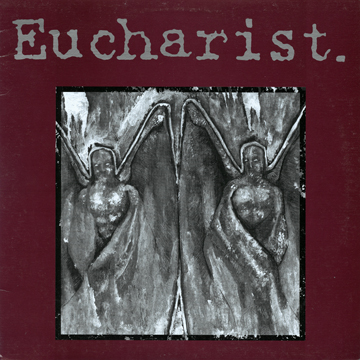 Richmond, VA's EUCHARIST released this 12″ on Mountain Records in 1996. I was inspired to pull it out because a friend's band was reviewed in MRR a while back and his vocals were compared to Eucharist. When I talked to him later, he said he was bummed because he figured they were an emo band (a la Saetia, maybe?) since their record was released on Mountain in the '90s. Maybe this post will change his mind.
Eucharist played crushing hardcore with influences from some of the best late-'80s/early-'90s US hardcore bands. I can hear traces of Infest, Citizens Arrest, Born Against, Rorschach, Crossed Out, etc. Besides this 12″, they had a few tracks on the Nothing's Quiet on the Eastern Front compilation LP (alongside Devoid of Faith, Assfactor 4, Dropdead, Monster X, and more), the Vida Life comp (on Lengua Armada), and the, uh, Double Dose of Dicks 2×7″ comp. Their guitarist Mark Telfian would go on to play in the band Hail Mary and was the original guitarist of Limp Wrist. He also did the label Paralogy Records.
Listen to the 12″ here:
1. Plague
2. Born in a Mess
3. Exit
4. Promised
5. Splintered
6. Spoon Fed
7. Fangs
8. Praying for Failure
9. Body and Blood
10. Frozen Minds
11. You've Been Had
12. Sensory Deprivation
13. Invincible
14. Fooled Again
As a side note, Mountain was a pretty diverse label, releasing stuff by Halfman, Seein Red, Iceburn, Atom & His Package, and comps with Totalitär, Antiproduct, Submission Hold, In/Humanity, and Balance of Terror. I was a regular volunteer there for a couple years in the early 2000s. Chris Jensen: if you read this, I hope you're doing well!
Podcast: Play in new window | Download (900.6KB)