From the Vaults: Keine Experimente! Vol.II comp LP
Alright, this week our From the Vaults feature is back with a vengeance! Today shitworker Matt Badenhop digs out a treasure from the Maximum record library for his debut blog on MRR.com. Take it  away, Matt!…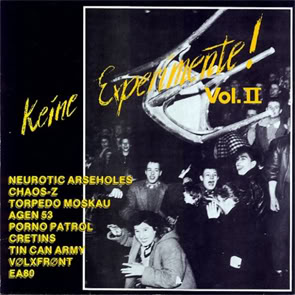 Compilations can be mixed bags — hot and cold — sometimes containing a few good songs accompanied by a bunch of throwaway tracks. Another pitfall for comps is when some or most of the songs are just pulled from bands' releases. This can be helpful to draw you to seek out the bands' material, but then maybe the compilation isn't as special anymore. At least this is how I've felt about some punk comps in the past. With so much focus and fetishizing of punk and hardcore from places like Japan, Sweden, and Finland, I thought it would be fun to point out this unappreciated classic featuring some of Germany's finest from 1984.
Keine Experimente! Vol.II (Weird System Records) transcends the aforementioned compilation trappings, featuring 100 percent "all killer no filler" material exclusive to this comp (well, at the time they were exclusive—some of these songs have appeared on some of the bands' later discographies). Each band contributes two original songs, one on each side of the LP, covering a wide spectrum of punk sounds. Thus proving that West Germany had some amazing shit going on at that time!
TORPEDO MOSKAU – "Halts Maul"

TORPEDO MOSKAU kicks off the party with a solid punk tune with impressive, frantic drumming. Then AGEN 53 maintains the quick pace with great chorus-effected basslines. Next up are the CRETINS who, along with NEUROTIC ARSEHOLES, offer up the best tracks on this LP. TIN CAN ARMY and VOLXFRONT have more of a mid tempo streetpunk approach with great fist pumping shout-alongs, but still showcasing some catchy guitar melodies and world-class hooks. The absurdly named PORNO PATROL picks things up with some excellent catchy hardcore. You may recall them from the essential International Peace 2xLP comp. Then we have "SWAPOland" from NEUROTIC ARSEHOLES, which has such an incredible, melodic, dynamic, and distinct sound. NEUROTIC ARSEHOLES aren't really matched in sound by anyone, in my opinion — a truly honest and original sounding band, which really comes through in this track and the one that kicks off side B. But not before EA80 and CHAOS Z bring their first contributions to this master slab. The former is one of the (if not the) longest running, important DIY German punk bands. German punks can attest to EA80's importance in the scene, and staying true to DIY ethics to this day. The last track on side A is a dark, droning, moody punk gem from CHAOS Z, who at this point had begun to evolve from primitive hardcore to a gloomier, somber punk sound (members later formed FLIEHENDE STURME, further exploring and evolving this sound and still doing so today!).
PORNO PATROL – "Reality?"

TIN CAN ARMY  – "Dead Born Babies"

Side B serves up another dose of the same quality punk, never letting up for a second. Right off the bat is a major standout track, "Alles geht Weiter" by NEUROTIC ARSEHOLES. The bass and guitar eloquently trade off complimentary melodies, almost flirting with one another, as the tuneful vocalist acts as another instrument rather than just "singing words." Another highlight is "Reality?" by PORNO PATROL, with its crude vocal attack and mid-tempo to fast hardcore switch up. They are the only band to sing in English on this comp, aside from TIN CAN ARMY's "Dead Born Babies," which boasts rich bass tone and catchy guitars and growling. The closing track might be my overall favorite. I literally can't play "Warten Auf…" by CRETINS without wanting to get up and dance around the room, every time, without fail. I have put this song on nearly every mix tape I've ever made. It has this brilliant infectious, bouncy, clean guitar line that commands the listener to move their ass. And the chorus is easy to pick up on — it's just "Cretin…Cretin! — Cretin…Cretin!"
CRETINS – "Warten Auf…"

I'm pretty sure that there are plenty of copies of this LP out there, especially since Weird System re-released much of their original catalog, so I urge everyone to seek it out! But if you can't find it, there are plenty of other amazing German punk/hardcore bands not featured on here that I recommend such as SLIME, RAZZIA, NORMAHL, MOTTEK, HOSTAGES OF AYATOLLAH, UPRIGHT CITIZENS, INFERNO, CERESIT, HANS-A-PLAST, BLUTTAT, VORKRIEGSJUGEND, INFERNO, MANIACS, SS ULTRABRUTAL, HONKAS, and TARGETS to name a few.
More tracks from this comp:
Chaos Z – "Ein Tropfen im Feuer"
Neurotic Arseholes – "Alles Geht Weiter"
EA80 – "Sie Werden Nie Verstehen"
Podcast: Play in new window | Download (2.4MB)