From the Vaults: Why Are We Here?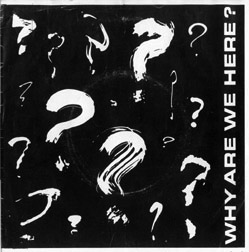 Here's a great EP that I first heard when I pulled it off the shelves at MRR. As a rule, compilations are a risky proposition: too many sub-par bands can ruin an otherwise good comp — or, if the different groups' styles don't mesh, you end up with an uneven listen. Neither is the case with Why Are We Here?, a regional comp from North Carolina released by No Core Records (get it? No Core) in 1983.
Bloodmobile opens with three SoCal-punk-influenced songs (check the awesome melodic bridge in "Drug-Related Death"!). Sadly, this band never recorded anything else — not even a demo — but I did run across some live tracks several years back that were OK. The almighty Corrosion of Conformity follows with two tracks that would later appear on their debut LP Eye for an Eye (same versions), plus one ("Too Cool") that's exclusive to this record.
Stillborn Christians deliver three more HC tunes with an interesting angular post-punk influence. These guys were definitely a cut above your typical paint-by-numbers thrash band, and it's no surprise that the bass player went on to become a jazz musician. I believe at one point Stillborn Christians were supposed to release something else on No Core (an EP maybe? or cassette album?) and while unfortunately they never had anything else on vinyl, there does exist a great-sounding studio demo from around the same period with different versions of some of their tracks from Why Are We Here? plus a bunch more. Finally, No Labels closes out side B with two more exceptional songs. This band featured two members of C.O.C., though they've got more of a straightforward classic DC hardcore style. No Labels also has a ton of songs on the No Core tape (the Why Are We Here? precursor) plus a demo of their own, but these tracks are their best-sounding stuff. The breakdown to "Compromises" is killer!!
Listen below (and apologies for the surface noise — sounds like this particular record has seen many spins).
1. Bloodmobile — Drug-Related Death
2. Bloodmobile — Little Boy Blue
3. Bloodmobile — The Smiths
4. C.O.C. — Poison Planet
5. C.O.C. — Indifferent
6. C.O.C. — Too Cool
7. Stillborn Christians — New Right
8. Stillborn Christians — Fred
9. Stillborn Christians — Aggression
10. No Labels — Changes
11. No Labels — Compromises
To end this post, here's some awesome live C.O.C. footage from 1983 (though I wish the audio and video were synched) — enjoy!
Podcast: Play in new window | Download (693.7KB)