John Holmstrom Remembers Arturo Vega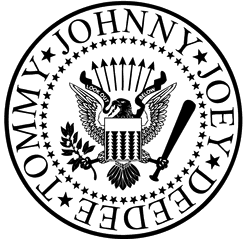 Arturo Vega, one of the most influential visual artists in punk rock — as the designer of the Ramones iconic and much-copied logo, and artistic director for the band for their entire history — passed away in New York City aged 65 on Saturday, June 8th.
He famously described his thoughts on the creation of the Ramones logo:
I saw them as the ultimate all-American band. To me, they reflected the American character in general—an almost childish innocent aggression…. I thought, 'The Great Seal of the President of the United States' would be perfect for the Ramones, with the eagle holding arrows—to symbolize strength and the aggression that would be used against whomever dares to attack us—and an olive branch, offered to those who want to be friendly. But we decided to change it a little bit. Instead of the olive branch, we had an apple tree branch, since the Ramones were American as apple pie. And since Johnny was such a baseball fanatic, we had the eagle hold a baseball bat instead of the [Great Seal]'s arrows.
We asked John Holmstrom — the founder and editor of Punk Magazine and cover illustrator for the Ramones albums Road to Ruin and Rocket to Russia — to share some of his memories of Arturo. We are very grateful to John and GODLIS for taking the time to share their thoughts and photography of their old friend during this difficult time.
"One of the reasons I was so fascinated by the Ramones was the fact that they had an official Art Director. At the time I was still just an aspiring artist, fresh out of art school, and I thought that since this band had the smarts to hire someone to make their posters, t-shirts etc. was so very cool. I also liked his work a lot—that early poster of the leather jacket with the eagle belt buckle was a very interesting image, so different from your average rock 'n' roll art at the time. It was stark, bold, minimalist…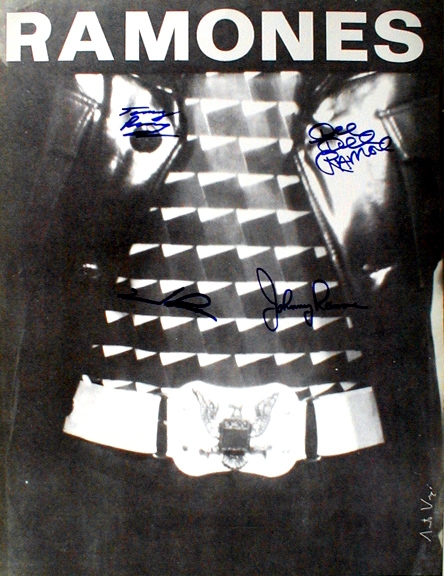 "I think I became aware of his art after I got to know the Ramones better after I published the first couple of issues [of Punk Magazine]. So although he wasn't a direct influence, he was definitely an artist whose work I admired and respected. There was a bit of a rivalry because he didn't like the cartoon look that I brought to their record covers, but I never wanted to be The Ramones Art Director, which he loved so much. His stage banners, t-shirts, logo design, album cover artwork, and so many other contributions to what made the Ramones cannot be minimized. Like his friend Curt Hoppe said to me earlier today: "The Ramones emblem is as recognizable a work of art as the Mona Lisa."
"But his loft on East 2nd Street–wow! He had his paintings on display, hundreds on Ramones t-shirts in a huge closet, and Joey and Dee Dee lived there. And it was almost on top of CBGBs, so when they would perform there, they'd often hang out at home, then walk downstairs into the club and play their set, then go back upstairs. Arturo was kind of supporting them in those early days, so in a way there might not have been the Ramones without his support.
"Over the years, Arturo became more of an employee of the Ramones and less the fine artist he was after the 22 years-plus he worked for the band. He is one of the few people who worked with the band over their entire career, but for a few years afterwards he continued to handle a lot of their merchandising.
"He was just beginning to come into his own as an artist–he recently held a major, career retrospective in Chihuahua, Mexico, his hometown, where he was also working to try to get kids interested in art and away from the drug gang culture. He seemed to be much happier than he was as the Ramones merch guy.
"I am hearing endless stories about what Arturo did for many, many people–small favors, big favors, a helping hand, financial assistance, connecting people with each other, etc. etc. He was a very generous person and a fun person to be around and so an awful lot of people miss him."
—John Holmstrom, June 10, 2013
Interview with Arturo Vega on Fringe Underground