Keep On Ooglin': Nate Doyle
Here's the latest in our series on punk comics by Janelle Blarg. And don't forget to check out the Comics Issue of MRR magazine, still available in our back issues.

Nate Doyle
says that he's trapped in "a weird purgatory where my art isn't 'punk enough' for punks and 'too punk' for comics people." I'm here to tell you not to be a chump. Nate's a young dude whose art is progressing at a rapid rate and will soon pass you by. I asked him a couple of questions via email.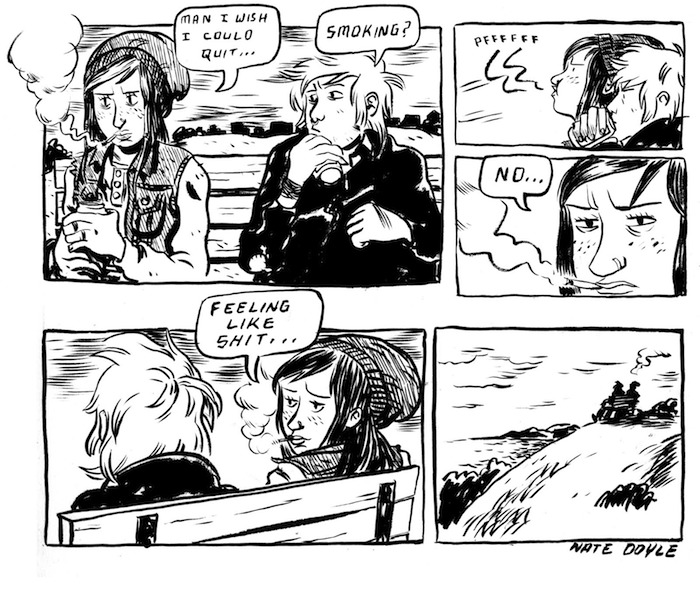 How did you get into drawing comics?
I kind of got into drawing comics as a kid. I really liked comics straight from Japan, where I had no idea what anyone was saying but would try and figure out the story anyways. So I would start making mini-comics right onto the folder paper, pamphlet style, and give up about half way through not knowing where the story was going to go, and blow the world up or something. But once I got into high school and started reading Optic Nerve and Nate Powell's comics I started to think more and make little story doodles and quick comics.
You went to comic-drawing school. What was that like? Do you consider it money well spent?
I went to the School of Visual Arts for cartooning, yeah. That was an interesting experience… The exposure I got to underground, foreign and superhero comics was amazing. I learned so much from teachers just bringing in weirdo artists that I was super stoked on, or having teachers that were weirdo artists themselves who taught me a lot about how to handle or approach comics as a medium and some really helpful techniques. Aside from the school sort of treating the cartooning program as a joke I think it was somewhat well spent. Sometimes I wish I hadn't gone to school for comics and that I fall into this weird wave of "comics brats" or being seen as something weird like that because I'm a younger artist, but I don't really feel like I have that kind of comic school aesthetic to my work, which I'm kind of hoping others see as the case, hahah.
Who are some artists you're inspired by?
Julie Doucet, Bobby Madness, Jaime Hernandez, Blutch, Edie Fake, Ken Dahl, John Porcellino, Vanessa Davis, and Dan Clowes…
Check out Nate's website at ndcrookedteeth.blogspot.com. He also plays in the band NOMOS.