Life During Wartime interviews: Moral Hex
Fuck yes! Our longtime friends, kindred spirits, and partners-in-crime at KBOO's Life During Wartime in Portland, OR, will be treating us to a series of interviews from bands who have performed live on their radio show in recent months. You'll be hearing from Arctic Flowers, Bellicose Minds, Criaturas, Animals and Men, and more! Their inaugural post is an interview with Portland's MORAL HEX, and the episode of Life During Wartime on which they appear can be heard here. For this interview, LDW's Colin is at the helm…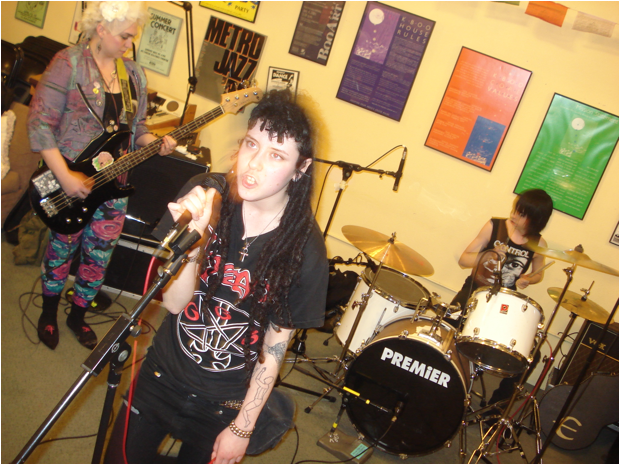 Colin:  Go around and say name and instrument
Tonya: I'm Tonya and I do vocals.
David: I'm David, I play guitar.
Anya: I'm Anya, I play bass.
Maus: I'm Maus, I play drums.
Colin: Who started this band and how did it become fruitful?
Maus: Me.
Anya: Me and Tonya and Dave were in the Beaverton wetlands and we decided we were going to start a band with Maus.
Tonya: I think Anya and I were talking about how we wanted to do some kind of gothier, I don't want to say goth, but darker, mid-tempo band. Her and Dave had written some songs together and we came in. Maus had just moved to town and, uh… we just got together in his basement and started playing and it just came together.
Colin: Who did most of the songwriting in the beginning?
Anya: Dave.
Tonya: I feel like we all write our own parts pretty much.
David: It comes together perfectly.
Anya: Dave would come up with it though, he'd come up with the first piece and then we'd all add stuff in.
Maus: Yeah, base everything else off that.
Tonya: I guess guitars come first, then you guys get together.
Anya: Not always.
Tonya: I'd say we're pretty democratic, as far as that goes.
David: Definitely.
Anya: Cultural imperialists, actually laughs
Tonya: We respect each others space and let each other do our own thing.
Colin: Two of you are together. Do you think that changes the dynamic of the band or do you think it'd be the same without that?
Tonya: WHAT!! You guys are dating?!!?? (ha ha)
Anya: It's different, kind of … we work on music together a lot cause we live together.
David: It's a good excuse to spend time together.
Tonya: It's kind of like, if Anya were the alcoholic father, and Dave were the submissive mother, Maus and I were cousins (some talking in the background probably disagreeing, but I can't tell! (laughs)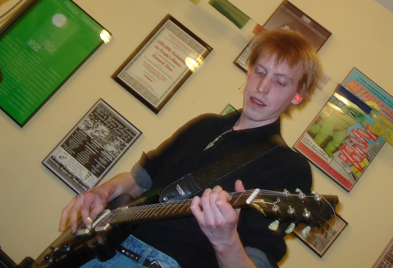 Colin: Why not brother and sister? Why the distance?
David: These our are children.
Anya: I'm the oldest.
Tonya: Basically we're a dysfunctional family, so it doesn't really matter who's dating who.
Anya: I'm 24 years old.
Tonya: We won't get along anyway.
Colin: There it is. Question from Anya, each of you, which are your two most hated bands in the world, starting with Maus?
Maus: I'd say Creed (lots of laughing) and Aerosmith.
Anya: Red hot chili peppers. Bare Naked Ladies Aerosmith are tied for number two.
Dave: AC/DC and Motley Crue.
Tonya: U2
Colin: And?
Tonya: U2
Colin: Which is correct. For those playing at home, U2 is the worst. So, about a year ago there was talk of a Moral Hex 7″ release, is that still coming out, or what happened?
Anya: Ask the person who told you that about that. Unless it was one of us.
Colin: I think it was one of you
Maus: There's a small label in California called Mass Media records that want to do, that are going to do a record for us, they're in the Central Valley, and also a guy here in town named Adam Mullet is thinking about doing a "Behind the Mask" 7″ for us, which is the first song we played in our set tonight.
Tonya: Also we've been talking about doing a split with Bellicose Minds, not quite sure yet.
Maus: They're out brother band.
Tonya: We are coming out on vinyl with Blackwater
Anya: Yeah, a comp we're on.
Maus: It's a 4-way 7″ comp.
Colin: Who else is gonna be on that?
Tonya: Arctic Flowers, Bellicose minds, uh…
David: …and Funeral Parade.
Tonya: We're kind of a tight knit group of kids who play music here.
Anya: We're a cluster fuck of people.
Tonya: Permanent high school here in Portland.
Colin: So you mentioned a possible split with Bellicose minds, if I'm correct your first show was opening for them, you're playing with them here tonight, you've played with them …
Anya: Our first 7 shows were with them. (laughs)
Tonya: Nick and I share a vent, I live on the 2nd floor and he lives in the basement but we can hear each other.
Colin: Right, So where this is going is one, would you consider them a brother band? And two, with them being older, been around, more respected, do you feel like that has a negative effect on you?
Anya: We copy them constantly…
Maus: I think we're different enough that it doesn't really matter.
David: I have Tonya listen to the music Nick writes in his room and then I take it…
Anya: We're domestic partner bands.
Colin: Well put. Wrapping up, what are your future plans for this band? You mentioned those 7″s, any pans for touring
Anya: We want to do a California tour, and go up to Canada at some point.
Tonya: I want to go all over the place…
(everyone talking at once about plans for getting famous, signing to major labels, being buried next to Jim Morrison, being part of the CIA MK Ultra program, until Maus cuts through it all with:)
Maus: It beats summer school!
Tonya: Basically we want to get these 7″s out and start touring. We have the means, we just have to go do it.
Anya: Like all the early '80s goth bands, later on we plan to release a bad record, with a bunch of slap bass, like all the early 80's bands. (Many vocal impressions of slap bass, here!)
Maus: Oh, I forgot about Pearl Jam.
Colin: That's your future plans, tour with Pearl Jam?
Maus: Right, right.
Colin: Anything anyone wants to add?
Tonya: We probably shouldn't
David: Hi Mom, hi Steven, hi Alex
Tonya: Thanks everybody for having us on KBOO
Maus: Yeah, we really do appreciate it
Tonya: You guys rule
David: Thanks KBOO, thanks Bellicose Minds
Colin: Thank you…
Life During Wartime can be heard on Portland, OR's KBOO 90.7 FM Wednesday nights from 11 p.m. — 1 a.m. They can be reached at lifeduringwartimepdx@gmail.com, and you can send them records at PO Box 1113, Portland OR 97207-1113. Get their podcast here.