Mecht Mensch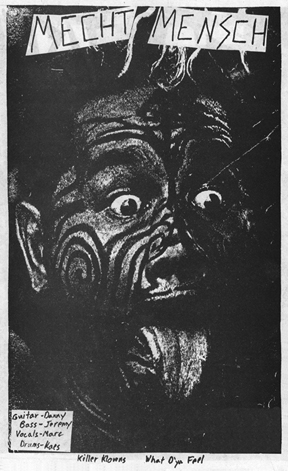 In the interest of full disclosure — this post has an ulterior motive: Is anyone from Mecht Mensch reading this? I WANT TO REISSUE YOUR MUSIC!! (on vinyl – I will do it right – super fancy – deluxe – I promise – please!! In any case, please write us, if only to say "Remove those MP3 files, fucko")
Anyway, if you've never heard of them (I'm sure they've been "blogged" before, probably many times), Mecht Mensch was an early Madison, WI, hardcore band. One of the best. For real. The Acceptance EP, their sole proper vinyl release, is available for (I believe) legitimate download here: http://tarbabies.us/mechtmensch/. The name "Mecht Mensch" translates roughly to "Mechanical Man" and it's strangely appropriate, as, to my ears, the band perfected a relentless — almost mechanically so — hardcore punk style. My favorite EP track is "Grinder," a great song that alternates between a plodding, heavy drag and driving thrash.
Mecht Mensch also recorded a demo and a split tape with their brother-band, the Tar Babies (every bit as good), and appeared on a number of compilations. I uploaded some of these comp tracks here:
1. Killer Klowns
2. What D'Ya Feel
3. Might Makes Right
4. Land of the Brave
5. Revenge
6. Gov't Lies
7. Killer Klowns (live)
8. What's Right (live)
9. Free Animals (live)
"Killer Klowns" and "What D'Ya Feel" are from the great Master Tape Volume 2 double-LP compilation that also features two cool songs by the Tar Babies, as well as quite a few other excellent tracks by the likes of Malignant Growth, No Labels, the Zero Boys, the Antibodies, etc. If I had to guess, I'd say the Mecht Mensch stuff was from the same recording session as the EP and is just as good.
"Might Makes Right" is from another great comp, We Got Power: Party or Go Home, compiled by the LA zine of the same name and released by Mystic Records. Despite the lack of info and mistakes on the track listing (it is Mystic Records after all), it's one of the best early USHC collections: 40+ tracks of raging punk rock by everyone from the Minutemen, 7 Seconds, and the Big Boys to White Cross, Rebel Truth, Jackshit, and dozens more. I think this track came from Mecht Mensch's demo.
I ripped the first three songs from the original vinyl, but the next six come from CD-Rs, so I can't promise the sound quality is quite as good. "Land of the Brave," "Revenge," and "Gov't Lies" are off the Meathouse tape comp (another good one) and these tracks also seem to come from the demo. The three live songs are from the all-Wisconsin America's Dairyland tape, which is notable not only for the Mecht Mensch and Die Kreuzen material, but also for the killer tracks by the otherwise-unknown bands GFO and Malignance (plus pre-Tar Babies band the Bloody Mattresses, and a bunch more). A studio version of the last song, "Free Animals," does not exist…
As far as I know, that accounts for all of Mecht Mensch's official releases, except for their first compilation appearance: the Barefoot and Pregnant tape on Hüsker Dü's Reflex label. Barefoot and Pregnant was reissued on CD and may still be in print/available to purchase. From what I remember, the Mecht Mensch tracks are really early and not as developed as their other stuff… and I think they were recorded live, too?
The band has been bootlegged a couple times, too (and, uh, if I may say, is sorely in need of an official reissue) — the Acceptance EP and the Master Tape tracks are on one of those "4 EPs on an LP" things from the '90s, and their demo popped up on a poorly done "USHC demos" bootleg LP recently.
I've got a sad/funny story: former Mecht Mensch/Tar Babies member Dan Bitney now plays in the successful indie band Tortoise now, and a couple of years ago they headlined a show at the big club around the corner from the MRR house. It also happened that my coworker-at-the-time's band was opening for them, so I got in on their guest list with the intention of soliciting Mr. Bitney about a Mecht Mensch reissue. I had never been "backstage at a rock show" before and was kinda stoked, sitting on a couch with my coworker and drinking fancy free booze, feeling like a real "V.I.P." I wasn't pacing myself and the glamor of it all must've gone to my head — plus, Tortoise played for like two and a half hours — and by the time the show was over, I was three sheets to the wind. I vaguely remember a (mercifully brief) "conversion" with Dan Bitney, but I literally have no recollection of what I said. It was probably something along the lines of: "mmmmbmmmbbbb mzzzzbbb gggffffbb… ddasdfmmsdf &&*(@@T$*(&d;kljhsdfm Mecht Mensch." I don't think I managed to express a desire to do a reissue (or anything coherent, for that matter), which I suppose wasn't too much of a loss as I wasn't exactly the picture of "responsible record label dude" at that moment in time.
As a footnote to this post, I highly recommend tracking down the Tar Babies' Face the Music/Respect Your Nightmares CD reissue that came out a few years ago — besides having their first two 12″s (both rule and the second is really underappreciated in my opinion), it's got a bunch of unreleased tracks on there. The label that did it is called Lexicon Devil Records and they're outta Australia…
Podcast: Play in new window | Download (1.3MB)