One Decade of Movies
You'll have to buy the magazine to see everyone's top ten records of the decade, but here, free of charge, is MRR movie reviewer Steve Spinanli's Best Movies of the Decade list from this month's issue (#320, January 2010). You're welcome!

One Decade of Movies
By Steve Spinali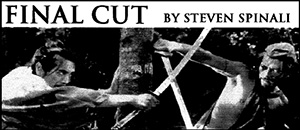 It seems half the world is paved with "Top Ten" lists, but even in spite of this, they're awfully hard to resist. But with MRR movies, things are a little more complicated.
The ideal, of course, would be to concentrate on punk movies. The reality is that there aren't that many punk movies, and the ones that are left aren't necessarily good. Occasionally, features will include the likes of the Ramones or Pistols, but it seems that punk is still underground in a lot of ways. To help make up for the dearth of ace material, documentaries can be a great help. They're comparatively low budget, under-promoted, and (at their best) complement the issues MRR fans generally find interesting. As a last resort, there are always lots of good foreign films to choose from. In making a Best of Decade list, then, it's not so much an issue of hauling out the very best features; there are too many of those lists already. My idea of a good Top Ten would include great films that you may not have been turned on to yet. And if you haven't, look no further.
In the first category, comprised of punk-oriented films, two documentaries stand above the rest. Jim Fields and Michael Gramaglia directed The End of the Century (2003)— unquestionably the definitive document on the history of the Ramones; it includes funny and revealing moments from their early live gigs in New York, giving you a feeling for how emotionally explosive one of their gigs could be. Joey is no longer with us, of course, but after watching this film, we begin to appreciate the painful, real-life "daytime dilemma" that tore apart his personal life. The End of the Century is by no means a definitive or complete biography of punk's greatest band, but you can't help but understand their personalities more intimately after you look past their public image.
Crossing the ocean, it would be hard not to be impressed by Julien Temple's polished documentary, The Filth and the Fury (2000). Temple directed The Great Rock'n'Roll Swindle, itself engaging and fun. The interviews include a variety of British rock luminaries, but the chance to hear the voices of the actual band members (minus Sid) being interviewed gives dimension to the band's mythic history. When John Lydon explains his lyrics, you begin to realize what a careful writer he is, and how protective he was of his hapless friend, Sid Vicious. Lydon is the one person here who best articulates the band's ultimate tragedy. This is an arresting film, whether or not you're a Pistols fan.
It's likely that the story of post-punk icons Joy Division would have made a less than satisfactory documentary. However, director Anton Corbijn (who dabbled in the careers of Depeche Mode and U2) transcends the subject matter with a brilliant fictional adaptation. Control (2007) outlines the meteoric career of vocalist Ian Curtis (Sam Riley) as he tries to grapple with depression, his young marriage, and a no-future office job. Photographed in black-and-white, this film has the same visual mood as Joy Division's Closer album. While I've never been a fan of all of Joy Division's music, the emotional punch of the denouement is shattering.
Next, we have a set of documentaries notable for their unwillingness to fold to political or social consensus, but still managing to be as riveting as any narrative fiction film.
The Aileen Wuomos story has been told before, but Nick Broomfield—who also directed Kurt & Courtney (which includes a classic interview sequence with late El Duce of the Mentors)—does a definitive job with his second treatment of the Wuomos trial. Wuomos was mentally ill, a victim of sexual violence, and herself an admitted killer, and passionate that she, a woman, should receive the death penalty. Both tough and ingratiating, Nick Broomfield has always found a way into the personal lives of his subjects, and here, he actually participates in the trial proceedings. This allows the film viewer to view American justice from every angle, and experience the inequities of a system that offers no hope of mercy. Aileen: The Life and Death of a Serial Killer (2003) is vastly more accurate and affecting than Monster, the 2003 drama (with Charlize Theron and Christina Ricci) based on the same incident.
The Corporation (2003), directed by Mark Achbar and Jennifer Abbott, was the same team behind Manufacturing Consent, the acclaimed documentary on Noam Chomsky. But The Corporation is even more ambitious (and just as long)—the story of how an abstract legal idea took on a life of its own. Now, the corporation has expanded beyond anyone's 19th century expectations into a force that threatens to steamroll the people it's meant to serve. This documentary humanizes its story with humor and intelligence.
Conservative critics have been trying, with only mincing success, to downplay the success and influence of Davis Guggenheim's An Inconvenient Truth (2006). Narrated by former Vice President Al Gore from his popular lecture presentation, this film contains interviews, CGI animation, and nightmarish statistics to bolster the case of global warming—or at least climate change. Politics frequently works against the commercial prospects of documentaries, pitching its message to the already convinced; here, a progressive agenda melds with a nightmare vision reminiscent of Roland Emmerich's disaster fantasy, The Day After Tomorrow. If even half of An Inconvenient Truth turns out to be right, the film would still be frightening.
With The Fog of War (2003), the political message is every bit as pointed. Director Errol Morris (Gates of Heaven, The Thin Blue Line) has directed a series of superior documentaries, but when he addresses the late-life biography of Robert McNamara, secretary of defense during the Vietnam years, he admits small-minded blunders as he tried, and failed, to make a success of Lyndon Johnson's foreign policy. Now in his 80s, he acknowledges his accomplishments and mistakes, and gives us a longitudinal portrait that's hard to forget.
A few foreign films have shown themselves to be on a par with the best domestic product. Alejandro GonzÁ¡lez IÁ±Á¡rritu hit one out of the park with Mexico's Amores Perros (2000), an interleaved story of poverty and social inequity in the country's predatory underground. This has the same kind of narrative structure as Pulp Fiction but Amores Perros is actually about something; it has real weight. Its tension held with a series of interrelated stories that span the breadth of Mexico.
Japan's Eureka (2000) is equally impressive, in a different way. After a bus hijacking results in a grisly body count, director Shinji Aoyama shifts his characters away from urban terror to a visually stunning meditation on the meaning of violence. Spearheaded by the acting of Koji Yakusho (Cure, Shall We Dance, Bounce KoGals, etc.), the ensuing narrative is not unlike a road movie, lasting over two and a half hours. I wouldn't be the first viewer to note that it seemed to be over in a heartbeat.
Finally, Danis Tanovic's No Man's Land (2001) is a multi-award winning satire on the withering war of attrition between Bosnia and Herzegovina. The masterful dramatic irony here soon makes you realize that, regardless of combatants, each side is desperately dependent on the opposition. The cast of characters is so grounded and realistic that you feel drawn into the conflict in spite of yourself.
If anything the mainstream, "critically acclaimed" films from the past ten years were almost routinely outshined by nearly all of the titles here. Now is as good a time as any to visit your video shop and make some timely discoveries.
The End of the Century (2003)
The Filth and the Fury (2000)
Control (2007)
Aileen: The Life and Death of a Serial Killer (2003)
The Corporation (2003)
An Inconvenient Truth (2006)
The Fog of War (2003)
Amores Perros (2000)
Eureka (2000)
No Man's Land (2001)