Peruvian punk documentaries: El Grito SubterrÁ¡neo y Lima Explota
Our new bilingual web correspondent Mariel Acosta brings us a breakdown of two Peruvian punk documentaries—in English and Spanish, por supuesto—to coincide with our articles on the history of the Peruvian underground scene. El Grito SubterrÁ¡neo and Lima Explota can be seen as a chronology of social and political events in Peru as the context and historical framework that has shaped Peruvian punks' ideals and their scene…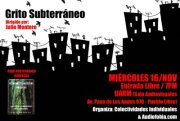 El Grito SubterrÁ¡neo (The Underground Scream) (1987)
Director: Julio Montero
A DIY low budget documentary that juxtaposes the Peruvian punk underground scene and lifestyle with presidential speeches and mainstream news segments, giving a historical, socioeconomic and political context to Lima's '80s punk scene. The film describes the country's social situation through interviews and mainstream news reports providing an interesting contrast. El Grito SubterrÁ¡neo shows the birth and development of an unconventional music circuit in an alarming social and historical context. The documentary came out originally on VHS and in more recent years on DVD; however, it's hard to get a copy of it outside of Peru. Currently it is available online, though it's split into several parts:
El Grito SubterrÁ¡neo documents the "second wave" of Peruvian underground punk, which emerged with scarce resources, but a lot of enthusiasm, imagination and comradeship. This era started in the 1980s and persisted until the first years of the 1990s. The film features footage 19 of Peruvian bands — extinct bands and others that are still thriving in the scene, including Voz Propia, Leusemia, Eutanasia, Kaos, Flema, Narcosis, MarÁ­a Teta, EmpujÁ³n Brutal, Sinkura, Guerrilla Urbana, Autopsia, Juventud La Caigua S.A., Zcuela Crrada, TBC, Daniel F, Erupto Maldonado, G-3, Psicosis, Sociedad de Mierda, Luxuria and Excomulgados.
The documentary's intro begins with a manifesto of its mission, the political and cultural position of the punk youth at the time and their feelings towards Peruvian society's status quo then:
01:37 "This video documents the youth's artistic work that's a testimony of its creative potential and libertarian character; it's an example for the present and future generations. It's a cultural production made by a group collective based on group work, consciousness and the will to change Peru's society invoking the utopia of a fair and more humane system and new forms of living. We establish that the mass media diffuses values inadequate for the development of autonomous cultural forms because they're at the service of multinationals. We establish that college education diverts from the immediate reality and that the civil society remains passive in the face of the deterioration of human rights"
02:56 "Rock is the legitimate expression of youth. Youth protest movements are presented by the system and the media. Stripped from its anti-establishment character, the 70s punk movement, the chaos generation, is the scream that recuperates its generational protesting charge. Expressive language, manifestation that assumes the underground vanguard that's committed to the radical proposals for the renovation of our third-world Latin American reality."
03:52 "By expressing myself through this video, I wish to develop a contemporary artistic discipline that breaks the hegemony of corporate TV stations and that's capable of producing libertarian messages."
Among the most important segments of Grito Subterraneo, in videos 2 and 3, are images of a mainstream news report showing an underground where youth with "an anarchic posture and foul language express their rejection to the society we live in," as described by the reporter. Furthermore, the correspondent interviews some of the kids and asks questions regarding their way of dancing, the music they're listening to and their politics, and further into their interview other kids give their opinion on the posers that attend the shows, who "say they are punks, but they are shit!"
In the same news report they interview a psychologist and a psychiatrist who give their interpretations, which don't differ from each other or from reality, on the behavior they observe in the punks — their rejection to society and their desire to change it by seeking to destroy superficial socioeconomic values. At the same time, the news reports are alternated with footage of Guerilla Urbana playing at that show, and in the background one can hear their songs "Vivo en una ciudad muerta" ("I Live in a Dead City") and "Eres una pose" ("You're a Poser"). [You can read the obituary for Guerilla Urbana guitarist Jose Eduardo Matute here.]
In video number 5 the first band is interviewed. They propose that the bands that represent the movement should be more militant — that is, they should not only sing their stances and politics, but they should also take action in order to sustain the movement. They also suggest that kids shouldn't get into punk as a fad, but that punks should maintain their ideals and manifest their concerns.
In video number 7, the members of Eutanasia (see the article on Eutanasia's reunion, in the June 2012 issue of MRR) are interviewed and they give accounts on problems within the scene, such as, sectarianism, divisions and their repercussions. These guys advocate for unity among the groups. Eutanasia also mentions that they sing social commentary songs and through these they manifest their discontent and nonconformity towards the society and political climate of Lima in the '80s, and through them they express their lives and experiences. The following band, Leusemia, criticizes the state of the punk movement, stating that what was once underground rock was now dead. They also mention the danger of the commercialization of artistic expressions of punk, and the difficulties bands go through to play shows in some venues, given the dominant society's rejection of their expressions, which leads them to create an underground circuit.
The following videos (8 and 9), give a more political twist to the documentary; towards the end of video 8 there's a speech by president Alan Garcia (in office from 1985-1990) from the parliament. There he addresses the nation during a (unspecified) national holiday. Then on video 9, there's a sequence of bulletins and news on La Matanza de los Penales, The Prison Massacres in the San Juan de Lurigancho, El FrontÁ³n y Santa BÁ¡rbara prisons where hundreds of inmates in all tree rioted simultaneously to demand the release of political prisoners who were accused of terrorism.
On video 11, MarÁ­a Teta y El EmpujÁ³n Brutal give an awesome performance at a show, with provocative songs that allude to feminism and subversion to religion by mocking some religious practices defying conventional values. In the interview of MarÁ­a Teta that follows, she speaks about police repression and how she was once was tortured for hours when she was arrested. The documentary concludes with a Sinkura interview and more footage of DIY underground shows.
Lima Explota (Lima Explodes) (2005)
Director: Santiago Herrera
This documentary presents Peru's hardcore punk scene of the 1990s. Lima Explota is a commitment to everyone who left their mark in the development of this genre. Hardcore punk clearly expresses that it's not just a phase in Lima's music scene but it's also the result of hard work from the bands that throughout history have consolidated this movement, and through this, establishing that hardcore is a firm and truthful form of expression; a social critique, and a way to deal with life.
Lima Explota features interviews and archival footage of shows from bands like Desarme, Futuro Incierto, Alhambre, Asmereir, Generacion Perdida, Metamorfosis, Dios Hastio and Contracorriente. In the interviews, bands comment on the bad influence mainstream media, MTV, and mainstream "punk" bands, like Blink 182 had on people's perception of punk and the influence of this in the scene. Also, they address issues like the danger of the commercialization of punk, which led to the disintegration of some bands and subsequently of the hardcore scene by the mid- to late 90s.
A continuaciÁ³n, sinopsis y enlaces de una serie de documentales que retratan la escena punk subterrÁ¡nea de PerÁº desde los aÁ±os ochenta y los noventa. Los documentales también pueden ser considerados como una cronologÁ­a de eventos sociales y polÁ­ticos que marcaron a la sociedad peruana en esas décadas asÁ­ como el marco histÁ³rico y el contexto que de alguna manera ayudo a formar los ideales de los punks y su escena.
El Grito SubterrÁ¡neo (1987)
Director: Julio Montero
Documental de bajo presupuesto y autogestionado esta formado por una yuxtaposiciÁ³n de imÁ¡genes y escenas de actividades de la vida y la escena subterrÁ¡nea de los punks peruanos de los ochenta — ya sean conciertos, actividades de arte, entrevistas a bandas — discursos polÁ­ticos y segmentos de noticias los cuales aportan el contexto histÁ³rico, socioeconÁ³mico y polÁ­tico de la época. Este trabajo es un conjunto de imÁ¡genes se mezclan con un registro de la situaciÁ³n social de la época, generando un contrapunto muy interesante. El documental retrata el nacimiento y desarrollo de un circuito de mÁºsica no convencional en un contexto histÁ³rico social alarmante. El documental fue distribuido originalmente en formato VHS y en formato DVD en aÁ±os recientes, pero es muy difÁ­cil conseguir una copia fuera de PerÁº. Actualmente se puede ver completo en Internet, aunque dividido en varias partes.
El Grito SubterrÁ¡neo es un registro de los primeros dÁ­as del resurgimiento del punk "subte" peruano. El nacimiento de la "Segunda Ola" de este movimiento que se hizo con muchas ganas, con pocos recursos, imaginaciÁ³n y compaÁ±erismo. Un movimiento que comenzÁ³ en los 80 y no parÁ³ hasta los primeros aÁ±os de la década del 90. En el video podemos ver a bandas ya extintas y otras que aun perseveran y siguen presentÁ¡ndose en los escenarios. Las bandas presentadas en el documental son Voz Propia, Leusemia, Eutanasia, Kaos, Flema, Narcosis, MarÁ­a Teta, EmpujÁ³n Brutal, Sinkura, Guerrilla Urbana, Autopsia, Juventud La Caigua S.A., Zcuela Crrada, TBC, Daniel F, Erupto Maldonado, G-3, Psicosis, Sociedad de Mierda, Luxuria y Excomulgados.
La primera parte del documental inicia con un manifiesto de su misiÁ³n, con la posiciÁ³n polÁ­tica y cultural de la juventud punk en ese entonces y sus sentimientos hacia la sociedad peruana y el estatus quo:
01:37 "Este video es documento de la labor artÁ­stica juvenil testimonio de las posibilidades creativas y su carÁ¡cter libertario. Ejemplo para las presentes y futuras generaciones. ProducciÁ³n cultural gestada por un grupo en base al trabajo colectivo, a la conciencia y voluntad de cambio de la sociedad peruana plasmando un grito por la utopia de un sistema mÁ¡s justo, mÁ¡s humano y nuevas formas de vida. Constatamos que los medios masivos de comunicaciÁ³n difunden valores inadecuados al desarrollo de formas culturales propias estando al servicio de las transnacionales. Constatamos la educaciÁ³n universitaria alejada de la realidad inmediata asÁ­ como la pasividad de la sociedad civil frente al deterioro de los derechos humanos."
02:56 "El rock, expresiÁ³n legitima de los jÁ³venes y los movimientos de protesta juvenil devienen en ser presentados por el sistema y los MMCC [medios de comunicaciÁ³n]. Despojado de su carÁ¡cter contestatario, la corriente punk de los 70s, generaciÁ³n del caos, es el grito que recupera su carga de protesta generacional. Lenguajes expresivos, manifestaciÁ³n que asume la vanguardia subterrÁ¡nea comprometida con propuestas radicales de renovaciÁ³n en nuestra realidad tercermundista y latinoamericana."
03:52 "Al expresarme en video deseo desarrollar una disciplina artÁ­stica contemporÁ¡nea que rompa con la hegemonÁ­a de las grandes televisoras y que sea capaz de producir mensajes libertarios".
Entre los segmentos mÁ¡s destacados de Grito SubterrÁ¡neo, en los videos 2 y 3, se presentan imÁ¡genes de un programa de noticias, o de desinformaciÁ³n, en el que presentan imÁ¡genes de un concierto subterrÁ¡neo en donde los jÁ³venes con clara "postura anÁ¡rquica y lenguaje soez expresaron su rechazo a la sociedad en que vivimos."
MÁ¡s adelante, la reportera que se encuentra en el concierto entrevista a algunos de los asistentes y hace algunas preguntas como porque bailan de esa manera, sobre la mÁºsica que escuchan, su polÁ­tica y otros jÁ³venes dan sus opiniones acerca las pose que "dicen ser punks y son un carajo!"
En el segmento también entrevistan a un siquiatra y a una sicÁ³loga, quienes dan interpretaciones no muy disÁ­miles uno del otro y de la realidad acerca del comportamiento que observan entre los punks— su rechazo a la sociedad de ese entonces y su deseo de cambiarla al buscar destruir valores socioeconÁ³micos superficiales.
En todo esto, a través de imÁ¡genes alternadas con las entrevistas y como mÁºsica de fondo se escucha la banda Guerrilla Urbana con sus canciones "Vivo en una ciudad muerta" y "Eres una pose".
En el video 5, esta la primera banda entrevistada, la cual propone que haya mÁ¡s militancia por parte de las bandas que representan el movimiento, en que no solo canten sus posturas y sus ideologÁ­as, sino que también actÁºen para asÁ­ mantener el movimiento en pie. Que no sea por moda ni algo pasajero, sino que las ideas se mantengan y se manifiesten las inquietudes de los jÁ³venes.
En el video 7, los integrantes de Eutanasia (Ver artÁ­culo del retorno de Eutanasia en la ediciÁ³n impresa de MRR Junio 2012), son entrevistados y hablan sobre los problemas de la escena, sectarismo y separaciÁ³n y sus repercusiones. Estos abogan por la uniÁ³n de los grupos. Eutanasia, también, menciona que el contenido de sus letras contiene crÁ­ticas sociales y a través de estas manifiestan su descontento e inconformidad hacia la sociedad y el clima polÁ­tico en la Lima de los 80, y expresan sus vivencias y experiencias. MÁ¡s adelante, los integrantes de Leusemia, critican el estado de la movida punk en ese tiempo, al decir que lo que se conocÁ­a como rock subterrÁ¡neo para ese entonces ya habÁ­a muerto. También mencionan el peligro de la comercializaciÁ³n de las expresiones artÁ­sticas del punk y las dificultades que las bandas enfrentan para realizar conciertos en una sociedad donde sus expresiones son mal vistas que los lleva a la creaciÁ³n del circuito subterrÁ¡neo.
Los videos siguientes (8 y 9) le dan un giro hacia la polÁ­tica al documental, hacia el final del 8 se puede ver un discurso del presidente Alan GarcÁ­a (presidente de1985 a 1990) desde el parlamento, en donde se dirige al paÁ­s durante unas fiestas patrias.
Luego en el 9, presentan boletines y noticias sobre La Matanza de los Penales en junio de 1986, en las prisiones San Juan de Lurigancho, El FrontÁ³n y Santa BÁ¡rbara, en donde intervinieron militares luego de que cientos de presos se amotinaran simultÁ¡neamente en las 3 para reclamar la liberaciÁ³n de presas polÁ­ticos acusadas de terrorismo.
En el video 11, MarÁ­a Teta y El EmpujÁ³n Brutal dan una presentaciÁ³n excelente en el escenario, con letras provocativas que aluden al feminismo y a la subversiÁ³n hacia
la religiÁ³n con una puesta que ridiculiza a rituales religiosos desafiando los valores convencionales. Luego en la entrevista que le sigue ella habla sobre la represiÁ³n policial y explica como fue torturada por horas una vez que estuvo presa.
Con el prÁ³ximo video, el documental concluye con entrevistas a Sinkura y con imÁ¡genes de conciertos subterrÁ¡neos autogestionados.
Lima Explota (2005)
Director: Santiago Herrera
Documental de bandas hardcore que abarca el periodo 1990 hasta finales de los 90. Lima Explota es un compromiso con toda la gente que marcÁ³ una huella dentro de este género; a su vez, este género expresa claramente que no solo es una fase en la escena musical limeÁ±a si no es también un trabajo en el cual las bandas a través de la historia han consolidado este movimiento, dejando dicho que el hardcore es una forma de expresiÁ³n firme y verdadera, una crÁ­tica social y una manera de afrontar la vida moderna.
Lima Explota esta compuesto por entrevistas y material de archivo de bandas como Desarme, Futuro Incierto, Alhambre, Asmereir, GeneraciÁ³n Perdida, Metamorfosis, Dios HastÁ­o y Contracorriente. En las entrevistas, algunas bandas hacen comentarios sobre la mala influencia de los medios de comunicaciÁ³n y canales como MTV y de bandas comerciales como Blink 182 los cuales influenciaron la percepciÁ³n de las personas sobre la movida punk. AdemÁ¡s, tratan el tema del peligro de la comercializaciÁ³n de punk, y su relevamiento para dar paso a otros géneros en los 90 (como la mÁºsica alternativa), lo cual llevo a la desintegraciÁ³n de algunas bandas y consecuentemente de la escena hardcore entre mediados y finales de los 90.