Read a Book! The Encyclopedia of Doris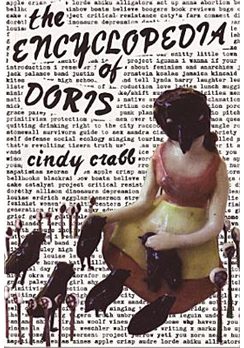 The Encyclopedia of Doris
Cindy Crabb
Doris Press
The long awaited Encyclopedia of Doris is here, and it is the so-very-special collection of all of Cindy Crabb's zines that have come out since the Doris Anthology. If you somehow missed the past decade of Doris, Cindy has been organizing her writing within the framework of letters of the alphabet.  She started doing this with the intention of making it all into one big book in nine years. Each issue covered three letters, and the multiple subjects she assigned to each letter were sometimes the first names of revolutionaries, or of friends of hers that are badass and inspirational; some of the letters go with recipes or herbal treatments, some with times in history or ideas. Sometimes she interprets the letter to fit whatever she wants to talk about, and it always ties in neatly. She conducts interviews, profiles radical discourse, draws cute comic versions of what she is talking about, and shares her take on making a life worth living. Included also are new writings interspersed with interviews other people did with Cindy about playing music, being an anarchist, being a feminist, being a punk over thirty, and more.
The fact that quite a few zine writers are turning into book writers these days presents us with a powerful sense of history. It isn't just that the audience becomes too big to continue a photocopied print run, though surely once your publication numbers shift from two digit numbers to three, even to four, that means the work is important and affecting. This is history. This is a history book. Sure, it's the history of one person's perspective, but it covers such a vast spectrum of the worst things that have ever happened and also the best things, that everyone has something to learn or the chance to identify with the subjects herein. Blogs are all right, but it is important to have this writing all in one tangible place. Having an anthology provides a bigger context than a single issue — also some people never had access to the original zines. It will become a cultural artifact for the future punks or feminist scholars to puzzle over and study, while those who had exposure to the zine from the beginning can reflect on the magnitude of a whole decade going by.
To give you an idea of the incredible breadth of Cindy's writing, if you indexed Doris you would come up with such a huge interdisciplinary range it would be like trying to throw a net over radical history, survivor support, secrets, health care, feminism, privilege, anarchism, resources, networks, critical thinking about unlearning shitty social conditioning, being in jail, gender, self-help, how-tos, community projects, girl gangs, reaching sobriety, listening…and on and on. Probably my favorite letter in the Encyclopedia is "P." It covers Prison Abolition, ♥ Punk ♥, the Pitchfork political strategy (five prongs), Power, Primitivism (a conversation with Chris Somerville), and Protection. Under "G," Cindy covers the immense difficulty of grief, of the loss of a parent, of how hard it is to grieve when everyone is afraid to talk to you about it.
Sometimes I feel Cindy points out the obvious, and it serves as a reminder of how easy it is to lose track of what actually matters. Then I find out she didn't know what "LOL" means until recently and I want to cry with joy on how refreshing her worldview is. In "Q is for Questions" she had other people ask her questions such as, "How do you discipline yourself to filter out the unimportant stuff and focus on the important?," which discusses making a five-year plan in order to have goals to reach for that you can be okay with working on slowly. When you are trapped in the mire of day-to-day survival, the sudden revelation that some things just take a long time puts it all into perspective: "So even when I have no motivation and no hope, I just look at my five year plan and try to figure out what the fuck to do next."
You can't talk about Doris without acknowledging how significant it is in the world of sexual assault survivor resources. I am certainly not an expert on how much is out there on the subject, but that's my point. Access! When I was a stumbling teen, confused and damaged and totally alone in my suffering of sexual assault, recovering (or trying to) from an incredibly emotionally abusive relationship, Doris saved my life. I felt isolated and trapped, I didn't realize I should have been seeking support, and I happened to read about how Cindy was feeling the same thing I was and I realized it wasn't my fault, I didn't cause it, and I wasn't alone. I can't impart to you how important this writing has been to me, simply talking about the unspeakable, normalizing the experience, and removing the shame associated with having this shit happen to me. For the letter "H" she writes about "Hell." Not the Hell that is the imaginary fiery place downstairs, but the concept of the worst possible circumstances to be faced with. Discussing sexual abuse and assault is the most difficult part to read, and the most personal. Legions of people have been affected by Cindy's unique ability to confront the symptoms of abuse in such an inclusive manner, so honest, and unashamed, so as to reveal how awful even the simplest (and sadly, utterly commonplace) manipulation can be, how much it can fuck our lives up. I am just one of how many hundreds or thousands of people who have found strength in her testimony, and hope in her courageous pursuit of the truth.
I feel proud that this anthology exists, that somehow the incredibly healing necessity of writing one's story can ultimately become a radical resource for so many others, while remaining entirely DIY (that is, self-published and therefore impossible to co-opt or commodify.) While doing a little research for this review I found out that Cindy's diaries and papers are housed at the Schlesinger Library of the History of Women in America at Radcliffe, Harvard. Doesn't that mean we are winning?
—Julia Booz Ullrey