Record of the Week: AMDI PETERSENS ARMÁ‰ LP
Maximumrocknroll.com's Record of the Week is back! Here's one that's on everyone's top ten this month, reviewed by shitworker extraordinaire Dan Goetz. This review along with a zillion more can found in this month's MRR!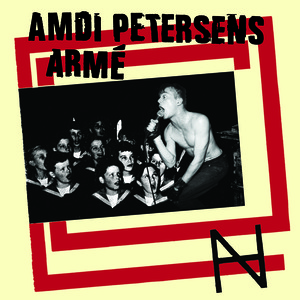 AMDI PETERSENS ARMÉ put out the first and third best EPs of the early 2000s hardcore wave, which I think is up there with early '80s hardcore as one of the best waves. Now that everyone who went gaga over them at the time is too grown up and listens to ICEAGE or whoever, I still blast both 7″s all the time and the APA symbol adorns my ankle in stick-and-poke form. Nostalgia is bittersweet, because I look at the photos and flyers in the booklet that came with this LP and realize that it's been years since there have been bands/shows of this caliber on a regular basis. But I'm glad that the ephemera has been preserved, and despite the fact that their second EP is still available (both from Havoc and in dollar bins), this band is more than discography worthy. For anyone unfamiliar, AMDI PETERSENS ARMÉ played early-'80s-style hardcore that got many comparisons to early MINOR THREAT, though they were always a bit more complex than that, and certainly transcended the harDCore comparisons by the time of their second EP.
The first EP (on side A of this LP) is stripped down hardcore that has the perfect solid state guitar tone, precise, closed hi-hat drumbeat, and simple but catchy riffs, with a feeling that's fierce, fun, cathartic, and youthful all at the same time, and to this day makes me want nothing more than to live in a punk house, give myself a stupid haircut, and skate all day for the rest of my life. But the second EP, Blod Ser Mere Virkeligt Ud PÁ¥ Film (on side B of this LP), is the real masterpiece, and is fit for stage-diving, listening closely and taking in its intricacies, contemplating the shittyness of life, or some combination thereof. If we must stick with comparisons, I'd say the playing and feeling evoke the darker FAITH songs (specifically the second half of the VOID split), some combination of S.O.A. and MINOR THREAT (mostly in the vocals), CIRCLE JERKS, and maybe the BAGS, for starters. But it has a sound that's all its own, and while the first EP has a more fun sound, Blod has a bleakness that is well articulated by the various twists and turns the songs take, adding to their power and aggression, and yet many of the riffs are downright toe-tappers. "Hardcore Del II" is one of the most perfect punk instrumentals ever, and has enough swing and swagger that it could play over the opening scene of a teen insurrection film.
I can't say a lot more that would do these songs justice, so if you haven't heard them, get on it. This discography complies both EPs plus comp tracks, their demo, and some unreleased songs (that they were smart to leave off their records, as they're more-or-less duds). For those of us who already know both records by heart, this discography includes a great booklet, chock full of photos and flyers in chronological order (including what looks like the majority of the flyers from their US tour in 2002), as well as an intro from DX and a back cover piece from Dave Hyde, who drove them on their US tour and recollects various tour stories. Needless to say, this band is a modern classic. People with taste haven't forgotten, and people who know what's up will be seeking out these songs for years to come.
(Hjernespind Records)