Record of the Week: Diataraxi Koinis Isixias comp LP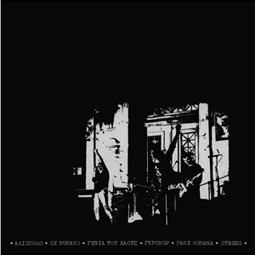 Damn, what to say first about this record? That it is era-defining? That it's the first record you should seek out if you want to know anything about early Greek punk? That it put Greece on the punk map? That it shaped the sound of Greek punk to come after it? All of the above are true yet, like with any definitive regional compilation, unless you were there, or at least lived to experience its legacy and after-effect, little can sum up its true significance. Each one of these six bands sounds different yet the common thread running throughout them all is so strong, it's proof of music's ability to forge and reflect a collective consciousness.
ADIEXODO's "Nightmare" is so well-embedded within Greek punk minds that the mere sound of its opening bass-line can conjure a whole whirlwind of emotions. Their second offering ("Isolation"), is equally influential, with its raw and gritty sound, its growling vocals and despairing lyrics. The EX-HUMANS song ("Blinding Light") perfectly captures the empty ideals that fell apart ("the only truth is death, the hope of life is a lie") while "Suicide in Slow Motion" is another sound-defining track of fuzzed guitars, creeping melodies and painful songwriting—not just with their lyrics, but with their ability to seize a whole generation's misery into a handful of notes. GENIA TOU HAOUS follows, with their intoxicating, dismal sound. "Bastardokratia" has evolved from old punk gem to classic street-battle anthem to the definitive pièce de résistance of anti-authoritarian Greek youth, reflecting everything that is and has been wrong about the unjust, surreal land called Greece.
Moving on to the B-Side, GROVER sings a song that every Greek punk who has ever been drafted for their military service can relate to: "In the army, the razor give you no hope. Here is hell, here is desolate. Here you are alone, leave, go far away." The negative sentiments continue with two PANX ROMANA classics, "Greeks" ("long live delusions!") and "Athens" ("I want to leave this city, I want to leave this hell, I'm looking for a solution, but no one can help me. Athens, a ghost city, Athens, a ghetto city, Athens, a concrete jungle, Athens, a city with a past but no future.") To close off this mind-blowing slab of wax is Athens' godfathers of punk, STRESS, with their timeless homages to freedom ("Right to Life") and anxiety ("Aghos").
A truly great compilation speaks truth where there is none. And the truth about Greek punk is that it has a stoic, almost poetic quality that transcends style and form, and instead captures the essence of societal depression and youthful despair—both still so very damn relevant today. This record brings tears to my eyes and its impact could never be summed up in mere words.
(B-Otherside Records)