Record of the Week: JOHN HENRY WEST Door Bolted Shut LP+CD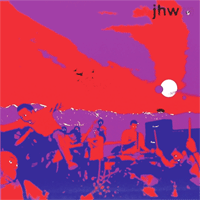 This shouldn't be a sudden realization to anyone, but every era, generation, and microcosm of punk/hardcore has its benchmark records that define the sound, attitude, and climate of what is going on in the moment. To me it's records like Young Loud and Snotty, (GI), Jealous Again, Pick Your King, Loud and Clear, Dehumanization, My War, Can't Close My Eyes, You're Only Young Once…, Wind of Pain, Severing the Last Barred Window, the TALK IS POISON 7″s — I could go on for a while — that embody this, and I personally consider 1993's lone 7″ from the Bay Area's JOHN HENRY WEST to be among them. Not only is it one of the best of its time, but one of the best of all-time, so the review gods are a-smiling on me this month.
Much like HEROIN, people like to throw around words like "emo" and "screamo" when referring to JHW, but that shit can be left at the door, cause this is hardcore, plain and simple. Hell, even with its near complete lack of machismo, there are some parts in here that could be described as "hard" by some standard — and I just now noticed some riffs that were definitely copped by another popular Bay Area hardcore band from a few years back, that I won't name, but in hindsight it makes perfect sense to me. JHW's songs were usually fast, incredibly driving, dynamic, pissed off, technical, noisy and often chaotic, with great, tuneful chiming guitar melodies similar to Revolution Summer-era DC punk; a great light shining on my ideal sound for youth in the early 1990s.
Front to back, this record is like one guitar flourish, vocal pattern, and stomping intro after another that will no doubt get stuck in your head once these tunes get enough spins to become familiar. The vinyl part of this reish has the 7″ on the A side, and the trax from the 3/12/93 and A History of Compassion and Justice 7″ comps, plus two unreleased joints (!!!!!) on the flip. The two new ones, "John Henry West" and "Ammunition Aired," fare perfectly well alongside songs that have been with me for the last eighteen years, and I can't help but listen to them one-by-one, several times in a row like they are in catch-up mode, before moving on.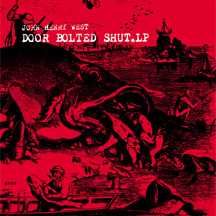 To be honest, I only bought this reish for the unreleased stuff, since I already had the rest, but that was before I knew about the accompanying 22-track CD, which has JOHN HENRY WEST's demo tape, seven live songs from their 50th/last show at Gilman, and nine songs from the band playing a radio sesh at WUSB on Long Island. None of the songs here are exclusive and are all better represented sonically on the releases and non-releases that are on the LP part of this package, but the Gilman set is definitely chock full of that reckless abandon and chaos that one would expect from this band in a live setting (sadly, I never got to see em), and similar can be said for the radio show, which ends with a short interview; all of which I'm stoked to have. I'm normally not one for reissues, but this package got the full glorious treatment that it was due and I can't recommend it highly enough to those unfamiliar with one of the all time greats, and still worth it for those in the know for the two new tracks alone.