Records of the Week: BIG EYES 45 & HOT NASTIES EP
Two for the price of one this week with MRR reviewers Kenny Kaos and Brace Belden!
BIG EYES — "Back From the Moon/I Don't Care About Friday Night" 45
Wow. This is badass. Seriously.
The really good ones are often the toughest to review. It's mid-tempo, it's melodic and catchy, it's got a really full sound and the female vocals carry a sense of urgency that makes the difference. I suppose if I had to label it, I'd call it power-pop, but I refuse to label it. This one is going to live on my turntable for a little while.
Awesome. Find it.
(Grave Mistake)
—Kenny Kaos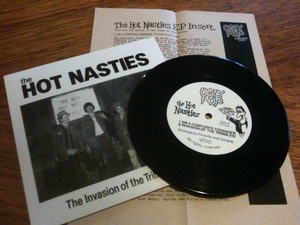 HOT NASTIES — The Invasion of the Tribbles EP
Reissue of a Calgary punk single from 1980 and it's great! It's got that British sound a lot of Canadian groups had for some reason, and it's a pretty perfect meld of pre-UK82 but post-77 Britpunk sound mixed with tasty (and tasteful) pop licks that symbolize everything I like about punk. Dumb teenagers from nowhere writing pop hits that maybe four hundred people will ever hear (especially with the original 7″ running at around $300).
The B-side has a bit of a Flying Nun sound, almost. If you're a modern punk, by which I mean if you're a genius who likes all kinds of good music, and you don't (or maybe only slightly) ghettoize yourself in some bizarre, childish fetishistic sub-sect of a youth movement that was at one point led by someone named Johnny Rotten and died when people were still wearing bell bottoms, you'll recognize a pretty wide range of sounds going on here. Which means it's a great goddamn record — and hell, who knows, even skinheads might like it. Ugly Pop is doing a small series of Canadian punk reissues. Off to a great start with this one.
(Ugly Pop)
— Brace Belden