The Dimming of the Day: Remembering Kathy Johnston of the Mydolls
By David Ensminger, excerpted from Houston Press…
Sometimes people come into our lives with the force, elegance, and nimbleness of water. Musician, photographer, and patient advocate Kathy Johnston invoked those traits. "Kathy was such a huge part of our lives. We already miss her intensely," band mate and friend Trish Herrera is quick to testify.
My own heart filled with crows when I heard that she passed away barely beyond midnight on Sept. 4th, 2011, due to a longtime bout with leukemia, which stirred an outpouring of sympathy on punkwomen.wordpress.com, where Tracy Richardson noted, "Kathy was a talented musician, animal lover, friend and humanitarian. I am one of the many who will miss her. She helped me be a better person."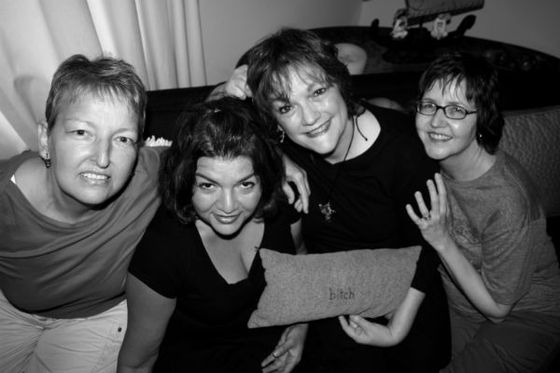 A bit estranged after returning to Houston after my stint in Oregon a few years ago, I soon encountered the Mydolls. Fortunately, they opened their arms and welcomed me. I began snapping photos of the band, documenting their lore and ephemera, curating their archives, and evening substituting on drums for original member George Reyes when he was stuck out-of-town. Bass player Dianna Ray and guitarist and singer Trish Herrera became vital "informants" for a series of articles I penned examining women, Hispanics, and gays and lesbians in the punk and hardcore scene. These texts later formed the backbone of my book Visual Vitriol.
The band was already legendary in my mind, ever since hearing them in the mid-1980s on the Cottage Cheese From the Lips of Death compilation. Being their companion only increased my awe as they helped me organize gigs benefiting victims of heart disease and cancer and led efforts to popularize, promote, and teach at Girl's Rock Camp Houston. Kathy Johnston, the iconic fifth Mydoll married to Dianna Ray, was a heartfelt, diligent presence during all these activities, bringing her wit and honesty to the forefront.
"In the 1990s, we had a couple of short-lived bands. Women with Instruments (WWI) and Black Dresses with Kathy. WWI was a crazy fun band with an euphonium player!" Herrera recalls with glee. "Black Dresses was more of a folk-oriented type musical endeavor, and we wrote wonderful songs, helped raise money for animal rights activist groups, and played out a few times, but never really got it off the ground. It was then we discovered how talented Kathy was at guitar, who led most of the creative power behind the Black Dresses combo. The late 1990s brought Mydolls back together to perform occasionally, and we asked Kathy to join us."
This past summer, Johnston joined my band No Love Less, featuring half of the Mydolls, at Sugar Hill Studios, where she acted as a dependable, acute ear as we re-cut songs for our first EP. She teased me about the homemade smoothie I kept at my side, which she thought might be chock-full of calories. Such easygoing humor was a distinct trait.
"There are models for the person who you would easily welcome into your trust," tells Bob Weber, drummer for Really Red and Anarchitex. "It was obvious at the first moment that I met her, many years ago, that Kathy was loving and honest and tender and vibrant. I was merely lucky to have known her due to my long time friendship with Dianna, and honored to be present at the ceremony of their partnership. I am not a poet, so what should I say except I loved her.'"
Singer Mary Manning has not forgotten the tenderness that Johnston provided guests at her home as well, "Kathy was the consummate care giver–always concerned about the comfort of her friends. When I used to stay with her and Dianna, she always took care that the bed was made — with the cleanest sheets, lots of pillows, plenty of blankets — and always a stuffed animal, just in case you needed it!"
On stage, when I played with the Mydolls, Johnston would effortlessly pound her percussive bells alongside me as I tried to mimic Reyes' Latin and tribal-infused drum wizardy. More so, her guitar work, nuanced and willowy, made the Mydolls' tunes richer and more deeply woven. "She and I had a private language when we played, and it made the experience so earthy and grounded having her there. In Kathy's honor, Mydolls is gonna record "Don't Fucking Die." With fierce love forever, Kathy. Fuck Cancer! Oh Cancer UP YOURS!" angrily remonstrates Herrera.
Determined to play live music even in her days of sickness this past scorching summer, Johnston became an emblem of punk fortitude and perseverance, resilience and passion. The Houston community will miss her deeply and fondly. In those chords forever buzzing, others will come forth to build a new nation, in which no lovers, anywhere, should be at the mercy of unjust laws.
Johnston and Ray married in 2005 and lived without bounds; others are not so lucky. Her memory will keep generations focused, and keep the beat pulsing to a revolution worth dancing to. As Keri Knott recounts, Johnston's "energy stretched across the room" when she met her. Now, that energy stretches forth, tirelessly, connecting the spheres, as Walt Whitman once wrote, Till the bridge you will need, be form'd — till the ductile anchor hold."