MRR 30th Anniversary shitworker bonus: Ryan Murphy!
This month, for our 30th Anniversary Issue (MRR #351, August 2012) we surveyed a shitload of Maximum Rocknroll shitworkers about their favorite (and least favorite) things about MRR — memorable features and interviews in the magazine, and experiences working and hanging out at the MRR house. We didn't have enough room in the zine for all of the responses, so this month on the website we will share some bonus material that we thought was worthy of your time. Today we have ex-shitworker Ryan Murphy, an extremely friendly, hard working young man who spent many a year doing many a task around here. He is well missed…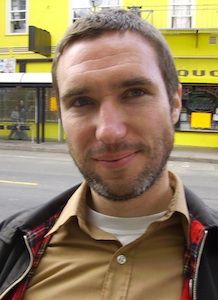 Favourite MRR feature…
The Raymond Pettibon interview was very well done and a nice change of pace for the magazine. The interviews as a whole bring a lot of interest and valuable content to the reader, it's something that can be a prized page turner or a complete waste of time. The interviews are the reason I started reading MRR, but now one of the last pages I turn to in the mag. Some of my favorites: Martin Sprouse reflecting on his time w/Tim Yo and MRR, the Really Red interviews (both of them), the history of SF's Deaf Club, The Fix, The Spits were fun, and any interview beyond "we play, we're on tour."
I find the themed issues to be a lot of fun — the Comics Issue in particular, and April Fool's. But the film and photo issues have given me places and people to explore in punk I otherwise would not have sought. Likewise, the interesting forays into topics like immigration, health and (of course) politics have really grabbed me. That said, by far the most interesting and relevant series I've come across in MRR was the Business in Punk issues (MRR #276 & 277/May & June 2006 — available here). The content was amazing and gave real insight into how punk is approached and engaged in by people across the spectrum. Fucking bananas.
Favorite shitwork…
Reviews were always my favorite, to read and to write. Some of my best memories of San Francisco are at the MRR compound, listening to (review/non-review) records, talking with other shitworkers, writing, dancing, laughing and nerding out about where these god damn sounds came from. So good.
I did mail for many years too, which I liked fine. It was a big investment of time, lugging crates of mail from one part of town to the next. I mostly threw the stuff in a giant bag and rode my bike from the Noe Valley post office to the Western Addition compound. I remember Layla, eyes big, telling me once "I cant believe you haul this stuff up and down that giant hill!" As there is a giant hill that helps create the Noe Valley and separates it from the Castro, which, from there is a straight shot to MRR. I hesitated to speak, but I had to smile — as any seasoned SF cyclist knows, the most direct route is not always the best to take. "I go around," I say, conceding any unearned praise. Then I laugh and she laughs and we both sigh with relief.
Favorite columnist…
Mantooth.
Favorite part of the MRR house?
RECORD COLLECTION (maketapesmaketapesmaketapesmaketapes) and the free bin.

Least favorite thing about MRR…
Deadlines. Green taping sucks too, filing records was no fun, but I would always find new records to listen to that way. It was kinda a zero sum type thing when I would file. I'd grab a stack of rec's, flip through them, alphabetize the ones I didn't want to listen to and toss them back on the shelf. But, without exception, while scanning the collection to wedge The Nix record in the right place things like discovering the Nixe, or putting back an Eskorbuto EP only to come across something that looks cool, like Eppu Normaali would happen and that stack of records would be waiting for someone else to file when I left.
Three words you think have best described MRR throughout its 30-year journey…
Labor of Loooove.
Hardest thing/situation you have had to deal with as a shitworker…
Bruce passing was profoundly difficult for MRR as a whole to deal with. At my time there, this was second to none as far as hardship is concerned. He is sorely missed.
Trust issues rarely came up but when they did they were quite frustrating. Theft, mostly records, highlighted the need to keep the compound a place where things were safe but still accessible. The collective nature of the magazine made that tricky, having people live there while the resources of the magazine were open to us all lent itself to protective measures. I always found this difficult to swallow but also completely necessary.
Other long-running zines you like reading…
Burn Collector. Negative Party. Distort.
What would you never change about MRR?
Volunteer status of the staff.
Lots of interesting and weird people have come through the MRR house. Any good stories?
Years back I was lucky enough to meet Luk Haas when he was in San Francisco. At the time the gravity of his reporting and experiences hadn't really set in on me. But we spoke and hung out he was super interesting and very low key. He looked like a world traveler. If I remember correctly he had on what I think of as a photographers vest — one with a bunch of pockets on the front made of a beige color. I wish I could meet him again and ask him better questions. Truly an amazing and unique character.
What do you do for your "normal" job and is it better?
I used to work at a brewery, I work at a bike shop now, pretty normal stuff. But hell no, it's not better! Drinking beer, listening to records and having fun while still producing something that matters, something anticipated and enjoyed the world round. I miss that. MRR is unique in the sense that it has such historical significance and is still able to be a relevant source for what it set out to do 30 years ago. It also gave me an outlet that I otherwise would not have had. I was able to read, write, listen and experience things I would have never gotten in my "normal" work place.
Where do you think MRR will be in 30 years from now?
In my mailbox. (Up tha punx!)