The punk comics blog returns with Carrie McNinch!
Our comic blog this time around is written by the incredible Robert Kirby, who really should be covered in a another blog post himself (maybe someday soon)… Enjoy!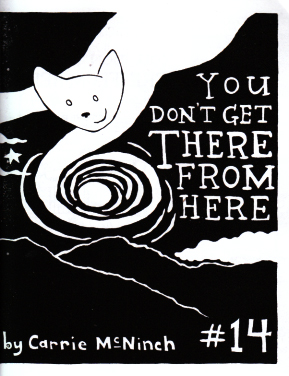 Carrie McNinch might be the original punk dyke chick autobio cartoonist goddess. I remember I first encountered her work way back in the early '90s when Roberta Gregory reprinted a strip from Carrie's first solo comic zine, The Assassin and the Whiner, in the pages of Naughty Bits. But Carrie had been kicking around in the underground scene since she was but a mere slip of a thing in the late '80s, contributing to titles such as G.B. Jones' legendary queercore zine J.D.'s. In addition to Assassin, which debuted in late 1994, McNinch lent pages to many other zines of note, including Not My Small Diary and Alarm Clock (all about women in music), as well as rocking with her band Geko.
With The Assassin and the Whiner Carrie made her name by presenting her existence as it was — the rock and roll highs, the crushing lows, and those in-between days of introspection or bafflement — with an often excruciating honesty.  When her life went off the rails, alcohol, depression and anxiety rendered her incapable of writing or drawing ("…even if someone stuck a gun to my head").  After a number of years, McNinch was finally able to move forward. Using Snakepit as inspiration, she managed to force herself to produce one diary comic every day as a way to ease herself back into creating: "… when January of 2005 rolled around I was surprised to realize that the drawing spark had indeed lit up in me once again."  She literally drew herself out of the abyss — rescuing her creative self by activating that peculiar super secret power I believe all cartoonists carry within.
In 2006 Tugboat Press released her book, I Just Want Everything to be Okay, which documented Carrie's transition from the final days of The Assassin and the Whiner to her current incarnation as a daily diarist chronicling her life with India ink and Rapidograph pens. Her present title, You Don't Get There from Here, is already up to issue #17 since its birth in 2006, with each tiny new edition arriving jewel-like about three or four times a year. Each day is presented typically in a three-panel format (though sometimes just one or two), with three days captured per page. Groovily enough, every strip has a song of the day listed up top, and part of the fun for me reading YDGTFH is finding personal favorites. Among them: 10/13/08: "Runnin' with the Devil"- Van Halen; 12/11/08: "In Shreds" – The Chameleons; and 7/10/09: "Right Place, Wrong Time" — Dr. John.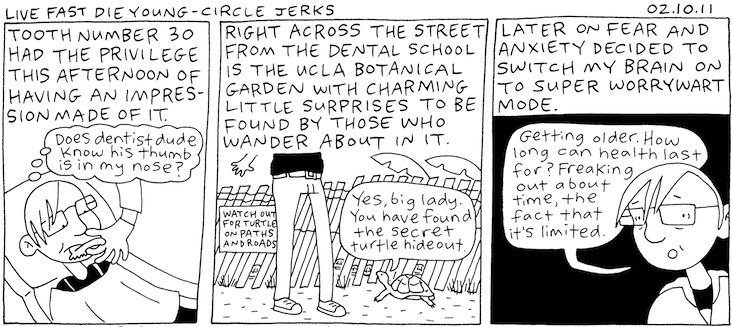 Like the very small handful of superior comics diarists, like John Porcellino and Vanessa Davis, Carrie knows how to delineate a seemingly mundane anecdote and transform it into something universal and relatable. Using her pared down, high-contrast, black-and-white visuals, she can capture with zen-like simplicity rain pouring outside a window, a brilliantly starry L.A. night sky, or the poetry in a drunken midnight swim. Reading YDGTFH is not always pretty, however, as she does not shy away from transmitting her worst moments to the page: those low self-image cycles, relapses with alcohol, and garden variety disconnections, loneliness and despair.  But there's always tomorrow. Once out of the pain-and-darkness woods, simple pleasures await her: hanging with friends, drinking cappuccinos, reading and creating comics, cooking something wonderful (Carrie's a bit of a foodie), going for a run in the hot sun, and cuddling up with Milo the cat for the latest episode of Mad Men.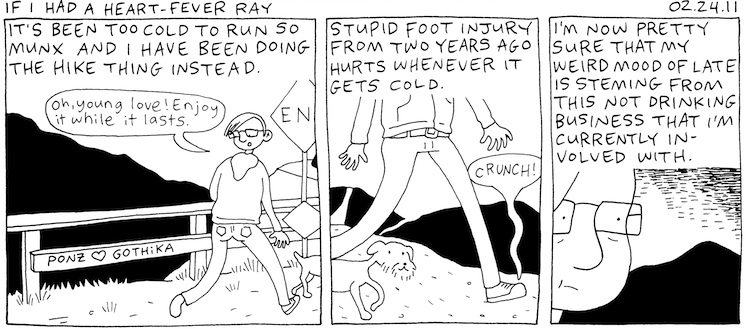 The teeter-totter days of life are also there, as in the entry for 2/03/10, where McNinch has received her new AAA card: "I've been a member for 21 years?  How is that possible?" The bewilderment felt by those of us now in our 40s at the inexorable passage of time (thus the fear of being relegated to the dustbin of old uncoolness) is simply and amusingly related. When life occasionally gets more exciting, say, when Carrie has a terrifying encounter with a mountain lion on a routine run, you might find yourself gasping aloud. This particular first-hand experience of the randomness of existence (in the form of a dangerous wild animal) serves as a good reminder that plain old boring life is maybe not such a bad thing after all.
It takes incredible discipline to draw a comic strip, even a short one, every day of the week, 365 days a year, and to keep that up for five years and counting. It's a real accomplishment when that work is terrific. Carrie McNinch, take a bow.