We Got Ways #2: NO FUCKER
NO FUCKER — To Whom Tomorrow Belongs EP
NO FUCKER — Conquer the Innocent EP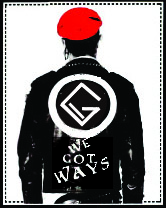 In the previous installment of "We Got Ways"—your favorite online column revisiting the great DIY punk/HC records (both heralded and unheralded) from the decade known as the aughts—we discussed the YOUNG WASTENERS 12″ that gives its name to this column. Today's featured band represents a departure from the cute, immediately likeable, hyped-to-death Wasteners—Utica, NY's NO FUCKER.
No Fucker's career (now over?) has been strange. Their story begins with the two main cretins behind the band cutting their teeth in a more-or-less terrible crusty HC band called DEATHBAG, which existed just before NF's emergence. Living in NYC in the early 2000s, I saw these upstate NY freaks on a number of occasions and didn't think much of them either way. They were a typical opening band at some typical crusty HC shows. That is to say, both live and on record, Deathbag was nothing to lose sleep over. One day, I heard that the two Deathbag dudes had dissolved their band—rumor had it that they too had realized that they were nothing special—and started what was billed to me as a DISCHARGE worship band that would never release vinyl records. They dubbed their new band No Fucker — a brilliant and hilarious (albeit obscure) Dis- inspired band name if I ever heard one — and promptly released a pair of righteously raw demo cassette tapes. My interest was naturally piqued. After that, the no vinyl records rule apparently fell by the wayside, as two split EPs with Japanese idols DISCLOSE materialized in 2004, to go along with a few dates on that band's brief West Coast U.S. tour. Growing ever fonder of their vicious output and live explosiveness, I assumed at the time that this association with Disclose was destined to get folks outside of New York State to start paying attention to what seemed at the time like a well-kept East Coast secret. After all, this era was one of the many heights of the Japanese noizecore craze in the U.S. punk scene, with bands like FRAMTID, FEROCIOUS X, and DEFECTOR (along with countless less worthy others) releasing records of varying quality that instantly sold out or were apparently distro'd only by eBay. Despite seemingly being in the right place at the right time, and being better than many of the more hyped bands, No Fucker didn't gain the plaudits of their Japanese (to say nothing of PDX, Austin, or SF) brethren. After a few hurrahs on the Disclose tour, they slinked back to Utica, and slowly but surely released two EPs that didn't seem to get too much credit or attention among any but the most obsessive. Their first EP (To Whom Tomorrow Belongs) got eviscerated in a snarkily dismissive MRR review—one of my great regrets is not double-reviewing this gem at the time—and their second EP (Conquer the Innocent) seemed to get passed by altogether by most tastemakers. By that point—five or six years after No Fucker had made their debut—time seemed to have passed them by. Of course, doomsday d-beaters knew their name, but too many seemed not to flip over their splits with Disclose often enough (too bad for them—the song "Anti-War" on the Overthrow split is a real mix-tape worthy stomper), and NF never seemed to get enough attention from the fashion-crazed myspace crust world or scenester festival circuit to even gain much T-shirt love. In fact, outside of a few diehards in Japan and New York, I can't say I ever heard anyone give this band the attention it really deserves.
What's up with that? I mean, it's not as though this band was going against the trends. If anything, they began No Fucker just in time to start playing what quickly became the HC sound of their era—DISCHARGE influenced hardcore with layers of fucked up noize lifted straight from CONFUSE's handbook. They were friends with popular Japanese bands. They even got some random (if unexpected, at least to me) accolades from noise-hipster types. They put out cool looking records with great songs. When I saw them in 2003 at ABC No Rio with DSB, they played one of the most exciting sets imaginable, getting so crazily into it that they managed to play their then best song (the aforementioned "Anti-War") twice. When I saw them at a show with Sex Vid in NYC in 2007, they blew the Vid—who were no slouches themselves that night—off the stage with their outrageous barrage of feedback. Most importantly, from the early Deathbag days to the last No Fucker days this band just kept getting better and better. I could imagine them pulling a Black Flag and practicing for 10 hours a day in their small town in an attempt to perfect their noise-laden art. Even when I was listening to their first demo in 2002 thinking, "Hey, this is pretty cool!" I never imagined that I would walk out of that 2007 show thinking, "Holy shit, I just saw the best fucking band in America…"
Ultimately though, it seems that No Fucker was not a band that would easily get popular with the cool kids. After all, the backbone of the band was two strange and ugly dudes—one old, lizard-skinned ex-con (who eventually lost a finger and had to stop playing guitar and settle for just being NF's vocalist) and one young, nerdy freak with his oversized T-shirts tucked in—two friends obsessed with obnoxious, crazy music in what might be the shittiest, poorest city in all of New York State. The other members of the band seemed not to matter much either; hilariously, No Fucker featured a series of indistinguishable bass players referred to both individually and collectively as "Fangboner." And though they befriended similar noise heads like Kawakami from Disclose and Stuart from Game of the Arseholes, they did not seem interested in being schmoozy; on the contrary, they were kind of abrasive and even antisocial. Though I met and chatted with them a number of times throughout the years, I could never tell if they liked me, hated me, or even remembered who I was. They didn't fuckin' care about that shit—they made noize not music, and that was that. They released their records themselves (on a label they called No Real Music) to middling distribution, they didn't seem to tour much if ever, and though they not-entirely-successfully attempted to get a DIY space up and running in Utica, they ultimately chose to live in that fucked up old industrial wasteland full of meth heads, junkies, and people whom time had passed by rather than moving to any available (and more fashionable) punk mecca.
Now about their two self-released EPs, which were meant to be the subject of this essay, and without which none of my bloviating would matter…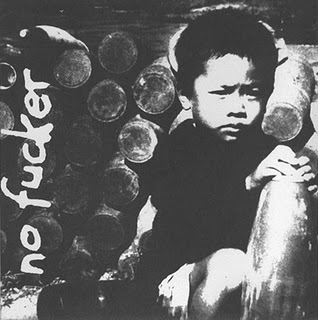 2006's To Whom Tomorrow Belongs is the earlier of the two, and it betrays the simple musical key to their formula, which they would really perfect on 2008's Conquer the Innocent. What is that key, you ask? Well, this band steals a lot of guitar parts and swagger from ANTI-CIMEX. Really, this writer's ears hear a lot more Cimex in NF's sound/songs than either Discharge or Disclose. And while this distinction is admittedly minute if not downright farcical—it's not one that my mom would pick out, that's for sure—the patented Cimex guitars-as-if-recorded-in-a-wind-tunnel sound gives No Fucker a sort of out-of-an-80s-Swedish-time-machine quality that their Japanese peers (with their 48 tracks of guitar distortion) lack. Like Disclose, however, No Fucker uses their vocals as more of a rhythmic instrument than a melodic one, sometimes punctuating their guitar riffs with even greater effect than Kawakami, the Japanese master himself. No Fucker's lyrics are minimal, but they are perfectly timed and placed. The guitar leads are at once idiotic and sublime. Happily, No Fucker lacks any "heavy"/"crust" pretentions, maybe even more so than Disclose (because they avoid the palm-muted metallic-tinge of that Japanese band's "Dis-Bones" era), but nonetheless No Fucker is not really a party/fun band. Instead, they represent the most punk ideal: a band outside of the spotlight that spends every minute of free time trying to make and perfect their hardcore art. In this sense, No Fucker was an art band in the strict meaning of that term, at least in the sense that they created substance out of their very specific style. And for a few brief songs on two all too brief EPs, No Fucker put themselves on par with the best of the 30-year pantheon of cult bands that have been totally and utterly devoted to excruciating guitar screeching, d-beat flailing, and lots of shoutin' and screamin'.