Website of the Week: Alice Bag's "Women in LA Punk"
A website based solely on Alice Bag would be cool enough, and of course alicebag.com serves up plenty of biographical goodies on Alice and her legendary band, The Bags… But it's really worth making your way to her website for the section called Women in LA Punk for interviews with the likes of Black Flag's Kira Roessler, fanzine writer Jade Zebest, and all around scenester Pleasant Gehman.
Ariel Awesome writes:
"LET THE WOMEN SPEAK!" Short and sweet interviews that offer a glimpse into the past and present of the women who shaped punk in LA. Most punxploitation books love to serve up photos of these ladies as fashion plates, and give a short one line on what bands they were in, or who they hung around with. Here, Alice asks them a few key questions to give us a better sense of each lady as a whole person, what part they played in those seminal years of punk in LA, and what they are up to now. There are amazing photos, sure, but better than that, the voices of these amazing women coming through to tell a little bit of the story of how they shaped punk, and how punk shaped them.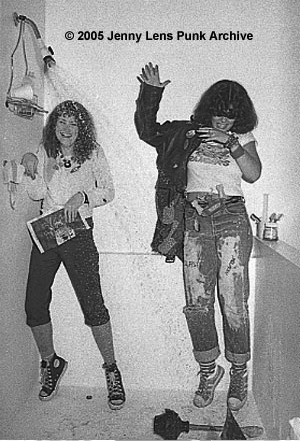 If you want to jump right to good stuff, here's a sample from the interview with original Germs manager Nicole Panter:
What was the role of women in the early punk scene?
As effortlessly equal as that of men….the strongest, smartest, most independent women I've ever known were punk girls, but it wasn't ever stated or harped on, it was just a fact of life. Maybe that's why everyone felt like such misfits in the non-punk world…
The really inspiring thing here is that, despite the obvious "good old days" vibe of the site, it's not coming from washed-up old dudes who want want you to know how cool they once were. These women, for the most part, still have their ideals intact, and are still creative and active in whatever they've moved onto. For them, punk was more of a foundation than a springboard.
Thank you Alice!