Wow, what a show! Priapus/Burma/Backslider/Nimbus Terrifix/Shit Horse in Raleigh, NC
Sorry for the brevity of this review — life kind of happened as it tends to do. To skip a few steps of explanation, I ended up filling in playing bass for the band Burma for this show. It was on April Fool's Day at the Kent Street House in Raleigh, NC…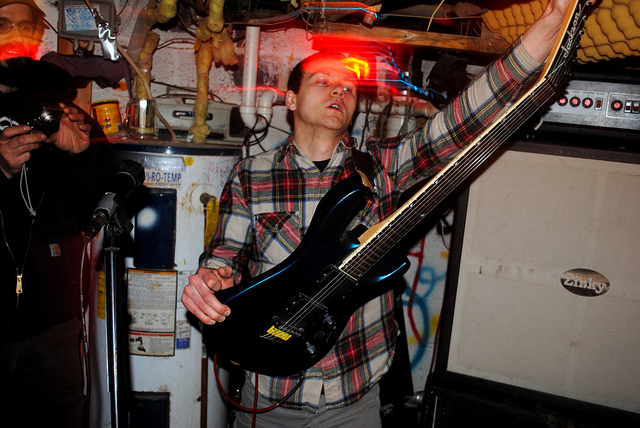 I got there nice and early after practicing with Burma for the first real time (the day of the show). I'm glad I was there early because I got to see Priapus play. Priapus is a tech grind band from Greensboro, featuring Kevin from Malebolgia. The band has the Discordance Axis-worshiping sound and almost sounds like a live Agoraphobic Nosebleed. I admit I left partway through their set to grab some equipment and get stoked to play.
Next was Burma with me on bass. I haven't played in a band since I was 16 or 17, so it was good to do it again. Had no problem with the songs, having learned them over a two week time frame. To tell the truth, I keep getting them stuck in my head when I go to bed and wake up in the mornings, so I think I learned them too well. I was very lucid while playing so I can describe us surprisingly well. Drumming was tight; I don't think I realized until we were playing how well Kane plays the drums… his drum fills perfectly led up to the endings of songs. I saw my roommate accidentally pull down part of the ceiling during the set. Matt, the singer, kicked a 24-pack out of someone's hands who was throwing beer around on everybody. Here is a short video of the set, if you want to see my friend Patrick from Backslider haranguing me with his video camera:
Third to play was Backslider. I was hoping they'd have their new split out for the show, but no such luck. I also hoped that Pat would have the Mind As Prison/Disciples of Christ split out on his label. Those were not ready either. Bummer. What wasn't a bummer was Backslider! Two-man power violence done up right. People were pretty still during their set. I don't know if that is a bad thing, but it allowed me to get some great pictures in that small basement. Tight set.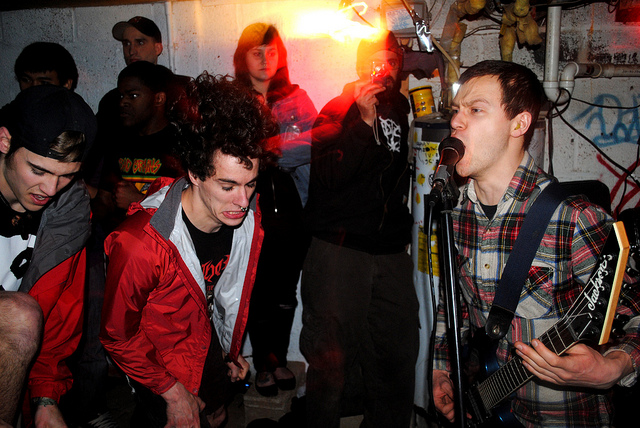 Nearing the end of the night, Nimbus Terrifix played. The band is ex-Dead Radical. They play a kind of orchestrated noise-violence. I think I was annoyed that I couldn't get a good angle to take their picture. People finally woke up and got a bit crazy during their set.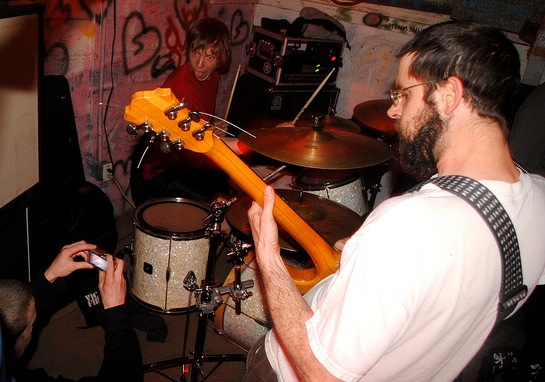 Last band was a local band called Shit Horse. They were a nice fresh sound after a night of hardcore. They were more of a psych garage rock band, I suppose you could say. They have a delightful front man who was being pretty funny the whole night, and wore a velour over-sized hoodie that made him look like he might be a boxer or an MC. During their set they had a girl in very little clothing, who was donning a horse head and a toy machine gun and dancing around in the crowd. Weird schtick but good music and something to talk about at the end of a good night.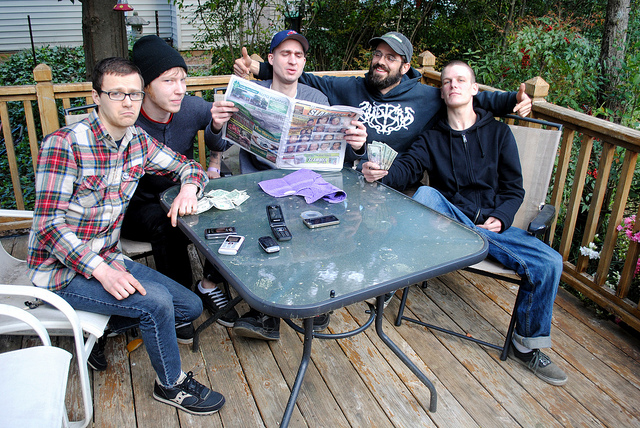 Besides being MRR.com's premier show reviewer/photographer combo, Will Butler's claims to fame are To Live A Lie Records and Fastcore Photos. If you take photos and like to write about punk shows (or if you and a friend wanna team up to do this) drop us a line at webzine@maximumrocknroll.com with a sample review and pics, and maybe you too can be a MRR shitblogger!