Wow what a show! Steve Lake of ZOUNDS & Tommy Strange in SF 8/23/11
Steve Lake of ZOUNDS and Tommy Strange at the Hemlock in SF, 8/23/11
Reunion shows are always an emotional gamble. They offer a chance to see the great bands you missed but grew up loving, or an opportunity to relive the glory days of your youth when you felt every chord in your bones! When they live up to your expectations, reunion shows are transcendent. When they don't they can leave a rotten spot on your heart for years.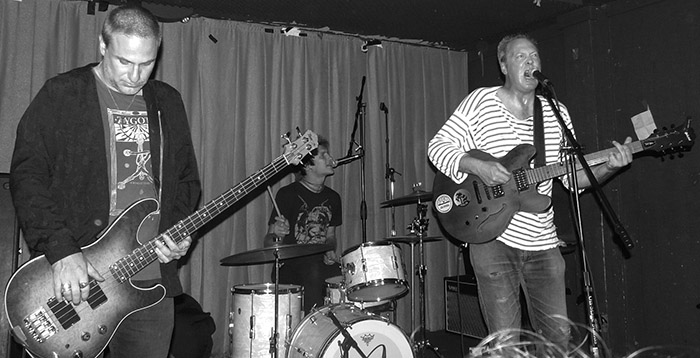 So when word got out Steve Lake of ZOUNDS was playing all the best songs from the Zounds 7″s and the LP The Curse of Zounds! I was a little worried, so much was at stake. Zounds have played shows recently with different lineups throughout England and Europe, but have never played in the States. This is due, in part, to Mr. Lake's deep fear of airplanes. But when he was let go at work, and given a modest severance package he figured the time was right, and he took an ocean liner to New York to see the country and play some shows. He played a house show in Berkeley where he met Jason Willer (Enemies, Alaric, Cross Stitched Eyes) who insisted on accompanying him on drums, and Jason got Dave Ed (Kicker, Neurosis, Jesus Fucking Christ) to play bass.
So at the Hemlock last Tuesday night, Tommy Strange and Buzz Lee opened and played some nice angry ballads (Tommy is so great, and underappreciated as a lyricist) before Steve Lake took the stage, alone, with his guitar. Stripped down, with only a rhythm guitar, the songs took on a strange poetic intensity. What lyrics! They didn't lose any of their power or profundity. After about six classic songs, he was joined onstage by Dave on bass and Jason on drums. They sounded great, and it was strangely emotional. Steve Lake was charming and funny, with sweetly self deprecating between-song commentary and insights. Mr. Lake is frequently asked to play these songs, but he has only recently started saying yes, rather than no. He says, "It brings me joy to perform them with a great deal of commitment, again, to the point where I have started to write more Zounds songs."
A new record is out now The Redemption of Zounds. Did you know "This Land" was inspired by Woody Guthrie, and then inspired Christ on Parade? Of course you did.
More shows are coming up on the West Coast in September with a different lineup.