Wow, what a show! Chest Pain/Thieves/
Buy The Steak/Old Painless
Hey! Welcome to the third installment of our new show review feature: Wow, what a show! This week is presented again by Will Butler of To Live A Lie Records / Fastcore Photos…
Since this show was about three months ago, a lot of the nuances have melted out of my brain. That being said, I'm going to keep this short and sweet. This was a surprisingly good show, full of some bands you probably have never heard of (and at the time I had yet to hear). So here is what went down in the dingy basement of Dregg's Grotto in Raleigh on September 18 of 2010.
The first band to play was OLD PAINLESS. Their first show ever was the night before, when they played in Greensboro at Legitimate Business and opened for Nails. Let me say, holy crap, what a second show! Rewind to a couple months ago. I'm friends with their drummer Rodney and we were eating at Chubby's Tacos. He was telling me about the new band he just started with Josh Dobey, Rich Lombardi (from Cloacal Kiss and The Sawtooth Grin), and Alex Taylor (from Stripmines). He dropped the word grindcore on me and my heart sank a little bit. I'm a fervent lover of grindcore, but any time I've heard that genre referenced in NC, it just means watered down Discordance Axis style music to the point it is just sped up metalcore. This was definitely not the case. Very technical grindy parts, lots of of super fast blasts (Rodney is a world class drummer), and I really enjoyed Rich's stage presence.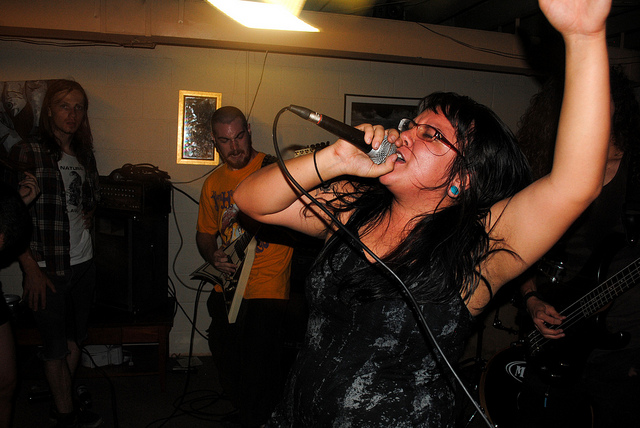 After Old Painless, BUY THE STEAK took the stage (well, took the basement). I had just started to see these folks come out to shows so it was cool to see their band. Female-fronted thrash metal from Garner, North Carolina? Fun band. I remembered thinking their guitar player, Logan Holloway, looked like an old man in the hat he was wearing. Unfortunately, I think you can add this band to the list of short-lived, defunct bands from the area.
Next was an awesome surprise set by THIEVES, who wasn't slated to play this show. I'm pretty sure this only happened because my roommate kept chanting for them to play since all the guys happen to be at the show, so they borrowed equipment and played a raging quick set. Their bass player Ben loves to do quirky things at every show he plays… I remember him wearing a full '80s workout getup, he wore a suit once, and I think he even wore a bear costume at one show. Since it wasn't scripted, I think he decided to sit down in the corner and played bass while sitting Indian style against the wall to add to his repertoire. On to how they sounded: They sounded awesome. Super fast and thrashy hardcore. Rodney (yeah, the same one who drums for Old Painless, sings for Thieves) got up in my face a lot while I was taking pictures. Thieves was definite ON this night.
Last to play was CHEST PAIN. All I knew beforehand is that they were a powerviolence band. That could mean a number of things to me… much like my thoughts on grindcore above, but I had high hopes because they are from Texas. I had corresponded with Matt from the band a few times but had somehow never heard them and couldn't find any music online. I was very positively surprised with their style of visceral and blasting powerviolence. Any band who has a shirtless singer with a gauntlet on is good by me. I also remember the guitar player bending backwards so much that he looked like has about to snap his back and Matt ended up chomping his bass strings at the very end.
Quite a night for a show when I didn't know what to expect.
Why let Will hog all the glory? If you take photos and like to write about punk shows (or if you and a friend wanna team up to do this) drop us a line at webzine@maximumrocknroll.com / with a sample review and pics, and maybe you too can be a bona fide MRR web shitworker!