Wow what a show! Draize/Cloud Rat/
Oily Menace/Positive Noise/
Shallow Breath/Xtra Vomit
Wow, what a show! is brought to you this week by Ryan Cappelletti of Punks Before Profits, with photos by Stephanie Kiewiet. If you take photos and like to write about punk shows (or if you and a friend wanna team up to do this) drop us a line at webzine@maximumrocknroll.com with a sample review and pics, and maybe you too can be a MRR shitblogger!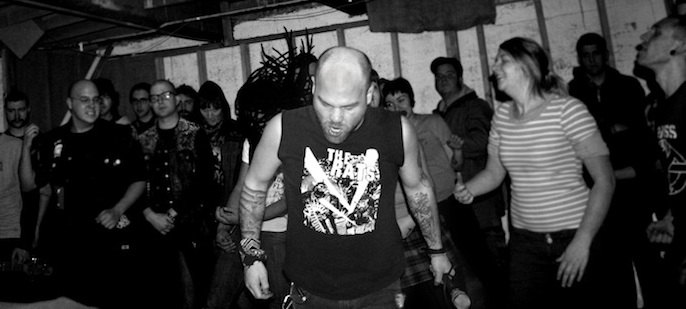 The first official show at the new diner in Grand Rapids, Michigan, called Bartertown! The diner is expected to be open by March, if all goes right. When we first found the location for the diner we knew the upstairs area was perfect for what we wanted to do, but we had no idea it also came with an entire basement. When punk rockers go look at spaces, we look at them in an entirely different way than the average person. When we look at spaces to live or to do a venture out of, we look at the entire building and all the crazy shit we can do inside of it. We look at basements and instantly dream of all the wild shows we can have, all the illegal gatherings we can make happen with nobody ever knowing any better in the outside world!
It all started with XSHALLOWBREATHX, a new local straightedge band, playing a tough set of heavy, heavy hardcore with all the right breakdowns. This band did their homework on '90s sXe HC. I had to be out front checking sound during their set, but I did catch some of the moshing going on downstairs. Next up was XTRA VOMIT. This band is fucking perfect every time they play. Fast as fuck, angry-as-shit HC punk — two guys who know how to play hardcore. I feel it would be like seeing ACTIVE MINDS in '89 or even 2009! POSITIVE NOISE took the floor next to play about eight minutes worth of HC. I looked at the clock before we started and it was 9:22. When we got down it was 9:30!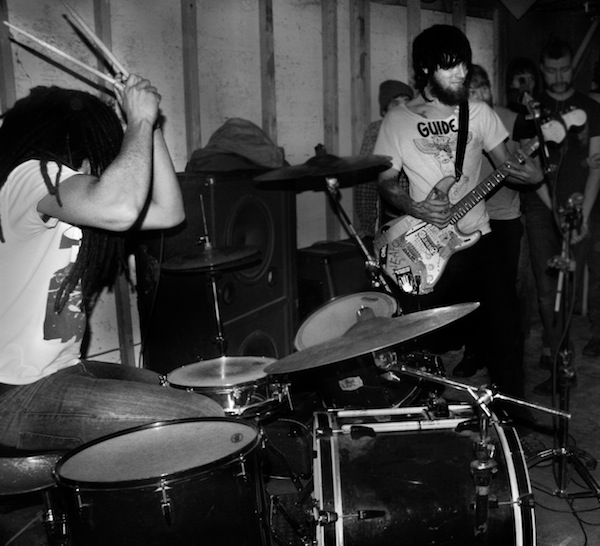 DRAIZE from Boston, Mass ripped through the basement next, playing one of the best hardcore sets I have seen in a long time. Just song after song of pounding noise. DRAIZE is a new band with just one LP, on Punks Before Profits. Watching them that night was like getting a shot of life straight into my veins. The great feeling of truly being alive, and the lack of care about anything else going on outside of that room for those 15 minutes. Our local favorites CLOUD RAT played a set of awesome, inspirational hardcore that kept the crowd slamming into one another. At this point we all were sore/bruised and tired, but the hardcore kept coming so we kept moving! The final act of the night was OILY MENACE. The crowd was beat up at this point, and I was truly unsure of how we all could handle another ripping band. They started with their standard old-school grindcore — total NAPALM DEATH-meets-the-FILTHY CHRISTIANS fucking hardcore. They destroyed everybody and ended the night with "Reign in Blood" from SLAYER. The perfect end to a perfect show!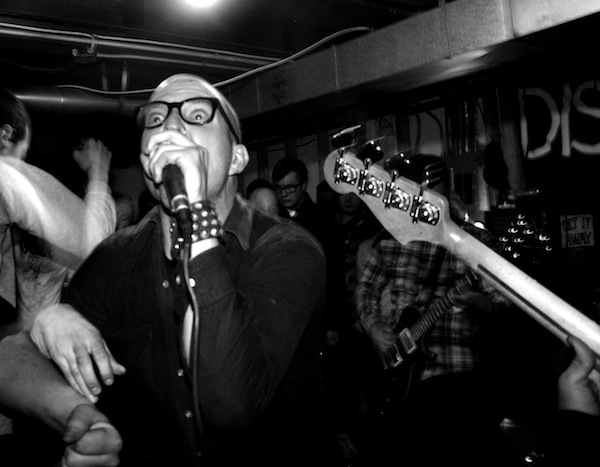 No cops, no bullshit, some prob with kids tossing cigs in the toilets. I truly believe one thing and one thing only will bring down hardcore: cigarettes! Yes, that's right, it will not be the cops, it will not be your parents, it will be the tobacco companies. Kid drops a smoke, half the scene burns up in a small-ass, packed butt-to gut-basement. Kids standing outside illegal spaces just to get that drag, cops roll to see whats going on, and boom! — show is over, space is dead. Stop smoking at shows! Go get some fucking gum for a couple hours.
To all touring bands this summer Bartertown Diner/Roc's Cakes will open in time for the touring season. We have no idea how many shows we will have after being open, but stop while in town. All touring bands will be treated very well. This is all worker-owned, this is about community. For more info on this growing scene in Grand Rapids check out grscreamer.com, and go to bartertowngr.com for updates on the new space. We will also be doing guest chefs for touring bands, so if you have a day off and want to set up something with us get in touch. 99% of the punks in this world work in kitchens so come by and we will see what you got!